SummerKeys: A Fond Farewell
Saying goodbye to the photo workshops Judy and I loved

By Frank Van Riper
Photography Columnist
LUBEC, Me.--This August marked the last week of my last photo workshop after 15 years of teaching in Lubec, Maine, the easternmost town in the easternmost state. Happily, it was one of the best teaching weeks I ever had.
My 'retirement' from the faculty of SummerKeys, the music and arts summer camp for adults where Judy and I have taught since 2009, happened because, after 35-plus years of glorious summers, we have decided to sell our little bit of heaven in Down East Maine. (But we still will return to Lubec every summer as visitors because, frankly, there's nowhere else we'd rather be.)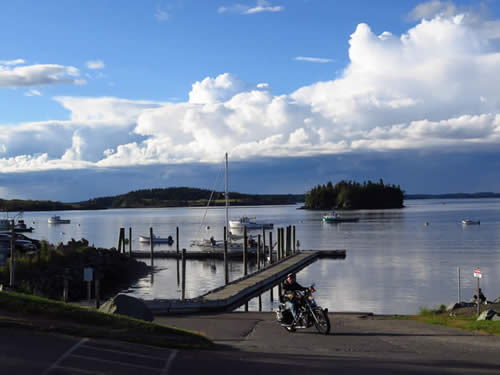 The town dock in Lubec, Maine--just another day in paradise. (All photos © Goodman/Van Riper Photography.)
The simple fact is that at our age it's just too much to maintain two separate houses, one in Maine, one in Washington, DC. And a three-day 18-hour road trip (with luggage, camera gear and two kitties) has become more and more difficult to recover from once we arrive in paradise.
But what a great 15-year run of photo workshop teaching it was.
It began at the end of summer, 2008 when Judy and I joined a group of other SummerKeys volunteer 'helpers' for an informal thank-you dinner at Kippy's Restaurant, hosted by SK founder and director Bruce Potterton, a mild-mannered concert pianist and teacher from New Jersey. For several years Judy and I (but really mostly Judy) tended the big garden that she had created in the front of the workshops' main building in downtown Lubec as our way to support this molto simpatico music school.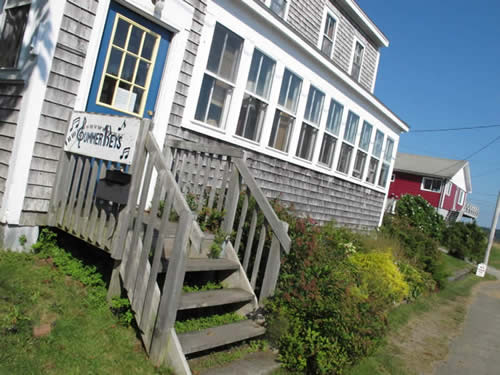 Years ago, the front garden of SummerKeys was all weeds and thatch. I dug up the thatch--and Judy made it beautiful with multiple new plantings.
Sitting next to Judy at the restaurant that evening, Bruce said he was eager to start offering non-music courses to the spouses and partners of his devoted music students, who had been returning to SK almost every year since its inception in 1992. (Over subsequent years, besides photography, SK also has offered creative writing, and crafting.) Since I just had started my own photo teaching in the DC area, joining the faculty of Photoworks at Glen Echo Park, Md., a way to earn extra money during our summer 'vacation' seemed like a natural, especially after the recession of 2008 put a huge hit on our finances.
But, Bruce told Judy, there was one condition. If we were to offer what later came to be known as 'The Lubec Photo Workshops at SummerKeys,' we would have to adhere to the no-entrance requirement rule that welcomed all musicians to SummerKeys classes—seasoned player to total novice.
"Wait," I said to Bruce at one point. 'I can't play the piano and no longer can read music. You mean to tell me that if I signed up for piano, you'd take me?
Yes, he replied, "you come and we will teach you."
Thus began a new career of workshop teaching for the two of us, that wound up including international no entrance requirement photo workshops in Umbria and in Venice—as well as two books on these places, one published in 2008 to international acclaim (Venice), the other, on Umbria, finished this year, now looking for a publisher. As for Maine, I already had published my love poem to the place in my book Down East Maine / A World Apart.
Granted, we were lots younger then, but it's hard for me to think back on all the week-long workshops we taught each summer, especially when Judy and I had a full schedule of commercial and wedding photography (and local teaching for me) during the rest of the year in DC.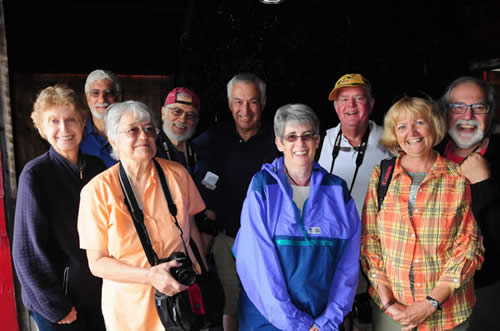 Typical week-long workshop class--that's smiling Judy on the left, me on the right. Our max class size was nine to assure individual attention.
But we did it and we did it well—and we loved it. But we also had a secret weapon.
Judy and I were working together, which meant that she could take under her wing the less-experienced students, while I could deal with the more advanced ones. This division of labor was a Godsend and earned us a ton of repeat students over the years. (Ultimately, Judy stopped her workshop teaching, preferring to work on her glorious Maine garden, and I moved on to smaller Photo Master Classes.)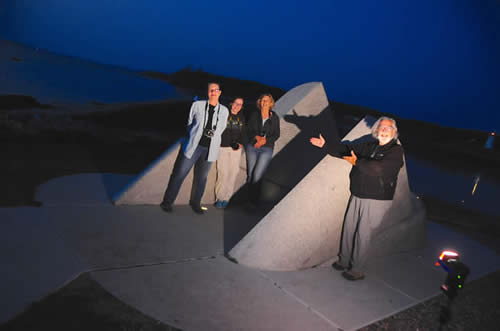 Limiting Master Class size to a max of five meant more advanced sudents and I could could play with off-camera flash and other techniques.
It helped that Lubec in Down East Maine is one of the most beautiful places on earth—literally America's last coastal frontier. A former fishing village, it now appeals to snowbirds and eco-tourists—not to mention SummerKeys music and art students. And you really have to want to get there. The nearest commercial airport is in Bangor, two and a half hours away. The nearest McDonald's is in Machias, 45 minutes south. Satellite communication and (Thank God) broadband internet have revolutionized cell phone and other services here so that telecommuting and telemedicine is way more possible than before. But I still can remember years ago when, if you pushed the scan button on your car radio, you'd get one station on AM, one on FM. The rest would be static.
We brought our students everywhere—no one turned us down. At Tide Mill Organic Farm and adjacent Tide Mill Creamery, we got up close and personal with cows, pigs and Nubian goats. We shot landscapes at West Quoddy State Park and white water at Bad little Falls in Machias. We made night time beauty shots of Lubec's two stunning public sculptures, as well as in its historic cemetery. We shot in America's last stone ground mustard mill, as well as in a subterranean lobster pound that looked as if it were on another planet, and in any number of welcoming artists' studios.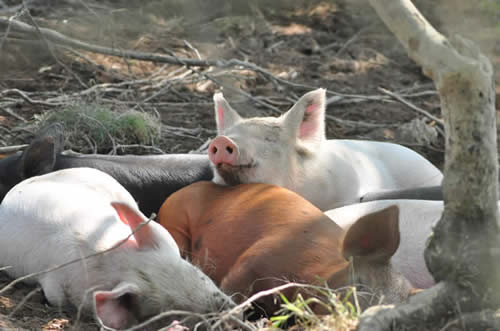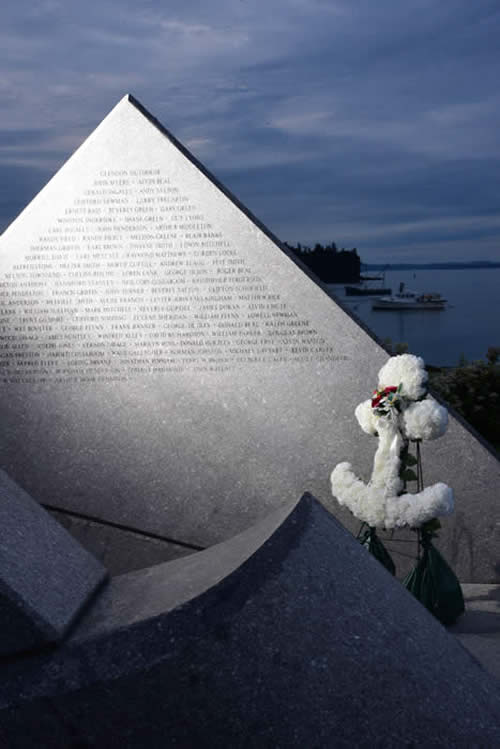 Top: sleepy, happy piggies, Tide Mill Farm; Middle: white water at Bad Little Fals, Machias; Bottom: Lost Fishermen's Memorial, Lubec.
We ate lots of lobster. And we got great photos.
Still, if I had to pick our favorite workshop shooting, it might be the informal portraiture and documentary photography that we did during SummerKeys music classes. Instructors and students welcomed us—we always worked as flies on the wall and never shot flash. From Margret Hjaltested's energetic violin classes, to Winslow Browning's outdoor classical guitar sessions, to David Bakamjian's simpatico cello circle, to jazz great Kent Hewitt's sessions on music theory and technique, we were able to make our own students more comfortable photographing folks they did not know—and allowed the student musicians to grow more comfortable being photographed. A genuine win-win.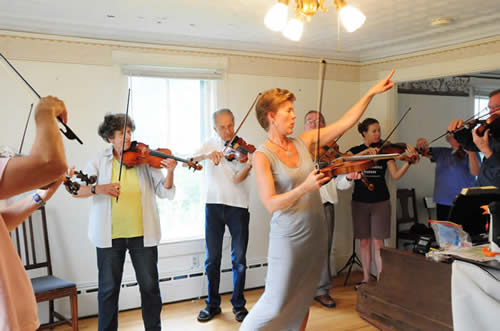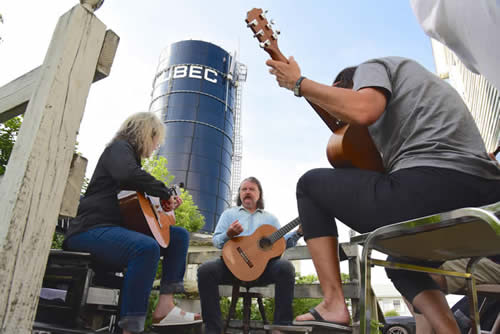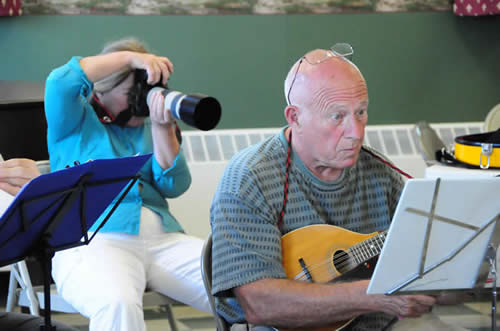 Top: Striking violist Margret Hjaltested, from Queens via Iceland, warms up her violin class; Middle: Classical guitarist Winslow Browning loves working outdoors to do his magic; Bottom: We never intruded--just observed.
But all things must end.
Sitting on the front deck of our summer home the other day, Scotch and cigar in hand, eyeing an impossibly blue sky and marshmallow clouds, with sunlight glinting off the evergreens surrounding Judy's garden, and hawks riding wind currents up above, I knew I would not savor exact moments like these again—even if we already have booked a house up here for next August.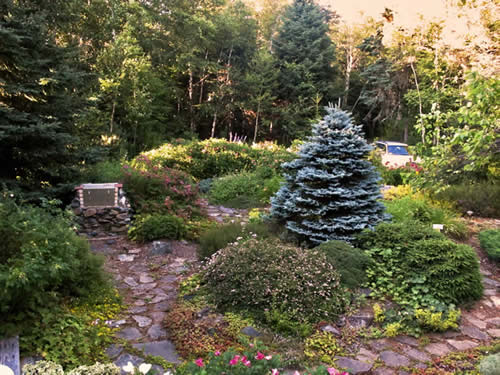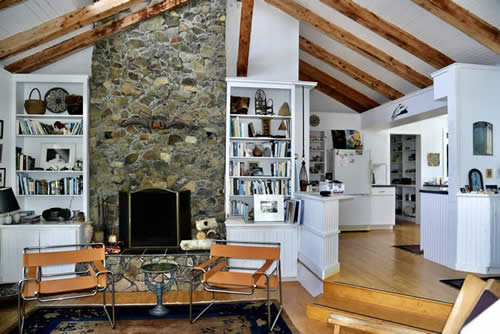 Top: Where once there was only gravel Judy created beauty. Bottom: Growing up in a Bronx walkup, I thought any fireplace was a luxury; a 2-story stone one was a freaking miracle.
Which only proves that the only constant in life is change.
And as Judy and I look back on these golden years we give thanks, most especially to Summerkeys and to our dear friend, the Maestro, Bruce Potterton, who gave us the chance to do what we do best amid the beauty and serenity of Down East Maine.
Tantissime grazie, e molto amore a tutti…F&J
-----------
Postscript…20TH ANNIVERSARY PIC
When SummerKeys celebrated its 20th anniversary in 2012, the SummerKeys family gave founder Bruce Potterton a special gift—a framed portrait of him that had appeared in my Maine book, signed on the surrounding mat by Summerkeys faculty, staff and friends. That summer I secretly schlepped the pic all over Lubec, gathering signatures and inscriptions. And the look on Bruce's face when we presented him with the signed, framed photo at the end of the summer was priceless.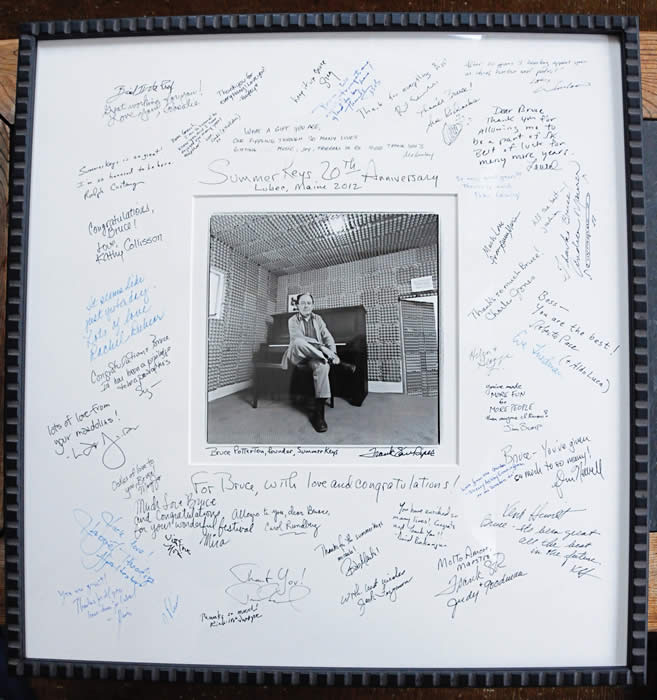 -0-0-0-0-0-
Van Riper Named to Communications Hall of Fame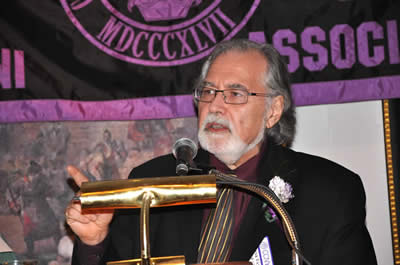 Frank Van Riper addresses CCNY Communications Alumni at National Arts Club in Manhattan after induction into Communications Alumni Hall of Fame, May 2011. (c) Judith Goodman

[Copyright Frank Van Riper. All Rights Reserved. Published 8/14/23]