Film Camera Day at Glen Echo Photoworks
Analog photography comeback?...It never left

By Frank Van Riper
Photography Columnist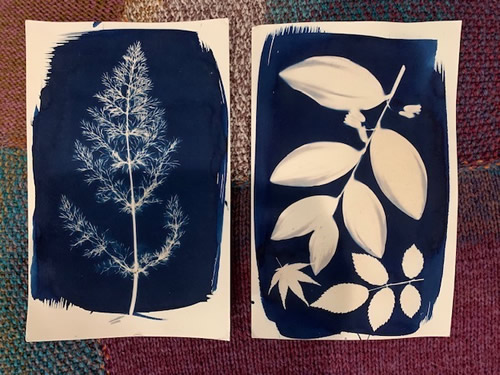 Cyanotype image, left and shadowgram. © Sebastian Hesse-Kastein
It may be true that the invention of the automobile played hell with the buggywhip industry since precious few of us rely on horses these days for our family transportation.
But for every seismic change in the marketplace wrought by a new invention or innovation, there are many more whose impact has turned out to be less dramatic than originally thought:
--The invention of TV did not kill radio.
--The ballpoint pen didn't kill off the fountain pen.
--A time-keeper in every smartphone did not kill the wristwatch (especially those pricey numbers from Rolex, Movado and Tiffany seen most weeks in the Sunday Times Magazine.)
--And Photography did not replace painting.
Also, for purposes of this discussion, the sea change wrought by digital photography sure as hell did not destroy film photography, and its many, varied analog printing incarnations.
That thought came flooding back to me on Saturday, March 18th when I attended "Film Camera Day" at Glen Echo Photoworks, Glen Echo, Md., where I have been teaching lighting, narrative photography and portraiture for the past 20 years.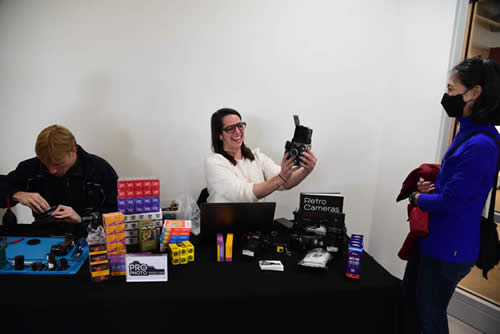 Sally Baghdassarian of ProPhoto/DC delightedly inspects a honking big Rolleiflex wide-angle twin lens reflex camera during Film Camera Day at Photoworks. (All event photos © Frank Van Riper)
A large crowd of film camera buffs, young and old, crowded the lobby of Glen Echo Park's Art Deco Arcade building as Photoworks instructors and volunteers—as well as reps from two of the area's largest camera stores--offered practical and artistic insights about camera gear, repair as well as alternative process printing.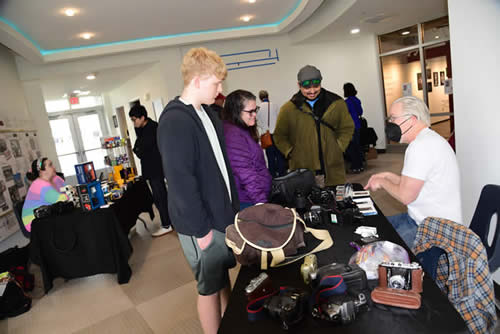 Veteran Photoworks instructor Mac Cosgrove-Davies manned the camera inspection desk during Film Camera day and had plenty of takers.
"It's always a joy for me to help reacquaint someone with their cameras," noted veteran Photoworks instructor Mac Cosgrove-Davies, a driving force behind Film Camera Day.

"Most people brought more than one camera, and of those, at least one was in good working condition. This softened the blow of having the other camera being less than happy. Everyone seemed appreciative of what we were doing and absorbed the sense of fun that was bouncing around the room."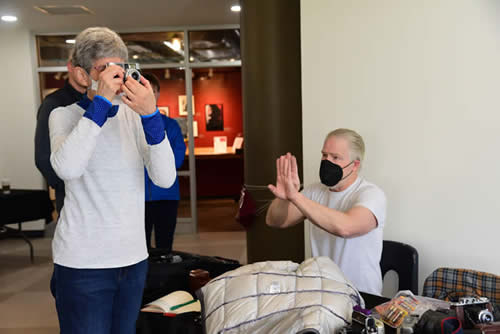 Mac talks an eager film camera buff through rangefinder focusing.
"One of the highlights for me was a fellow who came and told me he had been shooting a lot with his film camera ever since the last film camera day (October, '22) when he brought it in for us to look at. He was much more tuned in on the darkroom and what we had to offer this time. It was also gratifying to have two camera stores represented, and to hear them discussing ways that they can collaborate, for example, on bulk film orders." (Thanks here to Tina Staffieri representing Dominion Camera, as well as Sally Baghdassarian, whose family brought venerable ProPhoto to Pennsylvania Avenue in downtown DC decades ago.)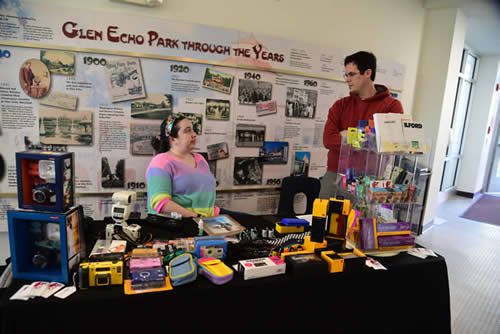 Tina Staffieri (l.) of Dominion Camera chats with photographer Matt Donizetti at Dominion's heavily laden table.
"Overall," Mac said, "there was considerable ooh-ing and ah-ing over the Photoworks facility, especially the darkrooms, and a good deal of interest on our class offerings…"
Those offerings include several classes involving so-called alternative processes. One of them—cyanotype printing—drew a large beguiled audience on Film Camera Day as photographers Sebastian Hesse-Kastein and Paige Billin-Frye demonstrated the technique—that dates back to 1842.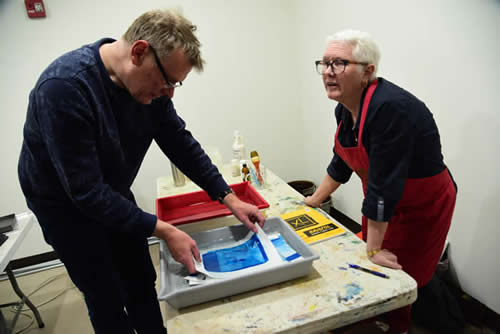 Sebastian processes a cyanotype print as Paige looks on.
"Cyanotype is an easy route into the world of alternative processes," noted Sebastian, who also is a longtime journalist as well as a published author. "It's comparably easy to learn, dirt cheap and absolutely non-toxic. But there's a whole range of historic techniques photographers can learn at Photoworks: Platinum Palladium, Oil Printing and others. With our presentation we wanted to create an appetite for all of them!"

"People were both fascinated by the simplicity of the process and the look and feel of these prints. You can create unusual images just using a few harmless chemicals and the sunlight. And you can both print photographs in an unusual way and shadowgrams with things you find in the natural world."
Take, for example, Paige Billin-Frye's cyanotype, "Messy Family," a gorgeous portrait of voluptuous pears toned, she said, "with yerba mate tea and sodium carbonate, then hand-colored with watercolor paint."
Nope, not your average digital post-production.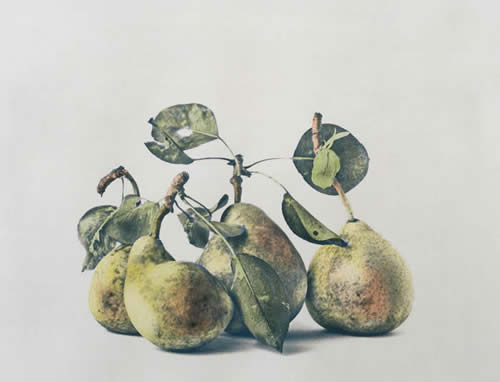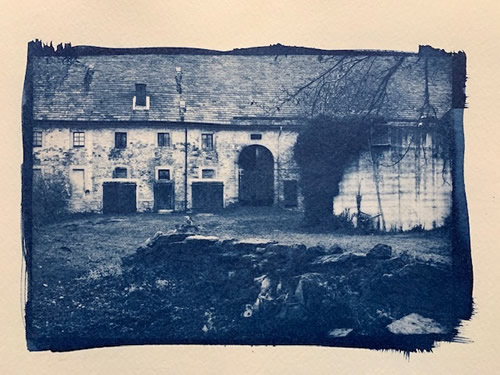 'Messy Family' (top) © Paige Billin-Frye; moody cyanotype © Sebastian Hesse-Kastein
Of course, it would be naïve to say that the digital revolution in photography had little effect on film shooting. In fact it turned the film-based industry on its head, and made most commercial and editorial shooters like me turn almost totally to digital for its creative control, easy turnaround and—now—superb image quality.
But, if the pendulum initially swung hard right in digital's favor the pendulum now is moving ever so gently in the opposite direction as photographers both embrace the slower, more deliberate, process of analog (film) photography, while also incorporating digital technology to enhance their film photography practice.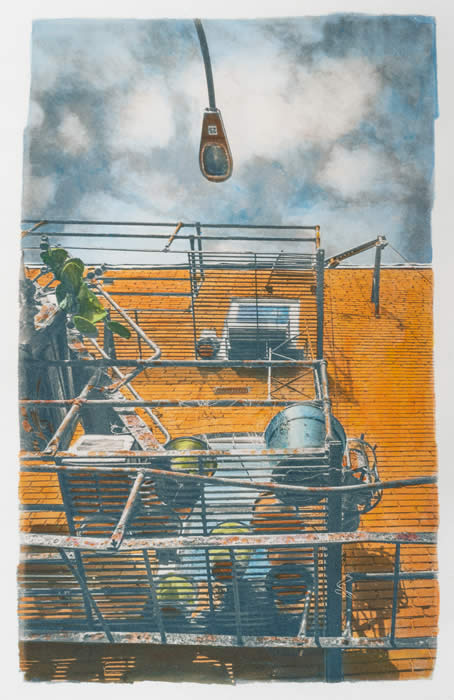 'Alley in Shaw', Washington, DC © Paige Billin-Frye
One example: for the book on Venice in Winter that my wife and partner Judith Goodman and I did in 2008, I made about 150 11x14 silver prints and FedEx'd them to Italy, there to be turned into a gorgeous book.
By contrast, a decade later, as I worked on my current book, containing my vintage BxW film images of New York and Paris going back to the 1960s, I spent virtually no time in the darkroom, having hi-res scanned my old negatives and sent the images (post-processed to my satisfaction) with the push of a button.to my Art Director/Designer in Brooklyn.
And that book, too, was gorgeous.
"Photoworks runs on connecting visitors with the authenticity of instructors sharing their passion," noted Photoworks director Karen Keating.
Said Sebastian Hesse-Kastein: "As a photographer I have almost completely switched to vintage processes myself. I really do value the possibility of producing images by hand, and using all sorts of different papers and materials. I love the slowness of the processes, including taking my pictures with a large format camera. It requires an almost meditative state of mind. And it's amazing how you can tell contemporary stories with a photographic language dating back to the 19th century!"
-0-0-0-0-0-
Lubec Photo Workshops at SummerKeys, Lubec, Maine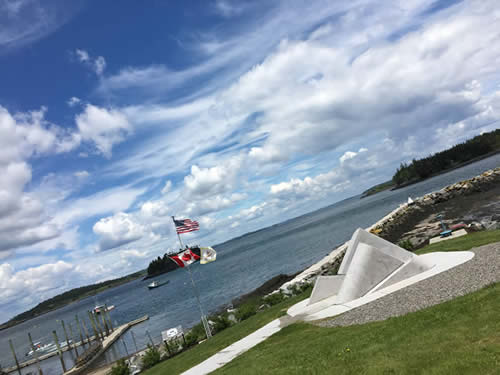 Join us for another magical summer in Down East Maine in 2023...
Master Photo Classes with Frank Van Riper
I have taught in several different places—from Washington DC to Umbria—but my Photo Master Classes in Lubec, Maine may be my favorites for their small size (five students max) and their remarkable setting—arguably the most beautiful coastline in the United States. (Sorry, route 1 in California.)
These intense, three and a half-day, limited enrollment classes are aimed at the more advanced student, who already has taken a photo workshop and who is familiar with basic flash. Maximum enrollment of just five. Open to vaccinated students ONLY. Enrollment through the famed SummerKeys Music and Arts workshops in Lubec, Maine--the easternmost point in the United States. First class will be July 17th-19th, 2023; second will be August 7th-9th. NB: previous Master Classes were booked almost immediately.
More Information: GVR@GVRphoto.com
To enroll: www.SummerKeys.com
Come photograph in one of the most beautiful spots on earth.
-----------
Van Riper Named to Communications Hall of Fame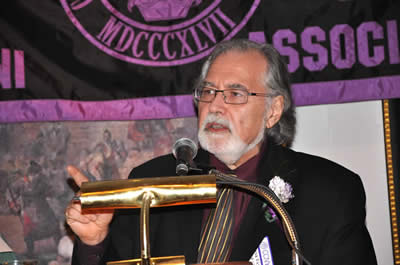 Frank Van Riper addresses CCNY Communications Alumni at National Arts Club in Manhattan after induction into Communications Alumni Hall of Fame, May 2011. (c) Judith Goodman

[Copyright Frank Van Riper. All Rights Reserved. Published 3/23/23]]