Nikon's D40x: A Tiny Jewel Box
Good looks, small size—and packed with features
By Frank Van Riper
Photography columnist
I experienced a little unsettling hindsight recently when Nikon shipped me one of its new D40x digital SLR's for review.
Granted, my wife Judy (who also is my professional partner in our commercial and documentary photography business) took to the camera immediately. She kept picking it up as if it were a puppy and kept saying how cute it was. I should add here that Judy, a superb shooter, is not an equipment geek. A camera is merely a tool to her, a means to an end. She hardly ever gushes over equipment.
This was the first clue I had that the D40x, smaller and lighter than virtually all of Nikon's previous prosumer DSLR's, might be something special, or at least something different.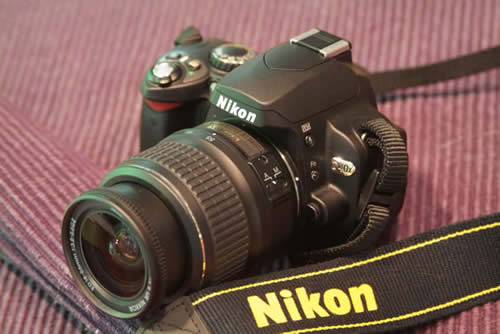 The Nikon D40x is packs a ton of features in a small package. (c) Frank Van Riper
The second clue came when Graeme King, one of my students, had his beloved D200 stolen from his apartment in downtown Washington and had to scramble to replace it quickly. Graeme, a 38 year-old software consultant, wound up choosing a Nikon D40, the cheaper and slightly less gizmo-laden version of the D40x.
He hasn't stopped raving about it. And, as you can see, he has made some killer images with it.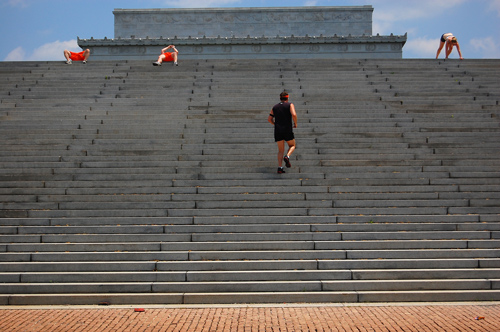 Graeme King's shot of the Lincoln memorial steps is a classic. (c) Graeme King
Clearly, something was happening here
But first I had to deal with my own initial misgivings about the camera.
When I opened the box and took out my review D40x, I flashed back several years ago to when a colleague in a photo store put a new Nikon N80 into my hands. The N80, for those new to the game, was a film camera that Nikon brought out in the waning years of its film camera production. It was supposed to be a smaller, more affordable version of its legendary F100—a great tank of a camera that became the film camera of choice for many of us pros who did not feel like forking over huge bucks for the then top-of-the-line F5.
Granted, the N80 was brim-full of features, many of them useful and ingenious.
But in the hand the camera body felt like a cheap plastic toy.
In my not very favorable review of this small, lightweight (and, I thought, unconscionably flimsy) camera, I quoted a somewhat defensive-sounding Nikon rep as saying that Nikon needed to make cheap cameras like these to appeal to the larger consumer (read: amateur) market so that it could afford to keep making F100s and F5s to sell to pros and other serious shooters. These latter cameras, the Nikon rep said, though good sellers in their target markets, never could make up in volume and income what the amateur cameras brought in.
OK, I had to concede that the Nikon guy had a point: much as pros might like to think otherwise, it's the amateurs, by their sheer numbers, who drive the market.
I just wished the N80 hadn't felt so crappy.
Segue now years later as I lifted the D40x out of its box. I already knew from the advance publicity that this is an entry-level DSLR that Nikon hopes will become the camera of choice for those who want to make the leap from tiny digital point and shoots to a camera that takes interchangeable lenses and that offers a raft of creative controls. I knew, too, that the D40—and its quick-appearing, more heavily pixel'd counterpart, the D40x—was shoe-horned into a crowded Nikon product line that included, in no particular order, the D50, the D70, the D80, the D200 (replacing the older D100), and of course the very pricey pro-level big dog, the D2x.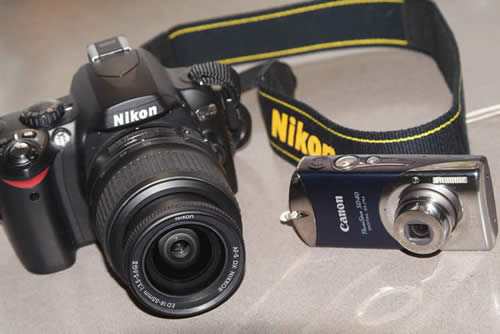 Not really a whole lot of difference in size, when compared to the ultra-compact Canon SD-40. (c) Frank Van Riper
But what I knew most of all was that one of the biggest potential draws of this camera was its price, especially with the well-regarded (by pros and amateurs) D200 going for some $1600 (body only). By contrast, with a D80 body and lens kit selling in New York for $1135, the tiny D40x with an 18-55 Nikon lens went at the same store for only $699—and the D40 with the same lens for a mere $525.
In today's market, especially for a camera/lens kit that often includes a gigabyte card in the bargain, this is coins.
But, are they coins well spent?
By any measure, you bet your aspherical lens.
First off, this camera, either the D40 or D40x—I have used both—seems a far better put together machine than the little-lamented N80 film camera. It has a pleasant heft, though is nowhere near as heavy as, say, my pro-grade Fuji Finepix S3.
The camera's diminutive size, which may or may not be an effort to appeal to female amateur shooters, did not prevent it from feeling entirely comfortable in my hands. And frankly, as someone who has lugged his lovable S3 around for hours at a time, I didn't really mind not having what felt like a paperweight around my neck
Though the camera does lack an LCD readout on top, near the command dial, it more than makes up for this with a gratifyingly huge display screen at camera back. In fact, the screen on the D40x makes the one on the S3 look like a mail slot by comparison.
Tiny camera, but big screen. Check out the difference, compared to my great Fuji Finepix S3 (r.) (c) Frank Van Riper
Probably the biggest draw of the D40x over the D40 is the fact that the D40x offers 10mp resolution (versus 6mp for the D40) and also contains the same sensor as the much pricier D200.
By the same token, both D40's offer the ingenious in-camera retouching menu-- first unveiled in the more expensive D80—that allows photographers to tweak their images without having to go to a computer and fire up Photoshop. Included in the Retouch menu is Nikon's D-Lighting, which brightens dark pictures (maybe I am easily impressed, but I really liked this feature) and on-board auto-correction of red-eye: that inevitable consequence of any direct, pop-up flash, portrait. Image Trim allows for creative cropping of an image and creates smaller files for easy e-mailing. Other creative features include Image Overlay, Small Picture, Monochrome (Black-and-white, Sepia, and Cyanotype) and Filter Effects (Skylight, Warm filter, Color balance).
In any fair assessment of the two D40's, there is no getting around the fact that Nikon has eliminated some functions, not to simplify things, but to reduce cost. Both cameras, for example, lack an internal focus drive motor, meaning that (horrors!) you might have to actually focus manually if you use some older Nikon lenses. But remember: the fact that you still can use these older lenses on the famed Nikon lens mount is a huge plus in a consumer world of studiously planned obsolescence.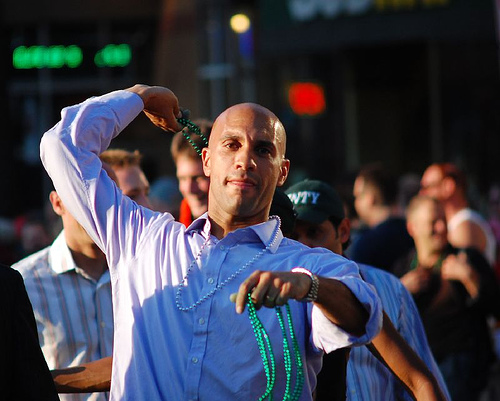 One of the best pix of DC Mayor Adrian Fenty I ever have seen--made at a recent Gay Pride parade. (c) Graeme King
Also, the camera lacks dedicated buttons to change ISO or White Balance or Image Quality. Not that you can't do all these things; just that it requires a couple of extra presses of a command dial. Once you get used to this, however, you likely will do it without thinking.
No auto-bracketing either, but, as in my case for example, since I didn't grow up with it, I don't miss it. I just bracket manually. Finally, there is no pc connector for external flash--not at all unusual in cameras of this price range. External flash easily can be connected via a separately purchased hot shoe-mounted connector.
Graeme King, my student, offered a technologist/photographer's real world take on the D40 and D40x, so it makes sense simply to move aside and give him the floor:
"I love the D40! I bought the D40 and not the D40x since [the latter] is way more expensive and the only difference was the larger senor which most of us don't need."
"I spent a lot of time reviewing the features against the D200 and really could not justify spending the money on another [one.] All the features I wanted in a DSLR were there, ISO from 200-3200, large LCD, RAW capture, accepts older Nikon lens, built in flash (plus flash features like front and rear-curtain sync), 2.5 fps, unbelievable battery life - the thing just goes on and on; it is so light..."
Graeme continued via e-mail:
"If you are a pro or really serious amateur then I believe you can justify the D200 but the rest of us? I've been using it for a month or so now and I'm really happy with it. I was expecting to get frustrated with it in terms of its 'lack of features' after using a D200 for 9 months but it just hasn't happened…"
Bottom line for Graeme: "I'm just really pleased with myself for saving the money and choosing such a capable camera."
In fact, Graeme's only complaint about his tiny D40 is that he feels "it makes me look like an amateur. Other 'serious' photographers used to talk to me more!"
[Other "serious" photographers, that is, who only wished they could shoot as well as he does.]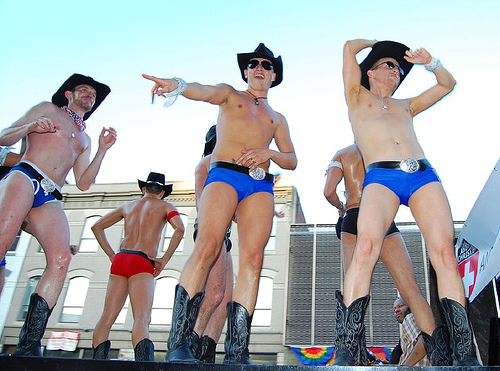 You can laugh, but would you look this good in your BVDs--in public? (c) Graeme King
Frank Van Riper is Washington-based commercial and documentary photographer, journalist and author. He served for 20 years in the New York Daily News Washington Bureau as White House correspondent, national political correspondent and Washington bureau news editor, and was a 1979 Nieman Fellow at Harvard. Among others, he is the author of the biography Glenn: The Astronaut Who Would Be President, as well as the photography books Faces of the Eastern Shore and Down East Maine/A World Apart. His book Talking Photography is a collection of his Washington Post and other photography writing over the past decade. He can be reached through his website www.GVRphoto.com
[Copyright Frank Van Riper. All right reserved.]