Old Building: Which Pic Do YOU Like??
(Hint: Leica, Finepix S3, Mamiya 6, SuperwideCM, View Camera, or Holga)
The combination of this pre-Civil War-era building near Olney, Md., and it's brand new "Starbucks" banner just begged to be photographed. But how? And which photo do you prefer? (c) Frank Van Riper
By Frank Van Riper
Photography columnist
Most baseball players, especially heavy-hitters who make their living with the long ball, stick to one particular bat, keeping multiple copies in the dugout in case they should shatter one during a game.
Classical violinists, especially those able to procure rare instruments like a Stradivarius or a Guarneri, often will use these tools to the exclusion of others when performing or recording.
Even regular folks—you, me, the guy next door—likely have "tools" they prefer, and use almost exclusively: a favorite fountain pen, perhaps (remember them?), a cherished garden hoe, a good luck tennis racquet.
But photographers, especially pros and serious amateurs, know that there are times when even one's favorite camera (in my case a Leica M6 with a 35mm f.2 Summicron) may not be the best tool for a particular picture.
In our case, my wife Judy and I have used any number of different cameras in all formats during our 25 years working together as commercial, documentary and fine art photographers. Lighting systems, too. In most cases, we have been able to dope out in advance what system will work best for what job. For example, when shooting interiors for an architect or a builder, we might use our Hasselblad Superwide CM, or perhaps even our 4x5 view camera, to render maximum area and detail.
By the same token, when we were working on our next book, Serenissima: Venice in Winter—a project that involved mostly street photography of people and places—35mm cameras were the obvious choice for most of our work. By the end of our six-year documentary project, Judy's customary kit consisted of two Nikons with wide and tele lenses; mine a brace of M6's, one with the 35mm Summicron, the other with a 21mm wide-angle. (Note: though our book was shot overwhelmingly in 35mm, we occasionally made use of our medium format gear for specialized shots. This included a Mamiya 6 rangefinder, two Hasselblads—the Superwide CM and 500CM—not to mention a wonderfully crummy, plastic, Chinese-made Holga that produced simply magical images.) Early in the book project we had schlepped nearly everything we owned to Venice, fearful of needing a specialized camera, and realizing that it was sitting in our camera cabinet an ocean away. In the end, though, we found the extra gear unnecessary. At most other times in our working life, a particular job simply dictated a particular camera.
Until recently, that is, when a chance encounter with an old building and a very new sign caused us once again to empty the camera cabinet and load up the car.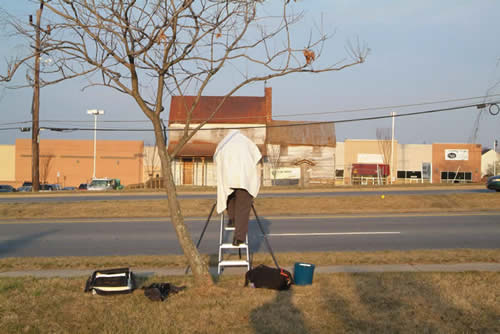 The biggest problem, aside from balancing on the stepstool while using out 4x5 view camera, was waiting for breaks in the rush hour traffic so I could make an uncluttered exposure. (c) Judith Goodman
Judy was driving up Georgia Avenue to Olney, Md., where our son, daughter-in-law and two of our grandkids live, when she glanced to her left and saw a dilapidated old clapboard building. That was no big deal; the old building, once a commercial/farming property that dated back to the pre-Civil War, had been there forever. Now, though, it stood by the side of the road with a newly completed strip shopping center behind it. But what really caught Judy's eye was the new white sign on the fence directly in front of the doughty old building.
"Starbucks," the sign read, seeming to refer directly to the tumble-down structure. "Now Open."
The hilarious juxtaposition—and the thought of getting one's oh-so-trendy venti-half-caff-no-foam-latte in a building from Abe Lincoln's era—screamed to be photographed, and Judy and I made plans to do just that. In fact we assumed that the building was just days away from the wrecker's ball and so we made haste to get this goofy image on film and pixels. Turns out, we didn't really have to rush. In fact, the historic building is slated to be preserved—and current plans are for at least part of it to be turned into a high-end gelateria. [Why the Starbucks sign? Why "Now Open"? The coffee shop was directly behind the old building, and therefore hidden from drivers on Georgia Avenue. The sign was put up simply to direct customers to this newest link in the Starbucks chain.]
But we learned all that later. Now, it was a race to make the picture.
But what kind of picture? There were a number of ways to do it. A wide shot would show the old building in relation to the crisp new stores behind it. But a close shot would emphasize the sign. Make the shot straight on? At an angle? From far away, from medium distance?
Lots of choices, including of course whether to work in black and white or color—and with what kind of lens?
If ever there was a case for doing it all, this was it. In the end, I made photographs with no fewer than six separate cameras and six different lenses: from digital to 35mm; from medium format to large format. I was delighted with virtually everything I got and only reluctantly have chosen my favorite(s). I would be very interested to hear your thoughts via email: GVR@GVRphoto.com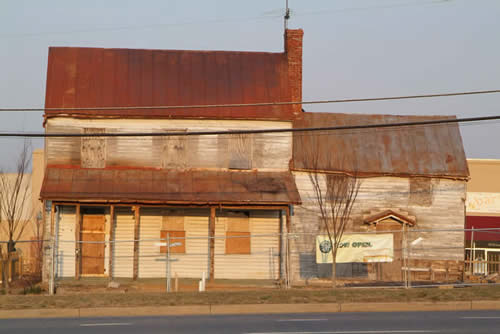 Morning light, coming from behind us, created a warm glow on the old building. This shot, one of the first of the shoot, was made with a Fuji Finepix S3. (c) Frank Van Riper
All the images were made within one hour on a sunny March morning. We had gone out to the site with all of our gear the previous evening, just before sunset, but it was obvious that the light was not right. So I made one digital shot just to record the light and we headed home. [Note: in landscape and other shooting like this, one of the hardest things to learn is when NOT to make a picture. Here, at least, we had the option of coming back just 12 hours later, when the light was superb.]
With the morning sun now washing the old building with beautiful warm light, I made a quick series of color digital photographs with my Fuji Finepix S3. Then I set up the tripod for the most difficult picture: the 4x5 shot on our Zone VI field camera. Both Judy and I are partial to black and white and the remaining photos of the morning were monochrome.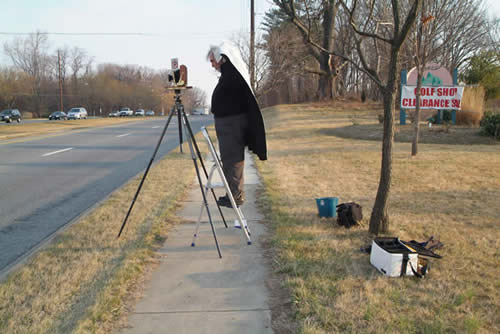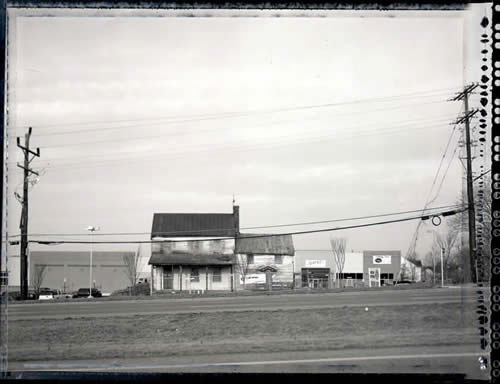 Remember The Penguin from 'Batman?' That's me (top) preparing to use our gorgeous Zone VI 4x5 field camera. The final image (bottom), made on Polaroid Type 55 Pos/Neg film, was full of detail, but not as exciting as some of the others. (c) Judith Goodman (top), Frank Van Riper (bottom)
Sure enough the 4x5 shot showed a wealth of detail on the Polaroid type 55 positive/negative film that I used. But, compared to other shots, I found this one to be almost static—more a record shot than an interpretation.
Compare the 4x5 image, for example, with the one I made from almost the same perspective with the 21mm lens on my Leica M6. The converging telephone poles add a dramatic counterpoint to the stolid house and, combined with a frankly better sky (over which I had no real control) make for a better photograph. Using this incredibly sharp Leica wide-angle lens, I also make one of the few off-center images from the shoot, from a closer vantage point. (See first photo above.)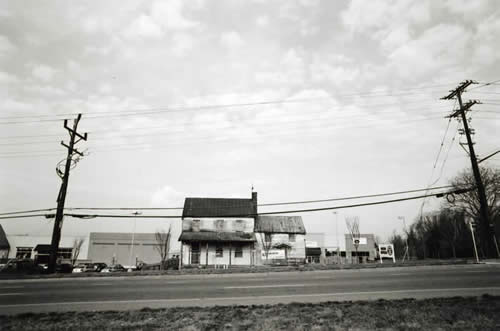 Though covering virtually the same area, the shot made with the 21mm lens on the Leica is more dramatic than the more staid 4x5 image because of the converging telephone poles on either side. (c) Frank Van Riper
The medium format take had some surprises, too—as well as the morning's keeper. Once again, the straight-on medium close-up shot made on the Mamiya 6 rangefinder camera, though sharp and well-exposed, is really little more than a record shot. But note how the shot made with the Hassy Superwide takes on a dramatic cast when the camera is held at an angle, pointing up, to deliberately create distortion—and also to record the clouds in the sky.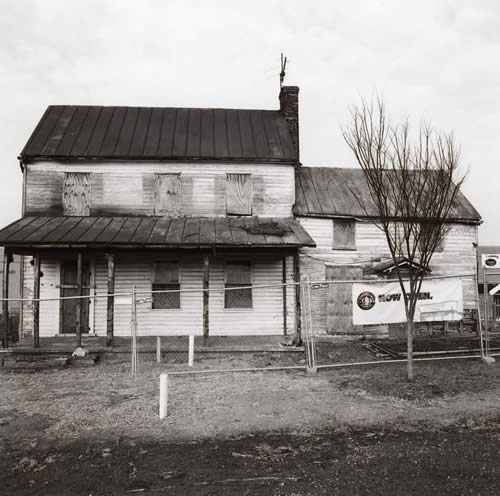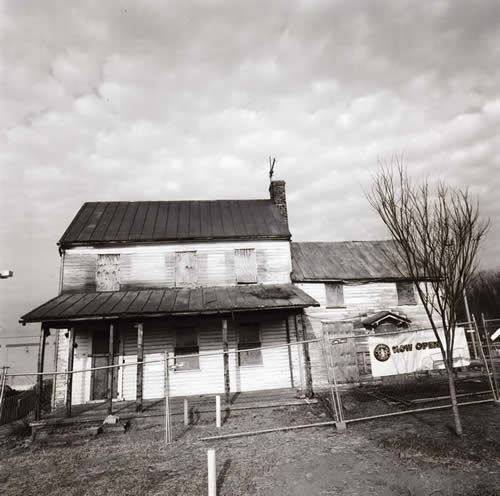 In medium format, the straight-on shot made with the Mamiya 6 (top) is nothing special, I think. But the photo made with the Hasselblad Superwide CM (bottom) is a keeper because I tilted the camera to create distortion and include more of the sky. (c) Frank Van Riper
Still, the biggest surprise of the morning and, for me anyway, the most satisfying image, came when I used my crummy little Holga with its plastic body and plastic lens. Suddenly, the beleaguered old farmhouse/feed store looked like something out of Wuthering Heights. The vignetting caused by the Holga's awful lens added to the somber mood of the picture and creates, to my mind, anyway, the image I was after.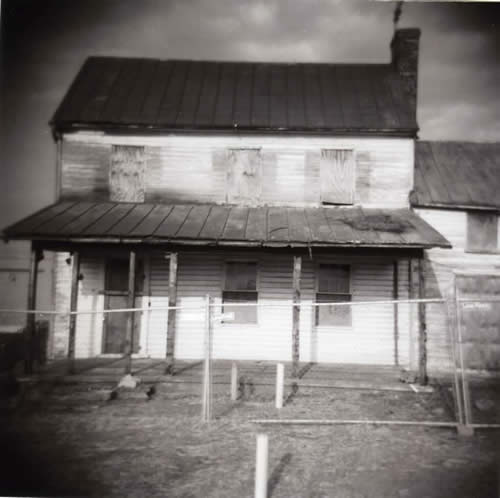 A gift from the Holga photo gods. This moody image is made all the more so by the vignetting caused by this toy camera's plastic lens. (c) Frank Van Riper
Ironic, no? We drove out to this shoot with thousands of dollars' worth of cameras and lenses and my favorite shot was made on a $30 toy.
Frank Van Riper is Washington-based commercial and documentary photographer and author. His current book is Talking Photography (Allworth Press), a collection of his Washington Post and other photography writing over the past decade. He can be reached through his website www.GVRphoto.com
[Copyright Frank Van Riper. All Rights Reserved]