Smile, Your Highness!
…and other things you don't say when photographing the Queen
By Frank Van Riper
Photography columnist
Annie Leibovitz and I have at least one thing in common: we each recently photographed Queen Elizabeth.
Leibovitz, the celebrity portraitist (who also has been a hell of a photojournalist) made her pictures in Buckingham Palace for Vanity Fair magazine, and they achieve the kind of brocaded solemnity one would associate with the octogenarian sovereign of all things British. One image in particular stands out: a wide shot of the seated and crowned queen, seemingly lit only by natural light, facing a window in the Palace's White Drawing Room. There is the barest glimmer of a smile on her face. The setting and the pose could have made the image seem stiff or rigid; the smile renders it wonderfully human.
My job was less formal but, I venture to say, equally fraught with the kind of modern-day security and protocol annoyances that can get in the way of making a decent picture. I was hired to be the official photographer when the Queen toured Washington's Children's National Medical Center in May during her whirlwind five-day trip to the United States with her husband Prince Philip.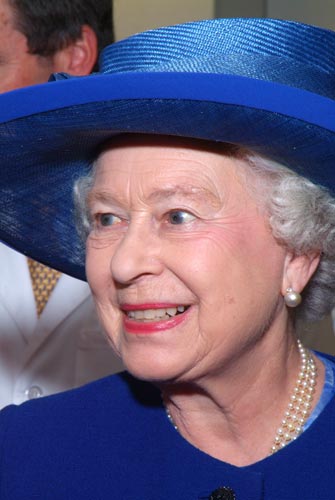 Queen Elizabeth was perhaps an arm's length away from me when I made this informal portrait. As one of Children's Hospital's official photographers, I was allowed remarkable access to her. © Frank Van Riper
That Annie Leibovitz got good images should not surprise—she is deservedly one of our superstars. That I came away with first-rate stuff does me credit as well, but it also highlights the fact that I had the good fortune (and professional contacts) to be in the right place at the right time to be given the kind of lengthy access most news shooters get rarely, if at all, during jobs like this.
[By contrast—and by way of interesting comparison—my old friend and former New York Daily News colleague Harry Hamburg also made some wonderful photos of the Queen in England, where Harry now lives. It was during the Queen's birthday "walkabout" near Windsor Castle last year, when the Queen, accompanied by a few ladies in waiting and, of course, security guards at a discreet distance, literally walked a few city blocks, greeting crowds of people who stood politely behind metal fencing. This traditional event is open to all the public and the comparatively low key nature of it says volumes about how paranoid about security we have become in the US.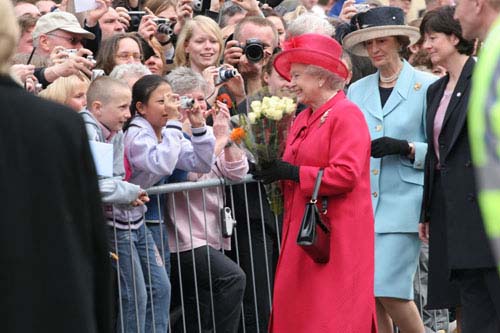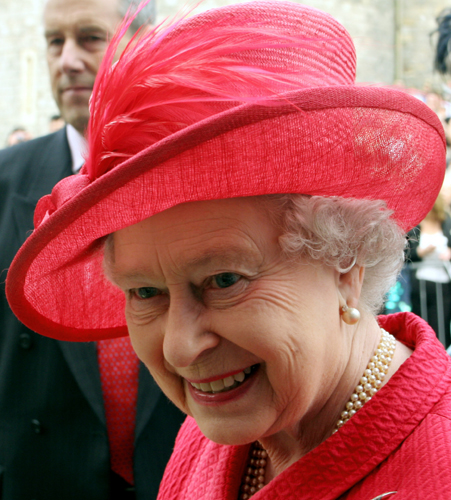 In Harry's photos last year, the low-key security was apparent. And that let Harry make a great portrait too. (c) Harry Hamburg
"There were no mags (magnetometers), no searches, no bag checks, no big suits with pins pushing people back....only pushing the kids IN so they could present gifts, flowers, etc. We [Americans] are so into protect-your-ass security it is sickening."
"The Brits laugh at all of the security in the States, especially during her visit [there]," Harry said in an e-mail. Recalling the birthday walkabout, Harry noted "she was probably about four feet in front of me, as she was throughout the walk, extending her hand for the shake which probably brought her in another foot or so. No one asks for autographs but she does pose, sort of, for photos.....She was out there for over an hour and the crowd stayed until she got into her car and left for a private lunch."]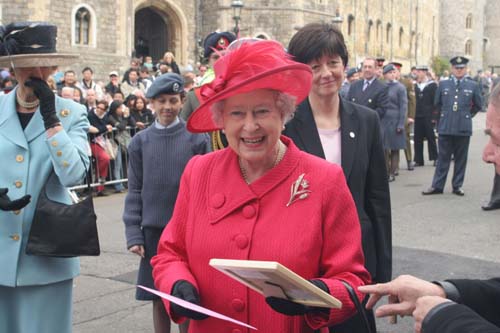 The Queen seems to clearly be having a good time during her walkabout. © Harry Hamburg
In some ways, photographing the Queen of England—during official visits, anyway—is lots more difficult than photographing a US President or other American politico, on a similar outing. To be sure, in the post 9/11 world, security around President Bush never has been tighter, but Bush, like all other modern presidents, does not have centuries of protocol and tradition keeping him from his "subjects". He and pols like him love to at least seem folksy and accessible, and tend to strike the right pose for good pictures--especially if the crowd has been pre-screened to weed out potential trouble-makers.
It's different with the Queen (though not always, as you see from Harry's comments). Owing as much to Americans' unease with royal protocol as with the Queen's own reticence to seem overly familiar on foreign soil, photos of her during state visits tend to be canned and pre-planned down to the x's on the floor where everyone should stand.
So it was at Children's hospital, where the Queen and Prince Philip were scheduled to make a one-hour visit last May 8th.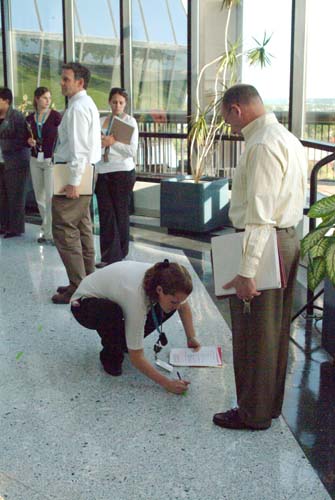 During run-through the day before the Queen's visit, Hospital staffer marks spot on floor where one group of VIPs will stand to greet the Royals. © Frank Van Riper
I have covered presidential inaugurations that had less attendant angst and agita—but to everyone's credit (including the Queen's) the visit went off perfectly and everyone, including the Queen, and especially the Prince, seemed to enjoy it.
Though lasting only an hour—from exactly 2:40pm to exactly 3:40pm—planning for the event took weeks, much of it in secret. The first word that my wife Judy and I received about the job was on April 18th from our friend and colleague Paula Darte, who had just started her new job as director of public relations at Children's:
"I'm here – second week – yikes – tons going on," Paula said in an e-mail.
"I might have a cool gig for you to photo on May 8 – Tuesday – possibly after noon – but maybe also in the morning. So hold the date."
She outlined what she could pay us, then added: "Probably will want digital for rapid turnaround –MORE LATER."
Fine, I responded immediately, we're holding the date. What's the gig?
But the security lid was still on.
"The date is firm…" Paula replied shortly thereafter in a cryptic e-mail. "This will be flash on camera – and you might need a white house clearance…"
No problemo, I ventured, still virtually clueless, but now even more curious. "We both have had white house clearance…"
Some time later came this only slightly more informative electronic dispatch: "foreign dignitaries involved."
Okay…even a casual reading of any newspaper revealed details about the upcoming US trip of Elizabeth and Philip, so it really didn't surprise when Paula finally contacted us shortly before the actual event and said "It's the Queen."
For a number of reasons, I was hired to shoot the job solo, following the Queen, while another freelance photographer was tagged to follow Prince Philip during his separate tour of the Hospital's laboratories.
I knew from experience, as both a White House correspondent and later as a longtime event photographer, that this was going to be a crowded affair, with much of the action having to be caught on the fly. Also, it was not going to be like shooting a wedding—even though in both cases we'd work portably, using diffused high-power flash on a handheld camera bracket. This job was going to have to be portable squared, meaning that I would not be able to bring a rolling camera bag full of spare gear with me, to park in a convenient corner, as I would at a wedding. The queen was going to be passing through some half dozen different locations all over the hospital during her hour's visit and there was no way I could work and wheel my camera bag at the same time. [And leaving my big black Tamrac Rolling Strongbox sitting ominously in a corner would not have sat well with the literally dozens of security types who peopled the hospital during the several-hour "lockdown" that preceded the Royals' arrival, as well as that of First Lady Laura Bush, DC mayor Adrian Fenty and bunches of other invited biggies.]
So the order of the day was to carry on my person everything I thought I would need: one digital Fuji Finepix S3 with a Nikon 24-120mm zoom on a Stroboframe bracket topped with a quantum Q-Flash and a high-voltage Quantum battery back on my belt. I coupled this with a backup digital Finepix S2 and a Nikon 28-105 zoom on my shoulder. For precise metering, I relied on a Minolta Spotmeter IV hung around my neck.
And for good luck—and, God forbid, for backup should all my gear quit at once--a tiny Canon Powershot SD-40 nestled in my pocket.
So detailed were the arrangements, so choreographed the schedule, that it was vital that I attend a three-hour run-through the day before the one-hour visit. Glad I did, too, because it gave me a chance to actually experience the flow of the next day's events, as well as to make some fun snaps of the hospital staff getting ready, including Jacqueline D. Bowen, director of government and public affairs (and one of the Queen's hosts) standing in for the Queen and every so often waving regally to the crowd as she glided down the hospital corridors.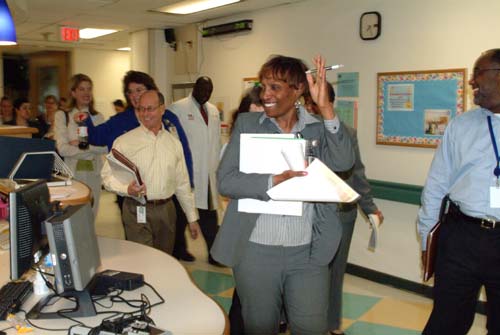 To laughter and occasional applause, Children's Hospital official Jacqueline Bowen stands in for the Queen during pre-visit run-through. © Frank Van Riper
Happily the day of the Queen's arrival dawned gorgeous. Happily, too, I got to the hospital in plenty of time to avoid any security or lockdown hassles, and was able to park in the main building. Eventually, the prime greeting committee (and I) gravitated to a top floor atrium reception area where everyone got into their pods.
Not pods as in "Invasion of the Body Snatchers." This time, "pod" referred to small groups of five people each clustered in two rows, waiting for the Queen and Prince to separately make their way down each line. One person in each pod was designated to speak to the respective Royal. The Queen arrived right on time, dressed in a bright blue suit and matching wide-brimmed hat, and was greeted warmly by Laura Bush (brilliant in red). As for the men, virtually all: Prince Philip, Mayor Fenty--and I, for that matter--wore run-of-the-mill blue or grey suits and ties.
Though my best pictures of the Queen would come a few minutes later, I was especially pleased with an unexpected get during these first greetings: a great informal shot of Prince Philip in animated conversation with a smiling Mayor Adrian Fenty. Philip is gesturing with his hand and Fenty is clearly enjoying himself and holding his own. The two could have been members of the same cricket team, discussing glory days that were fifty years apart.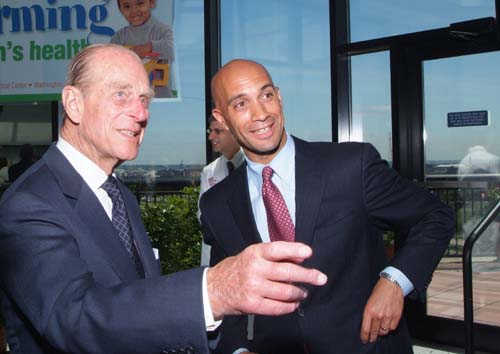 Prince Philip (l.) and DC Mayor Adrian Fenty share a light moment at the start of the Royal visit to Children's Hospital. I really was proud of being able to seemingly disappear while the two of them talked. © Frank Van Riper
Within minutes, so it seemed, the self-imposed strictures on never talking to the Queen unless spoken to, not shaking hands, etc., seemed to vanish—or at least diminish. Clearly, everyone followed her lead, but, after decades of practice, the Queen was adept at putting people at their ease. For myself, I tried to be as silent and invisible as I could, delighted that I was allowed to be so close for my pictures. The lead British security guy could not have been nicer.
But the real work was just beginning. Now, with the Prince heading off for his own tour, the Queen was to be escorted through the children's areas, including a stop at a small playroom filled with parents and kids that I knew also would be jammed with pre-positioned press photographers behind a hated velvet rope.
Having worked on both sides of such a rope in the past. I knew that my "special" status didn't entitle me to get in the way of my colleagues, who would have precious little time to make photos before being ushered out of the room. I tried as best I could to keep out of everyone's sight lines as they feverishly made pictures: of the Queen receiving a framed memento, chatting with doctors and staff, mingling briefly with parents and their children. Then the hammer came down, the photographers were ushered out--and I had the Queen all to myself as she worked the room talking mostly to doctors and other Hospital staff, while Laura Bush continued to make the rounds, beaming at parents and their babies—each of whom was a Children's Hospital success story.
This was when I was able to make my best shots: several full face portraits of the Queen as she stood little more than arm's length away, and a great shot of a beaming Queen with Jackie Bowen behind.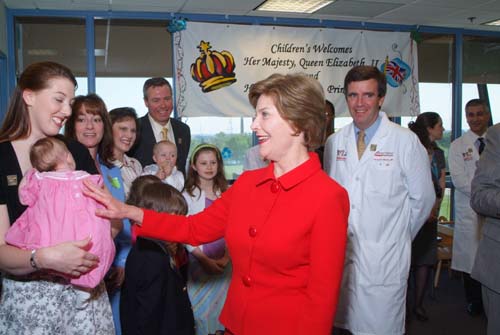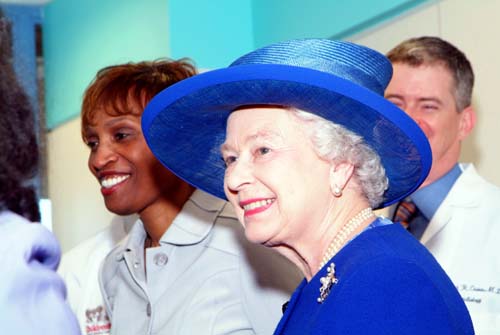 First Lady Laura Bush was a hands-on visitor, to delight of all. Queen enjoyed it too. (c) Frank Van Riper
Afterward, getting from point A to point B, or in this case from one floor to another, was an adventure, but again I was grateful for once again being the lone shooter since security let me stay in front of the Queen (I was back-pedaling, shooting furiously and trying not to trip) as she was escorted through the halls past applauding staffers by Jackie Bowen and by Terry Orzechowski, head of Volunteer Services.
When we emerged into the Hospital's main lobby—now jammed with cordoned off press, invited guests, security guards and, oh yes, patients and their families—the royal visit was almost over. A few more shots of the queen and first lady watching kids doing various arts and crafts, chatting ever so briefly with guests seated in designated rows of chairs, and she was gone. It was 3:40 almost exactly. The event was just as billed: a walk-through, with no remarks from podiums—which also meant no real chance to make decent portraits, another reason I was so grateful for my extended access.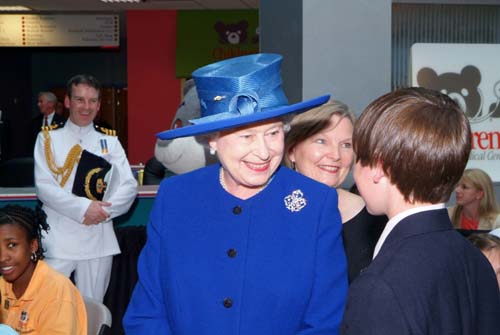 Shortly before her departure, the Queen chatted with families, patients and former patients in the Hospital's main lobby. © Frank Van Riper
With the Queen's departure, all that was left to do was race to the hospital public affairs office where, the young man who was the resident web guru downloaded my photographs and later put a gorgeous-looking 16-picture portfolio of my pictures on the hospital's web site.
Once that initial downloading was done, the folks in the public affairs office—who helped juggle all this mercury into smooth-running successful event—went out to have a well-earned party.
I, on the other hand, went home, took a shower and had a well-earned nap.
Frank Van Riper is Washington-based commercial and documentary photographer, journalist and author. He served for 20 years in the New York Daily News Washington Bureau as White House correspondent, national political correspondent and Washington bureau news editor, and was a 1979 Nieman Fellow at Harvard. Among others, he is the author of the biography Glenn: The Astronaut Who Would Be President, as well as the photography books Faces of the Eastern Shore and Down East Maine/A World Apart. His book Talking Photography is a collection of his Washington Post and other photography writing over the past decade. He can be reached through his website www.GVRphoto.com