Advance look: Frank Van Riper Fall/Winter Classes…below
Anchoring Visual Memory
When even the most mundane photograph can trigger the profound
By Frank Van Riper
Photography Columnist
I'm sure it's not just me.
I'm sure I am not the only one who, on passing a construction site or a new building or a new home or even a vacant lot, cannot recall what once had been there—even after only a few weeks—or perhaps even a few days.
This has happened to me often enough over the course of decades that I know I cannot chalk it up to my advancing years. (My creaky knees, yes, but not this.)
That's what's so important about visual memory. It needs mental pictures to make it work. Once those pictures are gone, so too oftentimes is the memory itself.
This happened to me again recently in downtown Washington, though this time the chagrin at being able to conjure up only a vague memory of the past was mitigated by the fact that what existed in the (temporary) present was bizarre in the extreme and begged to be photographed.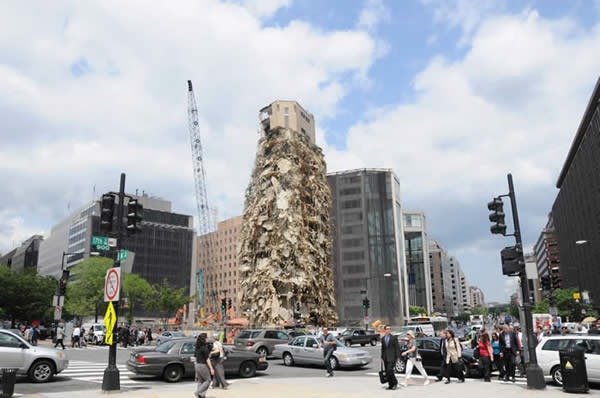 Ground Zero meets downtown Washington. This bizarre photo looks as if it were cobbled together in Photoshop. In fact the tower of rubble (recently pulled down) was the last remnant before a major construction job. Tower may have been left standing to maintain soon-to-be-moved cell phone service. © Frank Van Riper
The site was the intersection of Connecticut Avenue and K Street NW, arguably as "downtown" as downtown Washington gets. Awash in high-rise office buildings (or DC's mid-rise equivalent; none can be higher than the Washington Monument) this intersection is a nexus of big-ticket law firms, high powered lobbying groups, politically wired trade associations—and anyone else who can afford the sky-high rents.
Only now, as I looked on in wonderment, the intersection was a mass of flattened rubble, with one spectacular exception.
[Let me note for the record that, as with any big city, New York for example, Washington is accustomed to almost continual renewal and expansion. In other words, construction firms do very well here. So seeing a construction site—even one so huge as occupied the corner of Connecticut and K was not unusual.]
What was unusual was the fact that sitting in the center of this flattened landscape of crushed concrete, glass and re-bar was a 10-12 story tower of ruination that rose up from the construction site like a scabrous Washington Monument or a post-apocalypse Tower of Pisa.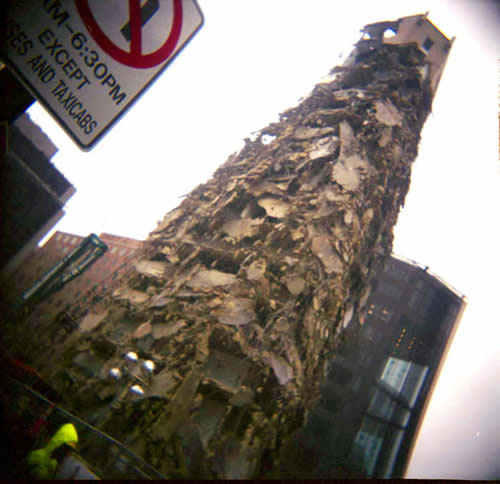 A plastic Holga camera can make almost anything look dramatic. The disquieting rubble tower conjured up memories ranging from the Civil War to Iraq. © Frank Van Riper
All manner of images came to mind. For a moment I thought to myself: "Put a bronze plaque at the base and it could be a new 9/11 memorial." Wider at the bottom than at the top, and with pieces of concrete floor dangling from it like so many ornaments, the structure also called to mind, of all things, a concrete version of the Rockefeller Center Christmas tree, albeit with a terrible story.
Still in others the sight conjured much different memories.
Bill Putnam, a photojournalist and combat photographer who has covered Iraq and Afghanistan, said that "A friend of mine and I said that (it) reminded us of some palaces we saw around Iraq -- all hit by JDAMs or whatnot during the 2003 invasion." JDAMS are Joint Direct Attack Munitions—very powerful air-to-ground missiles.
But why was this bizarre, even grotesque, tower of rubble taking up space in the middle of what was arguably one of the most expensive pieces of real estate in Washington? (How prime? Plans for the site already are well along. Instead of the boring 70's-era concrete box that once occupied the site—see, I wasn't totally afflicted with high-rise-heimers—this choice bit of land will soon host a magnum glass and steel tower that will be headquarters for (what else?) one of DC's largest law firms.
Still, time is money, especially in bill-by-the-hour DC. The most plausible theory for why the tower was left in the middle of the building site was voiced to me by one office worker across the street from the tower. Pointing to two metal boxes at the very top of the structure, he said that these were cell phone towers, and that the structure was being retained to give the cell phone service providers more time to shift their operations to another site, and avoid service interruptions to hundreds, even thousands, of their customers.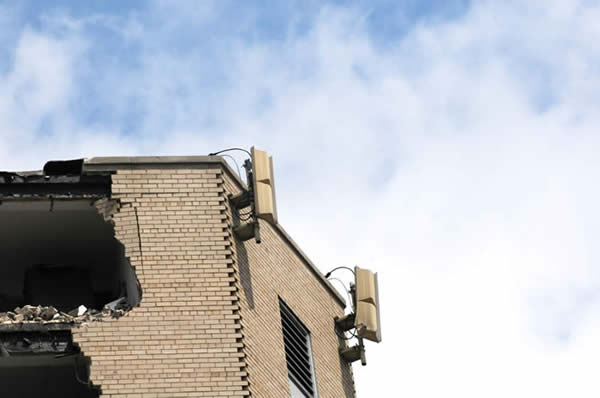 Could this have been why the tower remained, if only temporarily? Two objects at the very top of the structure were said to relay cell phone signals. The rubble tower stayed up until service providers could find an alternative location for them, one passerby told me. © Frank Van Riper
But, if true, that also meant that the future of the rubble tower was tenuous at best. It was only a matter of days, I assumed (correctly, as it turned out) before the tower would be leveled—and I had pictures to make.
Part of me wanted just to get down to the site and simply make a picture—any picture--as a record of the unusual structure. But I also had an agenda, triggered by my first sight of the tower days earlier.
There was a somber, even forbidding, quality about the tower that I wanted to capture in the right weather and with the right equipment. I also wanted to shoot the structure multiple times and multiple ways, so my first shots, made in color on a Nikon D300 under perfect spring skies, at least gave me a baseline. These photographs, made mostly in wide-angle, juxtaposed the fluffy clouds and blue sky with the tower's rugged presence in the midst of so many pristine office buildings. I also liked the way life seemed to go on for so many passersby, many of whom seemed to pay the odd structure no mind at all.
The tower of rubble took on an even eerier aspect at night. Though I did not go down then (I should have) my friend and colleague Graeme King did, and came up with this winner, twinning a spectral figure in the foreground with the brightly lit-tower in the back. There can be no denying that Graeme's picture calls to mind the ruined hulk of the World Trade Center towers in the aftermath of 9/11.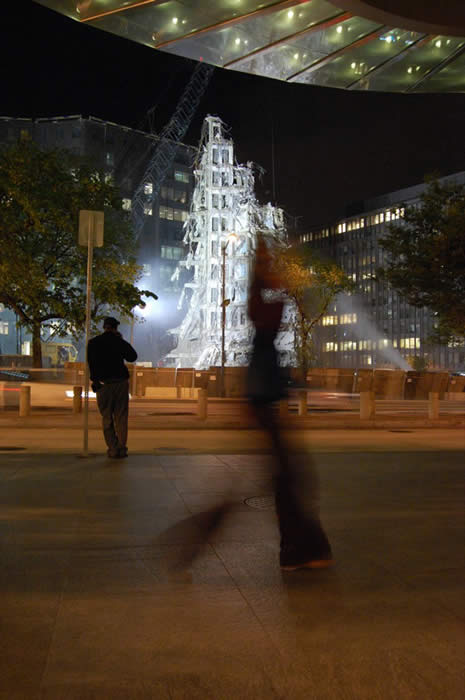 DC photographer Graeme King made this evocative view of the rubble tower at night, brightly lit by spotlights. It is so like some of Joel Meyerowitz's views from Ground Zero in NYC as to be unnerving. © Graeme King
But eerie as Graeme's photo was, it was not the one that I had in mind.
Lucky for me the weather turned wonderfully lousy over the next 24 hours after I had made my first sunny color pix and I was able to photograph the tower as I always had wanted: in the rain, mainly in black and white, and with cheap medium format Holga cameras.
The Holga is really little more than a toy—in fact it originally was sold as a toy. Only now, hordes of photographers, including me, love to use them largely for the way this awful camera's awful lens puts virtually nothing between you and the thing you are shooting. No automatic bells and whistles, no autofocus. Nothing but you and your vision—and a fair amount of vignetting to give whatever image comes out the look of an image from an ancient bellows camera.
So I emerged from the subway with two Holgas around my neck, one loaded with outdated black and white film, the other with outdated color film. I spent a half hour or so shooting several rolls, but it was not until the end of the shoot that I got what I thought would be my keeper. Rather than continue to shoot up at the tower, or move far away from it to take it all in, I simply shot straight on from across the street, getting only the base of the tower dwarfing the glitzy office buildings behind it. Leaving the top of the tower to the viewer's imagination only made it seem larger. Looming in the foreground as it did, the tower also took on the aspect of a huge elephant foot.
In other words, just the weird look I was after.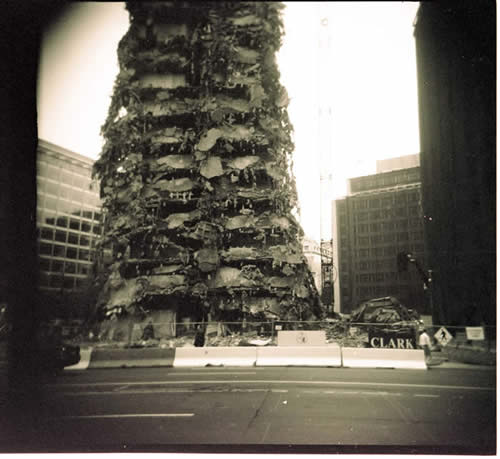 For me, anyway, the Money Shot. Made with a cheap Holga camera and black and white film, this view captures all that was weird, beautiful and unsettling about this temporary architectural interloper in DC's corridors of power. © Frank Van Riper
Later, after I had printed the image, I circulated it among my friends and students.
I told them in my e-mail that the image conjured up still another thought for me: the stark Civil War images of Mathew Brady and his associates. The Holga's plastic lens caused bright flare and severe vignetting, similar to that seen in so many photos, tintypes and daguerreotypes of the Brady era.
Then Bill Putnam weighed in and brought the image home to another war, in another place, and brought us full circle to the power of photography to enhance our visual memory in ways we often cannot anticipate.
-0-0-0-0-
Frank Van Riper Classes and Field Trips, Fall/Winter 2008-2009
Glen Echo Park Photo Works
Documentary Photography: Digital or Film ($300)

This six-session course, taught by an acclaimed documentary photographer
and author of the new book "Serenissima: Venice in Winter," will help
students document their world, more easily photograph people, and work in
unfamiliar surroundings. Film or digital welcome. Students will initiate
or continue a project. Instruction in portable location lighting, as well as
darkroom printing, for those interested. Students wanting to add written
text are encouraged to do so. (Thursday evening, Sept. 25-Nov. 6, 2008,
7-10:30 pm. No class Oct. 9th)
Photo Field Trip: National Gallery of Art, East Wing ($150)

Sunday, October 5, 2008
A three-meeting National Gallery of art, East Wing workshop.
A brief organization meeting will be held a week before the trip and the
follow-up critique will be a potluck dinner at Frank's home. You will
find endless opportunities for shooting - people, architecture, abstracts all
in beautiful light. Lunch at the gallery cafe gives an opportunity for photo
suggestions and discussion. This is sure to be a fun and educational shoot
for students. Contact instructor for additional dates: gvr@gvrphoto.com or
202.362.8103
Basic Flash Workshop ($275)
Four week hands-on workshop will help students get the most out of their small flash units to mimic results obtained with much larger professional gear. Similar to Frank Van Riper's more advanced "Master Class with Dr. Flash," this workshop concentrates on the basics, with surprising results. (Thursday evening, Nov. 13-Dec 11, 2008, 7-10:30pm. No class Nov. 27th)


Great Portraits with Simple Lighting ($275)

In this 4-session workshop, lighting master Frank Van Riper will teach students how to make beautiful individual and group portraits using inexpensive flash units ad
unexpected accessories like flashlights and aluminum foil. No experience necessary. Learn how to turn your family snaps into heirloom photographs. (Thursday evening, January 15-Feb. 5, 2009, 7-10:30pm)

Photo Field Trip: National Building Museum ($150)

Sunday, January 25, 2009
Join Frank Van Riper for a photo excursion to one of Washington's most unusual interior spaces - the ornate Italian Renaissance building that now houses the National Building Museum - and some of the tallest interior columns in the world. Tripods permitted for great architectural shooting. Briefing meeting approximately one week prior to trip followed by post-trip critique/potluck at Frank's home. For info:
GVR@GVRphoto.com or 202-362-8103

Info: Contact registrar: www.glenechopark.org or GVR@GVRphoto.com
Frank Van Riper is a Washington-based photographer, journalist and author. He served for 20 years in the New York Daily News Washington Bureau as White House correspondent, national political correspondent and Washington bureau news editor, and was a 1979 Nieman Fellow at Harvard. He is the author of the biography Glenn: The Astronaut Who Would Be President, as well as the photography books Faces of the Eastern Shore and Down East Maine/ A World Apart. His book Talking Photography is a collection of his Washington Post and other photography writing over the past decade. His latest book (done in collaboration with his wife and partner Judith Goodman) is Serenissima: Venice in Winter. Van Riper's photography is in the permanent collections of the National Portrait Gallery and the National Museum of American Art in Washington, and the Portland Museum, Portland, Maine. He can be reached through his website www.GVRphoto.com
[Copyright Frank Van Riper. All Rights Reserved. Published 5/08]