NEW: Frank Van Riper Spring Classes…below
'Foto Week/ DC' – Present at the Creation
Washington's annual celebration of photography debuts Nov. 15-22
By Frank Van Riper
Photography Columnist
New York has Photo Plus Expo, Miami has Art Basel and of course Perpignan in France has 'Visa Pour L'Image.'
Each of these is in its own way a celebration of the art of fixing a shadow—with different emphases, to be sure.
Though it routinely features seminars and speeches, Manhattan's Photo Plus Expo is primarily a trade show: a three-day hucksterthon at the Javits Center in which photographic manufacturer's hawk their latest wares, often with annoying amplification, garish displays, and every so often some really cool stuff.
Art Basel is an 'all-art-forms-all-the-time' affair, with artists and art reps seeking to attract buyers and galleries during a lengthy and huge expo in Miami featuring painting, sculpture, photography, etc.
And Visa Pour L'Image, arguably the granddaddy of all photography fairs, is a mammoth round of exhibitions, critiques, and discussions in the south of France attended by photography's reigning stars and wannabes.
Add to this list photography celebrations in Houston, New Orleans, Atlanta and other cities and you get a fair sense that photography in all its incarnations is pretty good at attracting a crowd.
And that is why FotoWeek/DC—Washington's inaugural effort to host an annual gathering of photographic clans (running this year from November 15-22)--has the potential to be one of the city's premier cultural events now and for years to come.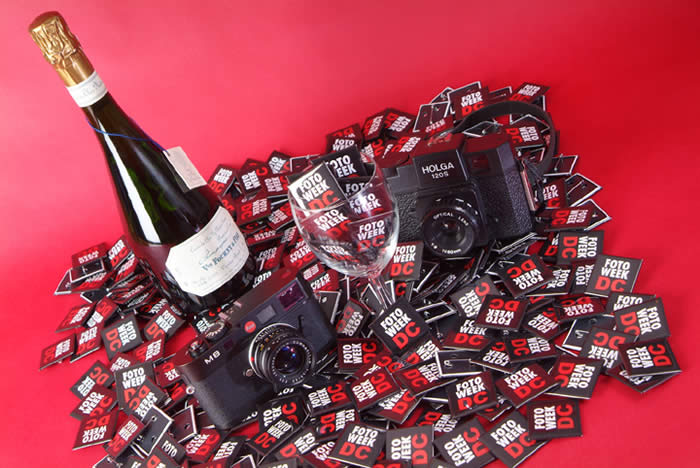 Marking Washington's unique status as a nexus of fine art, photojournalistic and commercial photography, as well as photo education, FotoWeek/DC will celebrate all these fields this fall with a week-long, multi-faceted, festival. © Frank Van Riper
Disclosure: I write this from a certain perspective, as one of FotoWeek's early supporters and organizers. I want this event to succeed. But I also am a professional photographer who works in each of the fields that FotoWeek will feature: commercial photography, fine art, photojournalism and photography education. From this perspective I can say that I not only am excited about the event but am committed to making it a success.
It's also going to be a hell of a week-long party.
As currently planned, FotoWeek/DC will host photography events all over the city, including gallery exhibitions, lectures, book signings, workshops and portfolio reviews.
"Our mission is to unite and strengthen the Washington DC photography community through recognition and celebration," noted Theo Adamstein, owner of Chrome Imaging, the city's premier custom photo lab. Adamstein is a guiding force behind FotoWeek and has brought together representatives from the local photo world to help plan this fall's agenda. (In addition, Theo and his wife and professional partner Olvia Demetriou hosted a kickoff cocktail party at their Washington home in January for potential participants and professional sponsors.)
"The goal is that each year photographers, students and industry supporters will come together to bring light and acknowledgement to the vibrant and ever-changing photography community in DC," Adamstein declared. "FotoWeek will involve special networking events, open houses, exhibitions and vendor discounts across the city. The week will culminate with a festive awards dinner and special exhibition that recognizes local artists who have excelled in a special juried exhibition."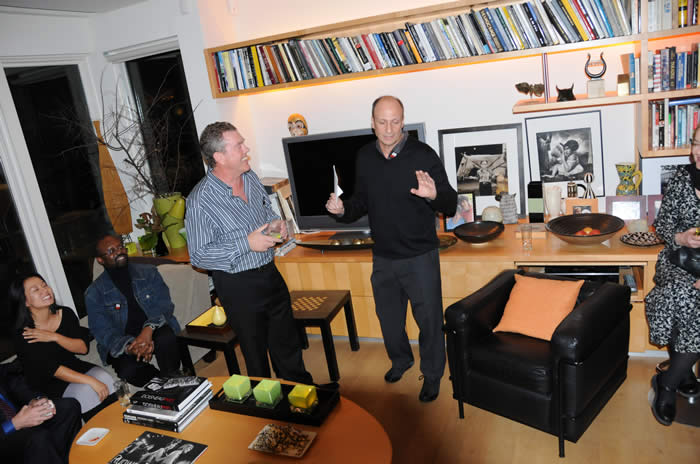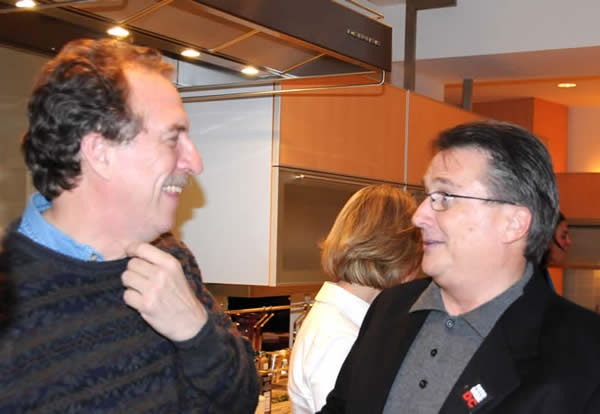 Top: Lab owner (as well as photographer and architect) Theo Adamstein (l.) joins DC-area ASMP president Paul Fetters in welcoming members of the DC photo community during a kickoff reception for FotoWeek/DC at Theo's Washington home. Bottom: Veteran photojournalist Lucien Perkins (l.) shares a laugh with his old Washington Post colleague Joe Elbert, former director of photography at the paper. © Frank Van Riper
It should not surprise then that the organizers of FotoWeek include representatives from a wide range of fields and disciplines including George Hemphill of Hemphill Fine Arts who is acting as liaison to the commercial gallery community. Representatives from American University, the University of Maryland, the Corcoran College of Art + Design, PhotoWorks at Glen Echo Park and other prestigious institutions round out the field from the DC area's large academic and teaching community.
Professional photography groups also have signed on, including the American Society of Media Photographers, the White House News Photographers Association, the American Society of Picture Professionals and Advertising Photographers of America.
That combination promises a yeasty mix of discussions and events. Just one example from my own perspective as a photographer, journalist and documentarian: I look forward to putting together and taking part in a discussion of how digital photography has impacted photojournalism—not always for the better, in fact often to its detriment. I can see such a panel discussion taking place at a college, a gallery or other venue, with plenty of room for the public—and ample time for lively discussion and questions.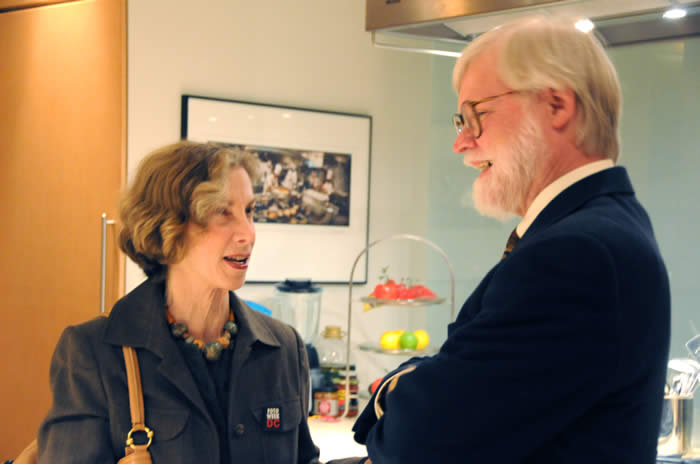 The FotoWeek launch party drew people from all parts of the DC area photo world. Here, longtime Washington photography dealer Sandra Berler (l) talks with Tom Beck, author and curator of photography at the Kuhn Library and Gallery, University of Maryland/Baltimore County. © Frank Van Riper
From the start, the feeling was that FotoWeek/DC should be above all a local event, despite Washington's role as an international city. Certainly, there's enough photography talent here to sustain it.
Unique among American cities, Washington DC is a nexus of artistic, political and public sector energy, in which photography plays an integral role. Photographs in Washington are used to promote a cause, elect a president, re-elect members of congress, sell an idea, create an agenda.
But they also are used—as they are everywhere—to help people feel, to help them appreciate beauty: to better connect with their world.
Oftentimes in Washington the photographers who make these images work in several worlds. The fine artist who makes pictures at a homeless shelter. The advertising shooter who also covers high school sports, the editorial photographer covering congress who also does weddings; the commercial photographer who teaches.
FotoWeek/DC offers the chance for all of these photographers to come together, and to share with the public at large the simple thrill of picking up a camera.
Mark your calendars for Nov. 15-22.
You won't regret it.
[ Watch this space for more information as events are scheduled and added. Individuals interested in volunteering during FotoWeek can call 301-913-9696 or write to: contact@fotoweekdc.org Website: www.FotoWeekDC.org ]
-0-0-0-0-
Frank Van Riper Classes and Field Trips, Spring, 2008
Glen Echo Park Photo Works
Master Class with Dr. Flash
Five-week hands-on studio class helps you master small flash units and studio strobes. Students will learn still life, tabletop and portraiture techniques in step-by-step demonstrations and individual exercises with professional flash gear. (Thursday evening April 3-May 1, 7-10:30pm, $350)
Field Trip, National Gallery East Wing, Sunday, 4/27/08
Endless opportunities for shooting - people, architecture, abstracts in beautiful light. Lunch and discussion at the gallery. A brief organizational meeting will be held prior to the trip at Photoworks and a follow-up potluck at Frank's house. For info, contact instructor at GVR@GVRphoto.com or 202-362-8103. (Sunday, April 27th, 10:30am-4pm; before and after sessions TBA; $150)
Basic Flash Workshop
Four week hands-on workshop will help students get the most out of their small flash units to mimic results obtained with much larger professional gear. This workshop concentrates on the basics, with surprising results. (Thursday evening, May 15-June 5, 7-10:30pm; $275)
Field Trip, National Building Museum, Sunday, 5/18/08
One of Washington's most unusual interiors - the Italian Renaissance building that houses the National Building Museum - and some of the tallest interior columns in the world. Tripods permitted. Briefing meeting appx. one week prior to trip followed by post-trip potluck at Frank's house. For info contact instructor at GVR@GVRphoto.com or 202-362-8103. (Sunday, May 18th , 10:30am-4pm; before and after sessions TBA; $150)
Contact registrar: www.glenechopark.org or GVR@GVRphoto.com
Frank Van Riper is a Washington-based photographer, journalist and author. He served for 20 years in the New York Daily News Washington Bureau as White House correspondent, national political correspondent and Washington bureau news editor, and was a 1979 Nieman Fellow at Harvard. Among others, he is the author of the biography Glenn: The Astronaut Who Would Be President, as well as the photography books Faces of the Eastern Shore and Down East Maine/ A World Apart. His book Talking Photography is a collection of his Washington Post and other photography writing over the past decade. Van Riper's photography is in the permanent collections of the National Portrait Gallery and the National Museum of American Art in Washington, and the Portland Museum, Portland, Maine. He can be reached through his website www.GVRphoto.com
[Copyright Frank Van Riper. All Rights Reserved. Published 1/08]