A Literary Leap of Faith
How trust and luck spawned a great book about Venice
By Frank Van Riper
Photography Columnist
It was not until my publisher introduced me to the audience at our first international book signing in Treviso, Italy this past May that the magnitude—or perhaps the audacity--of what he and I had undertaken finally sank in.
To a small evening crowd at the gorgeous bookstore Libreria Ubik Marton in central Treviso Andrea Montagnani of Grafiche Vianello Libri described how his company came to publish both the Italian and the English editions of Serenissima: Venice in Winter, a book of black and white photos and long essays on life in the Floating City, that my wife Judith Goodman and I had labored on for some six years.
[For ordering information: www.veniceinwinter.com ]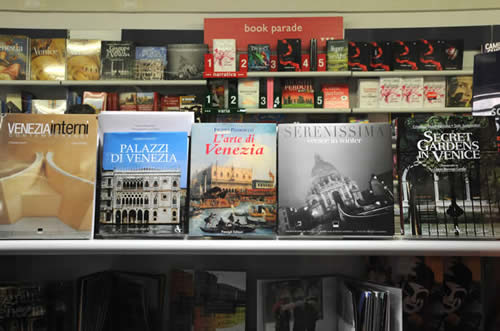 We saw this all over Venice: our book in the front window of bookstores. It was like hitting a home run in the World Series. (c) Frank Van Riper
Andrea, a compact, athletically-built molto simpatico man in his 40s whose father-in-law runs the venerable publishing house in nearby Ponzano (near the Benetton headquarters) relayed how, many months before, he had received my publishing proposal and pdf of the book dummy and was impressed with both the photography and the writing.
But Vianello, whose line of coffee table hardcovers is huge, always had published its gorgeous books in full color.
"Too bad it's black and white," said one of Andrea's colleagues—the person, in fact, who decides what projects will be considered for publication.
As I sat at the front table in the bookstore listening to all this I did not realize until then how close Serenissima had come to being rejected—again.
[As I have written before, in the years I tried to land an American publisher for Serenissima, I was appalled at how consolidation and fear of the bottom line had emasculated most if not all of America's big fine art publishers. Most of these houses loved our book, but none would, or could, take it on. Finally we landed an enthusiastic publisher abroad: Scalo in Zurich, whose president, Walter Keller, said he envisioned exhibitions and book events throughout Europe.
Then, within months of our first contact, Scalo went bankrupt.
Back to the drawing board—or rather, back to the computer and the e-mail--until, after almost two additional years of dogged pitching, I found the welcoming harbor of Vianello Libri, which ultimately decided that our book would be the very first that it would publish on its own in black and white.]
But really this was not what struck me that lovely night in Treviso—where Andrea and his family live, and where he and his wife Alessandra treated us to a lavish, typically Trevisian, dinner at a local restaurant afterwards.
No, what hit home—actually, what hit me on the head—was Andrea noting to the assembled crowd how unusual, if not outright crazy, it was for his company to publish a major book by an author whom no one in the company ever had met.
You would think, in all the months that Andrea and I had communicated—mostly via e-mail, and by the occasional phone call—that this idea would have struck me as well. But it didn't. All Judy and I wondered was "what does Andrea look like?" It never really occurred to us that they also would be thinking the same thing about us.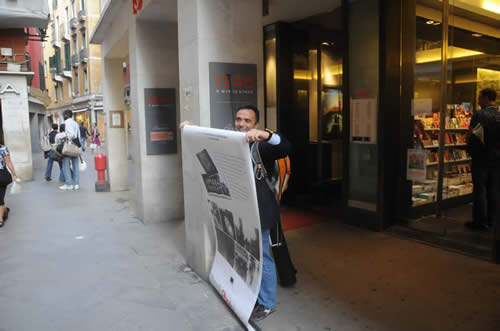 Andrea Montagnani of Vianello Libri folds up our huge promo poster after our lecture/signing at Venice's elegant Mondadori bookstore. To say Andrea was a hands-on publisher, helper, translator would be to understate. (c) Frank Van Riper
What that brought home to me, as Judy and I set out on a ten-day, four-city book tour through northern Italy (a victory lap, really, that also by happy coincidence occurred within days of our 25th anniversary) was how much the book publishing business is—or at least used to be--based on instinct and trust, not just the bottom line.
No one expects publishers to print books at a loss—and this has nothing to do with the important, compelling side issue of electronic versus print publishing. Publishing, I feel, was, and is, an art in which emotion, sensibility—one's gut—plays an important role.
Clearly, Andrea's gut and that of others at Vianello said they should publish our book, and take the literary leap of faith that all the American houses we contacted would not. Here, after all, was a book of first rate photography and prose about a place damn near everyone loves. Given the quality the book required, not to mention its large coffee table size—it would be expensive to produce. (In fact, Judy and I paid the printing costs for the US edition.) But just as Judy and I and our financial backers believed in the book enough to back it with our money, so too did Vianello.
Given the rave reviews the book has garnered since that time, Andrea and his colleagues surely must feel vindicated. [Now all that we have to do is sell out the first printing, both here and in Italy, a process that, given the state of the world economy, obviously is going to take a while.]
But, boy do we have a beautiful, timeless, product—what in the publishing business is called an evergreen.
There is no doubt that fine art books are the most expensive to produce and in tight economic times they can seem an expensive, unnecessary luxury. As Judy and I toured Vianello's glorious plant—a modern, low-slung celebration of Italian industrial design that, among other things, featured a tranquil rock garden at its core viewable from offices on all sides, Andrea explained the parlous state of publishing worldwide.
At a recent international book fair, he noted, one London–based house didn't even show up. In addition, Andrea said, other well-known fine art publishers offered no new titles at all—just their backlist.
"We just have to wait," Andrea said, the implication being that only those houses that can afford to hunker down and sit out the economic drought will survive.
Thus I was happy for two reasons. The first was that, despite the huge delays Judy and I endured, our book actually did get published before the world's economy went south. [The record will show this to be one final turd-in-the-punchbowl gift from the tragically incompetent, morally bereft George W. Bush administration—simply the worst in America's history.]
But the second reason Judy and I felt good on this sunny day in Ponzano was that the publishing house that was treating us so graciously also seemed fairly well positioned to ride out the economic storm.
"That's the press your book was printed on," Andrea said with an almost paternal pride as he gestured to a huge grey monolith that seemed to stretch as long as a small city block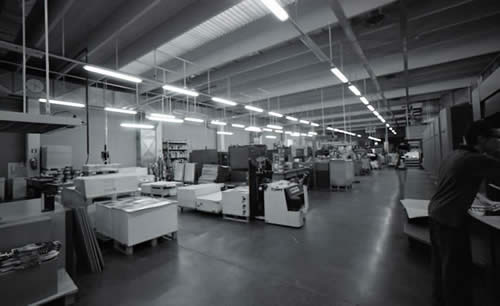 Production floor at Vianello (our press is at the right.) We've come a long way from Gutenberg, though there is an old letterpress in the plant that is used for special, hand-done, jobs. (c) Frank Van Riper
Dutifully I photographed the place where Serenissima: Venice in Winter and Serenissima: Venezia in Inverno was born. But I could not help noticing as well any number of other printing jobs bundled on pallets on Vianello's clean production floor.
Flats for boxes of panettone, texts for annual reports, all manner of other commercial printing far removed from the pricey world of fine art.
This, one could argue, was Vianello's bread and butter. Not necessarily the work for which it cares to be remembered, but the work that pays the bills.
"When one thing goes down, the other goes up," Andrea told us
No problem, I replied. I understand. "That's why we also do weddings."
The rest of our stay in Italy centered around three more appearances—in Padova, Brescia and finally at the huge Mondadori bookstore in Venice, just off Piazza San Marco. But happily Andrea had not scheduled us so heavily that we could not re-connect with old friends—as well as spend some time wandering and photographing the city we have come to love like no other.
Judy's slow-shutter speed take (above) made from a water bus is gorgeous and reminds me of the painting of JMW Turner. My effort below, also made from a waterbus on another day, shows what a 15mm wide angle lens can do. (c) Judith Goodman, Frank Van Riper
Amazingly, it had been four years since we had been to Venice—two of those years spent pitching the book all over again—but La Serenissima had changed hardly at all. And neither had the dear friends we had made during the six years we were working. Not to say that everything was the same. Our friend Mario Mazziol, the great Venetian photographer, had maybe a few more grey hairs, but he was as enthusiastic as ever as we ate and laughed with him and his wife Adriana.
Our young fiends Barbara and Giuseppe finally had settled in to their new apartment near Campo San Alvise. But this time, in addition to seeing their new home, we also met their adorable, curly-headed daughter, Antonia, 3 1/2, for the first time. We also met Giuseppe's mom and brother, visiting from Puglia, and shared a typical Pugliese feast with them, featuring, among other things, delicious whole wheat Orecchiette pasta in a light tomato and basil sauce.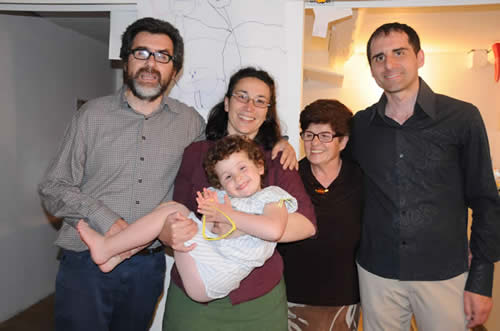 Our dear friends Giuseppe and Barbara (l.) and their daughter Antonia pose in their new apartment along with Giuseppe's mom and brother (r.), visiting from Puglia. (c) Frank Van Riper
Some time later, we also dropped in on Sergio Volpe, the used book seller whose love of photography at the start of our project had put us in touch with Barbara, another great photography fan, who became our aide-de-camp and translator.
It is almost an article of faith that, Venice being the small town that it actually is, you will run into friends on the street. And that happened to Judy and me no fewer than three times during our ten days there. The first time was immediately after our arrival, when we ran into Barbara and Giuseppe—and Antonia—on their way to a party. On another evening the cry of "Frank!" brought us face to face with dear Danilo De Pol, the caretaker along with his wife Daniela of the Venetian apartment that we had rented at various times throughout our six-year project. Danilo, a retired fireman and avid oarsman, was resplendent in the purple and white uniform of his rowing club as he walked down the street with his fellow rowers. (Naturally, we took pictures—and later saw Danilo and Daniela at Mondadori, along with other members of our Venice "family.")
The third time was on the No. 1 vaporetto (water bus) plying the Grand Canal when we ran into fellow Americans Judith and Bob Martin, enjoying yet another of their Venetian sojourns, this time with their son Nick and daughter-in-law Rebecca. Judith (the Washington Post's famed Miss Manners, and author of the superb book on Venice No Vulgar Hotel) immediately invited us to lunch at their elegant rental apartment overlooking the canal. Who could say no? (Again, more pictures.)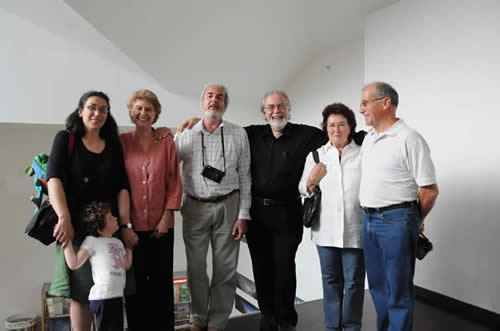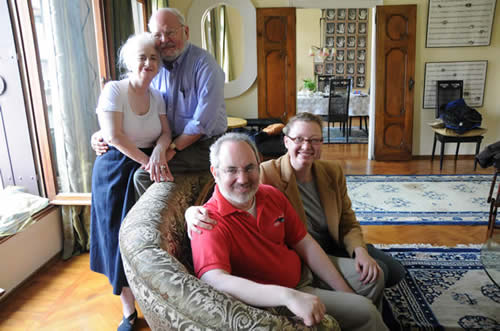 Above: Our Venice 'family': friends who helped us immeasurably during the six years we worked on 'Serenissima.' L-R: Barbara del Mercato (holding daughter Antonia), Judy, photographer Mario Mazziol, FVR, Daniela and Danilo De Pol, caretakers of the apartment we rented during the project. (credit: Andrea Avezzu)
Below: Judith and Bob Martin, left, confirmed Venetophiles, along with their son Nick and daughter-in-law Rebecca, in their gorgeous rental on the Grand Canal. (c) Frank Van Riper
In Brescia, some two and a half hours from Venice by train, our book signing was not at a bookstore, but at the amazing National Museum of Photography, a treasure trove of photographic equipment and information that was the brainchild and labor of love of Italian photographer Alberto Sorlini some fifty years ago. Still active in his 90s, Cavaliere Sorlini greeted Judy and me warmly and hosted a large reception and signing for us in the museum's main exhibition hall—but not before Judy, Andrea and I did a full tour of the museums's world class collections. It was in Brescia, too, that our friend—and former landlord—Jack Birner appeared, looking absolutely unchanged.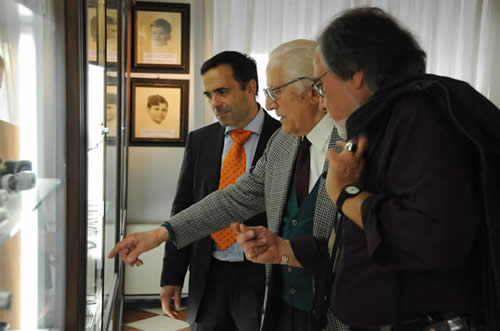 Cavaliere Alberto Sorlini points out photographic treasures to Andrea and me at the National Museum of Photography in Brescia. (c) Judith Goodman.
If meeting friends and visiting over dinner with them was a joy, so too was wandering La Bella Venezia by ourselves, reconnecting with this amazing gentle place, where one need not hurry and where cars and trucks (and their attendant noise) simply do not exist.
Leisurely lunches were the order of the day—especially one that was off the charts on Burano at the famed restaurant Il Gatto Nero. The one absolutely new thing to see was the just-opened, and still controversial, pedestrian bridge near the railway station designed by Spanish architect Santiago Calatrava. A sweeping, elegant expanse linking the Ferrovia rail station with the bus terminal/car park at Piazzale Roma, the bridge is only the fourth one to cross the Grand Canal.
As often happens with projects like these, il Ponte Calatrava was over-budget and late to open. It still needs to be retro-fitted to make it more handicap-accessible. My first reaction: it is beautiful and likely one day to be spoken of with a genuine, if grudging, pride.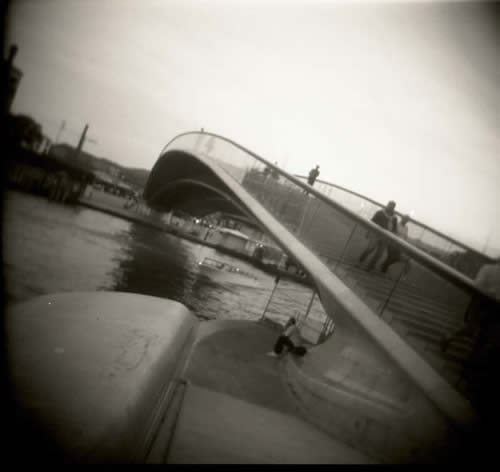 Il Ponte Calatrava, the newest bridge to span the Grand Canal. Controversial because of its sweeping modernity and building costs, I think it is destined to become an iconic landmark. Photo made with a Holga. (c) Frank Van Riper
The last time Judy and I were in Venice we were racing to complete a project that ultimately produced 10,000 images on some 300 rolls of film (that's right, film.) This time, with the book finally done, the pressure was off and we could enjoy Venice almost as a pair of carefree tourists. Mostly I walked the city with a Leica M6 and an ultra-wide 15mm Voigtlander lens, shooting bxw exclusively. Judy worked with a Nikon D300, shooting in digital color.
We each got great stuff.
It was good to be home.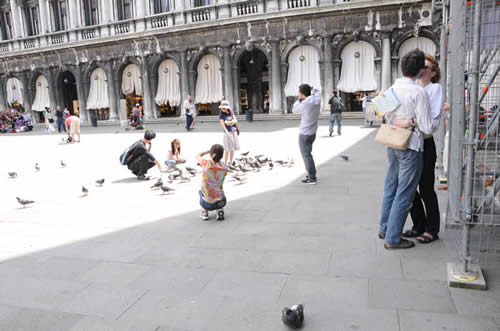 Spring in Piazza San Marco and romance is in the air--even if a couple of photographers are more interested in the pigeons. (c) Judith Goodman
-0-0-0-0-0-0-
Lubec Maine, Summer Photo Workshop
Join Frank Van Riper and Judith Goodman this summer for a week-long photography workshop in Lubec, Maine--the easternmost town in the United States. Hands-on instruction in portraiture, location photography, etc., in stunningly beautiful coastal Maine. See our 'classroom' below:
Sponsored by the SummerKeys Music Festival. Details and registration below:
http://www.summerkeys.com/workshop.html
or: GVR@GVRphoto.com
First Look at FVR Fall/Winter classes,
Glen Echo Park, Md.
Narrative Photo: The Picture Story ($300)
Thursday, Sept. 24-October 22, 7-10:30pm
Continue or begin a documentary photography project under the eye of a nationally acclaimed photographer and journalist. Grow more comfortable photographing people while recording the world around you. Film or digital welcome. Accompanying text encouraged, but not required.
Great Portraits with Simple Lighting ($275)
Class 1: Thursday, October 29-Novmber 19, 7-10:30pm
Class 2: Thursday, January 21-February 11, 7-10:30pm
Achieve studio-quality results with equipment as simple as a flashlight, aluminum foil and a toilet paper tube. A great way to learn the basics and have fun doing it.
National Gallery, East Wing, Field Trip ($150)
Class 1: Sunday, October 18
Class 2: Sunday, January 17
Spend the day photgraphing in one of Washington's great spaces, where opportunities for landscape, abstract and portrait photography abound. There will be an orientation session about a week before, followed by a potluck dinner and critique at Frank's home after the field trip.
For information contact: GVR@GVRphoto.com or go to www.glenechopark.org
Frank Van Riper is a Washington-based photographer, journalist and author. He served for 20 years in the New York Daily News Washington Bureau as White House correspondent, national political correspondent and Washington bureau news editor, and was a 1979 Nieman Fellow at Harvard. Among others, he is the author of the biography Glenn: The Astronaut Who Would Be President, as well as the photography books Faces of the Eastern Shore and Down East Maine/ A World Apart. His book Talking Photography is a collection of his Washington Post and other photography writing over the past decade. His latest book (done in collaboration with his wife and partner Judith Goodman) is Serenissima: Venice in Winter. Van Riper's photography is in the permanent collections of the National Portrait Gallery and the National Museum of American Art in Washington, and the Portland Museum, Portland, Maine. He can be reached through his website www.GVRphoto.com

[Copyright Frank Van Riper. All Rights Reserved. Published 6/09]