Rating FotoWeek/DC…Incredible!
Capital's first-ever photo fest was a huge success
By Frank Van Riper
Photography Columnist
Name the biggest thing to happen to Washington in 2008 and you'd be hard-pressed not to say the election of Barack Obama as President of the United States.
But if you were asked to name the biggest photographic event in Washington in 2008, my guess is that you'd have to say FotoWeek/DC, the phenomenally successful—and first-ever—celebration of all things photographic in the nation's capital that ran from Nov. 15-22.
This week-long festival covered so many topics, occurred in so many venues, explored so many different aspects of photography that it simply was impossible to ignore, not that anyone who ever toted a camera would have wanted to.
In one week, the city of Washington established itself as one of the centers of the photographic universe. And it plans to do it again later this year.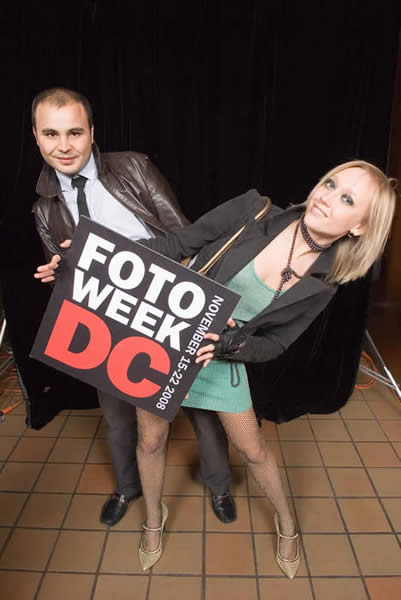 Two young shooters party at the final FotoWeek gala at National Geographic headquarters in Washington, DC, Nov. 22, 2008. © Max Taylor
"FotoWeek/DC 2008 exceeded all expectations," declared Theo Adamstein, owner of Chrome Imaging in Georgetown and FotoWeek's founder and guiding force. "Over 20,000 people participated in over 100 events throughout the city. Our website had over 250,000 visitors; 7000 entries were received for our photography contests. Pros, amateurs and children participated. FotoWeek Central in Georgetown had 10,000 visitors in 8 days. Our gala at National Geographic was sold out with 650 attendees…
"More than 60 galleries were sponsors of FotoWeek/DC," Theo went on. "Exhibitions, lectures, workshops, portfolio reviews were held throughout the region.
"Monumental projections, 'Night Gallery DC,' were presented at 8 locations, including the Newseum, and the Holocaust Memorial Museum…"
And that doesn't even include the events at the Corcoran Gallery, book-signings all over town, including at foreign embassies—and the week-long buzz that came just from knowing that you were, however briefly, at photography's epicenter and could get a hit of photo juice damn near every place you went:
--Wasn't that Joyce Tenneson talking about her latest book at the Fraser Gallery in Bethesda?
--And wasn't that the legendary Joseph Koudelka, speaking about his life's work at the Katzen Arts Center?
--And, be still my beating heart, could that be mega photojournalists David Burnett and John Ficara schmoozing with Frank Van Riper during a panel at American University? (Great, but who's Frank Van Riper?)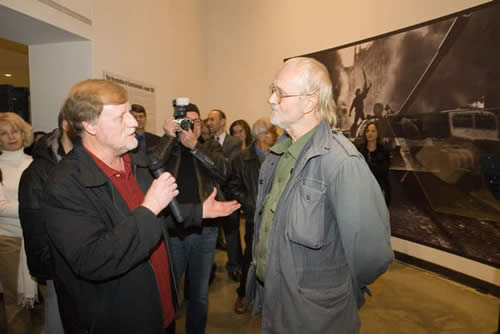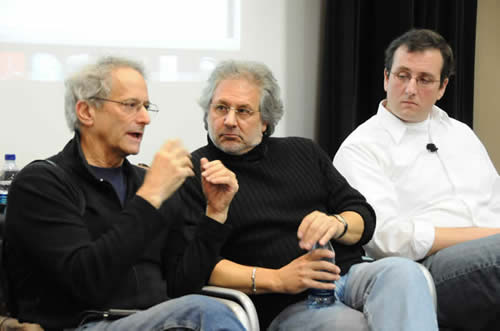 (Top) Legendary photojournalist and fine art shooter Joseph Koudelka interviewed during talk at the
Katzen
Arts
Center
at
American
University
. Koudelka's gripping shots of the revolution in then-Czechoslovakia made headlines after they were smuggled out of the country. (Bottom) Veteran photojournalist David Burnett makes a point during AU panel on digital photojournalism, as colleagues John Ficara (c.) and Bill Putnam look on. © Max Taylor (top); Frank Van Riper (bottom)
--What were all those people (nearly 300 by my count) doing on FotoWeek Wednesday drinking free prosecco and munching free food at the Italian embassy?
--And wasn't that Magnum star Bruce Gilden talking bout about his long career during another packed event at AU?
--Down at the Corcoran Gallery, it may be no surprise to run into famed photography critic and author Andy Grundberg (he is, after all, now head of the Corcoran School of Art + Design) but could that really have been him poring over the portfolio of a...student...just a few tables away from Frank Van Riper doing the same thing?. (Yeah, but, again, who's this Van Riper guy?)
--And, wait: talk about double headers—wasn't that David Burnett (again) and Eugene Richards looking back over their illustrious careers as photojournalist/documentarians at the Naval Heritage Center in downtown DC?
--And finally, at Politics & Prose, Washington's, if not the country's, best independent bookstore, wasn't that photographer and sculptor Judith Goodman lecturing a standing room crowd about Serenissima: Venice in Winter, her new book, done in collaboration with her husband, photographer and writer Frank Van Riper? (oh, that Van Riper.)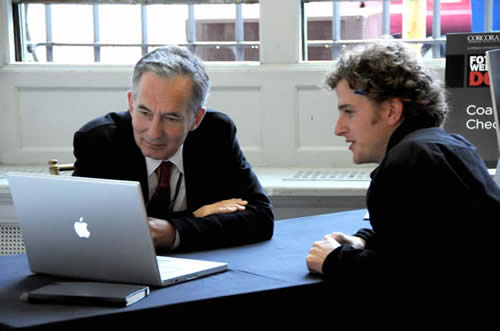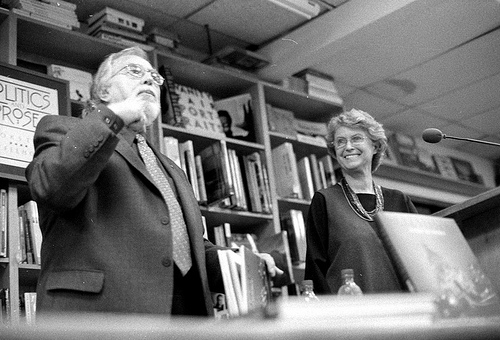 (Top) Author and critic Andy Grundberg lends his luster to a day of portfolio reviews at the Corcoran Gallery, where he heads the school of Art and Design. (Bottom) Husband and wife author/photographers Frank Van Riper and Judith Goodman speak about their new book on Venice at Politics and Prose bookstore in DC. © Frank Van Riper (top); Graeme King (bottom)
To be sure, the idea of FotoWeek/DC was not new. Anyone who ever has attended similar events in other cities in the US--or, for that matter, ever has attended the grandmother of them all, Visa Pour L'Image in Perpignon, France—knows the general outlines of photography festivals: an amalgam of stars, wannabes, workshops, shows and lectures. Of course, the danger of events like these is that they become simply a way for the rest of us to bask in the reflected glory of photography's all-stars, hoping to glean maybe a kernel or two of wisdom from what they have to say during their often tightly controlled events.
But the vibe at FW/DC, in my view anyway, was, if anything, just the opposite. This was one of the most photographer-friendly, accessible, events I ever have attended. And not because this was only a few events held in someone's living room. By any measure, this baby was huge. From the start, a conscious effort was made to create as welcoming an atmosphere as possible for any who attended, whether big-time pro or just-starting-out student. I am proud to have been on the FotoWeek advisory board and to have been in on its early planning. I have to admit: in those very early days of '08 as we sat around the second floor of Chrome, brainstorming while Theo passed around sodas, chips and a cheese tray, I was unsure just how we would implement the big ideas that Theo seemed to be generating at will.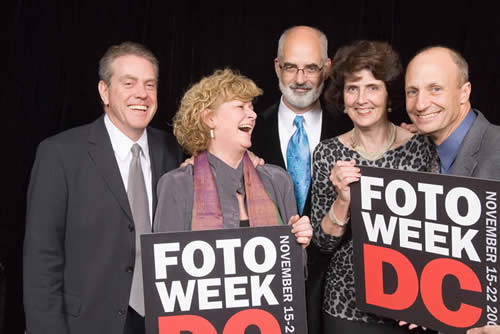 Part of the FotoWeek senior brain trust. From left: founder Theo Adamstein, board member Lynn Ackerson of NatGeo Traveler, gallery owner George Hemphill (rear) and ASMP co-presidents Irene Owsley and Paul Fetters. © Max Taylor
But all I had to do was look around the table to realize that here was a group of motivated self-starters who had spent most of their professional lives making things happen. Almost literally at Theo's right hand was George Hemphill, whose Hemphill Fine Arts gallery is a high-end institution in DC. Right away George set to the task of lining up the DC gallery and arts community to provide those ever-critical commodities: venues and volunteers.
Professional photography organizations stepped up as well, most notably the American Society of Media Photographers (ASMP) in the person of DC chapter co-presidents Irene Owsley and Paul Fetters, and the American Society of Picture Professionals (ASPP) in the person of executive director Cathy Sachs and vice president Holly Marshall. These and other folks did the all-important early organizing to give FotoWeek a chance to reach its potential—and to corral the kind of big league sponsors who could, via money or in-kind assistance, make FotoWeek happen. Example? FotoWeek's nerve center, FotoWeek Central, was housed in two empty storefronts on Georgetown's bustling M street. Credit Theo and company with using their contacts in DC's commercial real estate world to swing that deal and give FotoWeek not only a classy street address but a kick-ass exhibition space to boot. [To see a complete list of FW/DC sponsors, click here http://www.fotoweekdc.org/sponsors/index.asp ]
From my own perspective—as photographer, author, teacher and journalist—I wanted FotoWeek most of all to reach out to the next generation of shooters, and here the work of people like Barbara Tyroler of the University of Maryland, Muriel Hasbun of the Corcoran Gallery, Leena Jayaswal at AU—and the redoubtable Andy Grundberg—shone. Arguably for me the most rewarding time of FotoWeek were the hours I spent reviewing student and amateur portfolios at the Corcoran gallery Saturday, Nov. 15th, followed four days later by the jam-packed seminar on the downsides of digital photojournalism that I led at AU (thanks again, Leena) with Dave Burnett, John Ficara and young photojournalist (and my onetime student) Bill Putnam.
The gala reception that the Italian Cultural Institute threw for Judy and me Nov. 19th at the Italian Embassy to launch our Venice book (the free prosecco and munchies, remember?) was like going to the Oscars. For another drop dead party, you'd have to go some to beat the great awards gala located at—and hosted by--National Geographic at FotoWeek's end, Nov. 22. But it was the events at the Corcoran and AU that nourished the soul.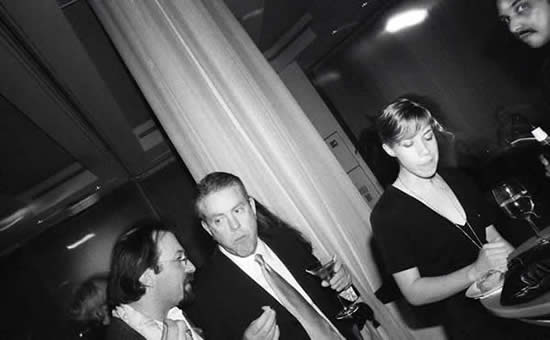 (Top) My fellow Italians know how to throw a party. Judy and I were thrilled at the crowd, not to mention the setting, at this show, reception and signing at the Italian Embassy. (Bottom) I channeled my inner Larry Fink when I made this grab shot of Theo in mid-bite at the FotoWeek gala. © Patrick Ryan (top); Frank Van Riper (bottom)
Describing all of FotoWeek '08—and giving all components a fair shake—probably is impossible, a task similar to that given the fabled collection of blind men asked to touch and then describe an elephant. There simply were too many events for one person to take in.
In some ways you had to be there.
Or better, you should be there later this year when it all happens again—FotoWeek/DC, 2009--bigger and better than ever. [Watch this space for more details.]
Frank Van Riper is a Washington-based photographer, journalist and author. He served for 20 years in the New York Daily News Washington Bureau as White House correspondent, national political correspondent and Washington bureau news editor, and was a 1979 Nieman Fellow at Harvard. Among others, he is the author of the biography Glenn: The Astronaut Who Would Be President, as well as the photography books Faces of the Eastern Shore and Down East Maine/ A World Apart. His book Talking Photography is a collection of his Washington Post and other photography writing over the past decade. His latest book (done in collaboration with his wife and partner Judith Goodman) is Serenissima: Venice in Winter. Van Riper's photography is in the permanent collections of the National Portrait Gallery and the National Museum of American Art in Washington, and the Portland Museum, Portland, Maine. He can be reached through his website www.GVRphoto.com

[Copyright Frank Van Riper. All Rights Reserved. Published 1/09]