Mirror To The World…
…through the eyes of not-yet-famous photographers
By Frank Van Riper
Photography Columnist
In the five years that I have been teaching photography at PhotoWorks at Glen Echo Park, Md., no course has given me more satisfaction and personal enjoyment than my multi-week workshops in documentary, or narrative, photography.
Which is understandable, given my own career in journalism and photography, and the books I have done over the years that seek to capture in photographs and words the places I have been: from the eastern shore of the Delmarva peninsula, to Down East Maine, to Venice, Italy.
Documentary photography is different from photojournalism, at least as practiced by many mainstream news shooters. In documentary work, there rarely is one set "money shot"--of someone making a speech, or of a president meeting with a world leader, or of a boxer delivering a knockout punch to his opponent.
Documentary photography is certainly not landscape photography, in which the beauty of the natural world is recorded to the almost total exclusion of people.
And documentary photography is most certainly not studio photography, or studio portraiture, in which the photographer first creates—and only then captures—what is before his or her lens.
If you were to press me for a more precise definition, I would say that narrative photography includes—in fact, even may be defined by--the moments that occur before and after the so-called "money shot," the image that may be the strongest of a sequence.
For it is that very sequence of photographs that underpins the visual narrative and gives context to the stronger images.
And these images almost always include people, and, as important, almost always include people who are virtually oblivious to the camera that is documenting this sliver of their life.
A case in point: in my 1998 book Down East Maine: A World Apart (Down East Books) one of the strongest images in the book—and one of my all-time favorites—is one I made at the emotional end of a fundamentalist tent revival meeting in Lubec, Maine, where my wife Judy and I have had a summer home for more than 20 years. The photograph, coming at the end of the meeting, shows a preacher lost in prayer, his eyes closed and hands clasped around the head of a young girl facing him, as several other preachers, male and female stand to the side, their hands raised in prayer and exultation.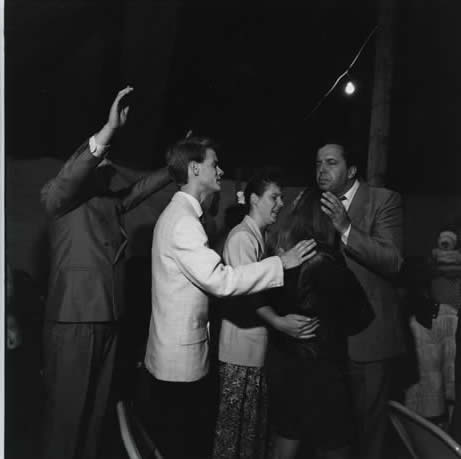 (c) Frank Van Riper
To be sure, the image is strong enough to stand alone, but in the book the image is but the culmination of what I hope is a compelling visual and written narrative the captures the context and emotion of the meeting that led up to this powerful ending. Other photographs in this chapter include a scene-setting wide shot of the striped revival tent standing alone in a field at the outskirts of town, a photo of the same closed-eyed preacher stemwinding earlier in the service in the manner of barnstorming preachers of old, as well as one photo, made from a dramatic low angle in the front row, showing members of the congregation on their feet, their hands raised in the air during call-and-response prayer.
Two important things were at work here. First, I deliberately set out to tell a picture story, not merely make one dramatic shot and call it quits (in effect figuring I had all I needed for the next day's paper.)
Second: in order for me even to make one shot, I had to gain the confidence of my subjects, sufficient for them to be comfortable enough in my presence to act naturally—as if I were invisible.
This is one of the hardest things for most people, including photographers just learning documentary shooting, to understand: how to disappear.
Look at the works of some of our great documentarians: Cartier-Bresson, Garry Winogrand, Bruce Davidson, Mary Ellen Mark, Sylvia Plachy, Robert Frank, Gene Smith, Gianni Berengo Gardin and marvel at the intimate, or telling—or, as HC-B would have put it, decisive—moments captured by their cameras.
Some, like the late Cartier-Bresson and the still very active Italian shooter Gianni Berengo Gardin, had been so catlike in their reflexes and so minimalist in their equipment—most always using tiny silent Leicas under available light—that they were able to grab great, universally human, shots on the fly while their subjects were virtually unaware of being photographed.
But others, like Smith, Davidson and Mark, literally immersed themselves in the lives of their subjects, as I did over the several days of the tent revival, often spending days, weeks, even months, at a time, not only to be there to get the important major moments of the story but the minor ones as well, all while becoming so familiar—and unthreatening—to their subjects as to become virtually invisible. One only has to see Smith's famous essays in the old Life Magazine ("Country Doctor" and "Spanish Village," to name but two) or see Davidson's glorious essays documenting everything from the New York subway, to the circus, to street gangs in Brooklyn, to see what I mean.
Because that, as I have told my students over the years, is when the magic happens.
And so it happened, too, over the course of the past several months with some of my own students at Glen Echo Park, culminating in what I hope will be an annual documentary photography show at PhotoWorks called "Mirror to the World."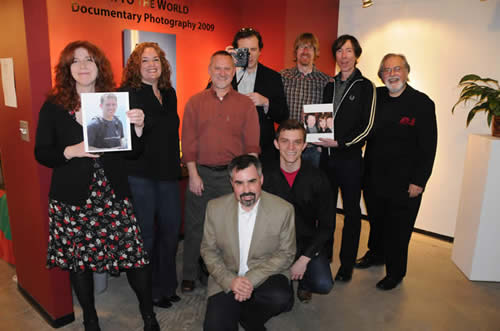 From left, standing: Holly Olsson (holding pic of Dan Taylor), Val Ford, Paul Sharratt, Bill Putnam, Graeme King, Matt Dunn (holding pic of Erica Wissolik), FVR. Kneeling, from left: Patrick Ryan, Steve Goldenberg.
This beautiful show, that ran at PhotoWorks from March 7th through April 12th, 2009, exhibited the work of ten photographers, all of them either my documentary photography students, or members of the informal group that they and others have formed around our association, Suds and Silver: www.sudsandsilver.blogspot.com
The ten photographers I invited to show this year were Matt Dunn, Val Ford, Steve Goldenberg, Graeme King, Holly Olsson, Bill Putnam, Patrick Ryan, Paul Sharratt, Daniel Taylor and Erica Wissolik. With the exception of Putnam none was an accredited journalist. Each had made first-rate pictures of projects they either had thought of themselves or that, on one occasion, I had assigned. The one assigned topic was a big one and had many takers: the inauguration of Barack Obama through the eyes of not-yet-famous photographers.
None of the other subjects in this documentary photography show was especially cosmic, save perhaps for ex-combat photographer Putnam's poignant, at times ironic, take on the emotions, both proud and anguished, that are revealed on the homefront during wartime. [The juxtaposition of a wrenching scene at Arlington cemetery with an eerily similar composition in a photo of a smiling George Bush reviewing West Point and Annapolis cadets on a football field was both compelling and unsettling. And Bill's accompanying text was the straight-from-the heart take of a citizen soldier.]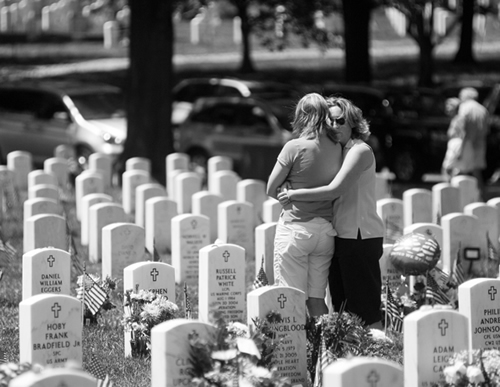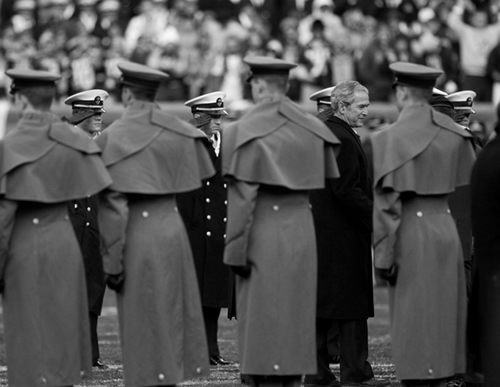 (c) Bill Putnam (2)
If the other picture stories were, in their way, more mundane, each nevertheless contained the yeasty mix of emotion, gesture and humanity that makes any good picture story impossible to resist:
--The soaking wet frenzy of worshipers at the United House of Prayer for all People, a Pentecostal congregation in Northwest Washington, as it conducted its annual firehose baptism and reaffirmation of faith on a cloudless and beautiful summer day last year: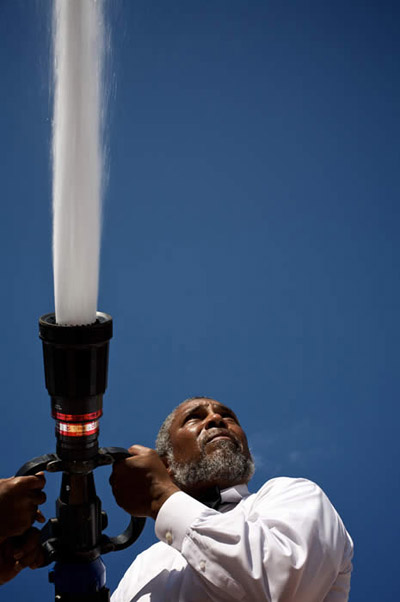 (c) Steve Goldenberg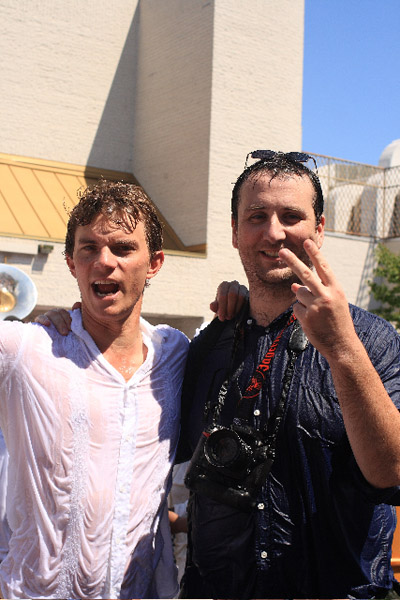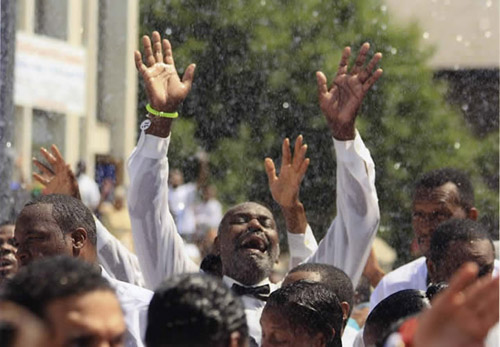 (c) Holly Olsson
--Val Ford's quiet take on the quirky souls who love, and live for, bicycling, documenting their devotion to the perfect machine in a tiny bike shop in Silver Spring, Md.: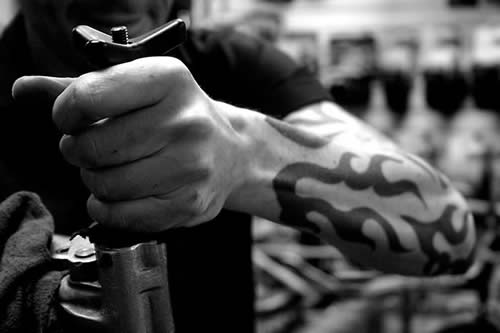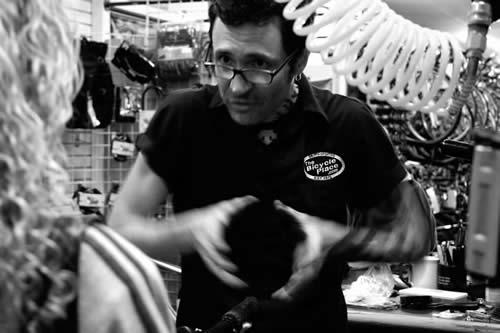 (c) Val Ford (2)
--Dan Taylor's colorful depiction of a small Mexican town's construction of a rudimentary corrida for its annual fundraising bullfights: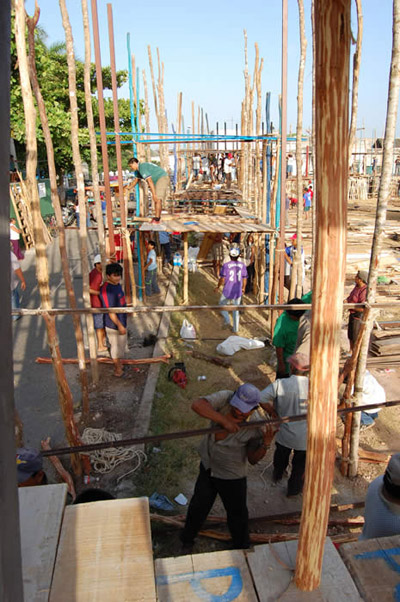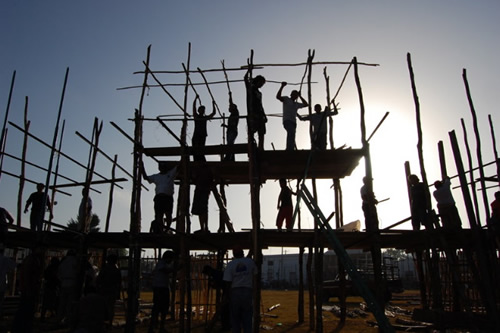 (c) Daniel Taylor (2)
--Graeme King's truncated excerpt from the hundreds of portraits he made on one spot on 14th Street during the course of an exhausting 24-hour photography marathon: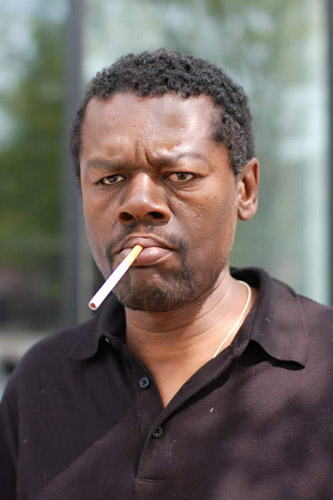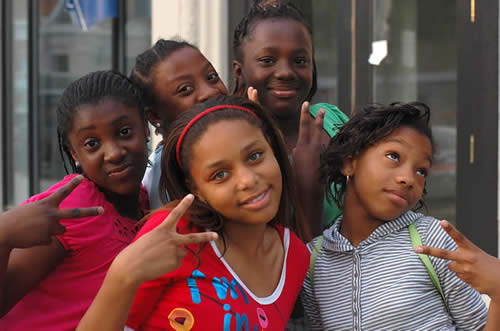 (c) Graeme King (2)
--Paul Sharratt's hilarious and affectionate look at the phenomenon of lawmmower racing, the trophies at one event handed out by two stunners from Hooters: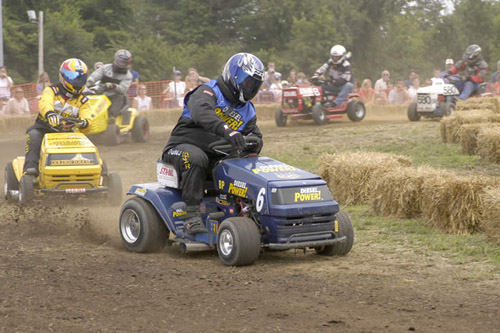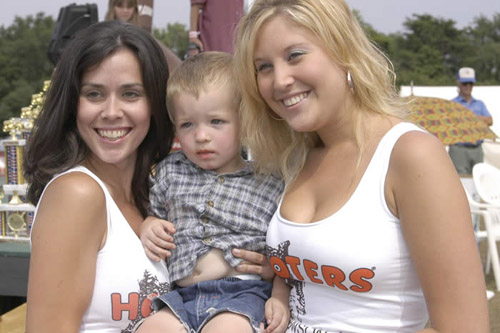 (c) Paul Sharratt (2)
--The friendly bustle of one of Washington's largest wholesale markets as it greets the day in the pre-dawn and folks from all parts of DC drop by to shop: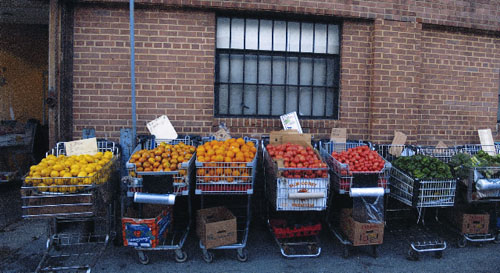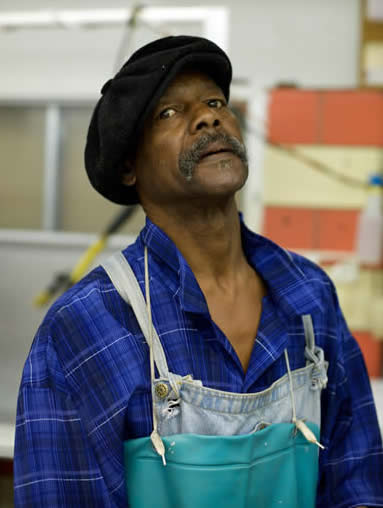 top: (c) Patrick Ryan
bottom: (c) Steve Goldenberg
The utter connectedness of the photographers with their subjects is manifest in these photographs—the hallmark of good narrative shooting. You feel through their images as if you are there—and, in effect, you are. And I am proud to say that my "kids" came through even during the chaos of the Obama inauguration.
I had assumed correctly that the young men and women who followed my urging to cover the inaugural would not be able to get near enough to shoot, say, Obama taking the oath of office. But who cared if they missed that "money shot?" Leave that to the much-maligned mainstream media. I wanted the moments before and after that—and boy did they deliver.
And you remember how cold it was.
Here's the male perspective from Matt Dunn, followed by Erica Wissolik's view:
Matt: "The week before Inauguration day I spent a week skiing in Steamboat Springs, CO, so I think I am prepared for a cold day in DC. The secret to staying warm on the slopes is layering. Wool underwear, wool ski socks, down jacket, Hat, scarf, gloves. It's easy to stay warm when you are slaloming down the slopes. You can feel your muscles burning calories. When you are photographing an event like the Inauguration, you are also expending energy but you are primarily walking, watching and waiting. Waiting for the shot. Thinking about your next shot. This sort of activity unfortunately doesn't keep you as warm as skiing.
I leave my house in Shaw at 4 am dressed for skiing and head for the Metro across the street. I am carrying three cameras, two flashes. I don't bring a backpack or camera bag just in case there is a security checkpoint somewhere. I don't want be held up or denied access anywhere.
It is dark and very cold, about 19 degrees. Two National guardsmen are standing on each of the street corners in my neighborhood. The Metro is surprisingly crowded for this time in the morning. People look happy and excited. I take a few frames on the subway car.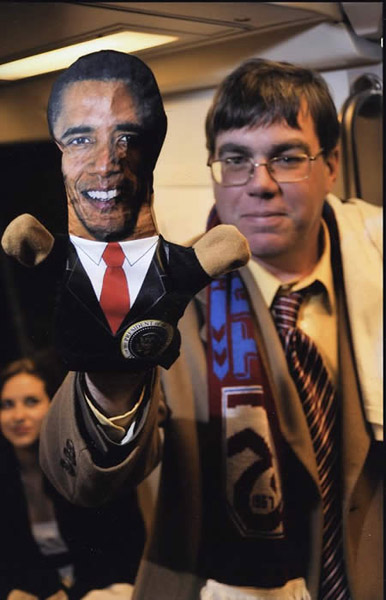 (c) Matt Dunn
I get off at L'Enfant Plaza and join the horde of people heading for the first section of the mall not requiring tickets. There is a crowd waiting at the entrance gate....It is cold. Loading film in the film camera is excruciating. My fingers feel like blocks of ice. I am shooting more digital than I had planned.
I see a group of people standing on top of a steaming Metro grate. I walk over to join the pack. It feels about 5 or 10 degrees warmer on the grate. I stand on the grate to warm up a bit. It feels great on this grate. It's a relief. I take a few photographs of the people around me. People are cold but the general mood is upbeat. The spirit of the crowd is indomitable. I walk into the throng and watch and wait."
Erica: "I remember waking up that day thinking, this is really special. Its hard to articulate but perhaps the feelings are akin to the morning of your 21st birthday, or Christmas Eve when you're 10 years old...it was just special. And yes it was cold, but I tend to notice discomforts less when I'm excited. That 6am flight to Paris isn't hard to deal with because, YOU ARE GOING to PARIS! Dragging my tired butt outside on Obama's freezing inaugural Tuesday took less energy that catching a 6am flight to Paris on my 21st birthday!
Anyway, I kept warm by wearing a hat that Giovanni [her Italian amore] had just brought for me from his trip to Peru, shearling gloves that I had bought for myself in Reykjavik, and Ugg boots that I bought in Pittsburgh. It was all good. I carried two cameras--the new pink digital (also from Gio) and my Nikon N90--and I walked with a good friend from my condo down to the mall. Everyone was polite, happy, excited. I met foreigners who had traveled from Australia for the event and even they didn't feel the cold.
(c) Erica Wissolik (2)
The vibe was calm, happy, people were overly respectful of each other (in a good way). I knew that I wasn't getting on the mall, I didn't fight it and I enjoyed the streets around Metro center and the Willard. It seemed that everyone stuck on that side of the fence felt the same, we were there out of a need to just be there.
I took pictures that would remind me of the minutes just before, during and after Obama's speech, Almost all of my pictures were taken in those moments. I have a few others but once that half hour was over, I didn't really want anymore. Faces changed and people started to head home or to the parade route. The mood was still great, but I had what I wanted."
-------
America inaugurated its first president of color on a frigidly cold, brilliantly sunny day that seemed to inspire, dare one say it, hope.
The crowds that swelled the Mall and downtown Washington to see Barack Obama, his wife and their two daughters become America's First Family after eight years of George Bush set a record: more than 1.5 million people who wanted to—in some cases simply had to—bear witness to this event in person.
They came mostly on foot, in the manner of pilgrims, because security was so tight as to close all bridges going to and from Virginia, and many others leading into the federal city. The DC subway was tested to its limits—but came through fine. As fine, in fact, as did the folks who rode it.
Astonishingly, on a day when Washington hosted this record crowd gathered for an emotional, at times even frenzied, celebration (tinged, it must be said, with an element of good riddance for those who'd gone before) there were no arrests.
No arrests. How profoundly must the arrival of this blindingly confident and eloquent President have changed us.
Will the vibe last? Who can tell? One only can hope.
A few days later in Chinatown Washington's Chinese community celebrated its own New Year--the Year of the Ox—with a traditional parade, featuring dancing dragons, loud cymbals and other happy noise. "Those born in the year of the Ox are patient, speak little and inspire confidence in others," it is said.
Barack Obama was born in 1961—also the year of the Ox.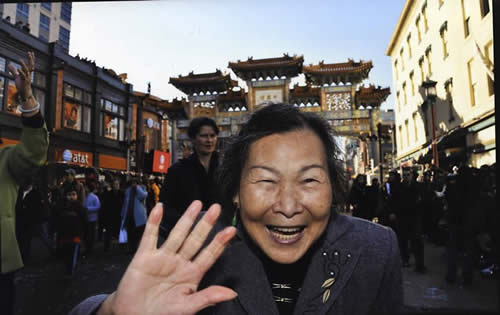 (c) Matt Dunn
Lubec Maine, Summer Photo Workshop
Join Frank Van Riper and Judith Goodman this summer for a week-long photography workshop in Lubec, Maine--the easternmost town in the United States. Hands-on instruction in portraiture, location photography, etc., in stunningly beautiful coastal Maine. See our 'classroom' below:
Sponsored by the SummerKeys Music Festival. Details and registration below:
http://www.summerkeys.com/workshop.html
or: GVR@GVRphoto.com
-0-0-0-0-
Frank Van Riper Spring photo courses at Glen Echo
1. Narrative Photo: The Picture Story
2. Great Portraits with Simple Lighting
For more details: GVR@GVRphoto.com
Frank Van Riper is a Washington-based photographer, journalist and author. He served for 20 years in the New York Daily News Washington Bureau as White House correspondent, national political correspondent and Washington bureau news editor, and was a 1979 Nieman Fellow at Harvard. Among others, he is the author of the biography Glenn: The Astronaut Who Would Be President, as well as the photography books Faces of the Eastern Shore and Down East Maine/ A World Apart. His book Talking Photography is a collection of his Washington Post and other photography writing over the past decade. His latest book (done in collaboration with his wife and partner Judith Goodman) is Serenissima: Venice in Winter. Van Riper's photography is in the permanent collections of the National Portrait Gallery and the National Museum of American Art in Washington, and the Portland Museum, Portland, Maine. He can be reached through his website www.GVRphoto.com

[Copyright Frank Van Riper. All Rights Reserved. Published 3/09]