A New Photo Workshop in Maine
Daunted by Rockport?...Come to Lubec!
By Frank Van Riper
Photography Columnist
In the summer of 2009 my wife and partner Judith Goodman and I—professional photographers with minimal music experience and negligible music skills—joined the faculty of the nationally famous SummerKeys music workshops in Lubec, Maine.
Obviously Judy and I did not join SummerKeys to teach music. The faculty of this amazingly successful, welcoming and low-key music school includes professional musicians of world-class caliber teaching everything from piano to voice, from classical guitar to cello, from music composition to flute and violin, in a friendly total-immersion atmosphere geared to the working adult. (www.summerkeys.com)
What Judy and I did do this past summer—and what we now look forward to doing every summer—is lead the Lubec Photo Workshops at SummerKeys, offering week-long hands-on classes in all manner of photography in tranquil Down East Maine, far from the madding noise of Bar Harbor or Portland.
"The Lubec photo Workshop was great. I learned to shoot in manual mode in numerous situations and get results that worked! Frank and Judy are knowledgeable and enthusiastic teachers. I'm already looking forward to next year."
--Robin Kempster, Albany, Calif.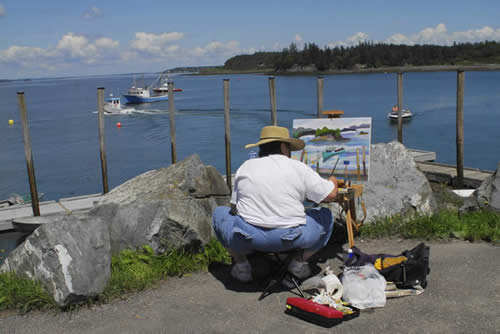 It doesn't get any prettier than this: Lubec Harbor on a brilliant summer day. The painter obviously thinks so too. (c) Frank Korahais
Judy and I knew firsthand the joys of attending photo workshops—having decades ago been veterans of many classes at the Maine Photographic Workshops in Rockport—now under new management and re-christened the Maine Media Workshops. The classes that appealed to us most were the small artisan and master classes, in which no more than, say, a dozen students learned from a great teacher in a relaxed atmosphere with tons of one-on-one contact—and virtually none with the outside world of family or work. (Granted, this was much easier to achieve back then, in the era before the internet or the cell phone.) Judy, for example, remembers fondly her classes with Craig Stevens, a great photographer who went on to chair the photography department at the Savannah College of Art. I will always remember my several classes with Neil Selkirk, for my money the best location portraitist living, and a master darkroom printer--the only person now permitted to print the work of the late Diane Arbus.
Still, for all our fond memories of Rockport, there were things we wanted to avoid as the Lubec Photo Workshops at SummerKeys took shape.
The idea for the workshops sprang from a conversation Judy and I had in 2008 with SummerKeys founder and director Bruce Potterton. We had known Bruce ever since he began his music school nearly 20 years ago and had watched the program grow from piano-only to the multi-discipline series it has become. [Judy and I spend every summer at our home in Lubec, and Judy—an avid gardener in addition to being a photographer and sculptor—has been one of the unofficial SummerKeys gardeners, creating over the years beautiful plantings in front of the cedar-shingled buildings that house the SummerKeys offices overlooking Lubec's Johnson Bay.]
"The opportunity to participate in a residential photo workshop, in an unparalleled scenic part of the US, under the tutelage of two very fine professional photographers, for a very affordable tuition, was simply a dream come true. I thoroughly enjoyed both the photographic mentoring provided by Frank Van Riper and Judy Goodman and the amiable camaraderie of fellow students. A week was really too short, but it was nonetheless filled with excellent instruction, creative and enjoyable photographic assignments, and very helpful critique. I would unhesitatingly recommend this workshop to other photo enthusiasts of any skill level. It's a very sound investment in one's own creative growth."
--Robert Ball, Richmond, Indiana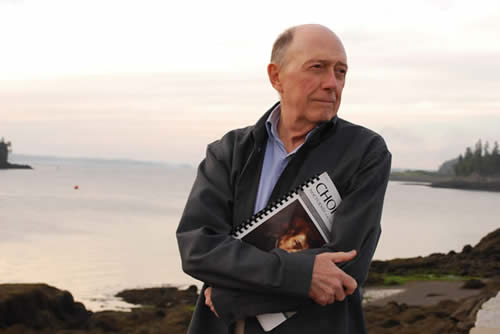 Beautiful location portrait of Bruce Potterton, SummerKeys founder and director. (c) Robin Kempster
With the increasing popularity of SummerKeys Bruce Potterton faced the happy dilemma of wondering what he might offer to the traveling companions (spouses and partners) of his music students, as well as to non-musicians simply interested in this beautiful part of Maine. One reason for SummerKeys' success is that, unlike other music schools, there are no admission requirements and the program is open to all levels, from beginners to accomplished player. "You walk through our doors and we will teach you," Bruce says proudly. With that as our guiding principle last year Judy and I proposed a photography workshop on the SummerKeys model: open to all, regardless of skill level.
We were thrilled with the experience this past summer and think we have hit on the right mix of instruction/vacation to make the program a hardy perennial.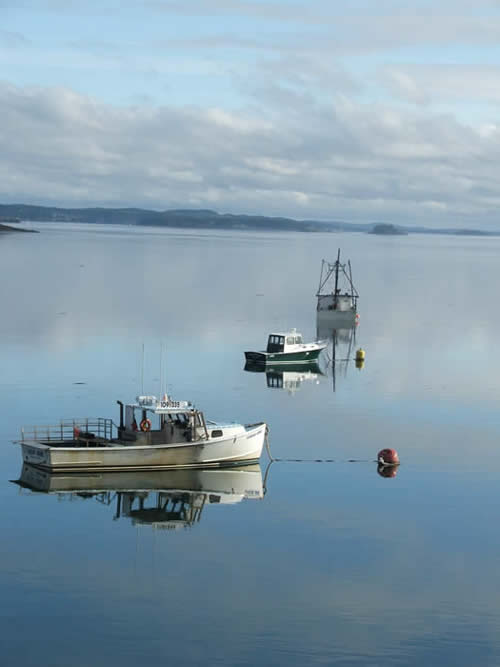 Glass-like sheen of water at dawn makes this seascape even more beautiful. (c) Robert Ball
Here's what we did and did not do:
In addition to being open to all, Judy and I did not want our classes to be too large. We limited our enrollment each week to six—the number of people who could fit comfortably around the dining table at our home in west Lubec for morning bagels, muffins, and critique. For the record, our very first workshop had four participants, the next week's three: very good for the first year, we thought.
Both Judy and I had experienced the disappointment of huge classes at the Maine Photographic Workshops when we studied there in the 70s and 80s. [I especially remember one master class, taught by a world-famous photographer (not Neil Selkirk), that grew to some 30 participants, far more than the advertised maximum. "Don't worry; I'll make 'em happy," Judy overheard the teacher tell the registrar. (Remember: more students meant more money for the instructor.) Was I happy with the class? Certainly the teacher was brilliant—and he liked my work, so that was not an issue. But I never got any one-on-one with him and each morning's student critique stretched for hours. I never took his class again.]
" Judy Goodman and Frank Van Riper's Photo workshop was terrific. They are master photographers who couple expert knowledge of photographic technique with a nuanced aesthetic sense. In addition, they're very talented teachers, able to impart their knowledge and the many possibilities photography offers. They do all this while working with a group's diverse styles and skills. All in all, it was a very worthwhile experience. I would recommend it highly."
--Frank Korahais, Forest Hills, NY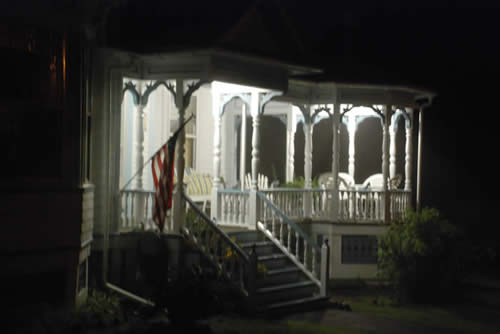 Victorian porch in Fog, Lubec. (c) Katharine Yang Montgomery
What Judy and I did want to do—in another departure from conventional workshops--was tailor our classes to individual students' needs and desires. And here we followed a plan that I use with success when I teach photography and lighting during the rest of the year at PhotoWorks at Glen Echo Park, Md., near our home in Washington, DC: http://www.glenechopark.org/class/classctlgIndex.aspx
Before the workshops this summer I e-mailed each registrant, inquiring about his or her skill level, photography preferences, goals, etc. It made a difference and helped Judy and me create an interesting mix of things to photograph every week. Our only requirement was that each student work digitally (there simply is no rapid film processing in rural Lubec) and that each student have a camera that allowed for full manual control--both shutter speed and f-stop. Virtually the entire week would be spent shooting in manual mode, to give students maximum control over their images—and to help them better see how light, or the lack thereof, can affect their photography.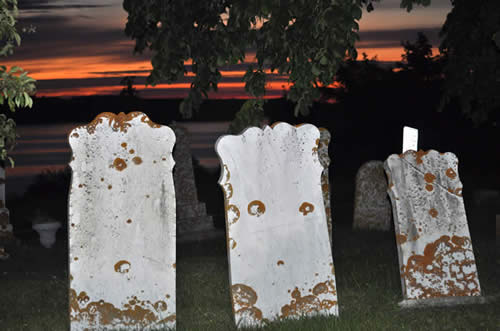 A tripod, slow shutter speed and flash helped create this atmospheric nighttime shot at graveyard near Johnson Bay. (c) Barbara Pincince
Because this was to be a general workshop, distinct, say, from my intense studio lighting classes at PhotoWorks, Judy and I hoped to cover several aspects of photography each week: portraiture, night shooting with portable flash, documentary work—even a morning of product photography—and, of course landscape photography in this most beautiful part of the world. The mix worked, I think, and everyone got to go to his or her strengths, while also stretching a bit as a photographer. Another important plus was our access to the music classes at SummerKeys, both individual and group. This gave our students a rare chance to do the kind of documentary photography that Judy and I love: shooting people unobtrusively (and by available light) while they are 'working'—or in this case intensely studying their instrument.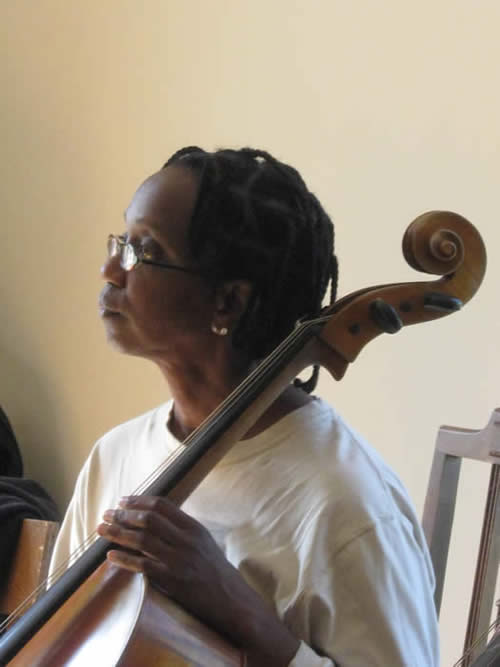 Quiet available light study of cello student captures her concentration and the beauty of her instrument. (c) John Bigelow
Here is just a partial list of the places we photographed, all either in Lubec or within an easy drive, during the course of the two workshops we taught this year:
--Working waterfronts: in the dense fog in Cutler, Maine, and at bustling Head Harbor in Campobello, New Brunswick.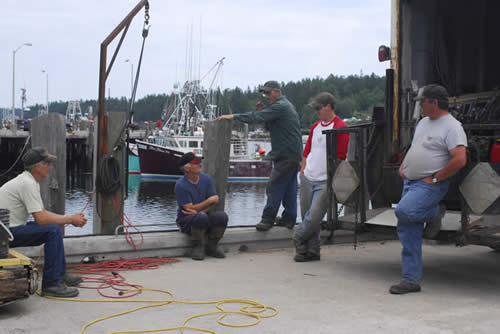 Great composition (see how men at left and right lead you into the scene) adds to this informal harbor portrait. (c) Frank Korahais
--"Bad Little Falls" in Machias—a series of dramatic waterfalls literally in the heart of the town, and unknown to many tourists. (This presented a great way to teach how to manipulate a manual camera to create tack sharp photos, or atmospheric ones of rushing water, even in bright sunlight.)
--The Historic McCurdy Smokehouse in Lubec. Now preserved as a museum, this was the last herring smokehouse in the US. Our private access to the "skinning shed" gave students a great chance to make dramatic studies in light and shadow.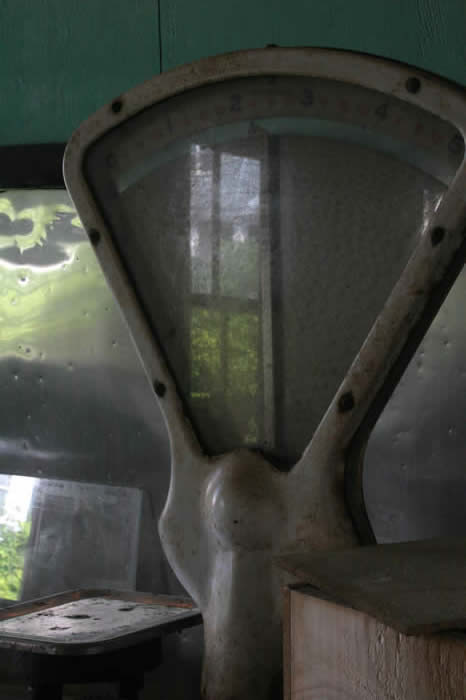 Beautifully seen abstract of antique equipment at Historic McCurdy's Smokehouse, Lubec. (c) John Bigelow
--Rehearsals by a local community theater group as it prepared for its production of Wilde's "The Importance of Being Earnest."
High ISO for grainy look (and great juxtaposition of shapes and patterns) increases impact of this dress rehearsal shot. (c) Gale Swope
--Quoddy Head State Park—literally the easternmost point in the US, with breathtaking vistas, beautiful vegetation, a rock-filled beach—and a candy-striped lighthouse.
A great tradition at SummerKeys is the Friday evening student recital in the town's lovely Congregational Church sanctuary (where individual SummerKeys instructors present free public concerts every Wednesday.) The Friday recitals can be a nervous time for some music students, who are encouraged to perform in public for their colleagues, however briefly, always to generous applause. This year there was a difference: we too had a "recital": a brief slideshow of our students' best work at the end of each week's workshop, that I presented in the church's basement before everyone trouped upstairs for the music.
For two weeks anyway, the student musicians in Lubec were not the only ones whose hard work was rewarded with enthusiastic—and deserved--applause.
[ Note: We plan to teach our 2010 workshops the weeks of July 11th, July 25th, and August 15th. In addition to the workshops, separate one-on-one consultations also will be available as time allows over the summer. For more information, contact Judy and me at GVR@GVRphoto.com or stay in touch with the SummerKeys website: www.summerkeys.com ]
Frank Van Riper Fall/Winter classes,
field trips, Glen Echo Park, Md.
Great Portraits with Simple Lighting ($275)
Class 1: Thursday, October 29-Novmber 19, 7-10:30pm
Class 2: Thursday, January 21-February 11, 7-10:30pm
Achieve studio-quality results with equipment as simple as a flashlight, aluminum foil and a toilet paper tube. A great way to learn the basics and have fun doing it.
National Gallery, East Wing, Field Trip ($150)
Class 1: Sunday, October 18
Class 2: Sunday, January 17
Spend the day photographing in one of Washington's great spaces, where opportunities for landscape, abstract and portrait photography abound. There will be an orientation session about a week before, followed by a potluck dinner and critique at Frank's home after the field trip.
For information contact: GVR@GVRphoto.com or go to www.glenechopark.org
Frank Van Riper is a Washington-based photographer, journalist, author and lecturer. He served for 20 years in the New York Daily News Washington Bureau as White House correspondent, national political correspondent and Washington bureau news editor, and was a 1979 Nieman Fellow at Harvard. His photography books include Faces of the Eastern Shore and Down East Maine/ A World Apart, and Talking Photography, a collection of his Washington Post and other photography writing over ten years. His latest book (done in collaboration with his wife and partner Judith Goodman) is Serenissima: Venice in Winter www.veniceinwinter.com
Van Riper's photography is in the permanent collections of the National Portrait Gallery and the National Museum of American Art in Washington, and the Portland Museum of Art, Portland, Maine. He can be reached through his website www.GVRphoto.com

[Copyright Frank Van Riper. All Rights Reserved. Published 9/09]