Lubec Photo Workshops – Summer, 2011 ... AND
Umbria Photo Workshops - Fall, 2011 (see below!)
The Smokehouse Softbox
Using 'any light that's available'
By Frank Van Riper
Photography Columnist
Arnold Newman (1918-2006)—one of the greatest location portrait photographers ever—called available light "any light that's available."
This was Newman's not-so-subtle way of saying that available light photography does not always have to be natural light photography. Sure, as another great environmental portraitist, Neil Selkirk, once said, "if conditions are perfect, just make the picture." But Neil also quickly added, "if conditions are not perfect, make them perfect."
I had a revelatory experience this past summer in Maine with both available light and natural light—as well as with a soupcon of strobe light—when my wife Judy and I taught our annual photography workshops in Lubec, Maine, where we live every summer.
The experience taught us once again to keep our eyes open when great lighting happens, especially when you least expect it.
Anchoring the tiny fishing town of Lubec, the easternmost point in the United States, overlooking the narrows between Lubec and Campobello Island, New Brunswick, is a small complex of cedar-shingled buildings on Water Street that once housed the nation's last remaining herring smokehouse, now called The Historic McCurdy Smokehouse.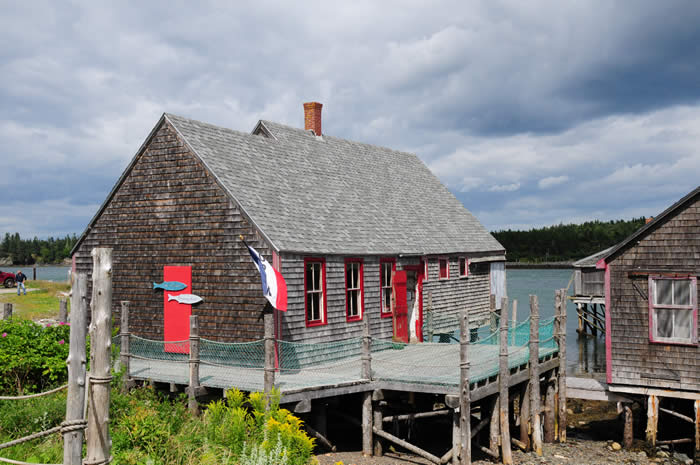 McCurdy's Smokehouse complex is the main attraction of the tiny fishing town of Lubec, Maine. The skinning shed (above) is a museum--and now a portrait studio. © Frank Van Riper
The business was run for decades, successfully and without complaint, by John P. McCurdy and his family before him. But in 1991, "John P" was forced to shut down in the face of onerous new federal health regulations that would have cost a quarter-million dollars to implement. For years thereafter, McCurdy's smokehouse sat vacant and crumbling in the heart of town.
Finally a group of people, both local and "from away," formed Lubec Landmarks, Inc., to try to restore the smokehouse complex and turn it into a living history museum and cultural center. We have been reasonably successful in this effort, getting the complex listed on the National Register of Historic Places and prying grant money for restoration from a number of sources, though never enough.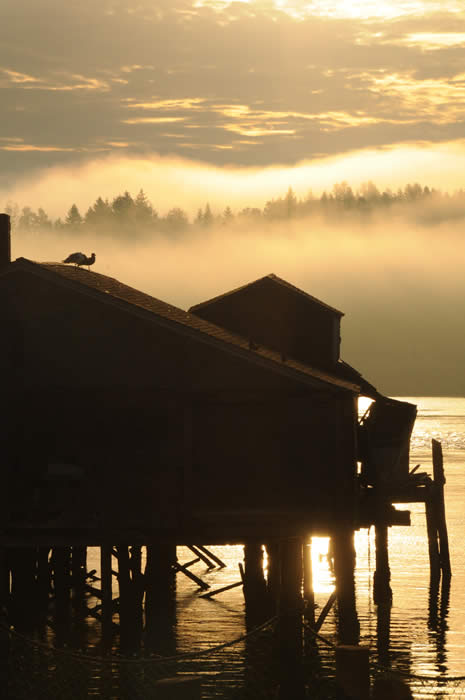 McCurdy's at Dawn © Frank Van Riper
But the effort has seen been sufficient to literally keep one building from falling into the sea—and to create an art gallery out of an adjacent market—as well as produce a living history museum in the old McCurdy skinning shed, where smoked herring by the thousands once were beheaded, gutted and skinned, then carefully packed into wooden crates to be shipped to markets in Boston, New York and elsewhere.
With its historic collection of old tools and vintage packing equipment, the skinning shed became a perfect place for us to bring our students so they could make arresting still lifes and close-ups.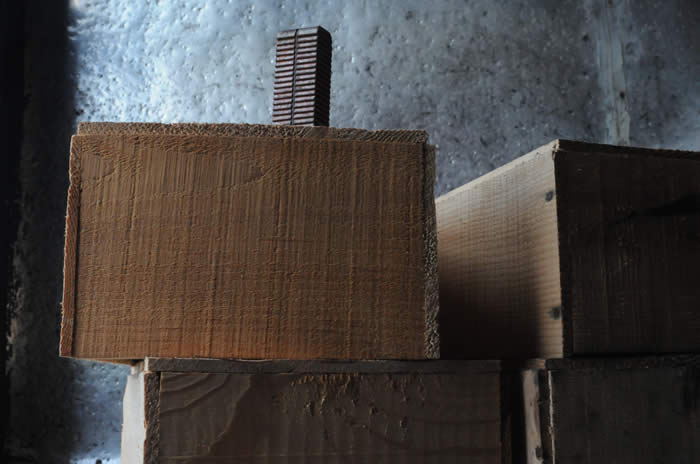 Herring Boxes/ McCurdy's © Frank Van Riper
But who could have known that it also would be a superb portrait studio?
It happened one sunny day as our class was walking through the museum looking for pictures to take--as a board member and past president of Lubec Landmarks, I had the key to the place. At the far end of the skinning shed was a dark room filled with thousands of sharp-pointed wooden poles, used to "string" the herring after brining, after which the stringed herring would be placed amid the high rafters of the smokehouse itself.
The room was dark and redolent with the smell of smoked fish. To throw in some light, I opened up a wide door that opened up onto the Lubec narrows.
That's when the magic happened.
I marveled at the quality of light that streamed in to the tiny room, as if from a giant softbox. It was directional, soft and very bright all at the same time.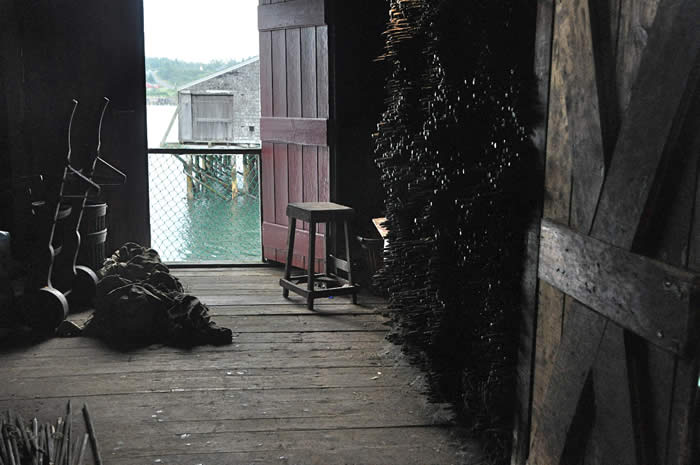 With light from outside streaming into the darkend back room of the skinning shed, the effect was that of a huge softbox in a portrait studio.
A number factors contributed to this. First the light was streaming in only through a rectangular opening—the doorway—or in other words from the same sized source as a huge softbox set off to a subject's side.
Second, with light coming only from the outside into the darkened room, it was, of necessity, directional. Remember: from our indoor perspective there was no light from above (i.e.: from overhead sunlight
Finally, the quality of light was muted, probably because some of it was reflected off the body of water just outside—the Lubec narrows.
I asked one of our workshop students, Frank Korahais, to stand in the light, facing the narrows so he would be in profile. I made a portrait, exposing only for his face.
Wow.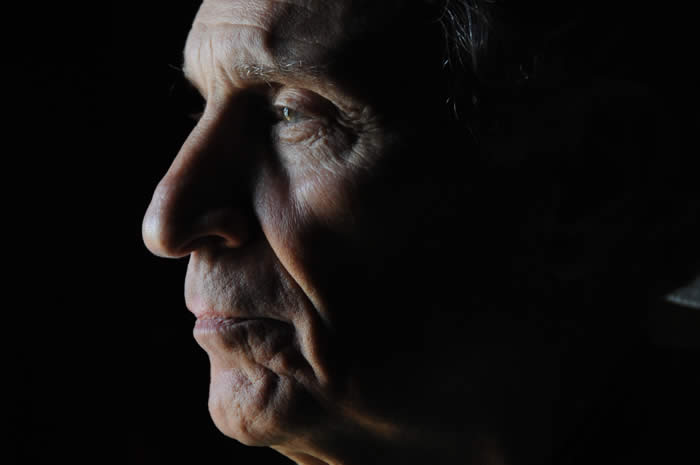 Portrait of workshop student Frank Korahais illustrates the dramatic quality of light coming through the opened door of the skinning shed. © Frank Van Riper
Frank suddenly turned into the Marlboro Man, the rugged contours of his face standing out in relief. I was delighted with the result.
A few weeks later Judy and I went back to the skinning shed to do more portraits—this time at the request of our friend, the violist Margret Hjaltested. Margret, a tall, beautiful native of Iceland whom we have known for years, teaches viola at the SummerKeys Music workshops—through which Judy and I also teach photography. Marget needed some new publicity portraits and the skinning shed seemed an ideal place to make them, especially since Judy and I did not have with us our usual range of softboxes and other light modifiers.
The first portraits we made, using virtually the same setup that we used for Frank Korahais, were good, but not great. The raking light that worked so well with Frank, was not nearly as flattering for Marget. (Note the deep smile and brow lines.)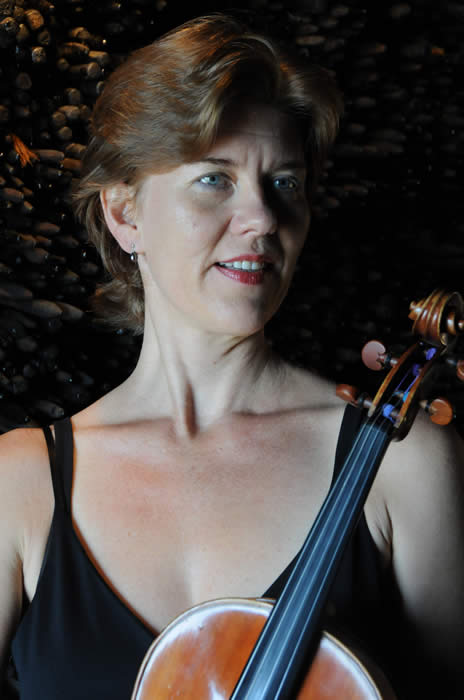 Our first shots of our friend violist Margret Hjaltested showed harsh lines from the directional light. © Goodman/Van Riper
Still, the main light coming off the narrows was wonderful, so for the second set we turned Margret more to face this natural light source, while also adding a kiss of on-camera flash to soften her facial lines: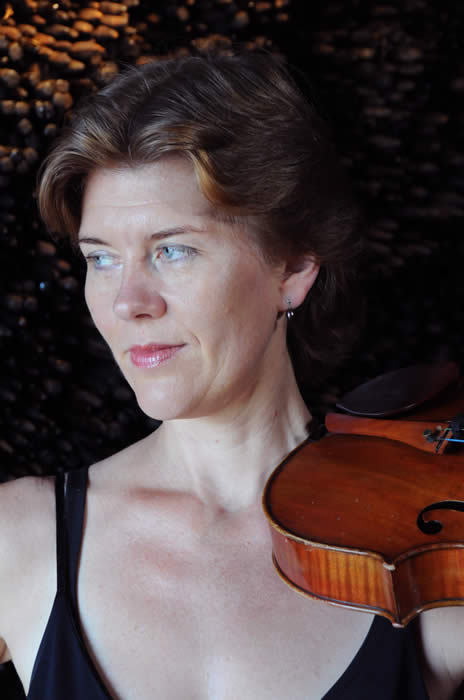 Adding a kiss of fill flash softened the lines on Margret's face © Goodman/Van Riper
This portrait was much better, and I liked the interesting background, of the herring sticks illuminated by a bare lightbulb from above. But I wanted more separation of Margret from the background.
Cue the Morris Midi.
This little light source—no bigger than a small tape measure—has been a godsend to us on location:
http://www.themorriscompany.com/lights/midislave.html
With a built-in slave trigger, this small flash unit can wirelessly provide an accent light (or in this case a hairlight) with minimal fuss, and no change in your basic exposure. The final series of portraits gave a dramatic highlight to Margret's hair and helped separate her from the herring sticks in the background.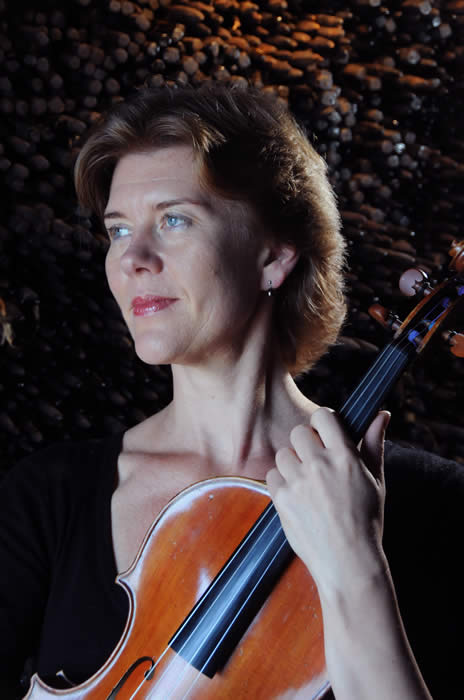 The money shot. Beautiful light from the narrows, softened even more with fill flash, augmented by hairlight. It also helps to have a gorgeous subject
© Goodman/Van Riper
We loved this final portrait. Interestingly, the sticks evoked (for me, anyway) the sound-absorbing acoustic tile one finds in recording studios—an apt image for a musician.
Funny to think it all happened in a herring smokehouse.
Umbria Photo Worshops, Fall, 2011
Join internationally acclaimed husband and wife photographers Frank Van Riper and Judith Goodman for a weeklong photographic workshop under glorious fall skies in one of Italy's most beautiful regions. This trip is limited to only six participants.
Frank and Judy, authors of the award-winning book Serenissima: Venice in Winter, will share their image-making techniques with a small group during a week covering everything from landscape photography in the verdant hills of Umbria to location portraiture in its closely held olive fields and vineyards.
Participants will travel by guided excursion to several of Umbria's storied hill towns, including Perugia and Assisi, and receive individual attention during daily critiques.
Package includes 7 nights in the fully restored 17th century villa Fattoria Del Gelso in Cannara, located on a 40-hectare working farm literally walking distance from colorful shops and restaurants and centrally located in the shadow of Assisi. Attentive staff are on hand daily.
This is a trip designed for relaxed learning and sightseeing via foot, bicycle and van, taught by two experienced location photographers whose work has been exhibited in and acquired by major museums in the United States. Frank and Judy are molto simpatico teachers who will turn your photographic vacation into a once-in-a-lifetime adventure.
October 15-22, 2011
Price per person: €1800 (convert to dollars)
Single supplement 400 Euro
Limited to 6 participants
Package includes:
--7 nights in the private villa Fattoria del Gelso
--welcome and farewell dinner
--all breakfasts
--vineyard tour and private lunch
--pizza-making party at the villa
--daily wine and antipasto happy hour
--individual critique and instruction
--private guided walking tours
--ground transportation throughout your stay
—FURTHER INFORMATION: www.experienceumbria.com
Lubec Photo Workshops at SummerKeys – Summer, 2011
This summer, Judy and I will once again be teaching three hands-on photography workshops in Lubec Maine, sponsored by the SummerKeys Music school. (www.summerkeys.com)
Our dates for summer 2011will be as follows:
July 11th through 15th
July 25th through 29th
August 8th through 12th
Classes are limited to only six participants each week. Each class includes personal instruction, ongoing portfolio review and a wide range of location photography, including portraiture, landscape and night shooting. Each week's class ends with a slide show of students' best work that is open to the public.
Since their inception in 2009, Judy and I have tried to make our workshops a simpatico experience for all, regardless of skill level. There are no entrance requirements—all you need is a digital camera capable of manual operation and a desire to make pictures in one of the most beautiful areas of the country.
Watch the SummerKeys website www.SummerKeys.com for registration information, further details and pricing. Or contact us directly at GVR@GVRphoto.com
We look forward to hearing from you and to seeing you in Lubec!
Faces of the Eastern Shore
Order Frank Van Riper's classic look at life on the Chesapeake, Faces of the Eastern Shore, for only $15 (reg. $19.95), plus s/h.
Published in 1992 and printed in duotone, this 10"x 9" quality paperback was featured in the Baltimore Sun, Washington Post and numerous other publications for its superb location portraiture and lyrical text.
Said author James A. Michener in his foreword: "What this rascal has done is belatedly to illustrate my novel, Chesapeake, and superbly."
Contact Frank directly for copies of this now out-of-print classic: GVR@GVRphoto.com
Frank Van Riper is a Washington-based photographer, journalist, author and lecturer. He served for 20 years in the New York Daily News Washington Bureau as White House correspondent, national political correspondent and Washington bureau news editor, and was a 1979 Nieman Fellow at Harvard. His photography books include Faces of the Eastern Shore and Down East Maine/ A World Apart, and Talking Photography, a collection of his Washington Post and other photography writing over ten years. His latest book (done in collaboration with his wife and partner Judith Goodman) is Serenissima: Venice in Winter www.veniceinwinter.com
Van Riper's photography is in the permanent collections of the National Portrait Gallery and the National Museum of American Art in Washington, and the Portland Museum of Art, Portland, Maine. He can be reached through his website www.GVRphoto.com

[Copyright Frank Van Riper. All Rights Reserved. Published 4/11