Announcing…
Unseen Serenissima: The Venice in Winter Photo Workshop
January 12-18, 2013…Space is limited…see below
Three Books on Venice:
A familiar subject difficult to do well

By Frank Van Riper
Photography Columnist
Three new photography books on Venice--each in black and white, all with hardly any text and all virtually bereft of people–make the convincing case that this "floating" miracle on the Adriatic may be, if not the most beautiful city in the world, then certainly the most compelling, atmospheric and romantic.
I speak with some authority, being the co-author with my wife of Serenissima: Venice in Winter—another black and white coffee table book, but one that also includes my own lengthy original text as well as numerous portraits and street photographs of people. Published in late 2008 after a long gestation, we are proud that the book has been an award-winning international bestseller.
( www.veniceinwinter.com or go to Amazon.com )
The three new books, also coffee table hardcovers, are well done and worthy of a long, lingering look. Each grapples with the dilemma facing any photographer seeking to document a much-recorded place (Paris comes immediately to mind as another example):
One wants to hit the visual high spots—could one, for example, do a documentary book on Paris and not include the Eiffel Tower, or at least a part of it? The challenge, certainly, is to depict the familiar and expected creatively or uniquely without seeming to be mannered or forced. Of the three new books, one succeeds remarkably on this front, another provides a loving and masterly take on Venice at night, while the third tries, but only rarely succeeds, to go beyond the usual.
In terms of sheer uniqueness and singular vision Renato D'Agostin's The Beautiful Cliché/Venezia (Silvana Editoriale, Milano) brings a welcome edginess and modern abstract sensibility to yet more photos of the Rialto Bridge and Piazza San Marco. It may be worth noting that, at 29, D'Agostin is by far the youngest of the three authors mentioned here.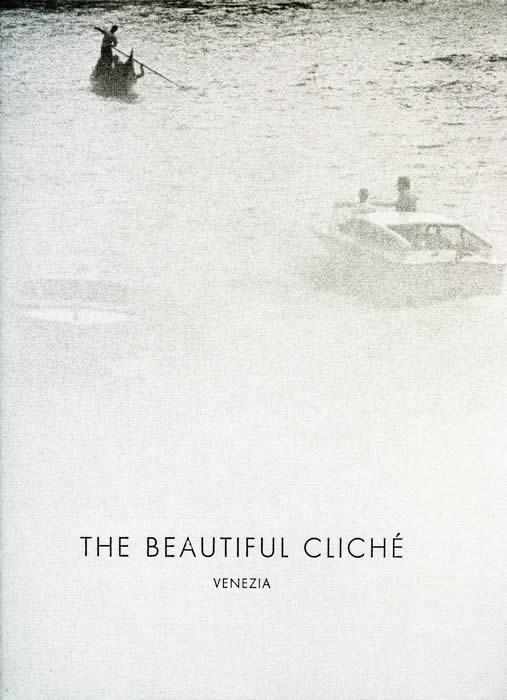 A remarkable book by young Venetian photographer Renato D'Agostin, 'The Beautiful Cliche' shatters a few with its black and white abstracts.
Venicexposed (Contrasto/Thames & Hudson) by Luca Campigotto reflects the deep love of a native son who has spent decades in this city and who knows its hidden photogenic corners well. Campigotto long has been known as a master of long-exposure nighttime photography. The images in his book, made on film and in large format, are almost always a joy to behold simply because, like D'Agostin-- another Venice native--Campigotto can take a visual cliché and make it new.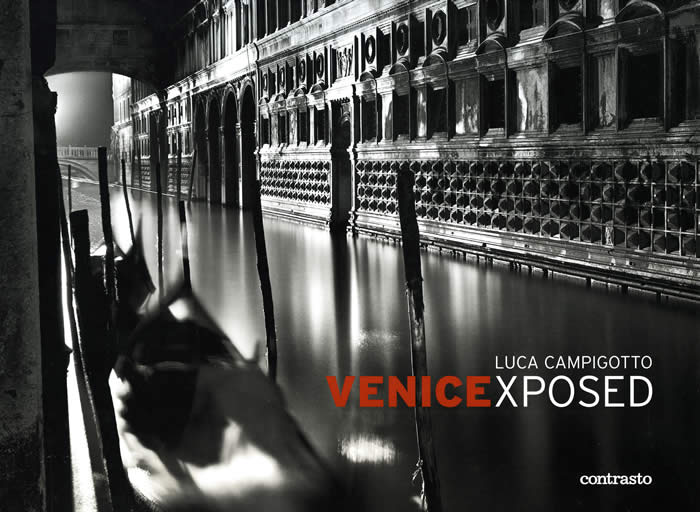 Venice native Luca Campigotto is a master of night photography, and he shows why in this striking collection.
By contrast, The Light of Venice (Assouline) by Jean-Michel Berts, earnestly serves up moody, if also occasionally muddy, unpeopled vistas of Serenissima that too often simply seem too familiar. Berts has a habit of shooting his architectural subjects head-on, thereby making his images seem static from the start. To make matters worse—though give all these photographers credit for working in film—Berts seems wedded to doing so much dramatic burning-in while in the darkroom that his images, though analog, appear to be the unhappy victims of overzealous HDR processing.
I grant that this is purely a personal bias but, taken as a whole, I tired quickly of photo after photo of self-consciously ominous skies appearing above far less dramatically lit building facades. This simply happened too much throughout the book to be accident. In fact, it prompted one viewer to ask whether Berts only photographed on cloudy days.
What is it about Venice that so compels our visual interest?
Foremost of course is that fact that the city itself seems to float on the breast of the sea. In fact Venice is a city built on scores of low-lying mudflats interspersed by hundreds of waterways divided by the great backwards "S" of the Grand Canal. Centuries ago someone discovered that by sinking thick wooden poles into the clay-like mud one actually could lay slabs of impermeable Istrian stone on top of the poles and--atop this floating stone foundation--eventually place buildings. Virtually petrified in the airless medium of Venice's mud, these poles—numbering today in the millions—now underpin palaces.
Then too there is Venice's grand visual smorgasbord of architectural styles, reflecting its former role as the nexus of trade between the eastern and western worlds. Given what at the time was its unique geographical placement, Venice became a maritime and commercial powerhouse—a sophisticated, comparatively non-belligerent, society that judged an individual not by his or her race or religion, but rather by what he or she could contribute to its mercantile economy. (A case in point: Jews in ancient Venice were treated with comparative tolerance and acceptance—they certainly were not hunted down and persecuted as they were elsewhere. Granted, they were forced to live in one section of the city--the term for that place, "ghetto," is now in the lexicon—but Venice's Jews were protected by Venetian law and thus could live there in peace.)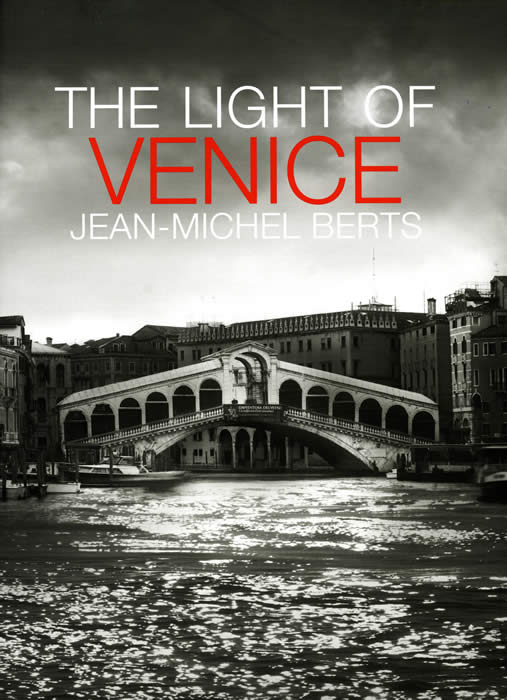 The least successful of the three is this collection by French photographer Jean-Michel Berts. He took all the book's photos within 15 days and it shows.
I also would add this to Venice's allure: it's size and its silence—as well as the melodramatic, though not necessarily accurate, notion that this aging grande dame is sinking into the sea. (Hydraulic gates at the mouth of the Venetian lagoon, as well as a concerted municipal effort to better dredge Venice's canals, are attempting to mitigate, if not halt, rising waters.)
In a world of supersized abundance and noise, Venice remains a tiny jewel. It is easily traversed by foot (there are, after all, no cars) and this absence of urban clatter and din can make the city seem tranquilly, even eerily, quiet, especially late at night when all one hears is the lapping of water in the grand Canal and the clattering of heels on damp pavement.
Certainly this is the mood created by Luca Campigotto in Venicexposed. You almost can hear the echoing footsteps in his nocturnal views, feel the chill night air that is stabbed occasionally by shafts of streetlight. Of all the Venice books here (and I include my own) Campigotto's is the only one that also features dramatic views of Venice's bustling port of Marghera—one of the world's busiest and an echo of the city's great maritime past. Tourists just don't go to Marghera—it's a schlep and by day it can look not all that different from the port of Baltimore. But by night—and with Campigotto's practiced eye, it becomes another part of Venice's remarkable story.
Familiarity with a subject's history—not just a fascination with its public façade reflected in photos made on a tight deadline—is what informs great documentary work. And familiarity takes time. For the record, I should note that Judy and I spent six years documenting Venice, producing an archive of some 10,000 images on roughly 300 rolls of film. In both Campigotto's and D'Agostin's case, this familiarity reflects not just their own long work to document Venice, but the fact that each was born and raised there. It's one reason I also extol the brilliant street photography of another Venetian, Gianni Berengo Gardin, whose depictions of his city rival the work of the better-known Henri Cartier-Bresson. By contrast Paris native Berts, in his somewhat precious introduction, admits that his entire book project was shot in just a little over two weeks—the latest in a series of great cities volumes that he is doing for the luxury publisher Assouline. Frankly, it shows, in his workmanlike, though ultimately unexciting, familiar, photographs. (nb: a similar, yet I believe far more successful, approach to this kind of architectural photography is in Gunther Derleth's classic, now out-of-print, book Venice: Camera Obscura—BxW large format pinhole photography.)
As a writer I also have to say I am glad Berts did not go beyond just two pages of text: "I have walked through the streets and across the bridges for several days now: fatigue has become a travel companion who reminds me that I am no longer twenty years old (nb: he is 53). But it has not hindered the sharpness of my 'sixth sense': I am always on the lookout for the slightest sensation. In fact, I look without looking. I wait for the sign, the magical instant that is impossible to describe: when it happens and it's real, I begin to 'fix' on a certain area. From there I go into contemplation mode…"
While Berts was in contemplation mode, Renato D'Agostin was prowling his city like a cat with a Leica. There is an energy and excitement to his often-grainy abstract images that still manage to offer up the Veniceness of Venice. Granted, to some people (and my wife and co-author Judith Goodman is among them) many of this young photographer's images are too abstract, too obscure, but I found the overwhelming majority of them to be beautifully seen. It does not surprise me that D'Agostin once worked under Ralph Gibson—a photographer known for his contrasty, punchy BxW abstracts. I also love how D'Agostin manages to move photo abstraction beyond the two-dimensional surface—juxtaposing an element in the foreground with one in the background to create a wholly new, visually connected, image. (In other words, the opposite of shooting torn paper on billboards.)
Finally, a word on people.
There are none in these books. D'Agostin might use an arm or a face as a compositional element—Berts gives us one moody cityscape featuring someone in (surprise) a carnival costume—but essentially all three of these books are depictions of Venice without people.
Again, this is a matter of personal preference, but I prefer my documentary photos peopled. People, after all, are what make a city live and breath—make it go. Gianni Berengo Gardin's thin though eloquent book Gli Anni di Venezia is a perfect example, combining beautiful renditions of Venice's buildings and vistas with perfectly caught human moments.
Robert Doisneau's work in Paris during and just after World War 2 is another great example. Bill Allard's Vanishing Breed on the American cowboy is another. Anything by Garry Winogrand or Bruce Davidson.
I just like photographing people, especially on the street. And when the streets are in Venice, it's magic.
You should try it.
Unseen Serenissima:
The Venice in Winter Photo Workshop
We have just booked our hotel in Venice and are moving ahead full-steam with putting together what Judy and I believe will be a wonderful week in the Floating City in January.
Following are the key details:
1. Dates: Jan. 12-18, 2013
2. Cost $3,000 per person
3. What's included: First class lodging at the beautiful, centrally located Ai Mori D'Oriente hotel ( http://www.morihotel.com/ ), all breakfasts, three meals (welcome and farewell dinner and one lunch, probably on Murano or Burano) week-long no-limit vaporetto pass, private instruction and tours, daily critiques at the hotel, signed copy of our book, Serenissima: Venice in Winter.
4. Itinerary: we will follow in Judy's and my footsteps as we photographed our book. This means there will be early morning and late-night photo excursions, visits to places tourists rarely travel (the cemetery island of San Michele, for example; the public gardens, I Giardini, the public market La Pescaria, charming wine bars and enoteche.) But we also plan to have at least one guided tour and visits to the more popular sites like Piazza San Marco, the Doge's Palace, the Accademia museum, etc. NOTE: participants also will have free time during the week to use their vaporetto passes and wander this magical place on their own. We will provide what we think is the best tourist map to help navigate.
Space for this first workshop is VERY limited. Contact: GVR@GVRphoto.com
Lubec Photo Workshops at SummerKeys – Summer, 2012
Next summer, Judy and I will once again be teaching our hands-on photography workshops in Lubec Maine, sponsored by the SummerKeys Music school. (www.summerkeys.com)

Our dates for summer 2012 will be as follows:
July 9th through 13th
July 23rd through 27th
August 6th through 10th
August 20th through 24th
Each class includes personal instruction, ongoing portfolio review and a wide range of location photography, including portraiture, landscape and night shooting. Single-digit class size assures individual attention. Each week's class ends with a slide show of students' best work that is open to the public.
Since their inception in 2009, Judy and I have tried to make our workshops a simpatico experience for all, regardless of skill level. There are no entrance requirements—all you need is a digital camera capable of manual operation and a desire to make pictures in one of the most beautiful areas of the country.
See the SummerKeys website for registration information, further details and pricing. Or contact us directly at GVR@GVRphoto.com
We look forward to hearing from you and to seeing you in Lubec!

-0-0-0-0
Van Riper Named to Communications Hall of Fame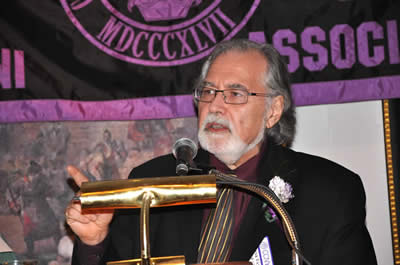 Frank Van Riper addresses CCNY Communications Alumni at National Arts Club in Manhattan after induction into Communications Alumni Hall of Fame, May 2011. (c) Judith Goodman

Photography columnist Frank Van Riper, author of the award-winning book Down East Maine/ A World Apart, and others was inducted into the City College of New York Communications Alumni Hall of Fame during an awards dinner at the National Arts Club in Manhattan May 6, 2011.
Van Riper, 65, was cited for is long career in journalism and photography and joins a panoply of other famed CCNY writers and artists named to the Hall of Fame in previous years, including playwright Paddy Chayefsky, muckraking author Upton Sinclair, novelist Oscar Hijuelos and columnist and author Irving Kristol.
Van Riper's formal journalism career began on the New York Daily News, which he joined in 1967, one week after his college graduation. He stayed with The News for 20 years, serving as White House correspondent, national political correspondent and Washington Bureau news editor. He was a 1979 Nieman Fellow at Harvard, and holds the 1980 Merriman Smith Award (with the late Lars-Erik Nelson) from the White House Correspondents Association for deadline coverage of the negotiations to free American hostages held in Iran during the Carter administration.
In 1987 he left daily journalism for commercial and documentary photography, partnering with his wife, photographer and sculptor Judith Goodman.
In 1992, Van Riper became photography columnist of the Washington Post, where his column, "Talking Photography," appeared in the Camera Works section of Washingtonpost.com (www.TalkingPhotography.com) His book, Talking Photography, a ten-year collection of his columns and other photography writing, was published in 2001.
Van Riper and his wife are co-authors of Serenissima: Venice in Winter, an internationally acclaimed book of photographs and essays, published in 2008.
In October, 2010, they also inaugurated The Umbria Photo Workshops, their first international photography workshop in Umbria, Italy. www.experienceumbria.com
Every summer they also lead the Lubec Photo Workshops at SummerKeys, a series of low-key week-long workshops based in Lubec, Maine. www.SummerKeys.com
Faces of the Eastern Shore
Order Frank Van Riper's classic look at life on the Chesapeake, Faces of the Eastern Shore, for only $15 (reg. $19.95), plus s/h.
Published in 1992 and printed in duotone, this 10"x 9" quality paperback was featured in the Baltimore Sun, Washington Post and numerous other publications for its superb location portraiture and lyrical text.
Said author James A. Michener in his foreword: "What this rascal has done is belatedly to illustrate my novel, Chesapeake, and superbly."
Contact Frank directly for copies of this now out-of-print classic: GVR@GVRphoto.com

[Copyright Frank Van Riper. All Rights Reserved. Published 5/12