2016 Lubec photo workshops: a few openings left!
Umbria 2017: one spot has just come open!
(See below)
When Covering Politics Was Fun
It all went to hell...and now there's Trump

By Frank Van Riper
Photography Columnist
I rise on a note of personal privilege, conceding immediately that I am Talking Politics, not Talking Photography.
I have been a professional photographer for more than 30 years and people still ask me if I miss covering politics as a Washington reporter.
The answer is simple: not anymore, brother.
I was a reporter and editor in the Washington Bureau of the New York Daily News from 1967-87. And I admit there was a time in the years after I switched from covering news to being a commercial and documentary photographer when I longed to get back on the press bus. Usually those times came every four years, when presidential campaigns were gearing up and the political conventions loomed. During the primaries it was easy to get one-on one access to candidates. The press corps back then was much smaller: usually a bunch of colleagues from DC or key state capitals—all political junkies like me who spoke the same language and who had done their homework on the candidates and the issues at hand. The conventions were electric because here, in one city, were all of your sources from a major party—and all were eager to talk. Anyone covering a convention who could not score at least a couple of kickass exclusives simply was not trying.
I covered every presidential campaign from 1968-1984, cutting my teeth that first year on the political and social upheaval that accompanied two assassinations (Bobby Kennedy and Dr. Martin Luther King, Jr.) urban rioting, and the chaos that was the Democratic convention in Chicago. (My final campaign, in '84, also marked my debut as an author; I wrote the biography of Sen. John H. Glenn, Jr: Glenn: the Astronaut Who Would Be President.)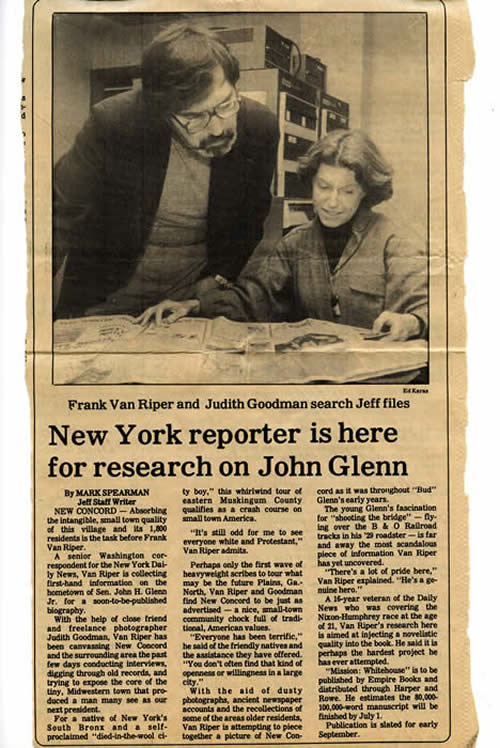 It was local news when I showed up in Ohio to do research for my biography of favorite son John H. Glenn Jr.
Still, for all of the fabric-rending turbulence of those years: over Vietnam, civil rights, Watergate (and president Richard M. Nixon's resignation in disgrace) and myriad other issues—not to mention the deaths of two political icons--I don't know that I ever felt the kind of profound threat to our system that I do now following the effective destruction of the Republican party and the appalling ascendancy of Donald Trump as its presumptive presidential nominee.
Back in the day, Republicans at least were serious about making government function. They debated real issues with real passion, and worked with the opposition to hammer out public policy. In short, they helped make the system work.
But Trump's political success reflects the downward spiral of a GOP that has been choking on its own obstructionist venom ever since 2008 and the election of Barack Obama, our first African-American chief executive. The rise of the Tea Party wingnuts—and the GOP's timid and blind acquiescence to them—reflects a nativist know-nothingness that has been bent on seemingly blind opposition to the current Democratic president, especially after his convincing re-election in 2012. (For confirmation one need only go back to Senate Leader Mitch McConnell's bald declaration midway into Barack Obama's first term that his top priority simply was to make Obama a one-term president.)
I speak, obviously, as a Democrat, but one who worked for a staunchly Republican newspaper for two decades and who came to know and respect any number of Republican lawmakers, including Sens. Jacob K. Javits, (NY), Lowell P. Weicker (Conn.) and Clifford P. Case (NJ), as well as Reps. Hamilton Fish (NY), Tom Railsback (Ill.) and William Cohen (Me.) to name just a few.
These Republicans, including, I would bet, the late revered Ronald Reagan, would not recognize what their party has become. To be sure, there still are thoughtful members of the GOP in Washington. My wife Judy and I are pleased every year to photograph the annual awards dinner of the Republican Main Street Partnership, a coalition of moderate-conservative GOP senators and representatives who cling to the quaint notion that they were sent to Washington to help improve the lot of their constituents by enacting legislation, not simply by blocking everything coming from the other end of Pennsylvania avenue. It says something that once, when I told a friend of this annual photo gig, he asked me: "where do they hold it, in a phone booth?"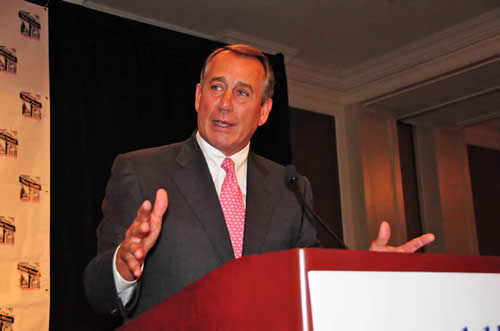 Former House speaker John Boehner was a regular at the Republican Main Street Partnership's annual awards dinners. He could let his hair down a little and know that everyone in the room sympathized with his often fruitless attempts to placate the Tea Party wingnuts. © Frank Van Riper
Recently, the Washington Post quoted a New Yorker magazine interview with Sen. Susan Collins (R-Maine), a member of the Republican Main Street Partnership, leaving open the possibility of her voting for Hillary Clinton. If a GOP senator feels so repelled by the thought of a Trump presidency that she is willing to be viewed as a political apostate, then certainly Democrats have an obligation as the opposition party to do all they can to keep Trump from becoming president.
And writing in Bernie Sanders, or Mickey Mouse, or Susan Sarandon just doesn't cut it—especially with Trump inciting rabid fear and prejudice in an electorate that could go to the polls in huge numbers.
There simply is too much at stake not to vote for Hillary Clinton. At the very least, the proud legacy of the Affordable Care Act, arguably President Obama's signal domestic achievement (on a par, I believe, with enacting Social Security during the FDR New Deal) would be in jeopardy under a Republican presidency, and definitely under a Trump presidency.
Even more far-reaching and devastating would be the damage Donald Trump could do to the Supreme Court, allowed four years to pick God knows whom for the nation's highest tribunal. ("It is my yuuge pleasure to introduce Mr. Justice Roethlisberger…")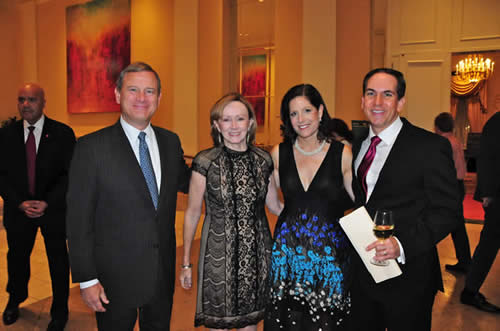 Chief Justice John Roberts and his wife (left) at a recent Wasington event. Roberts, a Republican, was the key vote in upholding Obamacare. The next four years--and resultant Supreme Court picks as older Justices retire--will be crucial. © Frank Van Riper
Care about the environment? Remember: Donald Trump says there is no drought in California. International terrorism? Trump would just carpet bomb the hell out of them.
Religious test for coming into the country?—not at all—unless you're Muslim.
And how are things coming with that wall?
The current GOP leadership is pathetic: most of them "Vichy Republicans," as documentarian Ken Burns recently called them, more concerned with their own butts than with the threat Trump poses. Maybe the worst among them (so far anyway) is Arizona Sen. John McCain who is in a desperate re-election race and who had the gall to say that the President was personally responsible for the recent gun massacre at a gay club in Orlando, Fla. (Following the subsequent public furor over this idiocy, McCain insisted he "misspoke." It should be remembered, however, that this is the same man who gave us the bespectacled attack dog Sarah Palin as his 2008 running mate, lowering the bar perhaps for all time on vice presidential candidates.)
If Clinton were running against a sane Republican like Jeb Bush or even John Kasich, I would be inclined to let Bernie's supporters do whatever they liked; they had earned the right. After all, Hillary Clinton—for all the spin that she is a sweetheart in private—is not someone I would want as a friend. She and her husband have shown themselves to be as venal and manipulative as any other politician. Sanders voters in turn have responded to the Vermont senator's genuine, righteous wrath at the establishment—albeit delivered with precious few (read: no) workable alternatives.
But Hillary Clinton is not running against a sane Republican; she is running against a bigoted, narcissistic, lying demagogue whose shocking ignorance on so many fronts poses an existential threat to our democracy. Trump already posed an existential threat to the Republican Party and it now lies in tatters as its leaders wake to the fact that they soon will nominate a duplicitous bigoted fool as their presidential nominee.
Sue Collins makes me proud to be a (summertime) Mainer.
-----
Lubec Photo Workshops at SummerKeys, Lubec, Maine -- Summer, 2016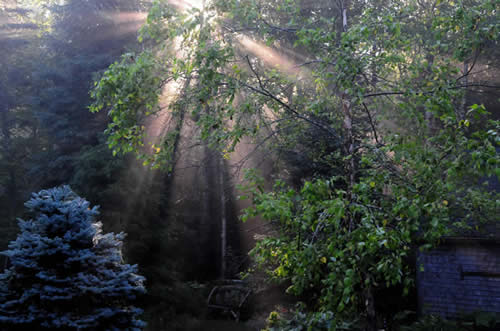 Daunted by Rockport??
Spend a week of hands-on learning and location photography with award-winning husband and wife photographer-authors Frank Van Riper and Judith Goodman. Frank and Judy will cover portraiture, landscape and documentary photography during morning instruction, followed by assignments in multiple locations including Quoddy Head State Park, Campobello Island, NB and the colorful town of Lubec itself. Daily critiques and one-on-one instruction. NO entrance requirement. Minimum age for attendance is 16. Maximum number of students each week is nine. Students supply their own digital camera.
The Lubec Photo Workshops debuted in 2009 and were a huge success for their low-key, no-pressure atmosphere. Classes fill early. A few slots arestill available for each week.
2016 workshop dates: July 18-22; August 1-5; August 15-19.
Tuition payable through the SummerKeys Music Workshops: www.SummerKeys.com
Or contact us: GVR@GVRphoto.com
NEW FOR 2016: Master Photo Classes with Frank Van Riper
These intense, three-day, limited enrollment classes are aimed at the more advanced student, who already has taken a photo workshop and who is familiar with basic flash. NB: This summer's Master classes are now fully booked.
Come photograph in one of the most beautiful spots on earth!
-----------------
Umbria Photo Workshop, Fall 2017
ONE SPOT NOW OPEN...Our great Umbria photo workshops fill almost as soon as we post them. This coming October's trip has been filled for months. But we've just learned that, because of a tight work schedule, one of our students for our October, 2017 workshop has had to drop out.
We only take SIX students on this great photo excursion through one of Italy's most beautiful regions--in the fall, when the weather tends to be, not just good, but perfect. Tentative dates for next year are October 14-20, 2017, and are unlikely to change. If you are interested in this wonderful, low-key--and delicious--photo adventure, please contact us asap:

GVR@GVRphoto.com
Van Riper Named to Communications Hall of Fame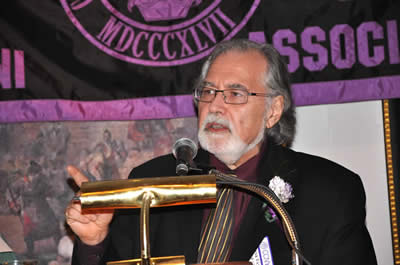 Frank Van Riper addresses CCNY Communications Alumni at National Arts Club in Manhattan after induction into Communications Alumni Hall of Fame, May 2011. (c) Judith Goodman

[Copyright Frank Van Riper. All Rights Reserved. Published 6/16]