Book now for this summer: 2016 Maine photo workshop dates--including new Master Classes
(See below)
Documenting Lubec's Sculptural Treasure
Team effort in Maine produces grand artwork--and photos

By Frank Van Riper
Photography Columnist
The tiny town of Lubec, Maine, once a thriving fishing village at the easternmost point in the United States, is today a shadow of its former self, at least in terms of commerce and industry.
In the decades before World War 2 Lubec (just across the narrows from Campobello Island, New Brunswick) boasted more than 20 herring processing plants, a bustling downtown—even a movie theater—several markets and dry goods stores, not to mention a passing acquaintance with the President of the United States. Franklin Delano Roosevelt loved coming to his wealthy family's "cottage" on Campobello, especially in his youth and in the years before he took office. And, then as now, to get to Campo from the US you had to go through Lubec.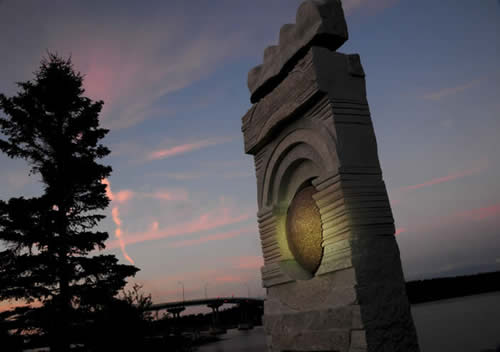 'Beyond the Horizon,' by sculptor Valerian Jikia. One of scores of images that I made last summer in Lubec, Maine after it was installed as part of the Maine Sculpture Trail, sponsored by the Schoodic International Sculpture Symposium. Neutral density filter allowed for long exposure so that light from high intensity flashlight would register on the central orb. © Frank Van Riper
Some thirty years ago my wife Judy and I bought property in Lubec for a summer home. We were attracted not only by Lubec's incredible natural beauty, but also by its ridiculously low real estate prices. (We bought seven acres on a cove for what today might buy you, at best, a very good mid-sized car.)
Over the years Judy and I came to love Lubec for more than its vistas, woods, and water. We've made so many friends there—locals as well as fellow "people from away." And we've come to admire the sometimes prickly independence that seems to be every Mainer's birthright.
We literally count the months before each summer so we can enjoy our own little piece of heaven—as well as teach our summer photography workshops through the famed SummerKeys music school (www.SummerKeys.com .)
Recently, I was very proud to see the town get behind what could have been dismissed as merely an arts project with no immediate economic return: a challenge from the Schoodic International Sculpture Symposium to come up with $12,000 in private money (no municipal funding allowed) to help create a public sculpture that would be erected in Stockford Park, a tiny greensward near the international bridge from Lubec to Campobello that boasted at the time little more than a volleyball net and two picnic tables.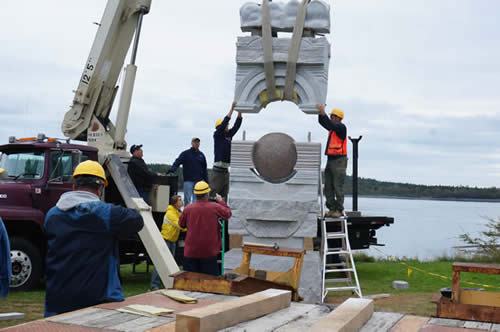 Massive sculpture is carefully assembled at Lubec's Stockford Park while scores of townspeople--who raised the money to bring it there--look on. © Dennis Drews
The effort was part of a now-completed years-long project by the Sculpture Symposium to create a tourist-attracting "Maine Sculpture Trail" stretching 200 miles along the down east coast and encompassing 34 monumental sculptures, done by artists from around the world. Each piece was to be made of Maine granite and each would be created at an outdoor, open-to the-public atelier near Schoodic point in Acadia National Park. The town of Lubec was given the chance to finance its own sculpture in the final round of Schoodic challenges.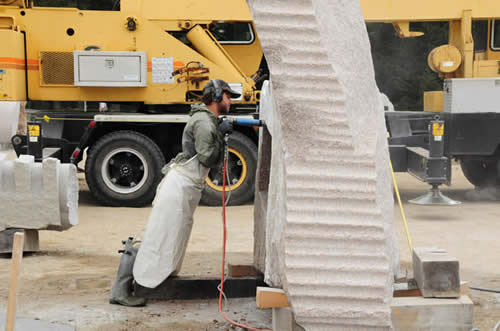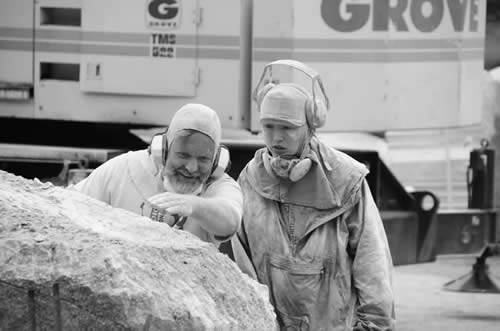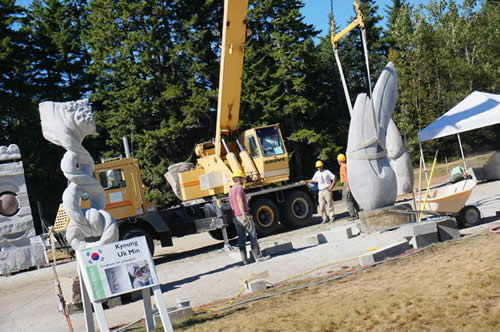 Over the years sculptors from around the world came to Schoodic to create their monumental pieces in granite. At bottom, three very different sculpture being readied for transport. Lubec's is on the left. Top two photos: © Frank Van Riper; bottom: © Dennis Drews
"We raised over $12,000 - just under $13,000 in fact," noted Lubecker Denise Rule, who helped lead Lubec's fundraising campaign. "Adding to the mix of fundraisers…we had raffles, a progressive dinner, and a SummerKeys benefit concert; we sent appeal letters, received donations from [Schoodic Symposium] patrons, won a grant from Emera [the local power company] and received numerous and varied 'in-kind' donations."
Added Denise, with pardonable civic pride: "While there was no taxpayer money spent on the project, the town's public works department graciously provided the basic site work" for a piece that finally was erected at Stockford Park on September 13, 2014.
And what did we in Lubec get for all this effort and money?
A masterpiece.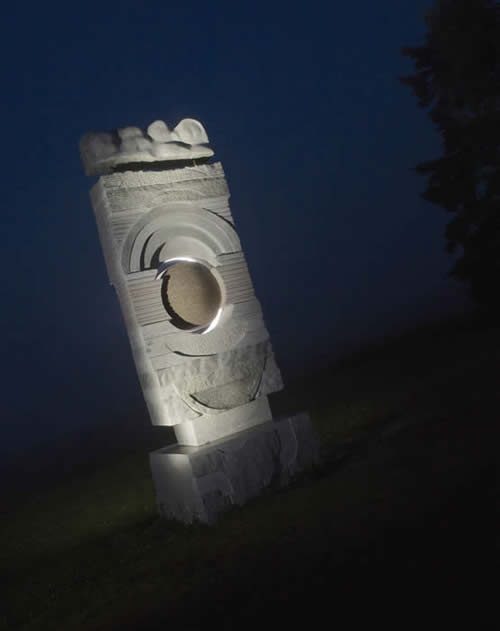 Lubec Photo Workshop photographer Phil Wood made this great image last summer. He underexposed the sky and used a remote-triggered flash unit to create a rimlight behind the piece's round orb, while another flash--positioned in front at lower left--created dramatic main light. © Phil Wood
Designed by Valerian Jikia from the Republic of Georgia, "Beyond the Horizon" resembles—in scale anyway—the monolith in Stanley Kubrick's classic sci-fi movie "2001—A Space Odyssey." But it's so much more. The giant granite slab actually is a multi-sectioned representation of "three beginnings: water, sun and rainbow," Jikia said.
The piece elegantly combines these three elements in a striking, stark, almost abstract, way that seems to complement Lubec's natural organic beauty.
And as soon as I saw it in place more than a year ago I knew I had to photograph it again and again—and to give our students that same opportunity.
It is wonderful to see artwork displayed well, especially public sculpture, because that doesn't always happen. Take Eastport, for example.
Forty-five minutes up the coast by car, Eastport is a deepwater port and a real city that now boasts three public sculptures—only two of which would make the cut as fine art. One is Eastport sculptor Richard Klyver's bronze human-scale mermaid that graces the town's long rock seawall abutting the harbor. The other is "Nature's Grace," by Jim Boyd of New Brunswick, Canada—part of the Schoodic project. Lovely though "Nature's Grace" may be, and even though it is visible to all on the city's main street, its placement seems cramped and unfortunate, especially with a telephone pole looming close by.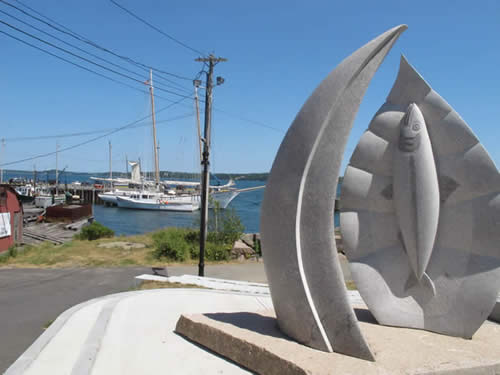 'Nature's Grace,' by Jim Boyd is an impressive piece in downtown Eastport, Maine, but I am sure the artist is not crazy about the telephone pole looming behind his sculpture. © Frank Van Riper
That's not Eastport's only sculptural issue. To my mind, anyway, its brash little mermaid is no match for its more demure—and more famous--1913 namesake in Denmark, by sculptor Edvard Eriksen. Rather than pose contemplatively, Richard Klyver's mermaid thrusts out her lovely chest with an inviting grin, erect nipples pointing skyward. Some have complained that the piece is not fit for young eyes.
But that's nothing compared to the garish behemoth that sits in all its fiberglass (that's right, fiberglass) glory within a few yards of the mermaid. A cartoonish depiction of a fisherman—he's even holding a fish—this "sculpture" actually was a movie prop, left behind by a TV crew filming "Murder in Small Town X," described as a realty show/cum murder mystery/cum game show.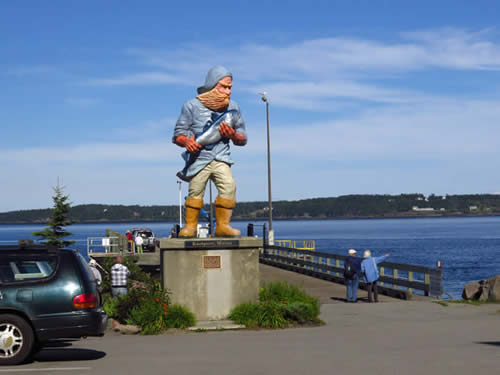 A TV crew left this prop behind because it didn't need it anymore. Eastport turned it into a tourist attraction--even after it started to fall apart. © Frank Van Riper
Within a few years, the left-behind fiberglass fisherman began to deteriorate and money actually was raised in Eastport to restore it. Opinion remains divided on whether the fisherman is a cool tourist attraction or merely Yosemite Sam in a slicker.
No such controversy surrounded Lubec's "Beyond the Horizon." The piece seemed a genuine source of civic pride and its trip from Schoodic to Lubec and its final installation—documented by Lubecker and close friend Dennis Drews—drew a large crowd on a gorgeous fall day down east.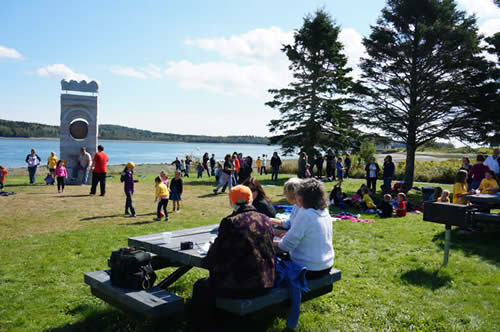 A jewel in Lubec's crown. Townfolk enjoy the view as well as the new sculpture after its installation in 2014. © Dennis Drews
The following summer I could not wait to get up to Maine and start shooting it along with our students. Part of the attraction was that here was a still life writ large—and in endlessly changing light. There were almost no bad conditions in which to photograph it. Rain, fog, evening light, bright sun—even while its photographers were being eaten alive by bugs—"Beyond the Horizon" was a patient and photogenic subject.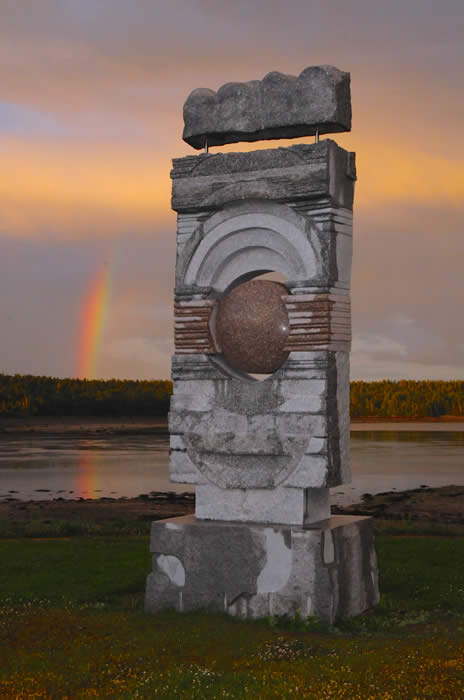 Even after a soaking rain, the sculpture looked wonderful. Rainbow was a fortuitous bonus. © Frank Van Riper
My students and I used any number of lighting techniques: we combined slow shutter speed with flash, as well as multiple flash pops. We did light painting with a high intensity flashlight. We darkened the sky with underexposure, or with a neutral density filter, then combined the effect with remote flash triggered from behind; we simply waited for great natural light, composed, and made the picture.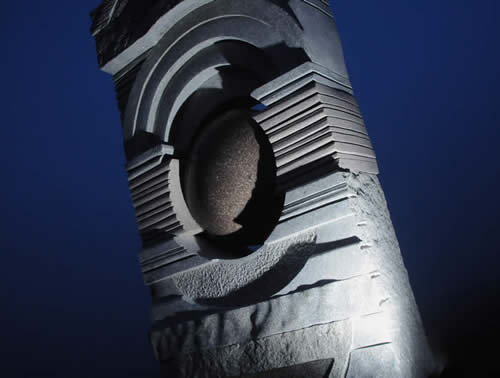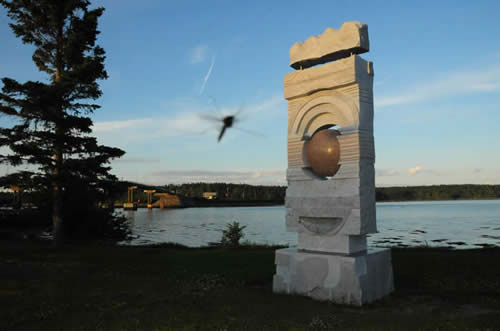 Top: raking strobelight and underexposed sky. Bottom: I swear I was bitten by this guy after I inadvertently made his portrait one especially bug-laden evening. © Frank Van Riper
In one sense—and forgive the fine art reference—this was almost like the French impressionist Claude Monet spending months painting the same haystacks in Giverny to render the ever-changing light as the seasons passed.
One thing was certain: the possibilities for photographing this imposing sculpture were endless, as well as endlessly entertaining.
See you this summer?
-----
Lubec Photo Workshops at SummerKeys, Lubec, Maine -- Summer, 2016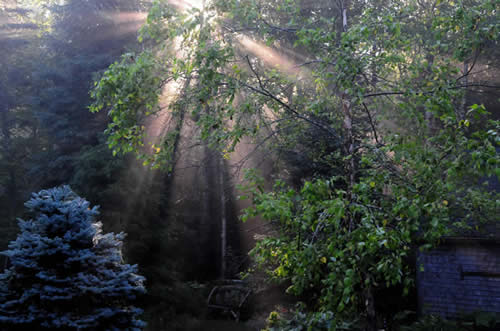 Daunted by Rockport??
Spend a week of hands-on learning and location photography with award-winning husband and wife photographer-authors Frank Van Riper and Judith Goodman. Frank and Judy will cover portraiture, landscape and documentary photography during morning instruction, followed by assignments in multiple locations including Quoddy Head State Park, Campobello Island, NB and the colorful town of Lubec itself. Daily critiques and one-on-one instruction. NO entrance requirement. Minimum age for attendance is 16. Maximum number of students each week is nine. Students supply their own digital camera.
The Lubec Photo Workshops debuted in 2009 and were a huge success for their low-key, no-pressure atmosphere. Classes fill early.
2016 workshop dates: July 18-22; August 1-5; August 15-19.
Tuition payable through the SummerKeys Music Workshops: www.SummerKeys.com
Or contact us: GVR@GVRphoto.com
NEW FOR 2016: Master Photo Classes with Frank Van Riper
These intense, three-day, limited enrollment classes are aimed at the more advanced student, who already has taken a photo workshop and who is familiar with basic flash. Max. class size: 3-4 students. Daily personal critique; includes on and off-camera flash instruction, location portraiture, night photography and more.
Enrollment must be approved by the SummerKeys director.
Dates: July 25-27; August 8-10. See the SummerKeys website for details.
Come photograph in one of the most beautiful spots on earth!
-----------------
Van Riper Named to Communications Hall of Fame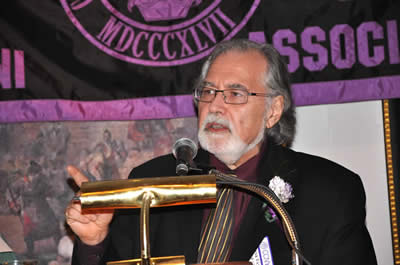 Frank Van Riper addresses CCNY Communications Alumni at National Arts Club in Manhattan after induction into Communications Alumni Hall of Fame, May 2011. (c) Judith Goodman

[Copyright Frank Van Riper. All Rights Reserved. Published 1/16]]