2016 Lubec photo workshops: a few openings left!
Umbria 2017: one spot has just come open!
(See below)
The Traveler's Tale
TSA, understaffing, and endless security lines

By Frank Van Riper
Photography Columnist
The portraits on two of my travel documents may be the worst ever produced by the hand of man or woman.
For ten years, the portrait on my passport was a terrific studio-lit pic made by Judith Goodman, my wife and partner, and Judy's passport photo was a lovely one that I had made of her.
But when our passports had to be renewed this year, the Passport Office rejected both of the new studio images we submitted and in frustration we went to a local photo chain and stood before a white wall while a kid with a tiny point and shoot snapped each of us under fluorescent downlight.
The passport office apparently loved the photos. We did not.
Worse, though, are the two portraits—if that's the word—that appear on our Global Entry ID cards. The photos were made by a low-res golf ball-sized digital camera sitting on the desk of our Transportation Security Administration interviewer at Dulles airport after Judy and I had completed the lengthy vetting process—and paid the $100 per person fee--that got us what may be the best insurance against the ridiculously long security lines snaking through our airports beginning this summer. [The $100 fee buys five years of expedited processing, after which it must be renewed.]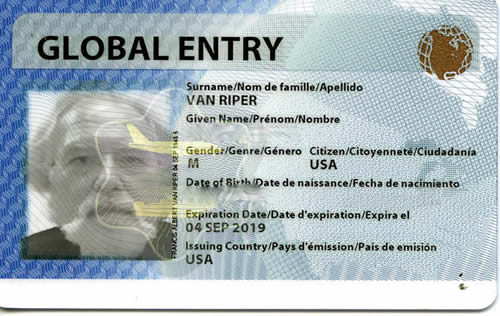 My Costco card has a better portrait. This could be anyone, for all the definition in the picture. Oh, and I wear glasses. (TSA photo)
The TSA's Global Entry program geared to international travelers—along with the similar $85-a-head Pre-Check plan aimed at those traveling domestically—is a perfect example of how the federal government can get things just right—and just wrong at the same time. The basic idea is to "pre-select" travelers who have no obvious criminal past or other run-ins with the law so that they can more or less breeze through airport security. For example, with Pre-Check, one does not have to go through the Mickey Mouse of removing shoes, belts, laptops, etc.—in itself, worth the entrance fee. Another hint: unless you travel every month or so and are concerned about exposure to X-ray and other radiation, ask for a full-body scan if the machine is available. It takes seconds and obviates the need for repetitive wandings and, God forbid, "Dont Touch My Junk" encounters with blue-gloved screeners. This is especially true if you have artificial joints—like knees—as Judy and I do. (At Dulles International, where Judy and I travel from, full body scanners are fairly prevalent; not so at smaller airports.)
Ever since we enrolled in the program—and especially after the first time we bypassed literally hundreds of poor souls waiting in the security and customs lines at Dulles after their flights--I have been proselytizing about the program. And despite its faults and shortcomings, Global Entry may be the best $100 a head we ever have spent on international travel.
However, in recent years, the Transportation Security Administration—a hybrid outfit that no one seems to love for various reasons—has been hobbled by internal and outside forces. Spurred by stories of incompetent, clueless or even downright rude security personnel, its budget long has been a target for Congress—with the result that it now has far fewer screeners than it needs—down to about 42,000 screeners nationwide, from 47,000 in 2013. That, in turn, has led to longer security lines at airports—as well as the unintended consequence of screwing up even those with Global entry and Pre-Check since those lines at times have been closed down to meet the demands of the longer, non-premium, security lines.
One reason for this was the recent harebrained assumption by the TSA that 25 million more Americans would eagerly add $85-$100 per person to their family vacation expenses and enroll in Pre-Check and/or Global Entry and thus lessen the need for so many regular security lines. In fact, thanks in part to a pathetically bad PR campaign for the program (ie: no one seems to know about it) fewer than 8 million people now are enrolled in all of TSA's trusted traveler programs even though enrollment can almost surely lessen one's security wait time. By contrast, last year, TSA screened 694 million travelers. You do the math—it will give you something to do while you wait to get through the line.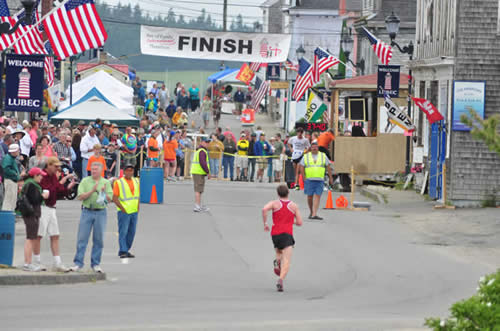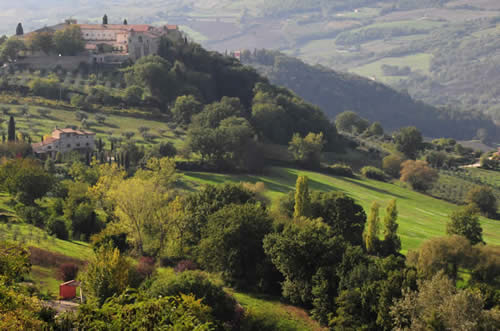 When flying here or abroad, TSA's Pre Check or international Global Entry progran can significantly shorten your wait on airport security lines--if you pass the initial background check.
Top: Bay of Fundy Marathon, Lubec, Maine © Judith Goodman Bottom: Umbrian hillside © Frank Van Riper
Obviously, airline security in the US and elsewhere ratcheted up exponentially after the September 11th 2001 airborne terror attacks that among other things brought down the World Trade Center towers in lower Manhattan. The attacks were undertaken by a religiously fanatical band of young Muslim men, nearly all from Saudi Arabia. But domestically the added security immediately after 9/11 did not result in the kind of screening delays we are seeing today, as a newly footloose America starts traveling again. Right after 9/11 the airlines themselves imposed draconian measures on all carry-on luggage, domestic and international, often forcing travelers--including traveling photographers like Judy and me—to check through gear that they otherwise would not.
Here's en excerpt from a column I wrote 15 years ago:
In the voluminous 'Editorial Photographer' e-mail traffic these past days, one shooter said he was going to pack his gear in a hard-sided Pelican case and check it through as luggage when he flew to Europe.
"I wish you luck, especially if you're flying through Heathrow!" a colleague shot back. "This summer I had a Pelican case full of camera equipment stolen after checking it in as checked baggage in Heathrow. The Pelican case arrived in Paris empty, even after locking it securely and disguising it inside an old duffel bag."
Canadian shooter Allen McInnis added this depressing note:
"While in Italy on assignment last year I watched the police arrest half the people on the ramp. All checked baggage is X-rayed and when they see the really good stuff the bag is marked and the contents removed. The cops in Italy released video of the handlers doing it. [And] here in Montreal, golf sets were being stolen almost as fast as they could be loaded on the belt."
McInnis added, "We must make it clear that accountability on behalf of the airlines is going to become a bigger issue now. If I must check it, the carrier must be responsible for it!"
Well: good luck with that. Given the current state of the limits of liability spelled out by air carriers these days, a lost Hasselblad might get you an upgrade on your next flight—to an aisle seat. While working on our book, Serenissima: Venice in Winter (www.veniceinwinter.com) Judy and I did pare down our travel gear considerably to keep anything of value out of our checked luggage—and to avoid unwanted scrutiny after 9/11.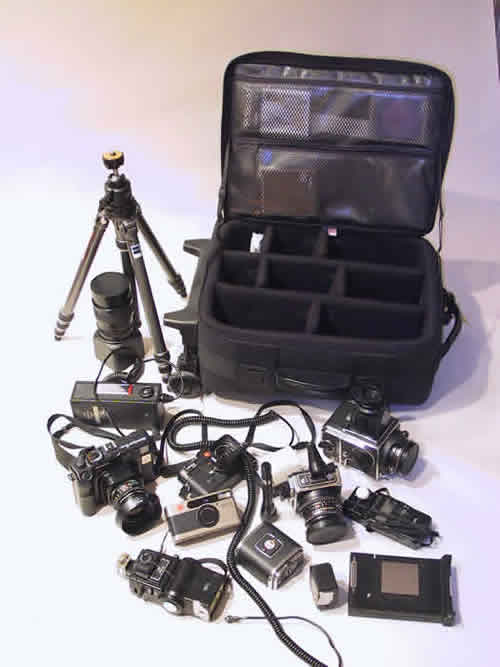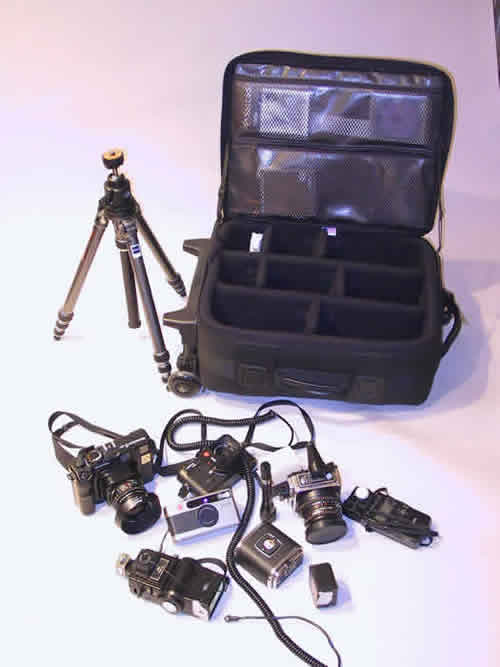 Before airport security tightened post-9/11, here's a look (top photo) of most--though not all--of the gear Judy and I traveled with while working on our Venice book. Bottom pic shows our pared-down carry-on bag. Today, shooting largely digital, we have slimmed down even more and tote a much smaller Airport Navigator bag for all our gear. © Frank Van Riper
And let's not forget that the airlines—currently making very large profits, thank you very much—now charge travelers for all but the air they breathe as they shoehorn all but the rich and expense-account folks into flying steerage. Charges on checked baggage have resulted in more people trying to take their bulky rolling suitcases and God-knows-what-else onto the plane with them—making security lines even longer and slower.
It may take a horrendous air travel summer, as we now seem likely to have, to get the government to wake up to the fact that something has to be done to improve the TSA and its hapless ground operation. In fairness, frequent travelers that Judy and I are, we have seen a marked improvement in the caliber and quality of the folks who check us through. But nothing seems likely to improve without more people manning more lines more often.
Then there's the ticklish question of profiling.
You don't have to be a xenophobic bigot like Donald Trump to realize that a sizeable number of threats that the civilized world has had to endure with international and domestic terrorism, barbaric political oppression, subjugation of religious minorities, refugees, etc., etc., can be traced to the actions of Muslim Islamist thugs and fanatics, both men and women, seeking to impose their will, not just in the middle east but all over the world. And this has become the most asymmetrical of wars: an individual terrorist now can wreak the kind of death and havoc that in olden times would have been wrought by battalions.
In marked contrast to the US, Israeli security officers interrogate travelers using racial profiling, singling out those who appear to be Arab (and therefore possibly Muslim) based on name or physical appearance. To be sure, the practice has raised an uproar, but the Jewish state maintains that the practice is both effective and unavoidable. According to Ariel Merari, an Israeli terrorism expert, "it would be foolish not to use profiling when everyone knows that most terrorists come from certain ethnic groups. They are likely to be Muslim and young, and the potential threat justifies inconveniencing a certain ethnic group."
Welcome to the real world. Think of that the next time you have to take off your shoes on the security line.
-----
Lubec Photo Workshops at SummerKeys, Lubec, Maine -- Summer, 2016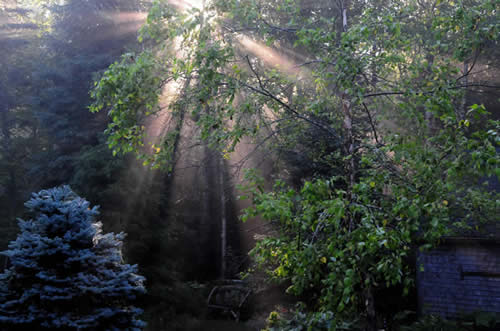 Daunted by Rockport??
Spend a week of hands-on learning and location photography with award-winning husband and wife photographer-authors Frank Van Riper and Judith Goodman. Frank and Judy will cover portraiture, landscape and documentary photography during morning instruction, followed by assignments in multiple locations including Quoddy Head State Park, Campobello Island, NB and the colorful town of Lubec itself. Daily critiques and one-on-one instruction. NO entrance requirement. Minimum age for attendance is 16. Maximum number of students each week is nine. Students supply their own digital camera.
The Lubec Photo Workshops debuted in 2009 and were a huge success for their low-key, no-pressure atmosphere. Classes fill early. A few slots arestill available for each week.
2016 workshop dates: July 18-22; August 1-5; August 15-19.
Tuition payable through the SummerKeys Music Workshops: www.SummerKeys.com
Or contact us: GVR@GVRphoto.com
NEW FOR 2016: Master Photo Classes with Frank Van Riper
These intense, three-day, limited enrollment classes are aimed at the more advanced student, who already has taken a photo workshop and who is familiar with basic flash. NB: This summer's Master classes are now fully booked.
Come photograph in one of the most beautiful spots on earth!
-----------------
Umbria Photo Workshop, Fall 2017
ONE SPOT NOW OPEN...Our great Umbria photo workshops fill almost as soon as we post them. This coming October's trip has been filled for months. But we've just learned that, because of a tight work schedule, one of our students for our October, 2017 workshop has had to drop out.
We only take SIX students on this great photo excursion through one of Italy's most beautiful regions--in the fall, when the weather tends to be, not just good, but perfect. Tentative dates for next year are October 14-20, 2017, and are unlikely to change. If you are interested in this wonderful, low-key--and delicious--photo adventure, please contact us asap:

GVR@GVRphoto.com
Van Riper Named to Communications Hall of Fame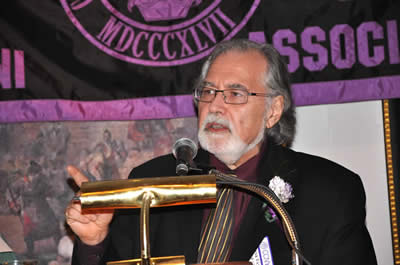 Frank Van Riper addresses CCNY Communications Alumni at National Arts Club in Manhattan after induction into Communications Alumni Hall of Fame, May 2011. (c) Judith Goodman

[Copyright Frank Van Riper. All Rights Reserved. Published 6/16]