2018 Lubec photo workshops: summer dates just announced
(See below)
Documenting a Western Fantasy
Mark Parascandola's 'Almeria' : Old West of Italian Film

By Frank Van Riper
Photography Columnist
If you ever have been on a movie set, you know the unsettling feeling of being in a different, even alternative, reality.
When I was a cub reporter on the New York Daily News in the late 1960s one fascinating story I covered was the shooting of the film "The Incident" in the old Biograph Studios in the north Bronx. Starring a host of stars, including a couple of newbies named Martin Sheen and Tony Musante, the film centered on two young punks (Sheen and Musante) terrorizing a subway car full of passengers on the IRT.
Rather then film in the real subway on location, with all its attendant hassles of weather and crowd control, the movie's producers had a life-sized wooden model of an IRT subway car built in Biograph's cavernous soundstage. (To achieve the look of a moving subway car while filming, a crew of stagehands, holding long wooden poles levered under the wooden car, pumped the poles up and down to achieve a surprisingly realistic approximation of a jostling subway train.)
"The Incident" was meant back then to show New York's subway in all its gritty, occasionally violent, reality. A very different reality is reflected in a gorgeous new book, Once Upon a Time in Almeria (Daylight Books), by Washington DC photographer Mark Parascandola. As the book's title implies Almeria documents the now-long abandoned film sets in and around seaside Almeria, Spain that helped create a whole new film genre: the Italian spaghetti western.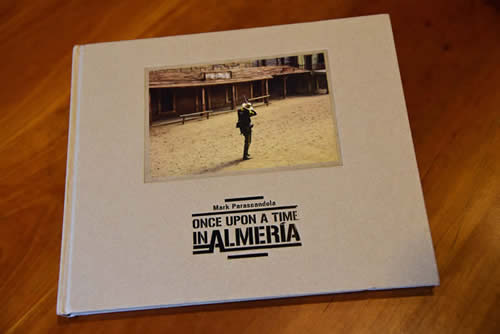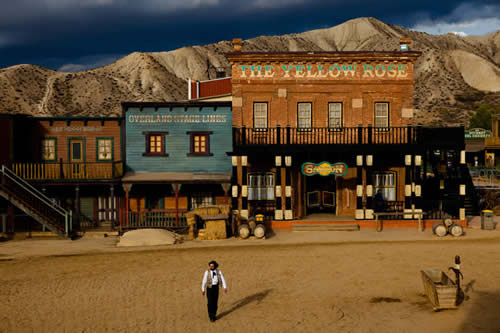 DC photographer Mark Parascandola's beautiful new book depicts the fantasy world of 1960's spaghetti westerns shot in Almeria, Spain. This once-poor outpost attracted filmmakers from all over for its rugged beauty and cheap production costs. Town at bottom now is a tourist attraction, featuring western re-enactors. (All images © Mark Parascandola. All Rights Reserved.)
As outlined both in vibrant photos and delightfully readable text, Almeria (and the government of Spain's then-dictator Francisco Franco) parlayed the area's unspoiled landscape and great weather to create basically a mammoth outdoor soundstage that at one point in the 1960s had more movies in production than Hollywood.
And not just the westerns of Italian director Sergio Leone.
"Fights broke out over prime sand dune locations," Parascandola writes. "And stories circulated about how Michael Caine, while making the World War 2 film 'Play Dirty' (1969) accidentally wandered into an American Civil War set, and Raquel Welch, while dressed in an animal skin bikini for 'One Million Years B.C.' (1966), was nearly run over by a stagecoach."
But it wasn't always that busy. "In the early 1960s," Mark writes, "Almeria was arguably the poorest and least accessible region in all of Spain. A fourteen-hour drive from Madrid on poor roads, it was closer to North Africa than to the rest of Europe….Indeed my own grandparents, from neighboring villages along a dried out riverbed, departed for America during an earlier wave of emigration in the 1930s."
Credit a canny Franco regime, the onset of the anti-Communist Cold War, and rising movie production costs elsewhere in the world with transforming Almeria. Pro-Fascist Spain was largely outcast after the Allied victory in World War 2, but the start of the Cold War, and Spain's strategic position in Europe, helped Franco entice western investment in his country in the form of movie production. It didn't hurt that production costs were a fraction of what they were in other parts of the world. David Lean's epic 1962 film "Lawrence of Arabia" was one of the first big movies to be made in Almeria (actually production was moved there from Jordan after costs in that location skyrocketed.)
Seemingly within weeks moviemakers flocked to Spain, not least of whom was the Italian director Sergio Leone. Leone, a native of Rome who spoke no English and who at the time never had been to America (much less to the American West) helped define a whole generation's view of the wild west shoot-em-up.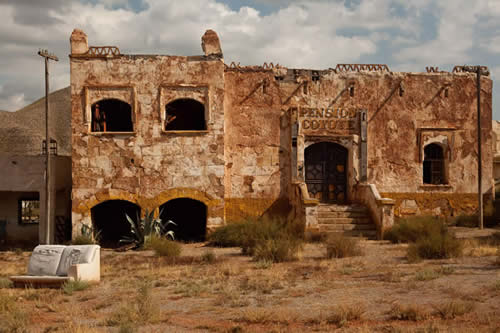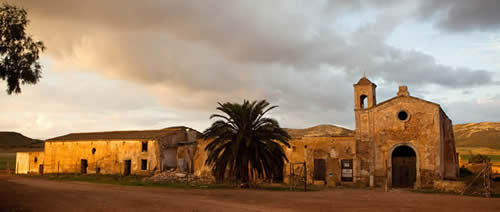 It's a safe bet that the white sofa (top) was not in any Sergio Leone film.Two views of now falling down structures built in the booming 1960s in and around Almeria, Spain.
Leone, fascinated by tales of the Old West as a child in Italy, fashioned his own view of how the American West should look. In fact, Parascandola noted recently during a book launch press conference in Washington, it's incorrect to say that his book contains photographs of ghost towns. "They were never real ghost towns, because they were never a town, (only) an Italian film director's impression of what a western town might look like."
"I [shot] with a Canon 5D camera (using various versions over the past few years). So all images are captured digitally in raw format and then processed with Lightroom and Photoshop. I do make adjustments in color, contrast and some other basic parameters, but generally don't make other manipulations of the image. However, my aim here is not necessarily to present the subject as a photojournalist might, but to evoke a sense of faded glory and to highlight the fiction these sets were built to represent. "
And he does it brilliantly.
Looking at the often-crumbling movie sets dotting Parascandola's landscape, it is difficult to recall just how busy was this dusty stretch of southern Spain. "The labor there was cheap and plentiful," the author writes, "and filmmakers could count on 360 days of sunlight a year. Inland, around Tabernas, rugged desert hills and dry riverbeds stood in masterfully for the American West, north Africa, and even the surface of the moon…"
During its heyday Almeria and surroundings hosted so many films, including Sergio Leone's now-legendary spaghetti western trilogy starring Clint Eastwood as "the man with no name": "A Fistful of Dollars," "For a Few Dollars More," and "The Good, the Bad and the Ugly."
But eventually, perhaps inevitably, Almeria's lure faded, as equally scenic--and cheaper—shooting locations were found in Yugoslavia, Morocco and Mexico. Today several sites have been reborn as tourist attractions, including their own cast of western re-enactors staging gunfights and other wild west entertainment.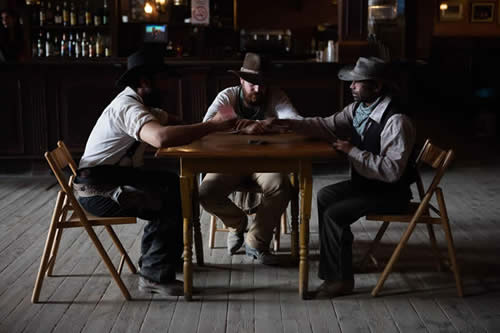 Card game at 'Fort Bravo, Texas, Hollywood,' one of several old film sets that have been restored and turned into tourist attractions.
It all provided great stuff for Parascandola, who uses photography to explore patterns of social change, focusing on architecture as evidence of often- invisible social, environmental and economic processes. One of his earlier projects, that I had the pleasure of including in an exhibition that I curated, was 'Carabanchel,' documenting in monumental prints the infamous Franco-era prison of the same name in Madrid. [Another project, that I suspect might turn into his next book, features photos of movie sets in modern day China, two of which I am showing below. Also, I should note that his publisher, Daylight Books, will be publishing my next book, Recovered Memory – New York and Paris 1960-1980, in fall, 2018.]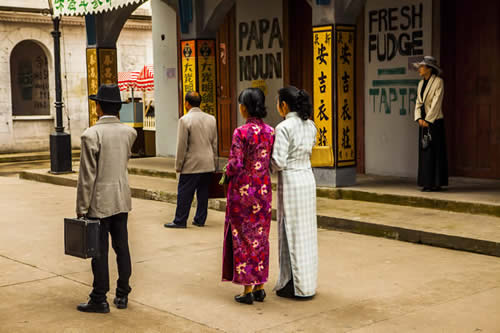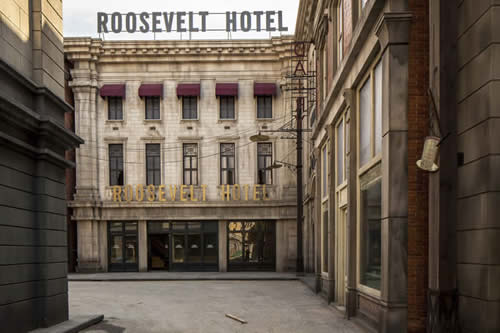 Top: Film extras in China await instruction before the cameras roll. Bottom: an elaborate cityscape featuring the incongruously named 'Roosevelt Hotel.' Both images are part of Mark Parascandola's 'China Film' project
-0-0-0-0-
Lubec Photo Workshops at SummerKeys, Lubec, Maine -- Summer, 2018 dates just announced...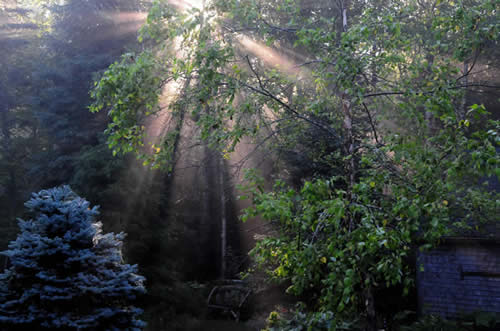 Daunted by Rockport??
Spend a week of hands-on learning and location photography with award-winning husband and wife photographer-authors Frank Van Riper and Judith Goodman. Frank and Judy will cover portraiture, landscape and documentary photography during morning instruction, followed by assignments in multiple locations including Quoddy Head State Park, Campobello Island, NB and the colorful town of Lubec itself. Daily critiques and one-on-one instruction. NO entrance requirement. Minimum age for attendance is 16. Maximum number of students each week is nine. Students supply their own digital camera.
The Lubec Photo Workshops debuted in 2009 and were a huge success for their low-key, no-pressure atmosphere. Note: Classes fill early.
2018 workshop dates: July 16-20; July 30-August 3; August 13-17.
Tuition payable through the SummerKeys Music Workshops: www.SummerKeys.com
Or contact us: GVR@GVRphoto.com
NEW: Master Photo Classes with Frank Van Riper
These intense, three-day, limited enrollment classes are aimed at the more advanced student, who already has taken a photo workshop and who is familiar with basic flash. With a maximum enrollment of just five, these classes are nearly half the size of our regular workshops. NB: last summer's Master Classes were fully booked almost immediately.
2018 Master Photo Class dates:July 23-25; August 20-22
Come photograph in one of the most beautiful spots on earth!
-----------
Van Riper Named to Communications Hall of Fame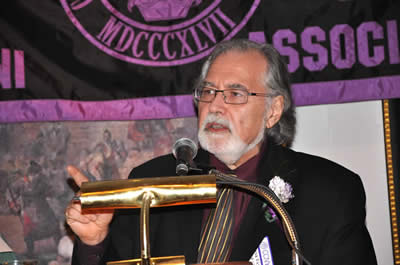 Frank Van Riper addresses CCNY Communications Alumni at National Arts Club in Manhattan after induction into Communications Alumni Hall of Fame, May 2011. (c) Judith Goodman

[Copyright Frank Van Riper. All Rights Reserved. Published 12/17]