2018 Lubec photo workshops: summer dates below--filling fast
(See below) Two spots left for Umbria Photo Workshop, Oct. 13-19
Heirloom Photos and the Narrative Portrait
When the picture tells a story in so many ways

By Frank Van Riper
Photography Columnist
There is a plausible theory that for a photograph (or anything really) to be art it has to make one feel. It has to be more than a mere document, like a passport or DMV photo, or a record shot of one's belongings for the insurance company. It must be more than a simple image frozen in time.
When you think back to the great documentary photographers of our age-- Cartier-Bresson, Berengo Gardin, Winogrand, Lange, Mark, Frank, Davidson, to name but a few—you recall their images not just because of their content, but because of their emotion: Bruce Davidson's melancholy dwarf circus clown, Robert Frank's posturing pols with their cigars, Mary Ellen Mark's hard yet vulnerable street kids.
Photos like these not only make us feel, they make us curious: about the why of the picture, as well as the future of the picture--what will happen next. In essence, we are made part of the photograph because we become part of its narrative.
And the surprising thing, as you will see below, is that not all of these photos need to be of people in order to fit these criteria.
This coming winter I will introduce two new courses at Photoworks, the photography gallery and learning center at Glen Echo Park, Md., where I have been teaching for more than a dozen years. The two new courses are "The Narrative Portrait" and "Make Heirloom Photos NOW." The courses grew out of my current master lighting course, "Lighting Like Caravaggio," and the work I have just completed on my forthcoming book, Recovered Memory: New York and Paris 1960-1980.
Two examples of what I view as a narrative portrait and a contemporary heirloom photo are below: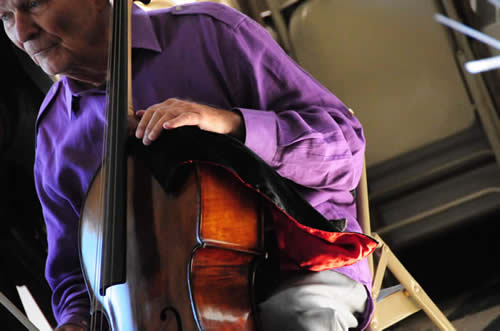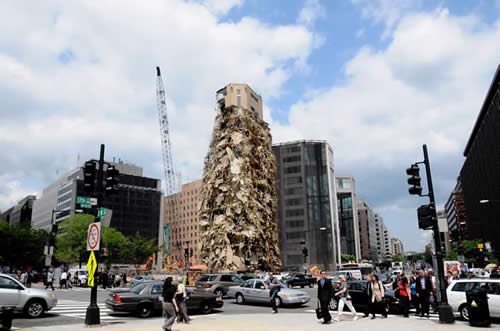 Top: So much more than a headshot. Master cellist pauses during talk to students in Lubec, Maine. Bottom: 'Ground Zero on K Street' documents a brief, but unnerving time when a rubble tower in downtown mimicked the remains of 9/11. (all photos © Frank Van Riper)
The first photo, of a master cellist giving a lecture at the SummerKeys Music Workshops in Lubec, Maine, where Judy and I teach photo workshops every summer, works on several levels: the intensity of the master's gaze and the glorious purple of his shirt, caught in early morning light at the easternmost point in the United States. I confess I do not have the masters name: he was visiting resident cello instructor Joachim Woitun, who once was the master's student. The elderly cellist gave a dizzying example of musicianship and warm recollection during the workshop class, that my own students and I photographed as part of our workshop. I have several images of him talking to students—as well as a number of shots of the master with Joachim. But what makes this image work better than those, I think, is the intensity of the musician's gaze at the very edge of the frame and the fact that he is not looking into my camera. I like to think the experience of his years shows in his face and that the love of his instrument shows in his hands. In short, a narrative portrait.
The second image, "Ground Zero on K Street," fits in to my contemporary heirloom slot because when I made the image several years ago at the crossroads of the downtown Washington, DC business district, I knew this environment would not last. In fact, what you see here are the remnants of an old office building that was being demolished to make way for a shinier, newer one on the same high-rent corner. But in the interim this bit of the old building was being preserved temporarily, apparently to maintain cell phone reception from the various towers at its top. I could not believe how eerily this rubble tower mimicked the look of Ground Zero in NYC after 9/11 and I watched the weather for days waiting for the perfect time to shoot it. The rubble tower is long gone: the photo is a contemporary heirloom.
Remember Van Gogh's beautiful painting of a pair of shoes? Weathered and worn, they offer a portrait of their wearer even though we never have seen him. In a letter to his beloved brother Theo, Van Gogh wrote:
"It is good to love as many things as one can. … I see paintings or drawings in the poorest cottages, in the dirtiest corners. And my mind is driven toward these things with an irresistible momentum. … Poetry surrounds us everywhere, but putting it on paper is, alas, not so easy as looking at it. I dream my painting, and then I paint my dream."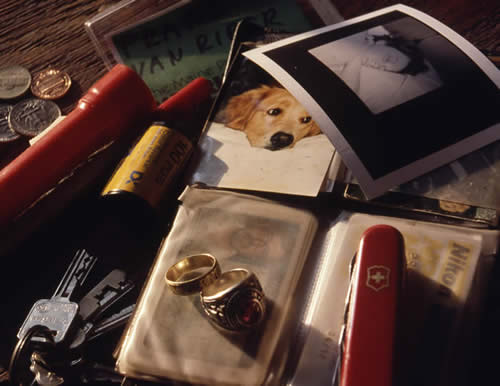 Family portrait with no family. I made this as an exercise while studying under Neil Selkirk in Maine. I rearranged some of the objects--and made an 'unaurthorized' Polaroid of my sleeping wife--but I loved the result.
Not nearly as poetic—yet still unpeopled--is this 'family portrait' that I made decades ago when Judy and I were students at the Maine Photographic Workshops. I was studying under the great portraitist and lighting master Neil Selkirk and had an idea to make this shot when I saw brilliant dawn light raking over my stuff on a weathered table at our cabin near Rockport. To make this family portrait work, I rearranged a few things (the convergence of red flashlight and Swiss army knife is not accidental) and opened my wallet. I am barely visible above my rings on my driver's license. I took our Golden Retriever's photo out of its plastic casing to show it better. But to render the whole family, I stuck a Polaroid back on my Hasselblad and made the shot of Judy as she slept. (She was not amused—and when I showed the image in class, all Neil said was "that poor woman." She has since forgiven me, I think.)
I concede that the line between a narrative portrait and heirloom photo can at times be blurred. For example, one of my favorite images, "Tent Revival/Lubec, Maine," that I made more than 20 years ago, captures the narrative of people lost in their personal religious fervor while also giving us a relic of vanishing tent revival meetings: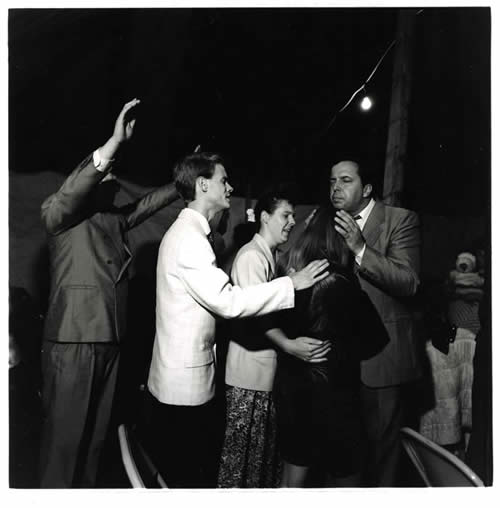 One of my favorite images because it captures such an intense and intimate moment. I had permission from the congregation and ministers to shoot that night and I all but disappeared as the evening progressed.
And I was decidedly not thinking "heirloom" when I shot "Composing Room, NY Post" more than 50 years ago, in the mid-1960s. And yet, when the tidal wave of digital technology washed over the news business—taking with it thousands of "hot type" craft union jobs—this image of metal page forms with lead headlines and body type became a relic of a time long past: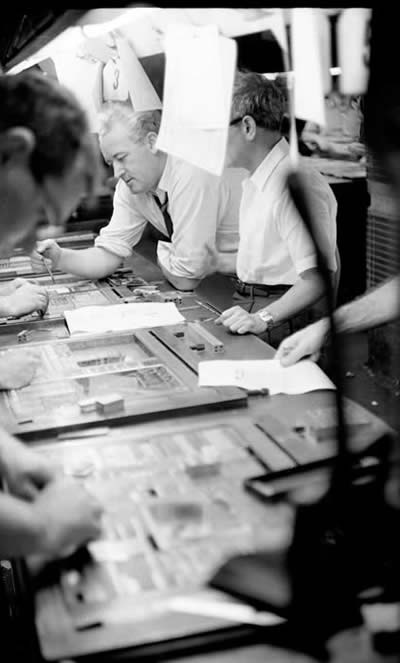 'Composing Room, NY Post, ca 1962' They literally don't make 'em like this anymore. Newspapering, like seemingly everything else, has gone digital.
I have to admit: a narrative portrait does NOT have to have only one narrative; in fact there might be as many narratives for a photo as there are viewers who see it. And frankly none of them has to be true for the picture to be effective. (Remember: all one has to do is feel.)
Two cases in point, from my recently concluded "Lighting Like Caravaggio" class. For the first image I asked Bob (l.) and Tony to bring white shirts to class so I could experiment with the kind of dramatic light that the Italian master painter used. (My concept was two marble busts, lit separately in a museum.) I was thrilled with the result, not least because of the terrific poses these two guys gave me unbidden. All I did was ask Tony to cock his head a little more toward Bob. If you saw this pic in a magazine and were told these two were titans of industry, no-nonsense businessmen, you could buy it, right?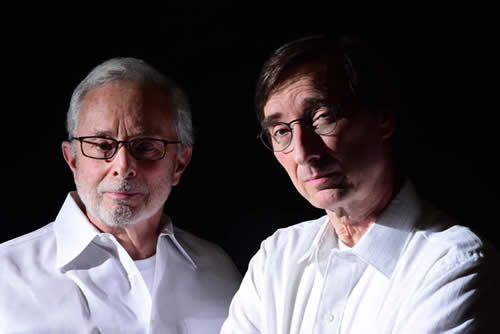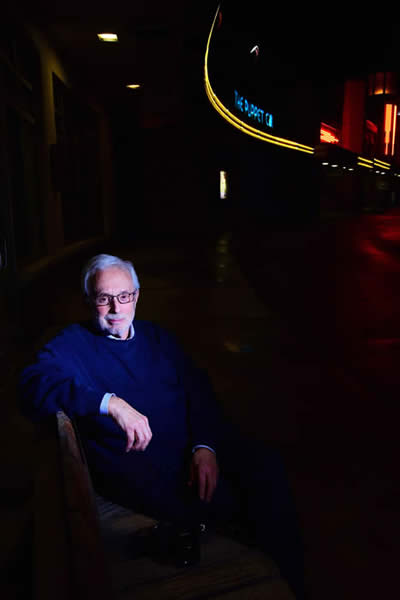 Bob and Tony were not only great students, but great subjects. Top: my concept was of two marble busts, separately lit. Bottom: a fictional narrative of a shy benefactor.
And the following week, working outside and in between raindrops, I posed Bob on a bench and made use of Glen Echo Park's wonderful neon as I lit Bob dramatically with a lousy little Vivitar 285 (and a taped-on toilet roll snood) that Tony held out of camera range. My concept this time? Here was a portrait of the largely unknown benefactor who has contributed millions to the restoration and upkeep of this landmark property.
Would that any of that were true.
---
Make Heirloom Photos NOW:
Thursday evenings, Jan. 10-24th, 2019, 7-10pm
The Narrative Portrait:
Thursday evenings, Feb. 7-28th, 7-10pm
See the Glen Echo Park website for registration details as the dates near: www.glenechopark.org
-0-0-0-0-
Lubec Photo Workshops at SummerKeys, Lubec, Maine -- Summer, 2018 starting to fill...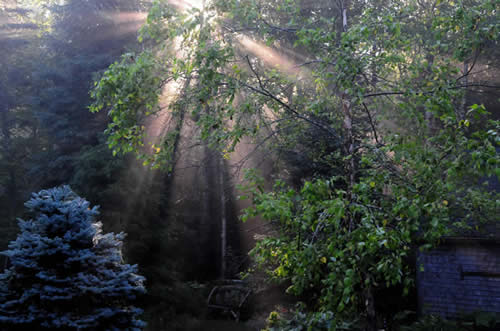 Daunted by Rockport??
Spend a week of hands-on learning and location photography with award-winning husband and wife photographer-authors Frank Van Riper and Judith Goodman. Frank and Judy will cover portraiture, landscape and documentary photography during morning instruction, followed by assignments in multiple locations including Quoddy Head State Park, Campobello Island, NB and the colorful town of Lubec itself. Daily critiques and one-on-one instruction. NO entrance requirement. Minimum age for attendance is 16. Maximum number of students each week is nine. Students supply their own digital camera.
The Lubec Photo Workshops debuted in 2009 and were a huge success for their low-key, no-pressure atmosphere. Note: Classes fill early.
2018 workshop dates: July 16-20; July 30-August 3; August 13-17.
Tuition payable through the SummerKeys Music Workshops: www.SummerKeys.com
Or contact us: GVR@GVRphoto.com
NEW: Master Photo Classes with Frank Van Riper
These intense, three-day, limited enrollment classes are aimed at the more advanced student, who already has taken a photo workshop and who is familiar with basic flash. With a maximum enrollment of just five, these classes are nearly half the size of our regular workshops. NB: last summer's Master Classes were fully booked almost immediately.
2018 Master Photo Class dates:July 23-25; August 20-22
Come photograph in one of the most beautiful spots on earth!
-0-0-0-0-0-
JUST TWO SPOTS LEFT FOR THE 2018 UMBRIA PHOTO WORKSHOP
This popular workshop always fills. Maximum number of students is seven. Anyone interested should contact me immediately...FVR
More details here:
http://gvrphoto.com/wp/?page_id=82
-----------
Van Riper Named to Communications Hall of Fame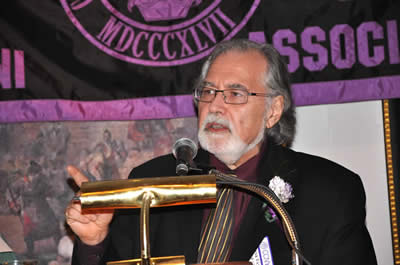 Frank Van Riper addresses CCNY Communications Alumni at National Arts Club in Manhattan after induction into Communications Alumni Hall of Fame, May 2011. (c) Judith Goodman

[Copyright Frank Van Riper. All Rights Reserved. Published 5/18]