2018 Lubec photo workshops: summer dates just announced
(See below) Two spots left for Umbria Photo Workshop, Oct. 13-19
Finding a unique--uncrowded--photo workshop
Umbria and coastal Maine: great photos, and peace

By Frank Van Riper
Photography Columnist
It's the perennial problem for travelers who do not want to be tourists…
Finding a place that is exotic enough, beautiful enough and rewarding enough to warrant the time and expense of getting there—that isn't also overrun with other folks just like you who have the same goal.
Think Tuscany, Paris, Bar Harbor--London, Barcelona, Key West.
In my case, the problem is compounded as I try to put together photography workshops that will have a wide appeal, yet also occur in places that are slightly out of the way so as not to have been discovered by the average tourist. They also have to be places that I know like the back of my hand, lest I be just another tourist with a bunch of other tourists in tow.
It has taken a decade, but I think I have found at least two places—Umbria in Italy and Down East Maine in the US—that fit these criteria.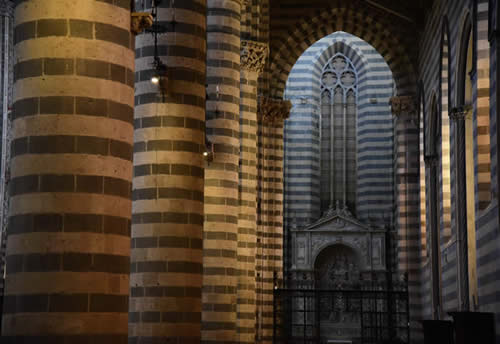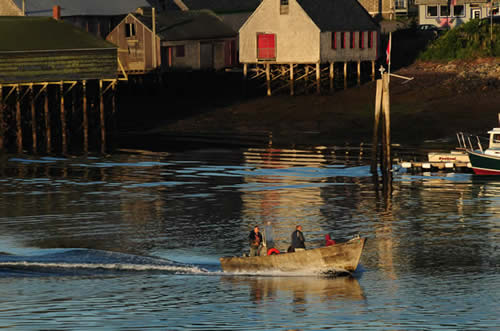 Top: the magnificent interior of the Orvieto Cathedral. So much easier to photograph than the cathedral of St. Francis in Assisi. Bottom: Dawn, Lubec, Maine, as a workboat sets out from the harbor. (all photos © Goodman/Van Riper Photography)
My wife Judy and I began leading photo workshops in Maine in 2009, working through the famed SummerKeys adult music workshops in Lubec, the easternmost town in the United States. That term "easternmost" is important since it correctly implies that you really have to want to get there from here. In other words, it ain't easy. There are no direct flights to Lubec, no access by rail. The closest commercial airport is in Bangor, nearly three hours away.
But once you are there, you never want to leave. Unspoiled harbors, gorgeous walking trails, stunning vistas—as well as lobster rolls, great burgers, and artisanal beer (among other things) in tiny Lubec itself. Judy and I wound up in the town more than 30 years ago because it was the only place in coastal Maine where we could afford to buy property to build a summer home. Hooking up with SummerKeys happened more or less by chance when founder and director Bruce Potterton talked to Judy about offering an activity for the partners and spouses of his perennial summer music students. Once we started we never looked back. Now we teach week-long, no-entrance-requirement, workshops in July and August—and recently I also began intense three-day Master Classes for those who want to increase their skills. [For information, go to www.summerkeys.com .]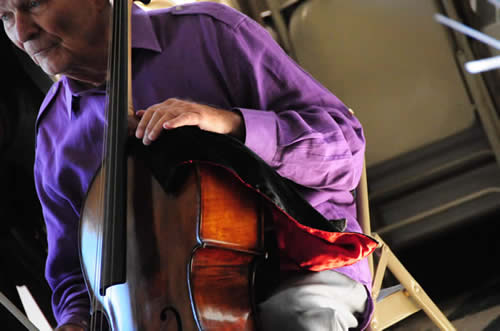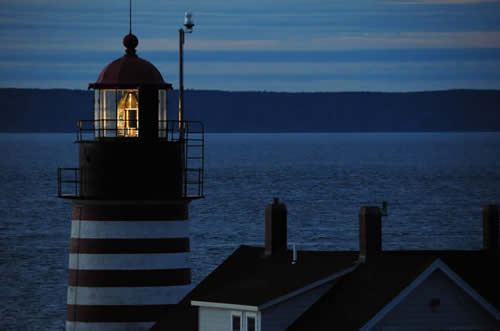 Working with the SummerKeys music workshops gives us amazing access to world-class instructors and their students so that our folks can practice location portraiture painlessly. Below: the famed west Quoddy head light at dusk.
Discovering Umbria [often called "Tuscany without the tourists"] also happened by chance—by way of Venice. After Judy and I finished work on our book, Serenissima: Venice in Winter, in 2008, I was casting about for signing venues in and around Washington, DC when I stumbled in to an Italian specialty shop in Bethesda, Md., and struck up a conversation with the owners. That led to the first of three very successful book signings at what then was called Bella Italia, but more important it gave us the chance to get to know owners Bill and Suzy Menard. Over dinner, as I was talking about wanting to expand my teaching, Bill and Suzy offered us free use of their Umbrian villa in Cannara (near Assisi,) a gorgeous property in a quiet farm region that the Menards rent out and use for their own wine and food classes.
Nervous about organizing our first international workshop—yet not about to turn down a free villa—Judy and I launched "The Umbria Photo Workshops" with not a little organizing help from Suzy, who simply came up with our first workshop itinerary. These molto simpatico workshops have been successful from the very start, though not without some serious changes and modifications over the years as Judy and I endeavored to make these workshops our own.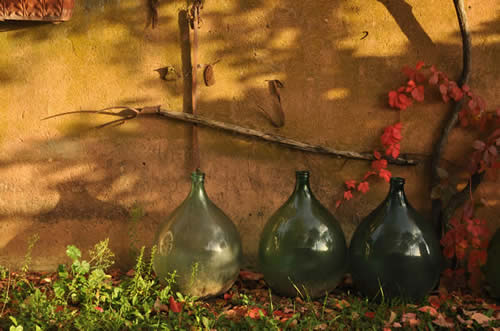 Top: wine vessels make for a beautiful late afternoon still life in Cannara. Bottom: World's smallest opera house in Monte Castello di Vibio is one of the new places we visit.
As our confidence and success grew, the first thing we did was bag large cities like Perugia and Assisi and concentrate on offering access to places the average tourist rarely sees, much less photographs.
Lovely though Perugia may be, too often our workshops in October (n.b.: the best time to see western Europe) coincided with events like Perugia's annual chocolate festival, when seemingly every chocoholic on the planet (and his or her sister) descends on Perugia in a cocoa haze, jamming its narrow streets, making it even more difficult to navigate, much less make good (non chocolate-related) photographs.
And that was nothing compared to the crowds thronging Assisi's Basilica di San Francesco at that time of year. Huge and imposing, the basilica actually is an amalgam of several large chapels—including St. Francis' subterranean crypt. Thousands go there annually to pray to the saint, and also to see a succession of masterpieces on the basilica's towering walls and entranceways by artists from Cimabue to Giotto.
I confess I might have put up with the huge Assisi crowds—including friars (?) roaming the streets dressed like St. Francis down to the beard, sandals and brown friar's habit—were it not for the officious guards inside the basilica.
Taking pictures, they seemed to feel, was frivolous and disrespectful as they tried with some difficulty to preserve a solemn, even hushed, atmosphere inside the church. But, rather than quietly tell people to put aside their cameras, the guards preferred to bellow "No foto!! No foto!!" over a PA system that boomed the admonition over the heads of the praying faithful over and over throughout the day.
So much for solemnity. And so long, Assisi.
In both our workshops—Umbria and Maine—the goal is to grant our students access to great, unexpected, photo opportunities. So in Maine, while we might eschew the usual whale-watching excursion, we will go to Tide Mill Creamery and get in the pens with gorgeous Nubian goats that supply the milk for the creamery's great cheeses and other products. (These animals, besides being beautiful, also are among the friendliest critters on the planet—kind of like puppies with tiny horns, and very photogenic.)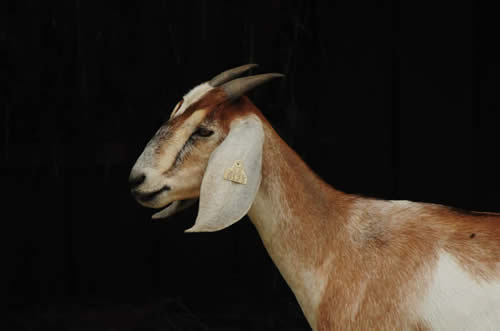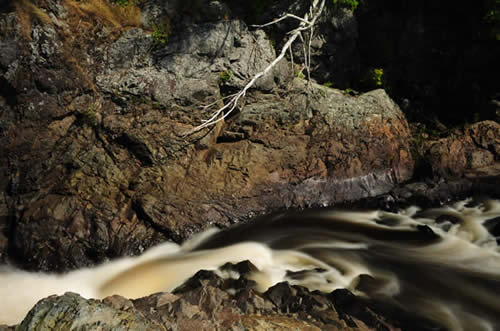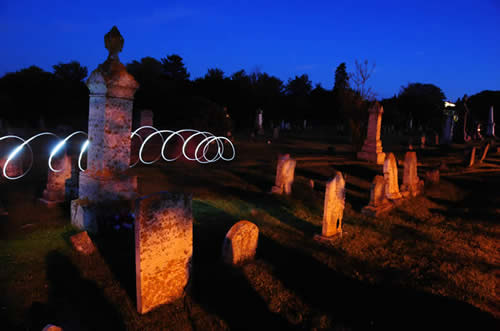 Maine is more than harbors and lobster rolls. Top: on-the-fly portrait of Nubian goat at Tide Mill Creamery. Center: Bad Little Falls in Machias--the locals know the place, but most tourists drive right past this bit of Down East whitewater. Bottom: painting with light during a night photography class in the Lubec graveyard.
Over the years Judy and I have come up with a whole list of places we can go in Maine, none of which are on the usual tourist path. (Ask us about the tree house in Eastport, for example, or the graveyard night shoot.)
Then in Italy there's the magic of Orvieto, Monte Castello di Vibio, and Civita di Bagnoregio.
I first saw Orvieto's cathedral nearly a decade ago, as Judy and I began our photography workshops in Umbria. Back then, we also leaned to big-ticket tourist sites like Perugia and Assisi.
But Orvieto, it turned out, was a tranquil revelation.
The Duomo itself is an architectural miracle, deftly twinning the Gothic with the Romanesque in a serene, yet towering, masterpiece. Its interior space has consciously been left empty, and thereby accentuates the simple, overwhelming grandeur inside (And nobody's yelling "No foto!")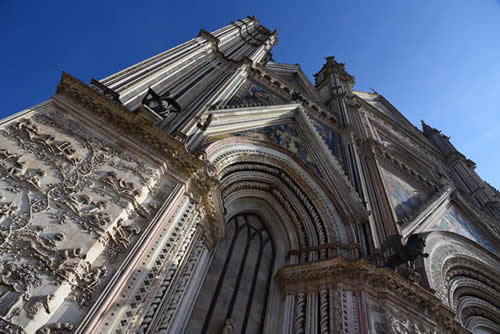 The amazing exterior of the Orvieto Cathedral. And the interior, as shown at the top of this story, is equally breathtaking.
Orvieto hits that wonderful sweet spot between small town and big city: large enough to feature interesting shops, terrific restaurants and cultural icons like the Duomo, but small enough to be human scale: blessedly free of traffic in its old quarter, and therefore a delight to walk in. It also is comparatively quiet—a real plus to any who have spent a summer's afternoon in Rome wandering around the Spanish steps or seeing the Coliseum among sweating tourists and honking cars.
Our headquarters in Italy has changed as well. Bill and Suzy Menard, who now run Via Umbria in Georgetown, are using the villa now for their own culinary tours, so I have made the leap to another of Umbria's hidden gems: the small walled town of Todi, for my money one of the most pleasant towns in all of Italy. Unlike Cannara, whose streets seemed to roll up at night, Todi is a small, yet (reasonably) bustling place, with superb restaurants and a very simpatico nightlife in the spacious and ancient town square. We stay in the elegant and family-run Fonte Cesia hotel at the top of the town, and we are treated like family, down to our wine and cichetti happy hour every evening.
It's a different kind of workshop, to be sure, whether in Maine or in Italy. Anyone who has a bucket list including Rome or Bar Harbor should pass. Likewise, any who want to spend their workshop evenings at clubs and nightspots will be disappointed.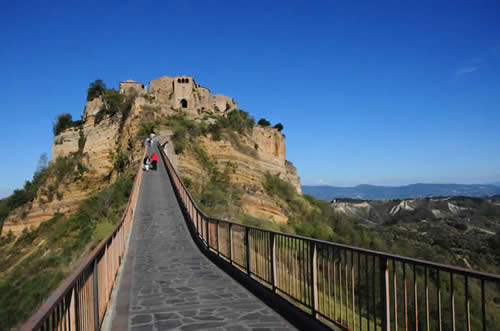 Civita di Bagnoregio: an ecologically endangered mountaintop town with a mere handful of permanent residents. It also is one of the loveliest places in Italy and has a number iof excellent restaurants.
But if you want to avoid the beaten path, photograph the world's smallest opera house (in Monte Castello di Vibio) have your mind blown touring a handmade tree house that features bedroom, kitchen and bath (Eastport, Me.), ogle Italy's mountaintop 'Brigadoon' (Civita di Bagnoregio in Lazio) or simply hang out with Nubian goats—give us a shout.
We'd love to hear from you. GVR@GVRphoto.com
-0-0-0-0-
Lubec Photo Workshops at SummerKeys, Lubec, Maine -- Summer, 2018 dates just announced...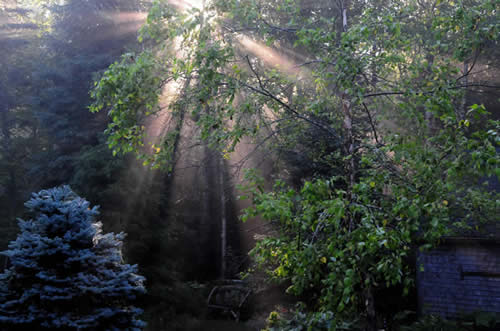 Daunted by Rockport??
Spend a week of hands-on learning and location photography with award-winning husband and wife photographer-authors Frank Van Riper and Judith Goodman. Frank and Judy will cover portraiture, landscape and documentary photography during morning instruction, followed by assignments in multiple locations including Quoddy Head State Park, Campobello Island, NB and the colorful town of Lubec itself. Daily critiques and one-on-one instruction. NO entrance requirement. Minimum age for attendance is 16. Maximum number of students each week is nine. Students supply their own digital camera.
The Lubec Photo Workshops debuted in 2009 and were a huge success for their low-key, no-pressure atmosphere. Note: Classes fill early.
2018 workshop dates: July 16-20; July 30-August 3; August 13-17.
Tuition payable through the SummerKeys Music Workshops: www.SummerKeys.com
Or contact us: GVR@GVRphoto.com
NEW: Master Photo Classes with Frank Van Riper
These intense, three-day, limited enrollment classes are aimed at the more advanced student, who already has taken a photo workshop and who is familiar with basic flash. With a maximum enrollment of just five, these classes are nearly half the size of our regular workshops. NB: last summer's Master Classes were fully booked almost immediately.
2018 Master Photo Class dates:July 23-25; August 20-22
Come photograph in one of the most beautiful spots on earth!
-0-0-0-0-0-
JUST TWO SPOTS LEFT FOR THE 2018 UMBRIA PHOTO WORKSHOP
This popular workshop always fills. Maximum number of students is seven. Anyone interested should contact me immediately...FVR
More details here:
http://gvrphoto.com/wp/?page_id=82
-----------
Van Riper Named to Communications Hall of Fame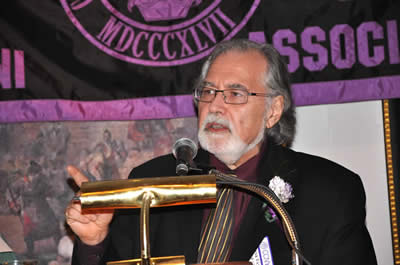 Frank Van Riper addresses CCNY Communications Alumni at National Arts Club in Manhattan after induction into Communications Alumni Hall of Fame, May 2011. (c) Judith Goodman

[Copyright Frank Van Riper. All Rights Reserved. Published 1/18]