Just released...2019 Lubec photo workshops summer dates below
ALSO: Join me in Umbria in October, 2019 (below)
The Indefatigable Robert Caro...
..and how 'turning every page' may doom Donald Trump

By Frank Van Riper
Photography Columnist
During Watergate it was "follow the money."
Today it may be "follow the paper."
It is by no means certain that we will survive the presidency of Donald Trump.
Even if this worst president in our history is defeated at the polls next year (and I literally pray for this—and back up my fragile faith with monthly contributions to the Democrats) the damage Trump already has done to our politics, to our judiciary—to our democracy—likely will last for decades.
In a normal world, in the aftermath of the Mueller report's slam-dunk case against Trump for obstruction of justice in the Russia investigation, a bipartisan coalition in congress would be preparing articles of impeachment and urging the president to resign and be done with it, in the manner of Richard M. Nixon in 1974 during the Watergate scandal. But this is not a normal world: The Republican party has ceased to exist and is now, in the GOP-led Senate especially, the nativist, populist, atavistic party of Trump who, even if impeached by the Democratic House, never would be convicted in the Senate.
In the end, it will fall to us the voters, as well as to my colleagues in the press, to end this hideous presidency. And I think we will.
Never have we had a president so venal, so overtly racist, so morally corrupt or so ignorant. A president who, in nearly two and a half years has failed to get anything significant through congress except a massive tax cut for the wealthy. Meanwhile he has tried--through executive action and by appointing some of the most base and incompetent people imaginable--to tear down the legacy and signal accomplishments of the black man who preceded him in office.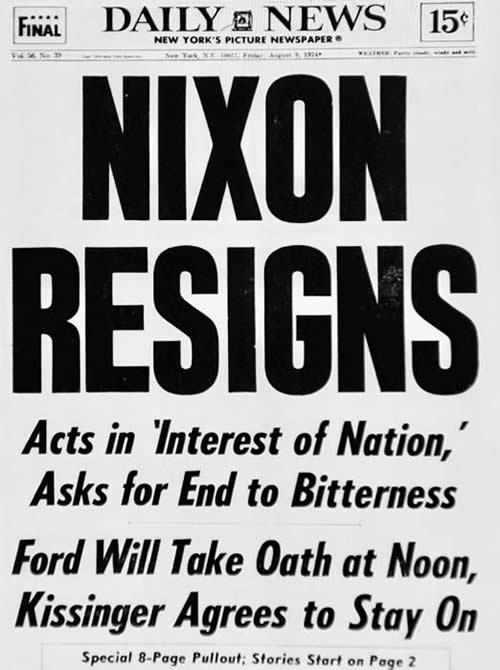 I wrote this story, along with my late colleague Jim Wieghart, in 1974, after two full years of covering the Watergate scandal.
As I write this, the Trump White House is fighting desperately in the courts to prevent release of ANY documents to the House committees investigating the now-proven online Russian assault to influence the 2016 election—to Trump's benefit. Meanwhile, the White House opposes virtually any congressional testimony by Trump's present or former aides.
Trump is especially eager to block release of a huge cache of financial documents, including from Deutsche bank, the controversial German banking house that backed Trump's multi-million-dollar escapades decades ago even as he was pinballing from bankruptcy to bankruptcy, and when his credit rating was toxic.
During this time Trump also was cozying up to the Russians, looking for financing and seeking to build yet another Trump Tower, this one in Moscow. Given the Vladimir Putin-directed campaign to elect Trump in 2016 (and does anyone really think anything happens in Russia without Putin's knowledge?) is it not unreasonable to suspect that the Trump-Putin relationship has devolved into an illegal, if not potentially treasonous, quid pro quo, with a possible detour through Deutsche bank??
And if that were the case, wouldn't you try to keep everyone—and especially Democrats in congress—from following your paper trail?
I was thinking of paper trails the other day as I finished in almost one sitting biographer/journalist Robert A. Caro's wonderful new book, Working, describing his methods chronicling the lives of two larger-than-life political figures of the 20th century: Robert Moses and Lyndon Baines Johnson.
Moses, who never held elected office, was New York City's master builder who, as head of innumerable bridge and tunnel "authorities" spanning multiple mayoralties and governorships, amassed unprecedented political power over more than four decades. He literally changed the face of New York City. Johnson, the 36th president, was the father of sweeping Great Society social programs as well as the landmark 1964 Civil Rights act and 1965 Voting Rights act. Before that he was the acknowledged Master of the Senate who, as senate majority leader, was widely viewed, in the words of one French lawmaker, as "the greatest parliamentarian in the Western world."
Donald Trump, by contrast, has done this: he has had kind words for white nationalists, is fine with tearing immigrant children from their families, has no use for "shithole countries," calls the American free press "the enemy of the people," makes hardly any public appearances except at pre-screened rallies and White House events, lies like a rug—and can't remember the name of the last book he read.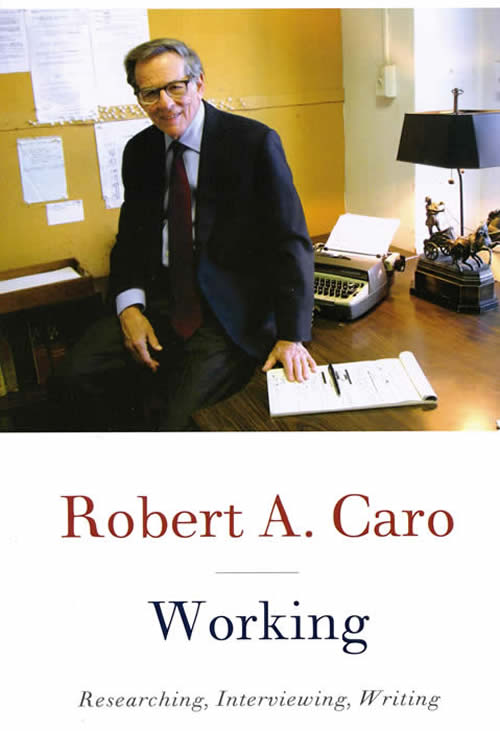 As a young reporter on deadline, Robert Caro bristled at having to write stories quickly, without knowing all the facts, all the implications, all the angles. Then he won a Nieman and it changed his life.
Unlike Trump, Moses and LBJ (as well as Richard Nixon) were men of huge political accomplishment. But like Trump too, they also were men with huge personal failings. Moses, once a do-good urban planner, did great things creating public parks and beaches in New York, but, as his political power blossomed, he grew callous to the needs of people he once championed. In the end Robert Caro reveals that Moses had no qualms about bulldozing whole neighborhoods in poor areas to satisfy his ambition (and his wealthy backers)—posting 30-day eviction notices on the doors of those families unfortunate enough to stand in his way.
Johnson, the product of the dirt-poor Texas hill country, clawed his way to political power. Caro discovers that Johnson stole his first election to the Senate by having his people falsify ballots. But once elected LBJ also brought electricity to rural Texas, literally bringing light and electrical power to some 200,000 of his constituents whose wretched lives Caro describes in eloquent and telling detail, the product of actually moving to Texas and conducting countless interviews. It was Vietnam, though, that ultimately destroyed Johnson. His stiff-necked and continuous escalation of an unwinnable war that a majority of Americans had come to oppose, if not to hate, forced him to abandon his re-election campaign in 1968, paving the way for Nixon's election the following November.
And Richard Nixon, who opened diplomatic relations with China, created the Environmental Protection Agency, started real welfare reform and the all-volunteer army--and in 1972 won re-election by the greatest landslide in US history-- ultimately was forced to resign in disgrace less than two years later over Watergate. Damned by secret White House tape recordings that he himself had authorized, Nixon was shown to have led a patently illegal campaign to cover up with hush money and promises of executive clemency the efforts of his re-election committee to illegally wiretap and spy on the Democratic National Committee (then housed in the Watergate office building) and also to sully the reputation of the whistle-blowing Defense department analyst who leaked to the press a damning multi-year study of the US government's Vietnam War folly (dubbed the Pentagon Papers.)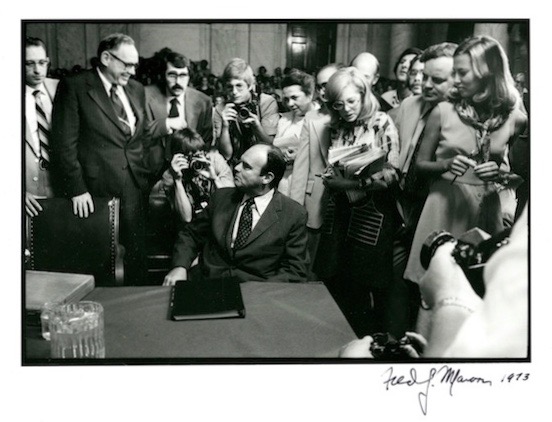 My late friend Fred Maroon made this shot during the Watergate hearings in 1973. Nixon aide John Ehrlichman talks to reporters during a break. (I'm standing third from left, reaching for a pen.) Ehrlichman ultimately went to jail for his part in the Watergate coverup.
Running through all three narratives are common threads of hubris and documentation.
As a young reporter on Newsday, Caro (who is now 83) bristled at the daily deadlines that kept him from thoroughly researching a story. It was not until he won a Nieman Fellowship to Harvard in 1966 that he had "time to think." The year changed his life. It convinced him to begin his magnum opus on Robert Moses, that ultimately became The Power Broker: Robert Moses and the Fall of New York, and won Caro his first Pulitzer Prize.
In the years he worked on Power Broker, Caro held true to the advice he got from his editor at Newsday: to be a good investigative reporter you had to "turn every page."
"Never assume anything," his editor had said. "Turn every goddamned page."
And so Caro did, with Moses and LBJ, poring over thousands of pages of records, and conducting hundreds of interviews. And so too did the reporters who covered Watergate (myself among them) as we worked the phones day and night, read through transcripts and trial records, and did the kind of shoe leather reporting that is not glamorous, but necessary.
For Donald Trump, written records (like tax returns, for example) are trouble. He has spent his entire public life spinning the narrative of his supposed business acumen and personal brilliance, and used people like his onetime fixer Michael Cohen to threaten legal action (or worse) against institutions and individuals should they reveal even such mundane things as Trump's academic transcripts. (Safe bet: Donald Trump is no genius.)
Today, with our very democracy threatened by the cyber war being waged against us by Russia, and with a clueless, complicit president seemingly willing to look the other way while it happens, the role of a tireless press, a powerful congress and an informed electorate never has been more important.
Turn every page.
---
A personal note: Thirteen years after Robert Caro became a Nieman Fellow at Harvard, I became one too. And as with Caro, the experience changed my life. The freedom to explore so many different avenues—from Music 1 to fiction writing—moved me inexorably from 8-to-10-inch-a-day writing for the New York Daily News to long-form journalism, books, and documentary photography.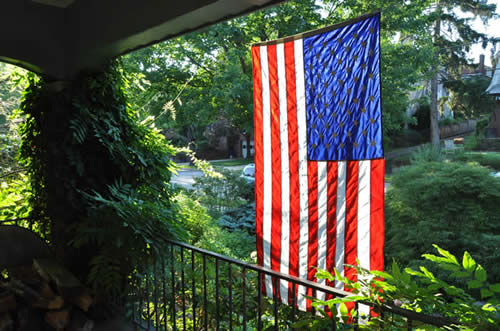 © Frank Van Riper
-0-0-0-0-0-
Lubec Photo Workshops at SummerKeys, Lubec, Maine -- Summer, 2019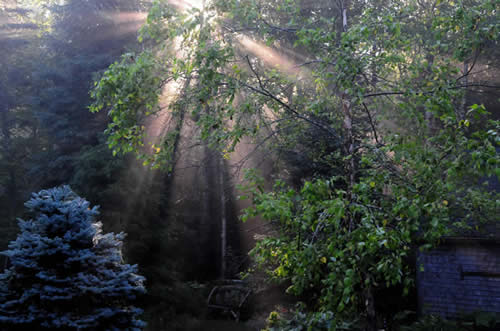 Daunted by Rockport??
Spend a week of hands-on learning and location photography with award-winning husband and wife photographer-authors Frank Van Riper and Judith Goodman. Frank and Judy will cover portraiture, landscape and documentary photography during morning instruction, followed by assignments in multiple locations including Quoddy Head State Park, Campobello Island, NB and the colorful town of Lubec itself. Daily critiques and one-on-one instruction. NO entrance requirement. Minimum age for attendance is 16. Maximum number of students each week is nine. Students supply their own digital camera.
The Lubec Photo Workshops debuted in 2009 and were a huge success for their low-key, no-pressure atmosphere. Note: Classes fill early.
2019 workshop dates: July 15-19; July 29-August 2
Tuition payable through the SummerKeys Music Workshops: www.SummerKeys.com
Or contact us: GVR@GVRphoto.com
NEW: Master Photo Classes with Frank Van Riper
These intense, three-day, limited enrollment classes are aimed at the more advanced student, who already has taken a photo workshop and who is familiar with basic flash. With a maximum enrollment of just five, these classes are nearly half the size of our regular workshops. NB: last summer's Master Classes were fully booked almost immediately.
2019 Master Photo Class dates:July 22-24; August 5-7
Come photograph in one of the most beautiful spots on earth!
-0-0-0-0-0-
JOIN ME FOR THE 2019 UMBRIA PHOTO WORKSHOP, October 12-18, 2019
This popular workshop always fills. Maximum number of students is seven. Anyone interested should contact me immediately: GVR@GVRphoto.com
More details here:
http://gvrphoto.com/wp/?page_id=82
-----------
Van Riper Named to Communications Hall of Fame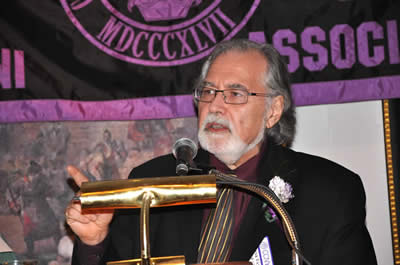 Frank Van Riper addresses CCNY Communications Alumni at National Arts Club in Manhattan after induction into Communications Alumni Hall of Fame, May 2011. (c) Judith Goodman

[Copyright Frank Van Riper. All Rights Reserved. Published 5/19]