Waiting list availability for these great Workshops!
Venice in Winter Photo Workshop -- January 11-17, 2014
Umbria Photo Workshops -- October 11-17, 2014
see below for details
All Hail Hoodman!
Simple tool fills huge need for outdoor photographers

By Frank Van Riper
Photography Columnist
Two years ago, while teaching our photo workshops in Lubec, Maine,
one of our students introduced me to the Hoodman and now I proselytize about it like an itinerant preacher on a caffeine jag.
This remarkable—and remarkably low-tech—tool ranks up there with the equally low-tech Vivitar 285 portable flash unit as a reliable workhorse that will be around for years.
The Hoodman is not an app. It is not an electronic gizmo. It is not even that expensive—though the price is likely to rise as its underground popularity soars. What the Hoodman does is let you (finally) shoot outdoors in bright sun and immediately see just what you are getting on your digital camera's LCD screen without having to cup your hand and look for shade in a futile attempt to see whether, in fact, you had nailed the shot. (It also does a couple of other equally cool, if not-so-obvious, things. Read on.)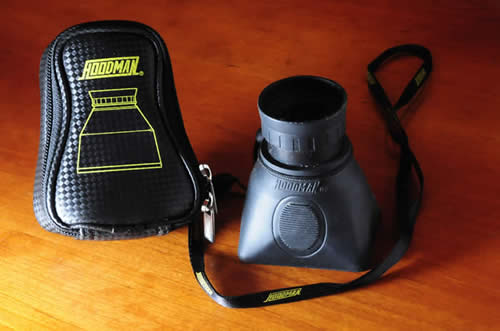 Stop squnting! This simple, non-electronic accessory will now let you view your camera's LCD screen confidently--even in the brightest sunlight. And it's reasonably priced, too.
© Frank Van Riper
Formally, it is called the HoodLoupe, and it does resemble a run-of the-mill photography loupe--the kind we all used back in the day to inspect our slides and contact sheets (remember them?) It's one of those "Why didn't I think of that?" inventions that, like many innovations, draws on past equipment, but with key changes to make it better.
Like a conventional photo loupe, the Hoodman uses a small chimney finder to help you concentrate on your image. But where photo loupes often have clear sides to let in light, the Hoodman is totally opaque on its four sides to exclude all light--the better to let you see the backlit image on your LCD screen, as well as shut out extraneous sunlight when you are shooting on location.
Some, though by no means all, photo loupes allow for a degree of focusing on the image, but rarely with real precision. The Hoodman boasts an adjustable optical glass finder with a plus-or-minus-three diopter. This affords precise viewing of your LCD image, which can be critical when you are working in the field with only one chance to make a shot.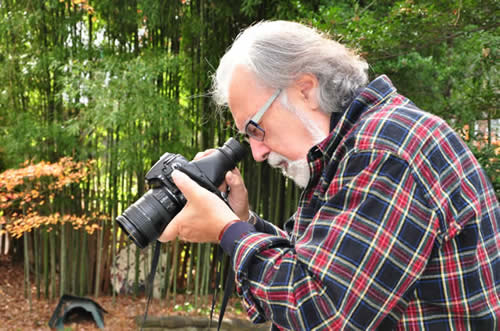 Outdoors, all you have to do is place the Hoodman over your LCD screen to block out all extraneous light--and take full advantage of your LCD screen's backlighting. You will see exactly what your camera saw--and, most important, whether you have to re-shoot. ©Judith Goodman
Most photo loupes were made to view 35mm slides and negatives (ie: a field of view roughly one inch by one and a half inches) That was great for the old days, but today's LCD screens often are much larger—at least three inches across. The Hoodman's two incarations (for Nikon, Canon and all other cameras) give you an instant, full frame view of your image that is sharp from edge to edge.
All of this comes in a compact, ruggedly made tool, complete with padded carrying case with belt strap, as well as a neckband with a quick-release for sharing your Hoodman with envious fellow shooters grown tired of squinting.
I bought my Hoodman two years ago for eighty bucks and would willingly have paid much more. Last I looked they were listing for a hundred (no surprise) but can be found cheaper.
For info go to the Hoodman website: http://www.hoodmanusa.com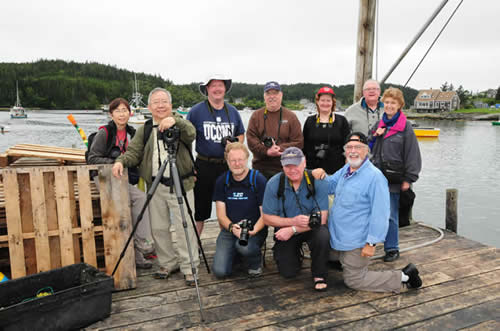 In the fog at Cutler, Maine. One of our SummerKeys workshop groups two years ago included Raymond Ao, at tripod, with his wife Sylvie to his right. Raymond introduced us to the Hoodman and made believers of us all. © Frank Van Riper
It was on a foggy day in Cutler, Maine in 2011 that our student Raymond Ao showed off his Hoodman and changed forever how I look at my viewing screen.
"What the hell is that?" was the general response as Raymond peered through the chimney-shaped finder of his new Hoodman, viewing his photos with ease. The fact that it was foggy in this most beautiful of Down East Maine harbors, added to the Hoodman's attraction. Fog, as I often tell students, is not really dark; in fact it is quite bright, especially during the day. When you consider that fog is made up of billions upon billions of water droplets floating in the atmosphere, each reflecting sunlight over 360 degrees, you can understand why your typical foggy day also can be glary.
There was no debate about glare when we shot on sunny days—like the time we photographed in the nearby town of Machias photographing the oddly named, but ruggedly beautiful Bad Little Falls. This is a little bit of wild west whitewater in the heart of Washington County's shiretown. In fact, the rushing water is behind a gas station—and not at all visible from the street.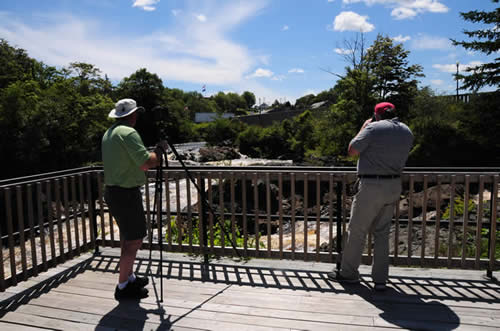 Everything was great about the day in Machias at Bad Little Falls except for the glaring summer sun that made it near-impossible to see your LCD screen after you made a shot of the rushing water. The Hoodman changed all that. Looking through our finders with it, we could see whether we had nailed the shot, as Ken Dubie did below. Top photo: © Frank Van Riper; bottom © Ken Dubie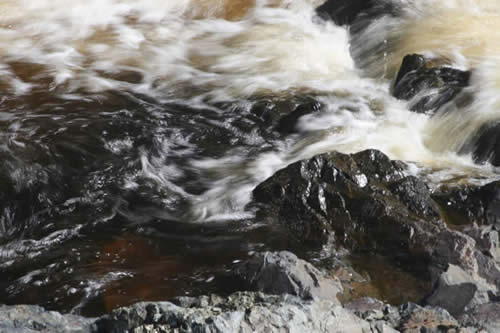 Each summer during our workshops I deliberately pick a sunny day—near high noon, in fact—to teach a lesson on photographing moving water under the worst (i.e.: brightest) conditions. It basically involves shooting totally in manual mode (our preferred mode anyway) and fooling your camera into thinking you are shooting in comparative dark, thereby allowing long exposures (up to a full second or so) to render moving water dramatically, even under bright sun. (To learn the secrets, click here to see my previous column on the subject:
http://talkingphotography.com/archive/2010/flowingWaterFrozenWater.htm
In previous years (ie: pre-Raymond, pre-Hoodman) I would be overlooking the falls and squinting like everyone else under the summer sun as I tried to demonstrate my magic, on the LCD screen of my tripod-mounted D300. This summer, however, the oohs and aahs I received for my dramatic water pix were matched by the oohs and aahs over the Hoodman and how it simply eliminated everyone's need to squint at their LCD screens.
"You should buy them in bulk and sell them," one student observed. [Frankly, I prefer to tell you about the Hoodman here and let you buy it on your own.]
The Hoodman company is located in Torrance, CA, and has been in business since 1986.
"We began making hoods for Hollywood: monitor hoods for outdoor television and motion picture production," said Lou Schmidt, Hoodman's vice president for marketing. "We were a natural for becoming the go-to guys for [viewing] digital camera LCD screens outdoors. Our first HoodLoupe was launched back in 2006. We use German glass optics with a plus or minus 3 diopter adjustment."
Noted Schmidt: "We also fit iPhones."
Schmidt added this sidebar: "Each NFL instant replay canopy is designed and built by Hoodman. We are now in our 7th generation of NFL instant replay glare-fighting solutions."
Though the Hoodman was designed for digital photography (and the larger ones for movies, TV and video), it also has proven to be remarkably useful for analog photography.
As noted before, the Hoodman resembles an old-style photo loupe and can, in fact, be used that way—on a lightbox for viewing slides and negatives. (Just think of your lightbox as a great big LCD screen.) I compared the Hoodman to two other tools I have used over the years and found that it worked virtually as well, or even better, in some cases. My old Pentax zoom-loupe did let me zoom in on a slide or neg, but the Hoodman gave me a great tack-sharp view of the entire image.
The other "loupe" that I used was not a loupe at all, but one that has been used that way for decades by many medium format photographers. The removable chimney finder on a Hasselbad can fill the bill in a crunch, but the Hoodman is much easier to use.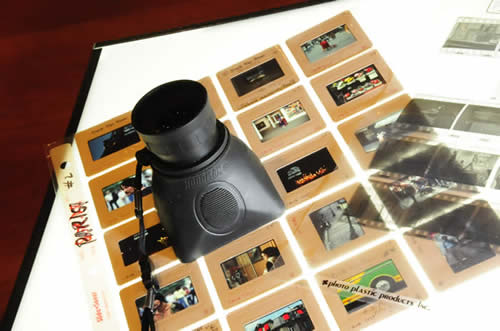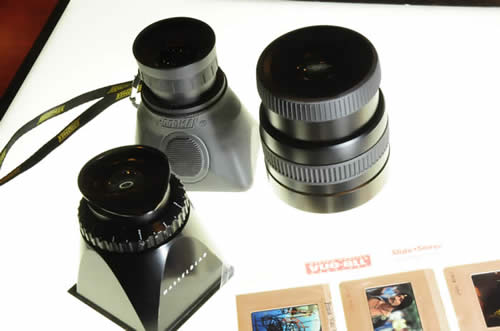 Look, Ma, slides; look Pa, negatives. In analog (film) photography, the Hoodman excels as a first-rate photo loupe, especially when one is looking at these images on a lightbox (above.)
Other tools pictured are a Pentax Zooom-Loupe (r.) and a chimney finder from one of our Hasselblads (l.)
Finally, a real revelation to me was how I could use my Hoodman in large-format (view camera) photography.
When shooting, say, 4x5 film you first must focus your camera lens by viewing the upside down and reversed image on the groundglass at the back of the camera. This always has meant throwing a heavy focusing cloth (black on the inside, white on the outside) over your head to block out extraneous light as you racked your lens back and forth to focus on your subject. (n.b.: Many photographers used a conventional photo loupe here to help them focus, but because of the loupe's clear sides, it was virtually unusable without the dark cloth to help block daylight, especially outdoors.)
The Hoodman, however, all but eliminates the need for the dark cloth (most often when shooting indoors or in the studio) because its opaque sides block out nearly all extraneous light. Not having to rely—or not having to rely as heavily—on a bulky focusing cloth is a huge, unanticipated, convenience for any large format shooter.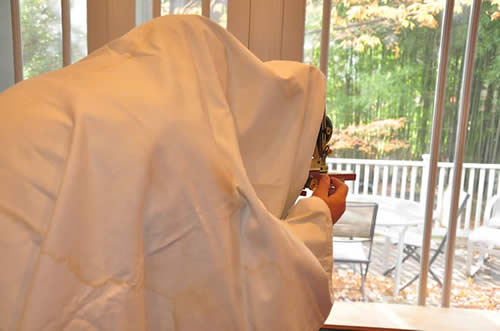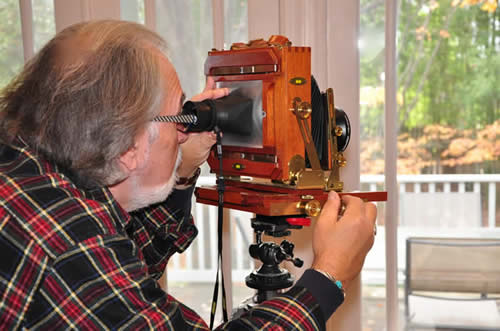 Above: portrait of photographer as Yeti or poltergeist, using a bulky focusing cloth on a view camera to better see and focus image on the camera's groundlgass focusing screen. Below: in many cases Hoodman can eliminate the need for this bulky throwback to Mathew Brady's time. © Judith Goodman
Granted, the folks out in Torrance are probably not betting their financial future on what surely must be a diminishing number of view camera film photographers seeking to throw off their bulky focusing cloths in favor of a Hoodman.
But it does show how versatile is this remarkable little accessory.
It says something about the Hoodman's appeal that this past summer, after I presented an end-of-workshop slideshow of that week's student work, our friend Steve Silverman, who had attended the class and made some great images, stood up and presented my wife Judy with her own Hoodman on behalf of the class so we would no longer have to fight over it when we were out shooting.
(Note for information about our upcoming summer workshops in Maine, please go to www.SummerKeys.com and click on "Lubec Photo Workshops.")
-----------------
Unseen Serenissima:
The Venice in Winter Photo Workshop
January 11-17, 2014 (fully booked; waiting list available)
Follow in our footsteps, visiting some of the same places that we photographed for our bestselling book--well off the beaten path and wonderful to shoot. There will be early morning and late-night photo excursions, visits to places tourists rarely travel (the cemetery island of San Michele, for example; the public gardens, I Giardini, the vibrant open market La Pescaria, charming wine bars and enoteche.) We also will visit local artisans in their studios, some of the world's great museums, as well as favorites like Piazza San Marco or the Doge's Palace. NOTE: participants also will have free time during the week to wander this magical place on their own. We will provide what we think is the best tourist map to help navigate--as well as a one-week vaporetto pass for travel on Venice's ubiquitous water buses.
Following are the key details (subject to change):
1. Dates: Jan. 11-17, 2014
2. Cost $3,500 per person
3. What's included: First class hotel lodging in Venice, all breakfasts, three meals (welcome and farewell dinner and one lunch, probably on Murano or Burano) week-long no-limit vaporetto pass, private instruction and tours, daily critiques at the hotel.
Note: The 2013 tour filled almost immediately and this tour already is full. To receive more information about the Serenissima workshop, or to be placed on our waiting list, please contact: GVR@GVRphoto.com, or go to www.veniceinwinter.com
Grazie mille!
The Umbria Photo Workshops: October 11-17, 2014 (waiting list available)
Join internationally acclaimed husband and wife photographers Frank Van Riper and Judith Goodman for weeklong photographic workshops under glorious Fall skies in one of Italy's most beautiful regions. Note: Workshops are limited to only six participants and include lodging at the spacious and inviting Villa Fattoria del Gelso in Cannara.

Frank and Judy, authors of the award-winning book Serenissima: Venice in Winter, will share their image-making techniques with a small group during a simpatico, low-key week covering everything from landscape photography in the verdant hills of Umbria, to nighttime photography using available and artificial light, to location portraiture in Umbria's closely held olive fields and vineyards.
Small class size assures individual critique and instruction.
Participants will travel by guided excursion to several of Umbria's storied hill towns, including Montefalco, Bevagna and Assisi, and receive individual attention during daily critiques.
Package includes six nights in the fully restored 18th century villa Fattoria Del Gelso in Cannara, located on a 40-hectare working farm literally walking distance from colorful shops and restaurants and centrally located in the shadow of Assisi.
This is a trip designed for relaxed learning and sightseeing via foot, bicycle and van, taught by two experienced location photographers whose work has been exhibited in and acquired by major museums in the United States. Frank and Judy are molto simpatico teachers who will turn your photographic vacation into a once-in-a-lifetime adventure.
Fee includes villa accommodations, all breakfasts, daily wine and antipasto Happy Hour, welcome and farewell dinner, pizza night, transportation by private van. No entrance requirements beyond a love of photography, good food and fine wine. For details: go to http//:www.experienceumbria.com or contact us directly at GVR@GVRphoto.com
Van Riper Named to Communications Hall of Fame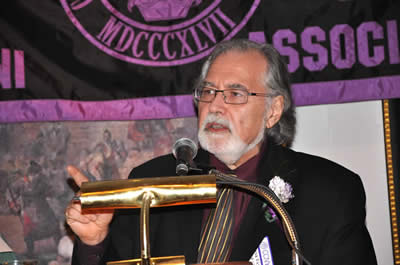 Frank Van Riper addresses CCNY Communications Alumni at National Arts Club in Manhattan after induction into Communications Alumni Hall of Fame, May 2011. (c) Judith Goodman

[Copyright Frank Van Riper. All Rights Reserved. Published 11/13]