Beat the rush: 2015 Maine photo workshop dates!
(see below)
On the Street with Strand and Winogrand
Surreptitious vs. In-Your-Face

By Frank Van Riper
Photography Columnist
In the past year there have been two major and well deserved museum retrospectives for two vastly different photographers who at separate times prowled the streets of my native New York.
Their respective styles for capturing a telling moment, gesture or composition, could not have been more different.
Paul Strand and Garry Winogrand also were of different eras. Strand, who lived a long productive life (1890-1976) did some of his greatest work in New York before World War One, then abroad in the 50s and 60s. Winogrand (b. 1928) who died of gall bladder cancer in 1984 at the age of 56, is best known for his New York street photography from the 1960s. (Like Strand, Winogrand also photographed elsewhere, notably across the US in 1964 during a Guggenheim fellowship year, then later, near the end of his life, in California.)
The two museum shows that highlighted the work of these two American masters were "Garry Winogrand" opening at San Francisco MoMA in 2013, then this year at the National Gallery of Art in Washington and later at the Metropolitan Museum of Art in New York and "Paul Strand: Master of Modern Photography," currently on display through Jan. 4 at the Philadelphia Museum of Art, after which it will tour Europe, as did the Winogrand show. The Philadelphia show is an elegantly-mounted must-see: drawing on the museum's extensive Strand archive, as well as on loaned works. It also is unique in displaying reproductions of Strand's actual large format and other negatives (lit by shadow boxes for close inspection) as well as some of the photographer's short films—and original camera gear.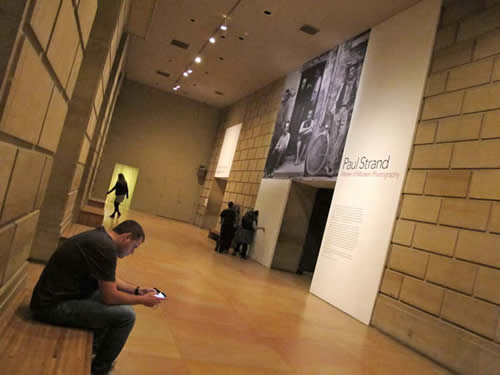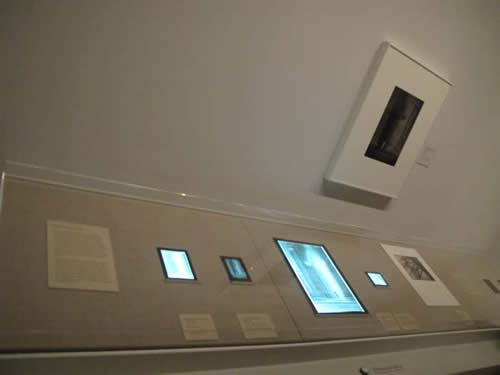 The Philadelphia Museum of Art is more than the place where 'Rocky' ran up the steps. It is a temple of art and its massive and deep Paul Strand retrospective is worth the trip. On view through Jan. 4, 2015.
Strand can legitimately be called one of the pioneers of modernist photography—along with Alfred Stieglitz, Edward Weston and later Edward Steichen. He also was a filmmaker with an artist's eye for dramatic, often starkly lit, composition. (His 1915 photograph "Wall Street," is a perfect example of this dramatic style: small nearly insignificant figures walking uphill against the stage-like backdrop of a monolithic building in raking sunlight.)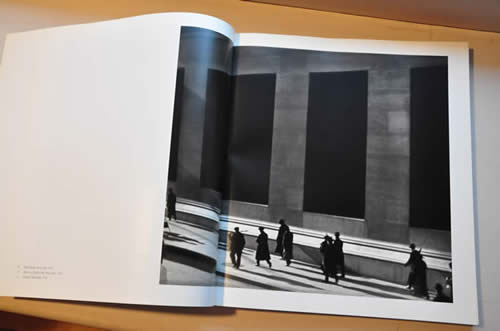 'Wall Street, 1915', shown here in the Aperture catalog for the 1990 show at the National Gallery of Art in Washington, DC.
Winogrand, capable of eloquence in color as well as black and white, is best known for his BxW pictures of people, often at remarkably close range. He also is known for having left behind an astounding amount of never-seen work after his untimely death: a trove of some 300,000 images that Winogrand took but never saw (from undeveloped film, unprinted negatives, etc., only a few of which were on display in the museum retrospective, carefully—if nervously—chosen postmortem by his curators.)
It is Winogrand's seemingly endless, seemingly profligate, production of imagery that is at the heart of his photographic style. And it is here, I think, that a confluence and a contrast exist between him and Strand, two great, if disparate, American photographers.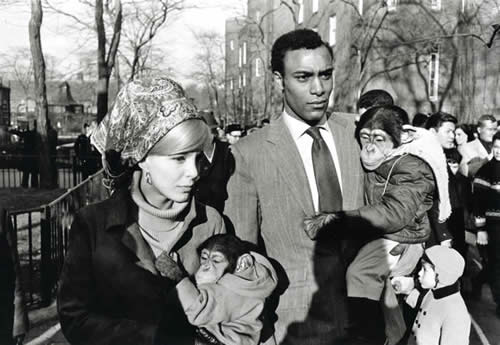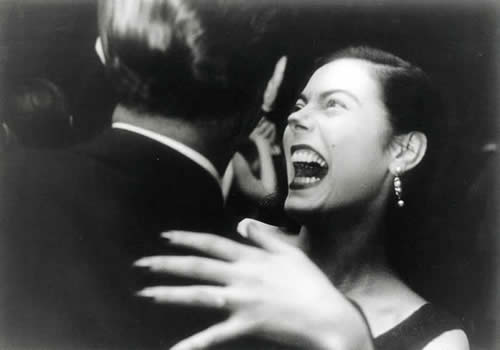 Two Garry Winogrand classics: 'Central Park Zoo, New York, 1967' (top) and 'El Morocco, New York, 1955.' The top pic was not a setup.
Simply put, Winogrand was hot and involved; Strand was cool and aloof. One immersed himself in the yeasty, if fleeting, interaction of photographer and subject; the other simply had no interest photographing anyone anonymously and on the fly. (And yet, some of Strand's best photos are of people photographed unawares in New York.) To be sure, if this hesitancy to engage were all that defined Strand, we would not be revering him now. He was a brilliant environmental portraitist, as well as landscape photographer. His ability to compose compelling human "still lifes" is nowhere better seen that in his classic image "Lusetti Family, Luzzara, Italy, 1953." Nothing about this image is unplanned; every element, every person, is precisely positioned by the photographer. In fact, look at the image too long, and it loses its immediacy. So too are we mesmerized by the compelling stare—and gorgeous tanned skin—of "Young Boy, Gondeville, Charente, France, 1951." Again, there is no way this is a grab shot; the boy is every bit a part of the process as was Strand.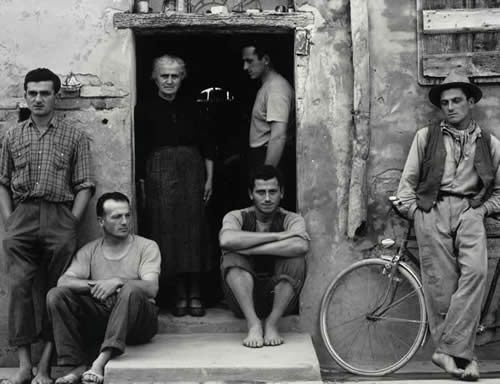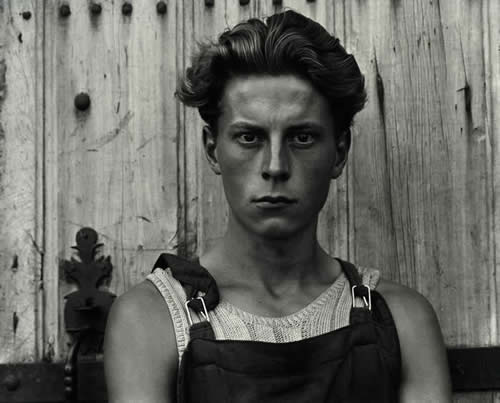 If Winogrand worked best on the fly, Strand worked most comfortably when in full control, as shown in these two images from Italy and France.
So how did Paul Strand become a "street photographer" in New York, making such classic images as "Blind Woman, New York, 1916?"
By subterfuge.
Strand simply was too uncomfortable, too uninvolved, to stick a camera in anyone's face—even that of a blind woman. So he came up with a way to compose his pictures leisurely, on his own terms, by stealth.
Philadelphia reviewer Pamela J. Forsyth observed: "…as a young photographer making street portraits in New York City, Strand resorted to trickery: He carried two cameras, one a decoy, the other up his sleeve, to surreptitiously capture subjects after they tired of observing him and resumed whatever they were doing.…One of this series is among Strand's best known images: an obviously sightless woman wears a sign around her neck that reduces her to her handicap, "Blind." In the 1930s, Strand used a similar tactic in Mexico: Employing a camera with a prism attached to the lens, he photographed the scene off to one side."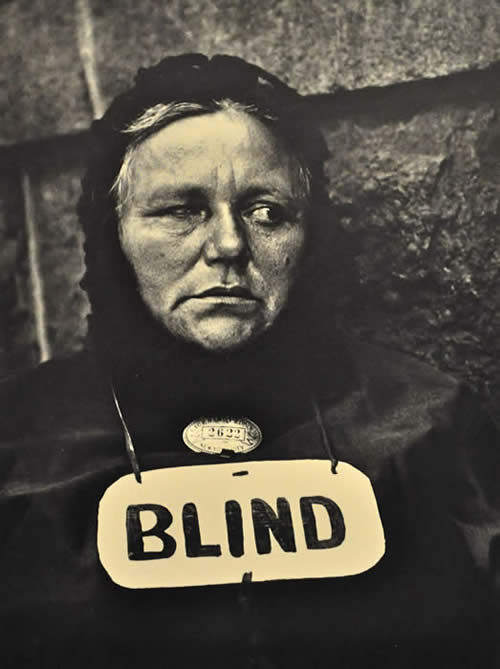 One of Paul Strand's most famous images--and he was not even looking at his subject.
Certainly, Strand was not the only photographer to resort to such legerdemain. Such noted early 20th century photographers as Walker Evans and Helen Leavitt did it too.
But to my mind this technique borders on the fey and the foolish. Writing in 2007 on Strand's "Blind" image, critic Mark Willis (who noted then that he himself was visually impaired) called what Strand did "a kind of hiding."
"He certainly did not engage the subjects of his photographs. It reflects the ethical immaturity of Paul Strand as a young man and of photography as a young art form."
I agree. In fact it is Garry Winogrand's polar opposite technique—prowling the streets like a Leica-toting leopard—but one with a big grin and an impossible-not-to-ignore open manner—that appeals to me as a photographer, as a documentarian, as a journalist. It's simply more honest—and, I submit, it gets better results.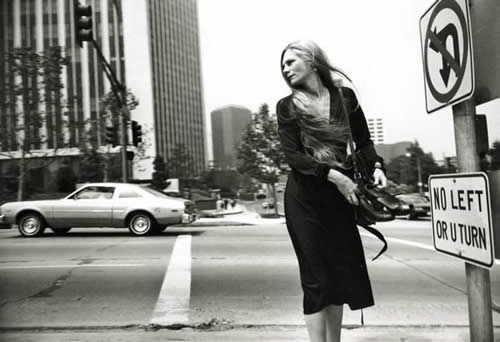 Made shortly before his death, this image in Los Angeles reflects Winogrand's love for photographing beautiful women, and his genius for capturing a perfect gesture on the fly.
Winogrand—like great contemporary street shooters Bruce Gilden (b. 1946) and others—knew the counterintuitive magic of open concealment. Rather than lurk at the corners of an emerging photo, hoping not to be noticed, Winogrand marched right into it, smiling with a camera to his eye. Watch movies of him walking along Manhattan's streets making frame after frame and marvel that no one seems to care.
Was this just the reflection of an earlier, simpler, time? No. Gilden is still shooting his heart out in New York and around the world—most often with a small handheld flash—and finds, too, that most people simply ignore him as they get on with their lives.
Garry Winogrand emboldened a generation of photographers, myself included, to be fearless in their photography. The great liberation is that most people either do not care about you as you work, or even are flattered at your attention.
Work like this on the street and the results will be reflected in your contact sheets or on your viewing screen. For that reason, though Paul Strand may be one of my icons, Garry Winogrand is one of my heroes.
Final note: In the massive catalog to the Garry Winogrand show, photographer Tad Papageorge writes of his adventures prowling NYC photographing with Garry Winogrand. In addition, he offers what to me is a simply marvelous picture of two of my heroes, caught by the phones at New York's Museum of Modern Art in 1967. Garry Wingrand is on the left. Bending over her notes on the right is Diane Arbus.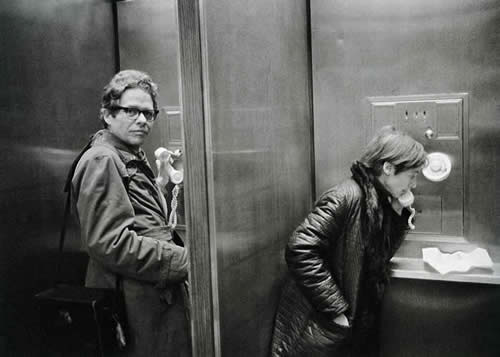 © Tad Papageorge
-----
Lubec Photo Workshops at SummerKeys, Lubec, Maine -- Summer, 2015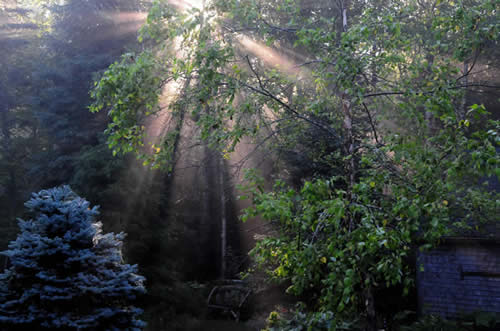 Daunted by Rockport??
Spend a week of hands-on learning and location photography with award-winning husband and wife photographer-authors Frank Van Riper and Judith Goodman. Frank and Judy will cover portraiture, landscape and documentary photography during morning instruction, followed by assignments in multiple locations including Quoddy Head State Park, Campobello Island, NB and the colorful town of Lubec itself. Daily critiques and one-on-one instruction. NO entrance requirement. Minimum age for attendance is 16. Maximum number of students each week is nine. Students supply their own digital camera.
The Lubec Photo Workshops debuted in 2009 and were a huge success for their low-key, no-pressure atmosphere. Classes fill early.
New 2015 workshop dates are: July 6-10; July 20-24; August 3-7; August 17-21.
Tuition payable through the SummerKeys Music Workshops: www.SummerKeys.com
Or contact us: GVR@GVRphoto.com
Come photograph in one of the most beautiful spots on earth!
-----------------
Unseen Serenissima:
The Venice in Winter Photo Workshop
January 10-16, 2015 (space still available)
Follow in our footsteps, visiting some of the same places that we photographed for our bestselling book--well off the beaten path and wonderful to shoot. There will be early morning and late-night photo excursions, visits to places tourists rarely travel (the public gardens, I Giardini, the vibrant open market La Pescaria, charming wine bars and enoteche.) We also will visit local artisans in their studios, some of the world's great museums, as well as favorites like Piazza San Marco and the Doge's Palace. NOTE: participants also will have free time during the week to wander this magical place on their own. We will provide what we think is the best tourist map to help navigate--as well as a one-week vaporetto pass for travel on Venice's ubiquitous water buses.
Following are the key details (subject to change):
1. Dates: Jan. 10-16, 2015
2. Cost $4200 per person
3. What's included: First class hotel lodging in Venice, all breakfasts, welcome dinner, week-long no-limit vaporetto pass, private instruction and tours, regular critiques at the hotel.
Note: The 2014 tour filled almost immediately and this tour already is filling. To receive more information about the Serenissima workshop, or to be placed on our waiting list, please contact: GVR@GVRphoto.com, or go to <www.veniceinwinter.com>
Grazie mille!
The Umbria Photo Workshops:
October 10-16, 2015
(waiting list available)
Join internationally acclaimed husband and wife photographers Frank Van Riper and Judith Goodman for weeklong photographic workshops under glorious Fall skies in one of Italy's most beautiful regions. Note: Workshops are limited to only six participants and include lodging at the spacious and inviting Villa Fattoria del Gelso in Cannara.

Frank and Judy, authors of the award-winning book Serenissima: Venice in Winter, will share their image-making techniques with a small group during a simpatico, low-key week covering everything from landscape photography in the verdant hills of Umbria, to nighttime photography using available and artificial light, to location portraiture in Umbria's closely held olive fields and vineyards.
Small class size assures individual critique and instruction.
Participants will travel by guided excursion to several of Umbria's storied hill towns, including Montefalco, Bevagna and Assisi, and receive individual attention during daily critiques.
Package includes six nights in the fully restored 18th century villa Fattoria Del Gelso in Cannara, located on a 40-hectare working farm literally walking distance from colorful shops and restaurants and centrally located in the shadow of Assisi.
This is a trip designed for relaxed learning and sightseeing via foot, bicycle and van, taught by two experienced location photographers whose work has been exhibited in and acquired by major museums in the United States. Frank and Judy are molto simpatico teachers who will turn your photographic vacation into a once-in-a-lifetime adventure.
Fee includes villa accommodations, all breakfasts, daily wine and antipasto Happy Hour, welcome and farewell dinner, pizza night, transportation by private van. No entrance requirements beyond a love of photography, good food and fine wine. For details: go to http//:www.experienceumbria.com or contact us directly at GVR@GVRphoto.com
Van Riper Named to Communications Hall of Fame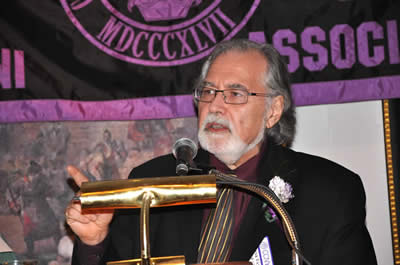 Frank Van Riper addresses CCNY Communications Alumni at National Arts Club in Manhattan after induction into Communications Alumni Hall of Fame, May 2011. (c) Judith Goodman

[Copyright Frank Van Riper. All Rights Reserved. Published 11/14]