Pre-publication notice: 2015 Maine photo workshop dates!
(see below)
Finally: A Place for Program Mode
The rare times when 'Manual' may not be best

By Frank Van Riper
Photography Columnist
Program Mode is the automatic transmission of photography.
In the old days, anyone driving a car had to be familiar with using both a clutch and a gearshift in order to go smoothly down the road. Learning the process of gently letting out the clutch while engaging, say, second gear often produced a series of frog-like jumps: embarrassing, especially if there were cars behind you, or terrifying if you were on a hill.
But sooner or later one mastered this technique and found going from first-to-second-to-third gear a snap, and seemingly as natural as sliding behind the wheel in the first place.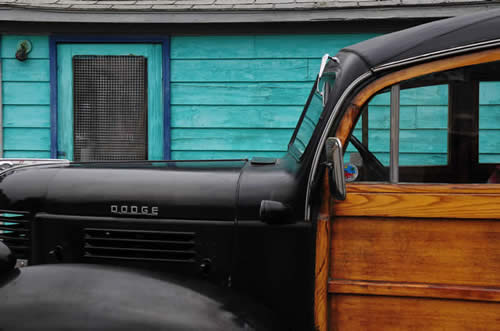 This glorious old woodie never heard of automatic transmission. I made the photo this summer in Eastport, Me., during one of our workshops. © Frank Van Riper
Of course, the appeal of automatic transmission, especially in the United States, is that it presents one less thing to worry about when driving. Just turn the ignition and go. This explains why driving schools here find that young people are, in fact, not eager to learn how to drive a stick: most just want to learn the basics, get their license and drive.
[Interesting statistic: in the US as of last year, more than 93% percent of all cars came with automatic, versus just 20% in Europe. Thus huge disparity may reflect the common belief that diving a stick is more fuel-efficient—and that gas in Europe costs a fortune. Although advances in automatic transmissions are narrowing the fuel-efficiency gap, the fact remains that, if you want to rent a car overseas, you probably should know how to drive a stick.]
Just as an automatic transmission does all the thinking for you when it comes to shifting your car's gears, in photography Program Mode happily does the same for you when it comes to making pictures. An amazing series of computer algorithms already programmed into your camera will control both shutter speed and aperture (clutch and gear shift, if you will) depending on shooting conditions.
A remarkable bit of technology—when it works.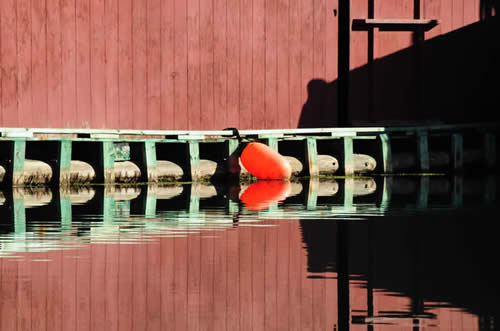 Floating buoy at Head Harbour, Campobello, NB. Extremely bright conditions were made for Program Mode. © Frank Van Riper
And there's the rub: it doesn't always. In fact, I believe Program Mode is, on balance, more of a hindrance than a help to making good photographs.
Over all the years that my wife Judy and I have been teaching photography—in Washington, DC, Maine, and in Italy—we always recommend that our students shoot in Manual Mode, i.e.: setting their shutter speed and aperture manually, using their camera's exposure meter to guide them. This forces them to do the thinking about lighting conditions and exposure, and not leave this important part of being a photographer to their cameras' on-board computers. Where some of our fellow workshop teachers and colleagues do allow the use of Aperture Priority in their classes—in which at least one variable (aperture) is set by the student, Judy and I are bears about having our students master the joys (and conquer the frustrations) of setting everything by themselves.
It's like driving a stick, we often would say: you simply are more in control of your final image. (Stick shift enthusiasts would say you feel more at one with the road and therefore, more in control of your driving.)
The benefit of this degree of control invariably becomes evident when students realize that the "correct" exposure set by automatic modes, especially Program, often don't produce the most pleasing exposure, or the one that the student eventually prefers.
We love telling students to bracket their exposures by as much as two stops on either side of their camera's "correct" exposure meter setting and see how the overexposed or underexposed image looks to them. Many amateurs do this guiltily—as of they were breaking the rules or somehow doing something they shouldn't. That's when I tell them that the only rule in photography is that there are no rules.
"Breaking" the rules of automatic exposure lets students see how richly saturated colors can become when underexposed—or how, especially when Judy uses her distorting LensBaby on her Nikon D90, a degree of overexpsoure can turn a photo into something lovely and surreal.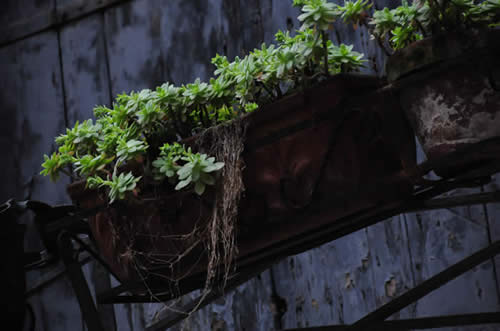 On an overcast day in Venice, this window box offered up gorgeous green plants--when they were ever-so-slightly underexposed in Manual Mode to bring out their color. © Frank Van Riper
This is not to say that there are never times when the auto modes can work. If nothing else, making a photo in Program Mode can give you a good baseline exposure from which to fine-tune your image in Manual. But this presupposes that you are not shooting on the fly, or that you have plenty of time to play with exposure.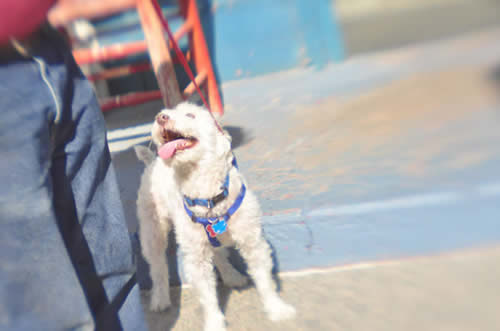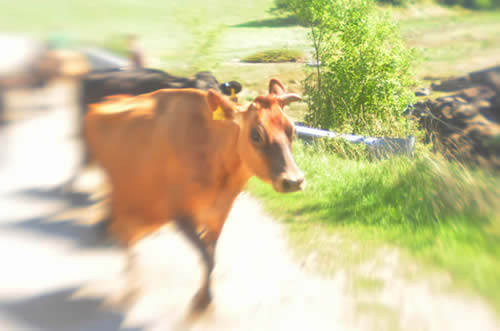 Slight overexposure in Manual, combined with distortion of a LensBaby lens, gives these two animal photos a wonderfully surreal quality. © Judith Goodman
In low-light situations especially, I have found that Program Mode shooting can produce some remarkably good photographs, especially at high ISOs. But this is largely a function of the tremendous light-gathering power of today's DSLR and point and shoot camera sensors.
Simply put, today's digital sensors can "see in the dark" better than film ever could. A Program mode photo will not, I find, give you a totally accurate depiction of a dark scene before you, but, rather, a depiction of an appreciably lighter one—that oftentimes is what you had hoped to get in the first place.
This happened to me just recently in Maine as I was photographing with one of our workshop classes in a darkened garage. The owner, a car buff, was showing off his 1937 Ford as the great bulbous beast loomed impressively in the shadows of the building.
Looking to record the car's wonderful front grille, I set my P&S Canon G12 on Program, hiked the ISO to 3200, shot from a low angle, and hoped for the best. The best is what I got: a shot of the grille that frankly was lighter than what was before my eyes, yet one that beautifully captured all the car's sensuous lines. Shooting this way I managed to get great shadow detail—as well as great shadows.
Score one for Program.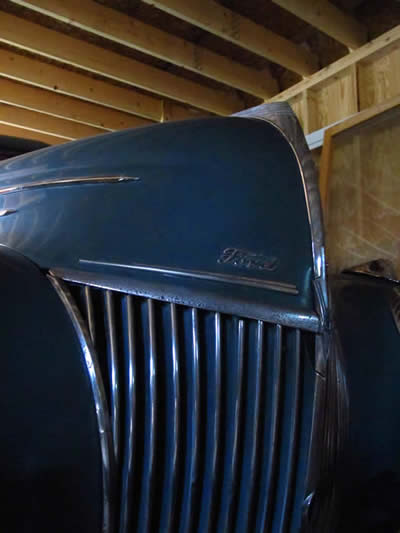 I am chagrined to call this a grab shot. But that's what it was: ridiculously high ISO of 3200 and Program Mode, shot from below. Pic was rendered lighter than normal, which was fine. © Frank Van Riper
During that same workshop this past summer, Program Mode served me well again—and, frankly, saved me a lot of agita fiddling with exposures, this time under extremely bright conditions.
Our friend (and former student) Brian graciously took out our class (including his wife Donna, her sister Gail and their friend Richard) in his Boston Whaler to photograph in the waters off Head Harbour on Campobello Island, New Brunswick in glorious late afternoon light. The skies were awash in puffy white clouds; the surrounding sky was a deep, deep blue.
The lowering sun cast raking light across everything, including the island's beautiful East Quoddy Lighthouse. Because of the brightness of the light coming not only from above but also from reflected light off the water, I again opted for Program Mode. And here I experienced the opposite of what happened in the vintage car garage. Program Mode gave me an ever-so-slightly underexposed image (from reading the dominant and very bright clouds) that actually brought down the value of the clouds to create a strikingly dramatic image that I liked—and that better reflected the mood I felt from the scene.
This worked even better when I said "what the hell" and started shooting directly into the sun, just to see what I would get. As I thought, the lighthouse was rendered in silhouette, but I was pleased to see that the starburst effect of the direct sun did not blow out the entire image, but instead became one more compositional element in the frame.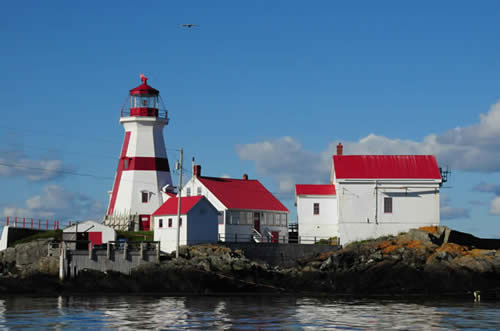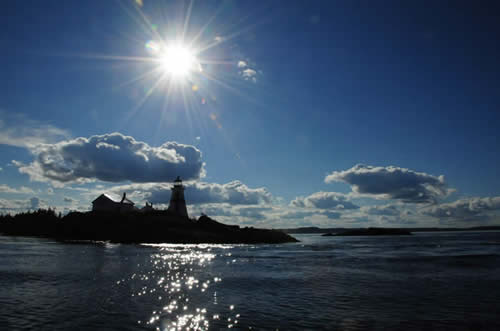 In very bright sun combined with bright reflected light, Program Mode can offer a good choice since it tends to underexpose and increase the drama. © Frank Van Riper
This is a second case where Program Mode may, in fact, have been the best mode.
None of which changes Judy's and my core belief that shooting in Manual is, by far, the best way to make photographs under most circumstances. Still, if I were to make "Manual-only" a hard-and-fast rule, it would violate my equally strong belief that in photography there are no rules—only what works for you at a given time.
-----
Lubec Photo Workshops at SummerKeys, Lubec, Maine -- Summer, 2015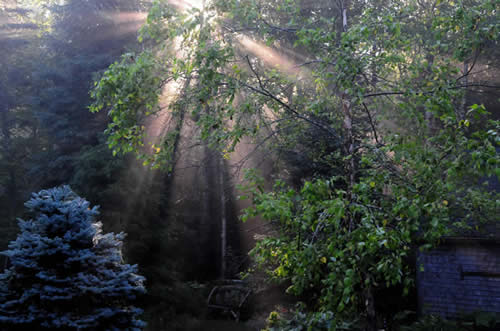 Daunted by Rockport??
Spend a week of hands-on learning and location photography with award-winning husband and wife photographer-authors Frank Van Riper and Judith Goodman. Frank and Judy will cover portraiture, landscape and documentary photography during morning instruction, followed by assignments in multiple locations including Quoddy Head State Park, Campobello Island, NB and the colorful town of Lubec itself. Daily critiques and one-on-one instruction. NO entrance requirement. Minimum age for attendance is 16. Maximum number of students each week is nine. Students supply their own digital camera.
The Lubec Photo Workshops debuted in 2009 and were a huge success for their low-key, no-pressure atmosphere. Classes fill early.
New 2015 workshop dates are: July 6-10; July 20-24; August 3-7; August 17-21.
Tuition payable through the SummerKeys Music Workshops: www.SummerKeys.com
Or contact us: GVR@GVRphoto.com
Come photograph in one of the most beautiful spots on earth!
-----------------
Unseen Serenissima:
The Venice in Winter Photo Workshop
January 10-16, 2015 (space still available)
Follow in our footsteps, visiting some of the same places that we photographed for our bestselling book--well off the beaten path and wonderful to shoot. There will be early morning and late-night photo excursions, visits to places tourists rarely travel (the public gardens, I Giardini, the vibrant open market La Pescaria, charming wine bars and enoteche.) We also will visit local artisans in their studios, some of the world's great museums, as well as favorites like Piazza San Marco and the Doge's Palace. NOTE: participants also will have free time during the week to wander this magical place on their own. We will provide what we think is the best tourist map to help navigate--as well as a one-week vaporetto pass for travel on Venice's ubiquitous water buses.
Following are the key details (subject to change):
1. Dates: Jan. 10-16, 2015
2. Cost $4200 per person
3. What's included: First class hotel lodging in Venice, all breakfasts, welcome dinner, week-long no-limit vaporetto pass, private instruction and tours, regular critiques at the hotel.
Note: The 2014 tour filled almost immediately and this tour already is filling. To receive more information about the Serenissima workshop, or to be placed on our waiting list, please contact: GVR@GVRphoto.com, or go to <www.veniceinwinter.com>
Grazie mille!
The Umbria Photo Workshops:
October 11-17, 2014
(waiting list available)
Join internationally acclaimed husband and wife photographers Frank Van Riper and Judith Goodman for weeklong photographic workshops under glorious Fall skies in one of Italy's most beautiful regions. Note: Workshops are limited to only six participants and include lodging at the spacious and inviting Villa Fattoria del Gelso in Cannara.

Frank and Judy, authors of the award-winning book Serenissima: Venice in Winter, will share their image-making techniques with a small group during a simpatico, low-key week covering everything from landscape photography in the verdant hills of Umbria, to nighttime photography using available and artificial light, to location portraiture in Umbria's closely held olive fields and vineyards.
Small class size assures individual critique and instruction.
Participants will travel by guided excursion to several of Umbria's storied hill towns, including Montefalco, Bevagna and Assisi, and receive individual attention during daily critiques.
Package includes six nights in the fully restored 18th century villa Fattoria Del Gelso in Cannara, located on a 40-hectare working farm literally walking distance from colorful shops and restaurants and centrally located in the shadow of Assisi.
This is a trip designed for relaxed learning and sightseeing via foot, bicycle and van, taught by two experienced location photographers whose work has been exhibited in and acquired by major museums in the United States. Frank and Judy are molto simpatico teachers who will turn your photographic vacation into a once-in-a-lifetime adventure.
Fee includes villa accommodations, all breakfasts, daily wine and antipasto Happy Hour, welcome and farewell dinner, pizza night, transportation by private van. No entrance requirements beyond a love of photography, good food and fine wine. For details: go to http//:www.experienceumbria.com or contact us directly at GVR@GVRphoto.com
Van Riper Named to Communications Hall of Fame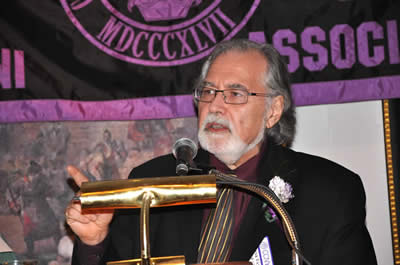 Frank Van Riper addresses CCNY Communications Alumni at National Arts Club in Manhattan after induction into Communications Alumni Hall of Fame, May 2011. (c) Judith Goodman

[Copyright Frank Van Riper. All Rights Reserved. Published 8/14]