Waiting list availability for these great Workshops!
Venice in Winter Photo Workshop -- January 11-17, 2014
Umbria Photo Workshops -- October 11-17, 2014
see below for details
SummerKeys: That 70's Show
A low-key music workshop in a high-tech digital world

By Frank Van Riper
Photography Columnist
LUBEC, Maine--The old saying is that you can't argue with success, but that hasn't stopped some people from trying to persuade Bruce Potterton, the septuagenarian founder and director of the famed SummerKeys music workshops in Lubec, Maine, to get with the program and modernize.
Bruce, 78, a longtime concert pianist and teacher from New Jersey, began the SummerKeys workshops in this easternmost town in the United States 21 years ago, offering piano classes to adult students who wanted simply to immerse themselves in their music in one of the most beautiful settings on earth.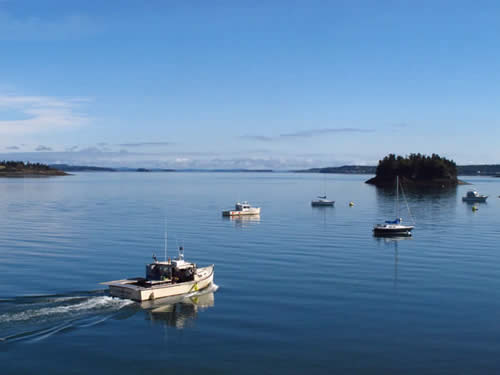 I dare you not to look at this view and relax. It's what folks in Lubec, Me., see every day from the town dock. Is it any wonder the music students love it here--not to mention our photo students?
© Frank Van Riper
Where once he had only 40-50 students showing up for week-long workshops in piano, today Bruce and SummerKeys welcome some 300 students each season—many of them longtime repeaters--studying not only piano, but violin, cello, viola, flute, voice, Celtic harp, music composition, clarinet, classical guitar, mandolin, trumpet and oboe—all taught by world-class musicians with impressive international credentials. (These same instructors perform each week at Lubec's Congregational Christian Church in concerts that are free and open to students and the public.)
And that's not all. For the past five years, my wife Judy and I have been part of the SummerKeys faculty. Not because we can play a note—we can't even read music—but because we direct the Lubec Photo Workshops at SummerKeys, the photographic equivalent of Bruce's low-key total immersion classes. Bruce asked us to partner with him in 2008 so that he could offer a non-music activity to the spouses, partners and companions of his music students. (A creative writing program is now also offered.)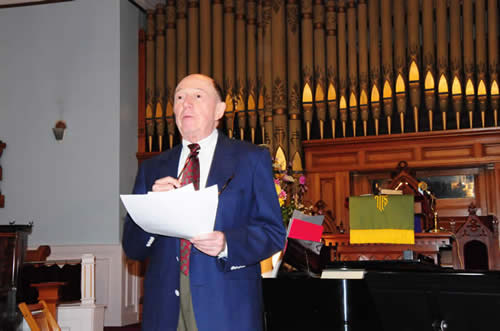 Bruce Potterton, founder and director of the SummerKeys Workshops, welcomes folks during a free summer faculty concert in Lubec's historic Congregational Christian Church. (Note the gorgeous organ in the back.) Church was built in 1820--when Beethoven and Franz Schubert were living. © Frank Van Riper
Credit Bruce for, in the parlance of today, knowing his market and reaching out to a new, non-musical, "consumer base." But anyone thinking that this diminutive, softspoken music teacher is a marketing dynamo would be mistaken.
In fact, Bruce told Judy this summer that he is happily ensconced in 1970 and likes it there just fine. He neither seeks nor accepts corporate funding. He views all social media with abhorrence—and asks his teachers not to use it to promote SummerKeys. There is no glitzy headquarters for the workshop offices—just an ordinary grey-shingled building on Bayview Street, fronted by a lovely garden that my wife put in years ago as a gift for our longtime friend.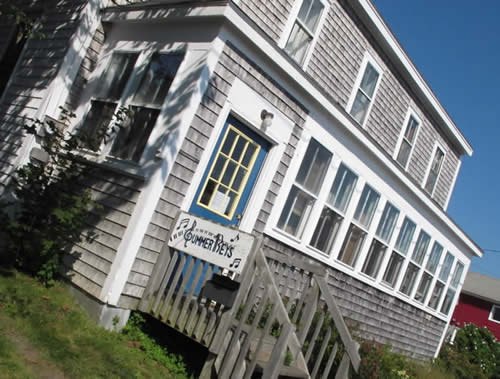 This is the Workshops' unassuming headquarters, overlooking Johnson Bay in Lubec. Students arrive Sunday evening to meet their instructors, then begin an intense week of instruction the following morning. © Frank Van Riper
Likewise there is no modern campus for the workshops. Bruce rents all kinds of space in this tiny New England town—once known for its herring fishery—where students can take classes and practice. The rooms can be charming—a front parlor in a Victorian home, for example, small one-piano practice cottages built by Lubecker Basil Woodward—or they can be, well, rustic: unfurnished rooms in the Christian Temple parsonage, or an unpainted garage fronting onto a driveway.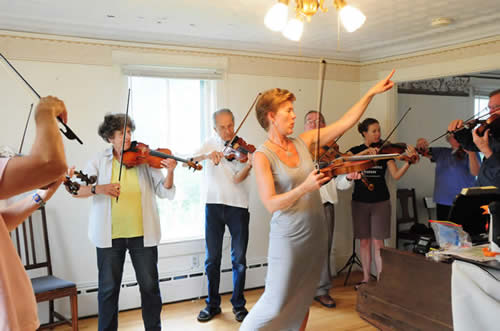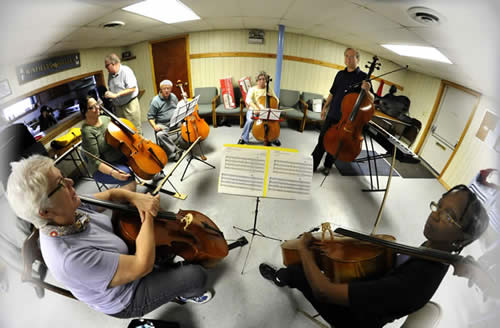 Viola master Margret Hjaltested exuberantly leads her violin workshop in the Christian Temple parsonage, while (below) cellist Joachim Voitun, standing right, poses with his charges in the meeting hall of the Masonic Lodge.
Top: © Frank Van Riper; Bottom: © Raymond Ao
But, judging from the number of repeat students every year—and from the affection all feel toward Bruce and his program—it all seems to work.
And that may be one reason Bruce Potterton likely would say, politely of course, to those seeking to "improve" the program he started: if it ain't broke, don't fix it.
There is a tendency nowadays to supersize, modify or otherwise "improve" already successful products and programs, all in the hope that this will increase that most hallowed of items: market share. In the business world, too, this can mean taking a small business and incorporating it to attract investors, and turning the reins over to a board of directors interested mostly—if not mainly--in the quick bottom line or in pleasing stockholders.
Talk like this—and there has been some of it regarding SummerKeys in the past few years--gives Bruce Potterton a stomachache.
Turning SummerKeys into a high-tech, results-oriented, music factory would be like Judy and me insisting that each of our photo students use only the latest, most complicated digital cameras during our workshops, and then having each spend hours before a computer screen tweaking the bejeezus out of his or her pictures before we even deigned to look at them. A regimen like this probably could command a hefty bit of corporate support from any number of software makers, and camera manufacturers seeking to foist their latest gizmo-laden products onto the public.
But in the process something precious would be lost: the one-on one personal instruction that Judy and I give to students of all abilities (we follow the SummerKeys rule of having absolutely no entrance requirements or portfolio reviews—something very rare among music schools.) More important, we would sacrifice the cardinal tenet of our photo workshop teaching: getting the picture right the first time, in the camera, by working only in manual mode.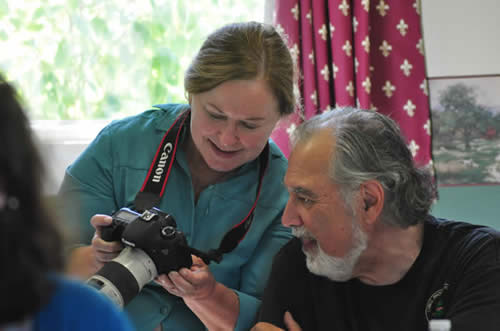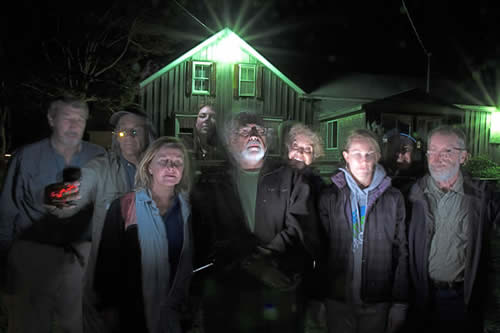 During a shoot among SummerKeys musicians, Judy caught me giving feedack to one of our students. Below, during a night shoot at the local cemetery among haphazard grave markers dating back to the 1780s, we made this ghoulish class pic just for grins.
Success like this, be it in photography or music, only comes by putting in the hours. Decades ago, when believe it or not the great piano virtuoso Murray Perahia and I went to the same grammar school in the Bronx, I asked him the secret of playing well. (I was playing the accordion back then, terribly.)
"You really do have to practice," Murray said to me.
"Shit!" I observed.
Years later, as I was photographing the author Stephen King for my book on Down East Maine, King put a fresh perspective on this. When doing something you love, he said—writing, photographing, playing music, playing first base—the whole concept of practice becomes meaningless since it no longer is work, but exquisite pleasure. No matter if your sentences are awkward, your photos underexposed, your musical phrasing poor; you are doing what you love for the sheer joy of it.
You feel rewarded and fulfilled at whatever level you perform, and eventually, inevitably, you will improve.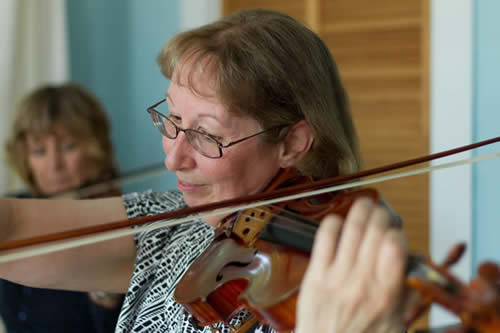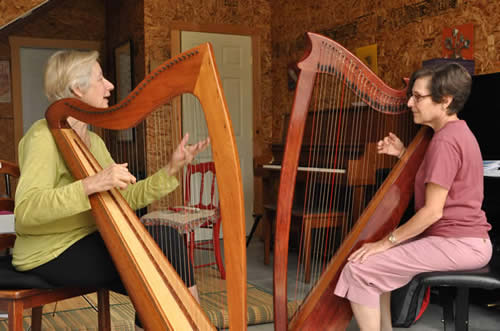 Portrait of serenity as a violinist immerses herself in her instrument. Below, dueling Celtic harps as instructor Sue Richards, left, gently coaches her student.
Top © Ken Goldman; Bottom © Tom Simpson
That, above all perhaps, is what strikes Judy and me every year that we teach at SummerKeys. Nobody is here because they have to be; they are here because they want to be, in a comfortable, homey atmosphere where most folks put away their cell phones and rarely check their e-mail. At the end of every workshop week, in the ancient Congregational Christian Church (built in 1820—when Schubert and Beethoven were alive) there is a final "performance class" in which everyone is urged to play something they have worked on during the week.
Some of the music is wonderful. Some of it is not. But applause thunders in the sanctuary throughout the evening to reward all who have made this effort in their labor of love.
For further information about SummerKeys, go to www.Summerkeys.com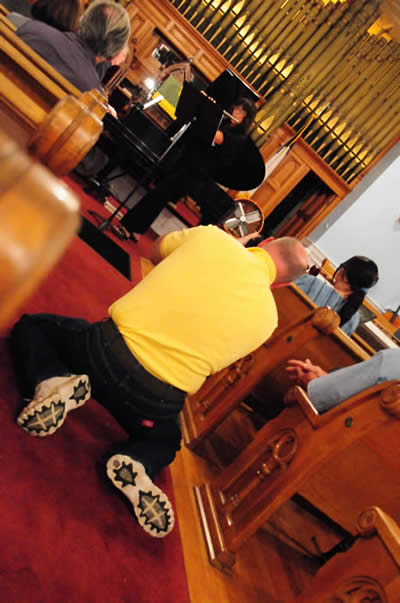 A SummerKeys two-fer: Flutist Barb Mullen performs during a Friday performance class after her week of music study while her husband Mike, one of our photo students, shoots it all for posterity.
© Frank Van Riper
Unseen Serenissima:
The Venice in Winter Photo Workshop
January 11-17, 2014 (fully booked; waiting list available)
Follow in our footsteps, visiting some of the same places that we photographed for our bestselling book--well off the beaten path and wonderful to shoot. There will be early morning and late-night photo excursions, visits to places tourists rarely travel (the cemetery island of San Michele, for example; the public gardens, I Giardini, the vibrant open market La Pescaria, charming wine bars and enoteche.) We also will visit local artisans in their studios, some of the world's great museums, as well as favorites like Piazza San Marco or the Doge's Palace. NOTE: participants also will have free time during the week to wander this magical place on their own. We will provide what we think is the best tourist map to help navigate--as well as a one-week vaporetto pass for travel on Venice's ubiquitous water buses.
Following are the key details (subject to change):
1. Dates: Jan. 11-17, 2014
2. Cost $3,500 per person
3. What's included: First class hotel lodging in Venice, all breakfasts, three meals (welcome and farewell dinner and one lunch, probably on Murano or Burano) week-long no-limit vaporetto pass, private instruction and tours, daily critiques at the hotel.
Note: The 2013 tour filled almost immediately and this tour already is full. To receive more information about the Serenissima workshop, or to be placed on our waiting list, please contact: GVR@GVRphoto.com, or go to www.veniceinwinter.com
Grazie mille!
The Umbria Photo Workshops: October 11-17, 2014 (waiting list available)
Join internationally acclaimed husband and wife photographers Frank Van Riper and Judith Goodman for weeklong photographic workshops under glorious Fall skies in one of Italy's most beautiful regions. Note: Workshops are limited to only six participants and include lodging at the spacious and inviting Villa Fattoria del Gelso in Cannara.

Frank and Judy, authors of the award-winning book Serenissima: Venice in Winter, will share their image-making techniques with a small group during a simpatico, low-key week covering everything from landscape photography in the verdant hills of Umbria, to nighttime photography using available and artificial light, to location portraiture in Umbria's closely held olive fields and vineyards.
Small class size assures individual critique and instruction.
Participants will travel by guided excursion to several of Umbria's storied hill towns, including Montefalco, Bevagna and Assisi, and receive individual attention during daily critiques.
Package includes six nights in the fully restored 18th century villa Fattoria Del Gelso in Cannara, located on a 40-hectare working farm literally walking distance from colorful shops and restaurants and centrally located in the shadow of Assisi.
This is a trip designed for relaxed learning and sightseeing via foot, bicycle and van, taught by two experienced location photographers whose work has been exhibited in and acquired by major museums in the United States. Frank and Judy are molto simpatico teachers who will turn your photographic vacation into a once-in-a-lifetime adventure.
Fee includes villa accommodations, all breakfasts, daily wine and antipasto Happy Hour, welcome and farewell dinner, pizza night, transportation by private van. No entrance requirements beyond a love of photography, good food and fine wine. For details: go to http//:www.experienceumbria.com or contact us directly at GVR@GVRphoto.com
Van Riper Named to Communications Hall of Fame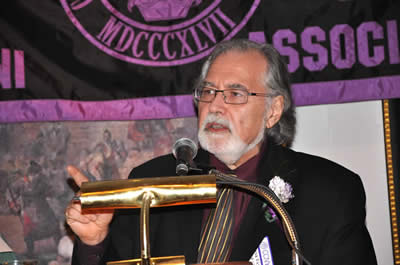 Frank Van Riper addresses CCNY Communications Alumni at National Arts Club in Manhattan after induction into Communications Alumni Hall of Fame, May 2011. (c) Judith Goodman

[Copyright Frank Van Riper. All Rights Reserved. Published 8/13]