2019 Lubec photo workshops summer dates below
ALSO: Join me in Umbria in October, 2019 (below)
A Dead Heat in 'Dead Heat'
How a finish line traffic jam produced my best sports shot

By Frank Van Riper
Photography Columnist
Let me say up front: I am not a sports photographer.
I barely could carry a lens-cleaning cloth for people like my friend and colleague David Burnett, who never met an Olympics he didn't crush. Or the Washington Post's John McDonnell, whose storytelling images from any playing field are at once poetic and balletic. Or my late great friend Harry Hamburg of the New York Daily News. (Harry and I covered Washington politics together—me as a writer, he as a photographer—for 20 years, but Harry also was known as a great sports shooter, especially in football and baseball.)
No, I am not a sports shooter. But damned if this summer I did not make what I suspect will be the best sports pic of my professional life: during the Bay of Fundy International Marathon, when local marathon legend Sarah Mulcahy, 33, won her fourth BoF marathon on a beautiful, if warm, day in Down East Maine.
And all because of a traffic jam at the finish line.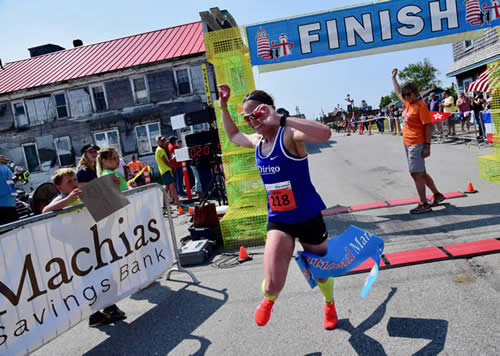 Everything works in this finish line pic of Bay of Fundy Marathon women's champion Sarah Mulcahy: composition, gesture, exposure. I'm just grateful there were no collisions at the end. © Frank Van Riper
The photo has immediacy, action and great gesture. I love how Sarah's arms are raised exultantly as she hits the finish line tape, just as race official Maureen Lord, who had been holding the tape with a colleague, mimics her movement in the background. Facing into the frame at left a little boy holds a sign saying "You Did It!!--nicely complementing the composition and directing our eye back to Sarah.
I made the shot with a skewed horizon to give it a greater sense of movement. But what makes the shot really work, I think, is that I am in the very center of the action, or rather, right where I should not have been.
And again, I blame the traffic jam.
Since its inception seven summers ago, the Bay of Fundy International Marathon has attracted runners from all over. [nb: for information on next year's race, as well as a ton of photos, go to https://bayoffundymarathon.com .] The race is run between the tiny town of Lubec, Maine and Campobello Island, New Brunswick, across a graceful arching international bridge that crosses the Lubec Narrows. One of the few major foot races that actually crosses an international border, Fundy's pre-registration and electronic chips in racing bibs allow runners to cross the US-Canada border unimpeded by Customs folks, who instead are out in force cheering them on.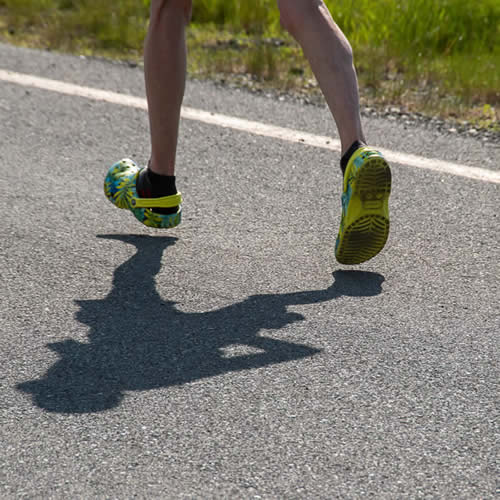 A Bay of Fundy runner caught in mid-stride: both feet in the air and full silhouette below. Over the years, some runners have done the race barefoot--but who runs in Crocs? © Lisa M. Dellwo
"I love the Bay of Fundy Marathon," Sarah Mulcahy told me in a post-race email. "Prior to moving to Fort Kent in August of 2018, we lived right in Downeast Maine. This was the one marathon where I could sleep in my own bed the night before."
"I know John Hough (the race director) very well, as well as (race official) Eric Mauricette and many others on the race committee. The only two years I did not run Fundy were in 2014 when I was 37 weeks pregnant with my daughter and although I had run Boston that year at 6 months pregnant with her, this was a little too close to her arrival…The other year I did not run was 2017, when I was recovering from a broken hip that occurred in January of 2017 when I was 31 weeks pregnant with my son. He arrived on St. Patrick's Day that year and I volunteered at Fundy again, this time announcing at the finish line as I was just getting back into running after my recovery."
Although she is a veteran of big marathons, like Boston's, Mulcahy much prefers the small town feel of the Fundy race, as well as others in her home state of Maine.
And small town feel certainly is what you get in Lubec and in Campobello.
My wife Judy and I have been coming to Lubec every summer for more than 30 years. We built a summer home there and now teach summer photo workshops in Lubec through the SummerKeys music workshops (www.summerkeys.com) .
We view Lubec as our little bit of heaven, despite its small size and limited shops and services. (Case in point: the nearest latte is 45 minutes away in Machias--at a Dunkin' Donuts.)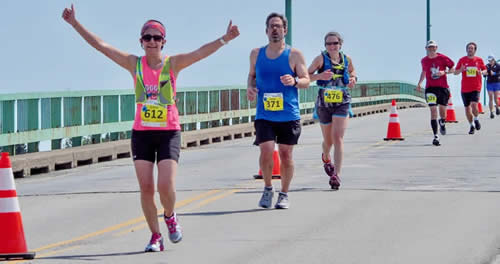 Marathon runners crossing the international bridge between Lubec, Me., and Campobello, NB. Pre-registration and electronic chips in their bibs let them cross border without stopping. © Jeanne Drews.
In the run-up to the Fundy Marathon, communities on both sides of the bridge mobilize. Local businesses contribute money and resources—as well as volunteers—and any who want to help are welcome. Years ago, Judy and I volunteered to coordinate photo coverage of the race, and every year I put together a team of local and "from away" photographers who roam the race course on both sides of the border making terrific pictures. This year's team included, besides Judy and me, Lisa Dellwo, and Dennis and Jeanne Drews of Lubec and Adam Gough from Dartmouth, Nova Scotia.
Once the various races are over (Marathon, ultra marathon, half-marathon, 10K, and kids' Fun Run) we all race back to our computers and upload hundreds of photos to the race website. That's our pro bono contribution. The pix are free to anyone to purchase at cost from Smugmug for personal use. Neither we nor the marathon makes a nickel.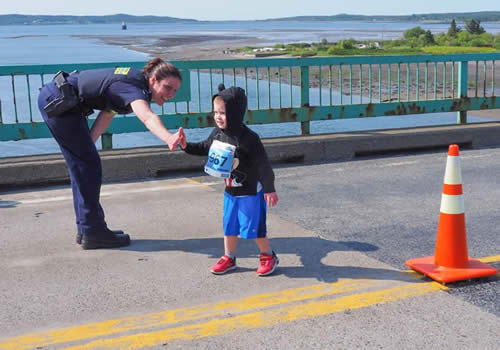 When I saw Dennis Drews' adorable pic of this Fun Run racer being high-fived by a Customs officer before turning the corner and heading back into Lubec, I assumed he was dressed as a Maine black bear. Nope, said Dennis: Mickey Mouse. © Dennis Drews
This year's marathon day, Sunday, June 23rd, was picture book beautiful: blue skies and puffy clouds and pleasantly warm temperatures. Judy and I were delighted. But as the morning wore on, even we were aware of the increasing heat.
It was what Sarah Mulcahy called "dead heat," that can sap strength and increase finish times.
"Yes, I have experienced dead heat like this before in other races," she noted. "Heat and I do not get along, as I fare much better in cold weather. The few marathons I have done in dead heat have resulted in a bonk around miles 20-22, where I usually finish the race with a run/walk/crawl to the finish."
"I was worried the whole weekend about the heat, but I knew going into this I was just running this as a training run. For the rest of this year, I have no marathon goals until the Olympic trials marathon in February." (Mulcahy has qualified for the trials, though she harbors no illusions about making the US Olympic Marathon Team, that will represent the U.S. in the summer games in Tokyo next year.)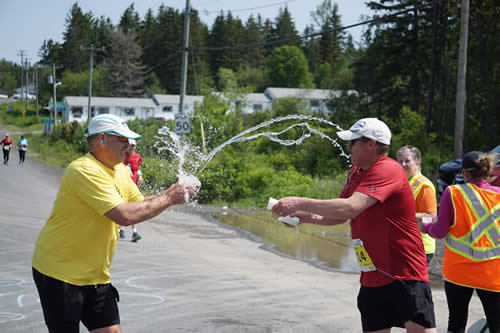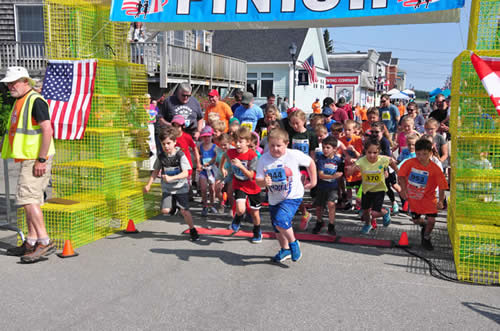 (Top) Yes, hydration is important during a marathon, but next time, maybe a little less gusto? © Adam Gough. (Bottom) It's a wise photographer who quickly gets out of the way when the Fun Run starts. © Judith Goodman
"My goal was to make the cut-off time and relish the experience of being at the Olympic marathon trials with all of the best marathon runners in the country… I am nowhere near where the top professional runners are in terms of fast marathon times. I am a mom and wife first, then a teacher and coach who runs…."
But that didn't mean that at this year's Fundy marathon Sarah was not going to try to do what she always seems to do: win the women's marathon going away. Which she did.
But not without some drama.
Some background: Judy and I both shoot the marathon in and around the finish line, on Lubec's Water Street. Judy tends to roam the town making pictures of racers and spectators while I (the ex-newspaper guy, remember) tend to stick to the finish line, within the gates, so I can shoot the finishers, especially the big winners like Mulcahy. Though I station myself on the course itself, I always stay to one side, to give runners a wide berth and no obstruction. And that worked fine every year, until this one.
Oh, I made a very nice side shot of men's (perennial) marathon winner Robert Ashby as he breasted the tape all by himself. But some eight minutes later, as Sarah Mulcahy came charging to the finish line to win the women's race something was very different.
In the distance, we (race officlals, timers, announcers, spectators) all could see that this year Mulcahy had company: a beefy guy in long pants, five o'clock shadow and a baseball cap who incongruously was heading to the finish line just as she was.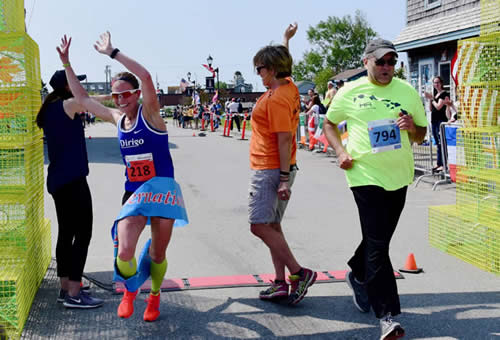 Hardly a second before I made my money shot of Sarah Mulcahy's winning finish I made this fun snap of the finish line traffic jam. © Frank Van Riper
Turns out the (as yet unidentified) runner was finishing the day's shortest race (aside from the kid's fun run): the 6.2 mile 10k. Only he happened to be finishing it at the same time Mulcahy was winning her long 26.2 mile marathon.
No matter what happened, I was going to photograph it. But for Maureen Lord, Lubec manager of race sponsor Bar Harbor Bank, and keeper of the finish line tape, the potential dead heat presented a real problem: how to let Sarah breast the tape for a win and not run into a guy who was giving his all just to finish his own race?
Quickly Maureen and her assistant decided to move over to Sarah's side of the course and hold taut a truncated version of the finish line tape just for her. But this meant I had to move almost to the center of the course in order to have a decent shot of Sarah. Which put me on a collision course with Mr.10k.
It all was over in seconds: Sarah hit the tape exultantly, whizzing past me to my left, but not before I was able to squeeze off two shots: one funny shot of Sarah and the other guy hitting the finish at the same time, the other the money shot of Sarah alone. Happily, the10k guy ran by me on my right, and I have not seen him since.
Postscript: I put my shot of Sarah up on Facebook, along with the front page of the local paper, the Quoddy Tides, that ran the pic big on its front page.
Maureen Lord commented: "I remember looking at you with skepticism and you said 'I got it.' "
"Enough said: You got it…"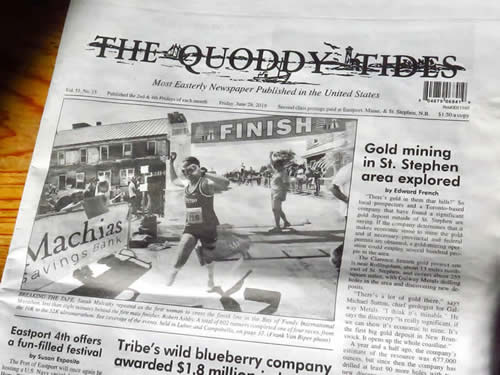 Even with more than 50 years in the news biz, seeing my stuff in print never gets old.
-0-0-0-0-0-
Lubec Photo Workshops at SummerKeys, Lubec, Maine -- Summer, 2019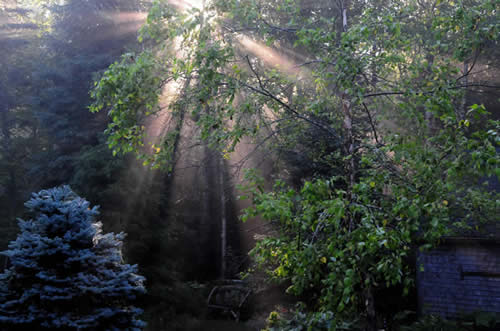 Daunted by Rockport??
Spend a week of hands-on learning and location photography with award-winning husband and wife photographer-authors Frank Van Riper and Judith Goodman. Frank and Judy will cover portraiture, landscape and documentary photography during morning instruction, followed by assignments in multiple locations including Quoddy Head State Park, Campobello Island, NB and the colorful town of Lubec itself. Daily critiques and one-on-one instruction. NO entrance requirement. Minimum age for attendance is 16. Maximum number of students each week is nine. Students supply their own digital camera.
The Lubec Photo Workshops debuted in 2009 and were a huge success for their low-key, no-pressure atmosphere. Note: Classes fill early.
2019 workshop dates: July 15-19; July 29-August 2
Tuition payable through the SummerKeys Music Workshops: www.SummerKeys.com
Or contact us: GVR@GVRphoto.com
NEW: Master Photo Classes with Frank Van Riper
These intense, three-day, limited enrollment classes are aimed at the more advanced student, who already has taken a photo workshop and who is familiar with basic flash. With a maximum enrollment of just five, these classes are nearly half the size of our regular workshops. NB: last summer's Master Classes were fully booked almost immediately.
2019 Master Photo Class dates:July 22-24; August 5-7
Come photograph in one of the most beautiful spots on earth!
-0-0-0-0-0-
ONLY ONE SLOT LEFT! JOIN ME FOR THE 2019 UMBRIA PHOTO WORKSHOP, October 12-18, 2019
This popular workshop always fills. Maximum number of students is seven. Anyone interested should contact me immediately: GVR@GVRphoto.com
More details here:
http://gvrphoto.com/wp/?page_id=82
-----------
Van Riper Named to Communications Hall of Fame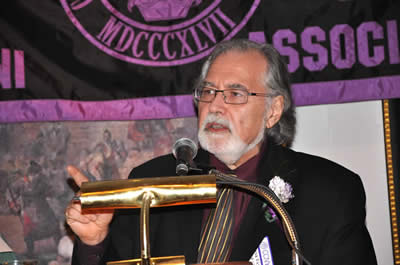 Frank Van Riper addresses CCNY Communications Alumni at National Arts Club in Manhattan after induction into Communications Alumni Hall of Fame, May 2011. (c) Judith Goodman

[Copyright Frank Van Riper. All Rights Reserved. Published 5/19]