Remember this Forever: It's All Trump's Fault
Dealing with the most incompetent president in history

By Frank Van Riper
Photography Columnist
My contempt for Donald Trump continues and deepens.
As Americans keep dying all across the country from the rampant COVID-19 coronavirus--and despite heroic efforts by medical people that finally are having beneficial effect--we must never lose sight that virtually all of this could have been avoided had the ignoramus in the White House listened to people whose IQ's were way higher than that of this "very stable genius."
The facts are clear that after he took office, Trump and his "drain the swamp" minions decimated much of the federal response mechanism for dealing with any pandemic. But that was mere prologue to Trump's stubborn refusal months ago to act on multiple reports from within the federal government and his own administration that a specific virus, the novel coronavirus, was real and not, as he termed it at a campaign rally earlier this year a Democratic 'hoax.'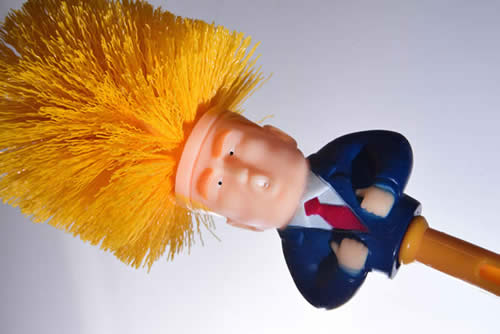 Trump toilet brush portrait…two portable flash units at work here: one aimed at a blank wall to create a blown-out background glow; main light with snood used to direct dramatic light at Trump's face. All photos © Frank Van Riper
Trump thereby squandered precious time. He also bungled the federal government's response to the pandemic by refusing to exercise his executive powers to the fullest, and, most egregiously, blathered in public about patently harmful miracle cures that were never to happen.
This prompted Pulitzer-prize winning journalist and pandemic-watcher Laurie Garrett to say of Trump last week: he was "the most incompetent, foolhardy buffoon imaginable."
Someday--sooner, rather than later, I hope--Donald Trump will rot in hell for the blood on his hands and for triggering (and now owning) the new Trump Depression. But before that, there is November...
[Note: to those looking here for comment and talk about photography, that counsel today will be in the picture captions. Behold the Donald Trump toilet brush, given to us by our son Bill Goodman. It is the perfect symbol of this godawful administration. I have photographed this brush using variations of studio lighting, achieving different looks with minimal equipment. Check out the captions for details.]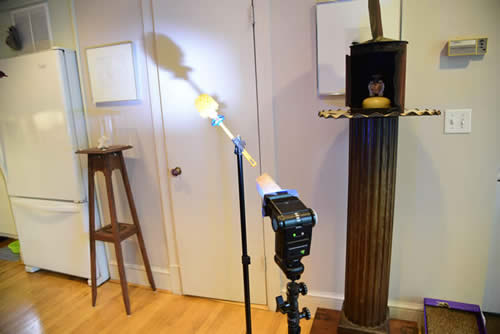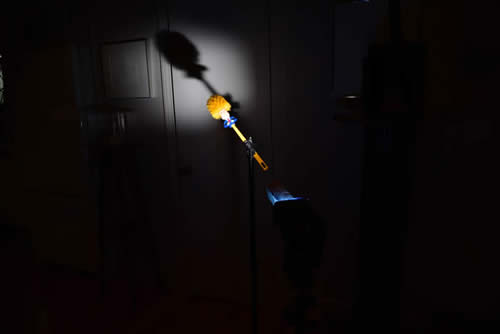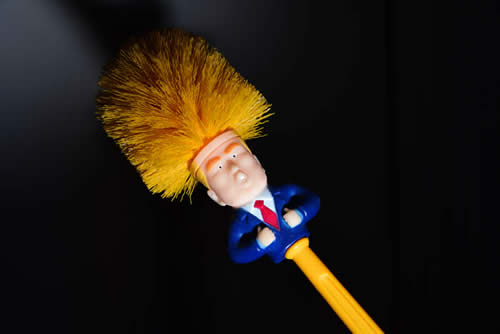 Setup is easy: two light stands, one to hold the brush at an angle, a second to hold a wireless controlledVivitar 285 with toilet roll snood. First shot shows the setup shot by available light, second, when exposing only for the flash, totally dropping out the background. Third is the money shot. Note how slight flare from flash lightens upper left slightly to add visual interest and modeling.
Were we not in such horrific times, it would be amusing to count how many different scapegoats Trump has come up with since COVID-19 hit the fan: (Democrats, Obama, the World Health Organization—and, of course his current favorite.)
"Nobody except one country can be held accountable for what happened, " Trump declared the other day. "We're looking at a group of people that should have stopped it at the source." Trump, of course, was referring to China, not to himself.
"That's because for Trump, nothing that goes wrong is ever his fault," wrote political consultant Elizabeth Spiers in the Washington Post. "And in fact, nothing that can go wrong is even his job. This is partly a function of the president's personal rejection of even minimal accountability, but it's also rooted in a long-standing principle among Republicans that government solutions should be last resorts and the business of governing should be outsourced to actual businesses. Trump's refusal to govern during the pandemic isn't just ineptitude; it's ideology, and he's not the only one who embraces it…."
However lax China might have been in reporting fully on the initial extent of the outbreak there, and no matter how hard he tries to spin it otherwise, Trump knew full well, not only of the dangers of a pandemic in general —but of the specific danger of the COVID-19 outbreak in China—months before he acknowledged it publicly.
In fact, Trump chose to ignore this advice and roll the dice, apparently assuming that he could bullshit his way out of trouble while people around the world and in his own country were starting to die in catastrophic numbers. (This is the same president, remember, who predicted the virus would disappear like a "miracle" once the weather got warmer.)
Writing in the Washington Monthly online, Robert J. Shapiro, former undersecretary of commerce for economic policy under Bill Clinton, said that "In December 2019, the CIA alerted the White House and Pentagon about the potential catastrophe posed by COVID-19, a warning Trump ignored when it was included in his personal daily brief on January 3. Later in January, he also ignored increasingly dire warnings from HHS Secretary Alex Azar, White House adviser Peter Navarro, and a recommendation by the National Security Council that he consider urging Americans to stay at home."
"Instead," Shapiro went on, "Trump assured his supporters on February 10 that the virus would disappear soon. Four days later, the NSC and the virus Task Force led by Azar determined to tell the president that the situation was becoming so critical that all public gatherings needed to be limited; that large events and performances should cancelled; and that he should urge states to close schools and advise the public to stay at home. When one of the officials inadvertently publicly issued these warnings before Trump could be briefed, the stock market sank. Trump reacted by canceling the briefing from his advisors and ignoring their recommendations. Trump did not issue social distancing guidelines until March 16—a full month later—when he also predicted they would last just two weeks…"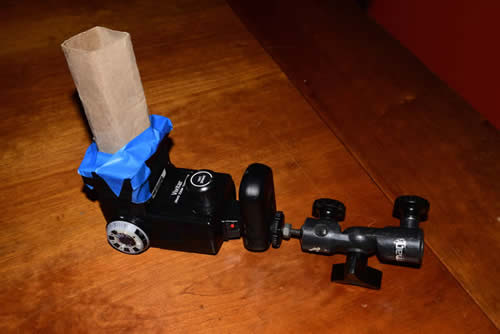 Low-tech location lighting...I wasn't kidding about the toilet roll core being used as a snood to direct dramatic light at a subject. Below the Vivitar 285 is a Vello radio remote receiver to trigger the flash from my camera. Below that is an adjustable light stand clamp that lets me more easily position my flash.
It also should be remembered that, even before all this, Trump willfully ignored warnings from the outgoing (and despised) Obama administration that the world faced a huge threat of pandemic—bolstered by the former administration's largely successful fight against Ebola in Africa
Shapiro: "Trump's transition leaders dismissed warnings by Obama officials that a new pandemic was a serious threat…In 2017, he proposed deep cuts in funding for the NIH and the CDC that even some congressional Republicans rejected. In 2018, his administration disbanded the formal White House pandemic task force, ended maintenance on stockpiled respirators, and reduced stockpiling of protective medical equipment…"
We all know the rest: a country in lockdown, an economy in free fall, and thousands upon thousands of Americans dead (more in just a few months than in the entire Vietnam War)—all on Trump's watch.
And it did not have to happen…
"America could have averted at least 40 percent of these terrible costs and perhaps as much as 86 percent of the economic damage," declares Shapiro. "If President Trump had listened to the early urgent warnings from his experts and advisors starting in early January and taken the right steps, today we would face a mild recession…"
As Trump tries desperately to spin his way to re-election, he and his campaign advisors—as well as some congressional Republicans in their own increasingly fraught re-election races—are trying to set up China as a campaign year bogeyman.
One trump adviser told the New York Times that Trump does well when he has a scapegoat to blame (even as Trump wants desperately to work trade deals with that country.)
But this time, more and more voters, burned by a crumbling economy and scared witless about their and their loved ones' safety during an unnecessary pandemic, are looking behind the curtain and not liking what they see.
"Trump's favorability in battleground states has dropped substantially since March, from 53% to 38%," noted conservative Washington Post columnist Jennifer Rubin this past weekend.
Said Rubin: "One can cite a host of reasons why now, of all times, the dam, if not breaking, seems less impervious to current events than have past incidents: Over 60,000 Americans have died and the economy is in shambles. Trump's constant presence and irrational, incoherent rants make him seem even less capable and sober. [Joe] Biden has sewed up the nomination, and has found campaigning from his basement has its pluses. He can control access and his message, while allowing Trump to self-immolate."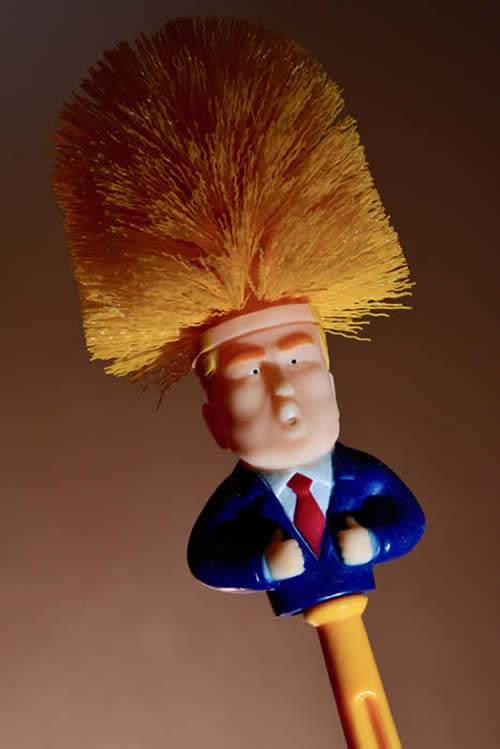 Another two-light setup, with variation. Background light has a brown napkin placed over flash head to lessen intensity and darken background. Main light is moved further to side to create a raking effect to emphasize Trump's doughy face.
Why is Trump behaving like this? Who knows…but for years critics have warned that Trump—a narcissist with no empathy, limited intellect, and a refusal ever to acknowledge that he is wrong--would collapse in the first real crisis he faced. It pains me to say that if an enemy of this country wanted to bring the US economy to the verge of collapse while killing thousands upon thousands of Americans, that enemy could do worse than have Donald Trump as president.
But…it is a long way between now and election day. Biden, the presumptive Democratic nominee, is for now embroiled in what seems to be a highly suspicious sexual assault controversy triggered by a former staffer whose credibility, to say the least, is suspect, and whose motivations may be less than pure.
The accuser, Tara Reade, says the assault happened nearly 30 years ago, when she was on Biden's Senate staff. She says she filed a complaint—no record of which has been found. She also says she does not have a copy of the complaint she allegedly filed. Last week, Biden emphatically denied Reade's accusations and, after Biden authorized a search of records by the Senate personnel office, Reade changed her story again and said that her complaint did not include an account of the alleged sexual assault.
Several reputable investigative journalists are said to have heard her story and have not pursued it. Reade, a former supporter of Sen. Bernie Sanders' presidential campaign, came forward with her account of Biden's alleged assault just after Biden appeared to finally have beaten Sanders for the Democratic presidential nomination.
[Addendum: in 2018, she wrote an essay effusively praising Russian president Vladimir Putin as a "genius" with an "alluring combination of strength with gentleness" while referencing his "sensuous image."]
Donald Trump, who dodged impeachment the same way he dodged the Vietnam draft, knows he is in the fight of his life. He legitimately fears prosecution on several fronts in the take-no-prisoners Southern District of New York should he lose re-election and become just another private citizen on January 20th, 2021.
This campaign is far from over. No one knows how far Trump or his campaign will go to keep him in power. And no one knows how it will end.
-0-0-0-0-0-
Lubec Photo Workshops at SummerKeys, Lubec, Maine -- Postponed by pandemic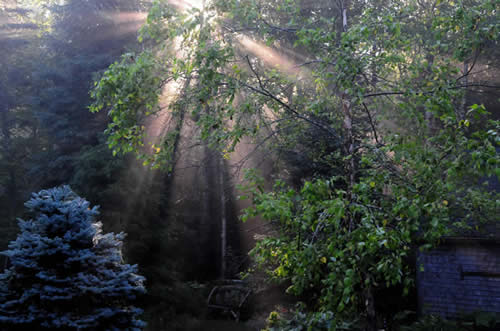 Join us for another magical summer NEXT year--2021
Spend a week of hands-on learning and location photography with award-winning husband and wife photographer-authors Frank Van Riper and Judith Goodman. Frank and Judy will cover portraiture, landscape and documentary photography during morning instruction, followed by assignments in multiple locations including Quoddy Head State Park, Campobello Island, NB and the colorful town of Lubec itself. Daily critiques and one-on-one instruction. NO entrance requirement. Minimum age for attendance is 16. Maximum number of students each week is nine. Students supply their own digital camera.
The Lubec Photo Workshops debuted in 2009 and were a huge success for their low-key, no-pressure atmosphere. Note: Classes fill early.
2021 workshop dates: To be announced
Tuition payable through the SummerKeys Music Workshops: www.SummerKeys.com
Or contact us: GVR@GVRphoto.com
NEW: Master Photo Classes with Frank Van Riper
These intense, three-day, limited enrollment classes are aimed at the more advanced student, who already has taken a photo workshop and who is familiar with basic flash. With a maximum enrollment of just five, these classes are nearly half the size of our regular workshops. NB: last summer's Master Classes were fully booked almost immediately.
2021 Master Photo Class dates:To be announced
Come photograph in one of the most beautiful spots on earth
-----------
Van Riper Named to Communications Hall of Fame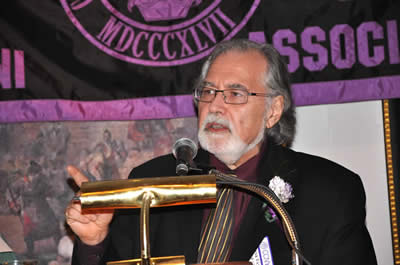 Frank Van Riper addresses CCNY Communications Alumni at National Arts Club in Manhattan after induction into Communications Alumni Hall of Fame, May 2011. (c) Judith Goodman

[Copyright Frank Van Riper. All Rights Reserved. Published 5/20]