Marilyn Restored
Re-shooting my diptych of a DC icon

By Frank Van Riper
Photography Columnist
By the mid-1980s, when the mural had been up for only a few years, artist John Bailey's monumental portrait of film goddess Marilyn Monroe already was becoming a Washington, DC icon.
Dominating the corner of Connecticut Avenue and Calvert Street—on the side of an historic Woodley Park townhouse containing one of DC's toniest hair and beauty salons—Marilyn was in full movie star mode. John Bailey's huge mural, completed in 1981, showed only her gorgeous face tilting slightly upward as if to greet a lover, her ruby lips parted slightly, showing perfect white teeth.
Flowing blonde hair framed her face, a beauty mark added interest, and her eyes literally sparkled—the result of mirrored glass glued to her pupils to catch the sunlight.
Everyone, it seemed, loved Marilyn. I had to photograph her.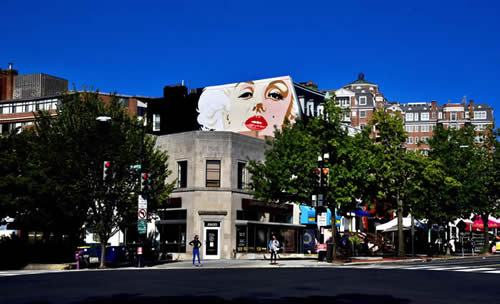 In 1981 the late artist John Bailey painted this dramatic mural of Marilyn Monroe on the wall of a townhouse in Woodley Park, DC. It quickly became a Washington icon. My photographs--35 years ago and today--have helped document her. All photos © Frank Van Riper. All Rights Reserved.
I met John Bailey some time later and I asked the well-known painter and teacher if he would mind if I "interpreted" his mural in photographs. Fine, John said graciously, and I set about producing what would turn out to be the first of two diptychs of John Bailey's masterpiece, decades apart.
The memory of that first Marilyn shoot in the mid-80's came back to me just a few weeks ago as I completed my second—and perhaps even more successful—set of photographs of this remarkable artwork. Just days before I had finished an arduous week of documenting the second major restoration of John Bailey's mural—this one done by Baltimore artist Kevin Irvin. (John Bailey, who restored his mural in 2001 after Marilyn's bright colors had first begun to fade, passed away last year at the age of 78.)
The first time I photographed Marilyn, all I knew was the name of the artist who painted her. The second time I photographed her, in the summer of 2020, I felt like part of her family—thanks to my now-long friendship with the man who inspired John Bailey to do the mural in the first place: Roi Barnard—co-founder of what now is Salon Roi, and where I have had my hair cut for the better part of the last 20 years.
When I first ventured in to Salon Roi, and encountered Roi himself, the talk inevitably came 'round to Marilyn and the fact that years earlier I had photographed her in diptych, and that the images back then had received a fair amount of exposure. Roi said he knew of them and before long, I gifted Roi with a set of the framed photos that he proudly and prominently hung on the salon walls, along with dozens of other images of the movie star.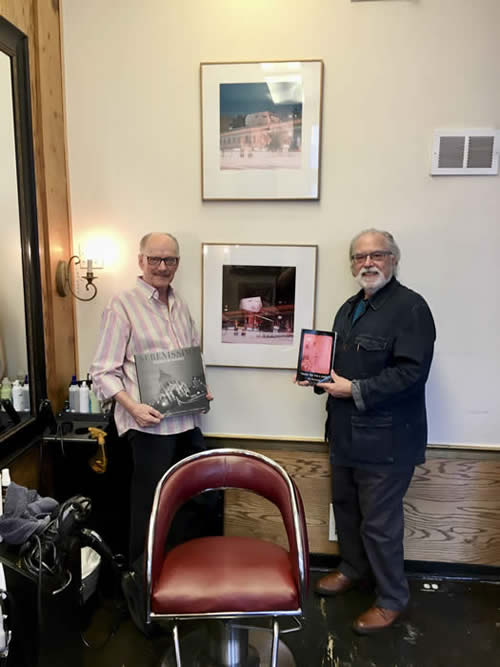 Roi Barnard of Salon Roi (l) with me as we pose holding each other's books--and with my original Marilyn Monroe diptych framed behind us. I'm holding Roi's autobiography, 'Mister, Are You a Lady?'; Roi is holding my wife Judy's and my 2009 book 'Serenissima: Venice in Winter.'
There things might have stayed until last year when, as I sat in Roi's famed "chair by the window" overlooking Connecticut Avenue, he mentioned that he was hoping to raise money to have Marilyn restored (again.)
"As soon as you do this, let me know," I said excitedly. "I want to document the process." Months went by—raising money like this is slow--but eventually, with the help of DC council member Mary Cheh, the mayor's office, and the Woodley Park Main Street partnership, the money came through and local artist (and muralist) Kevin Irvin jumped at the chance to work on the icon. Armed with some of the most expensive paint on the planet (guaranteed to last 50 years) and helped by a spectacular run of late summer weather, Kevin tornadoed his way through the restoration in a week.
I remember two things about Kevin's restoration. The first and most important is that Kevin did a meticulous and masterly job. He did not set up scaffolding, as John had done in 2001. Instead he and his assistant worked on long aluminum ladders—or Kevin worked with a Rube Goldberg-like contraption that let him attach a paint brush to an expandable pole that seemed to stretch 15 feet in the air. Watching him paint delicately around Marilyn's hair with that gizmo made me think of a surgeon using a surgical robot on a patient.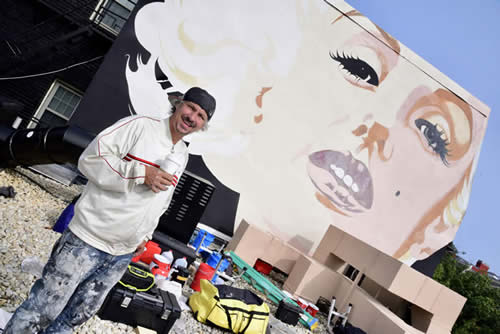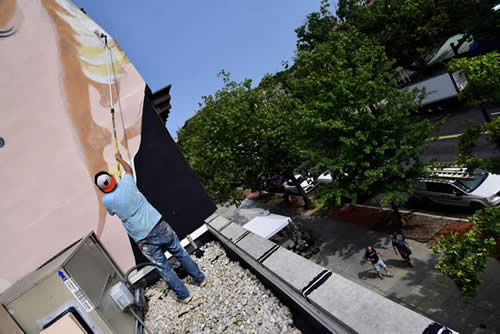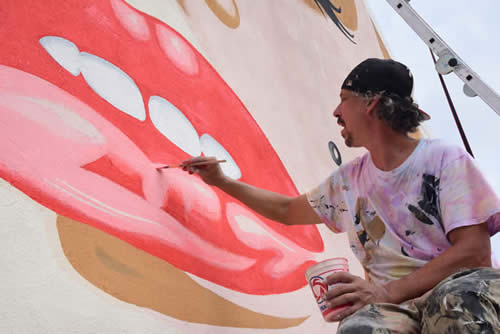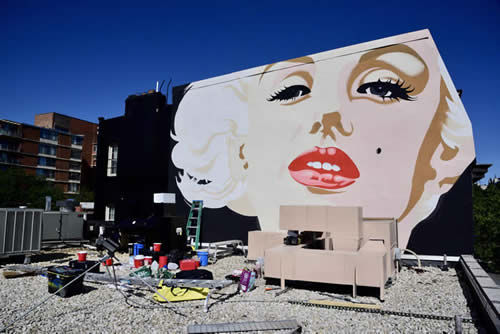 Artist Kevin Irvin (top) poses before a very faded Marilyn as he begins his week-long marathon of restoration. 2nd: long pole extends his reach as he paints meticulously around Marilyn's hair. 3rd: lipstick touchup really makes mural pop. 4th: all done--what a difference.
The second thing I remember? Having to get up to the third floor roof of the adjacent building so I could shoot the restoration on the facing wall. At my age I was not about to climb three stories up a fire ladder toting a camera bag (I routinely had done stuff like that for other photo projects, but decades ago.) Instead I shinnied through a third floor bathroom window in the Salon Roi townhouse onto a fire escape, than gingerly climbed my way onto the adjoining roof to meet Kevin.
My photography on the roof was documentary—all available light or slight fill-flash—using dramatic angles to show off Kevin and the project. I could not believe how Marilyn was restored to vibrant, sexy life one day to the next. (Tech: I used a full-frame Nikon D750 with a tack-sharp Nikkor 24-120mm f. 4 lens.)
As it happened, I was one of only two photographers to make pictures like these during the restoration—the other shooter was my friend and former Washington Post colleague John Kelly, who also got great stuff from the roof, that he used in several columns.
But I am most proud of the photography that came later.
When I set out to photograph Marilyn in the mid-1980's, the fact that her face was illuminated at night made me think immediately of a diptych. But not day and night; rather, dusk and night—time exposures that would include light trails from traffic on the street in the lowering light to lend a unifying element to the two images. Another tech consideration: this was in the pre-digital film age and if I wanted Marilyn's face to show naturally when lit by tungsten floodlights I would have to use tungsten-balanced film.
No problem—and in fact an advantage because the dusk photo, with Marilyn's face in comparative shadow, would now show a spectacular blue sky, created by the tungsten film. (Tech: these photos were made with a tripod-mounted medium format Hasselblad 500CM and an 80mm Hassy lens. Time exposures on the ISO 160 tungsten film averaged at least 30-45 seconds.)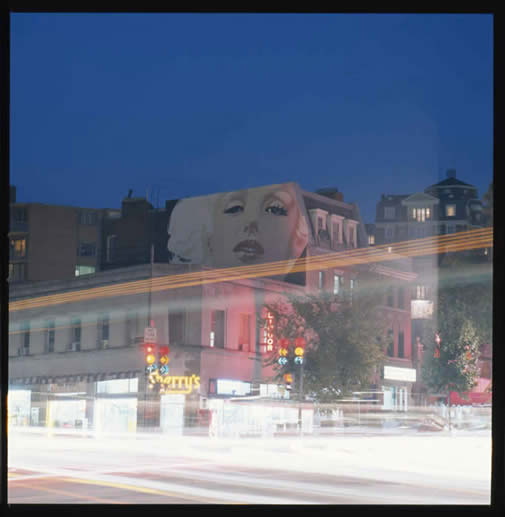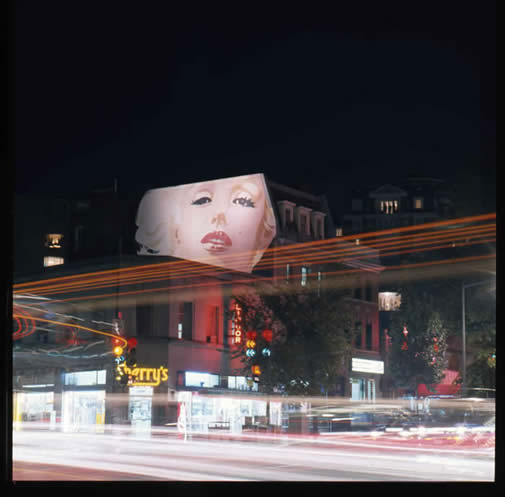 My original Marilyn diptych. Made on square format tungsten-balanced film, these very long time exposures (note all the lit traffic signals) also recorded light trails from passing buses and cars.
Thirty-five years later I first thought I would try the same thing again. But fate intervened, first with spectacular weather, and later with high-tech limitations.
On my last day of shooting the mural, and with Marilyn now in her glory, I walked across Connecticut and Calvert and looked up at the mural from the opposite diagonal corner. I was floored to see a brilliant, intense and cloudless blue sky backgrounding an equally stunning Marilyn in raking late morning light. My first few exposures confirmed it: this would be the "before" shot, especially when I made one with a young woman jogger, arms akimbo, waiting to cross the street almost directly below the mural. She was a wonderful human-scale figure to emphasize Marilyn's grandeur. (Tech: ISO 800, f. 11, 1/2000th)
A few days later, I was ready for the night shot.
I waited for a clear night and got to the site an hour before sunset. I set up a tripod diagonally across from the mural—exactly from where I had made the daytime shot--and made a few digital exposures just to frame the image. As a guide, I brought with me a small print of the daytime shot, just to make sure of my angle and elevation.
That set, I remembered how in the earlier night shot I managed to show red, yellow and green traffic signals on both streets lit simultaneously—a function of how the hopelessly slow tungsten film required very long exposures. Cool, I thought, maybe I can do that again. I used the timer on my iPhone to figure how long it took for all the newer traffic lights to cycle—way more than a minute and a half.
Not good.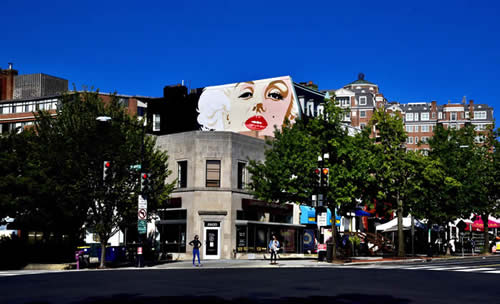 'Marilyn Restored' - 2020 © Frank Van Riper. All Rights Rserved.
Even with my digital camera's ISO set at its lowest—and with a graduated neutral density filter on my lens letting in even less light—my exposures were still blowing out. The light-gathering power on the D750's sensor was just too great. And worse, the traveling tripod I was using could not handle such long exposures without showing telltale motion in the image. So much for recording all the traffic lights.
But so what?
The photo would be based, after all, on Marilyn's brilliantly-lit face against what I hoped would be a gorgeous night sky, that finally was appearing. Freed from the tyranny of the traffic lights, I upped my ISO to 250 and, after much trial and error as the night sky went from insipid to gorgeous, I found myself shooting at about 1/6th of a second for the money shot.
The final consideration was print format. Originally, I thought I would crop both images as panoramas but I simply could not bear to part with two elements near the bottom of each of the selected frames.
In the daytime shot, of course, it was that wonderful young woman jogger with her arms akimbo. In the night shot I managed to get one frame with dramatic head and tail-light trails coming from left to right on Calvert street.
So, 35 years apart, with Marilyn still in the center of things, I made two sets of Marilyn diptychs, each pleasantly similar, yet each wonderfully different.
-0-0-0-0-0-
Lubec Photo Workshops at SummerKeys, Lubec, Maine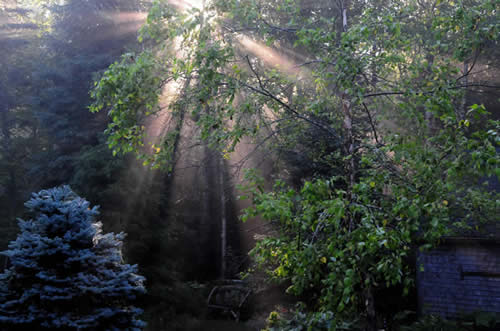 Join us for another magical summer NEXT year--2021
Spend a week of hands-on learning and location photography with award-winning husband and wife photographer-authors Frank Van Riper and Judith Goodman. Frank and Judy will cover portraiture, landscape and documentary photography during morning instruction, followed by assignments in multiple locations including Quoddy Head State Park, Campobello Island, NB and the colorful town of Lubec itself. Daily critiques and one-on-one instruction. NO entrance requirement. Minimum age for attendance is 16. Maximum number of students each week is nine. Students supply their own digital camera.
The Lubec Photo Workshops debuted in 2009 and were a huge success for their low-key, no-pressure atmosphere. Note: Classes fill early.
2021 workshop dates: July 12-16; July 26-30
Tuition payable through the SummerKeys Music Workshops: www.SummerKeys.com
Or contact us: GVR@GVRphoto.com
NEW: Master Photo Classes with Frank Van Riper
These intense, three-day, limited enrollment classes are aimed at the more advanced student, who already has taken a photo workshop and who is familiar with basic flash. With a maximum enrollment of just five, these classes are nearly half the size of our regular workshops. NB: previous Master Classes were fully booked almost immediately.
2021 Master Photo Class dates: July 19-21; Aug. 2-4
Come photograph in one of the most beautiful spots on earth.
-----------
Van Riper Named to Communications Hall of Fame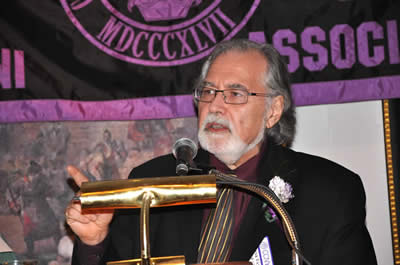 Frank Van Riper addresses CCNY Communications Alumni at National Arts Club in Manhattan after induction into Communications Alumni Hall of Fame, May 2011. (c) Judith Goodman

[Copyright Frank Van Riper. All Rights Reserved. Published 10/20]