JUST IN...Lubec photo workshops 2020 summer dates below
ALSO: Join me in Umbria this Fall (below)
'Rumors of War' and Political Change...
Prescient Art in the Time of Trump?

By Frank Van Riper
Photography Columnist
Following the US Senate's craven acquittal of Donald Trump after his impeachment, Judy and I decided to follow the urging of friends who had been there and drive down to Richmond, Va., to view an exhibition of work by Edward Hopper, one of our favorite American painters.
The show "Edward Hopper and the American Hotel," at the beautiful Virginia Museum of Fine Arts (VMFA) was worth the trip and provided, if briefly, respite from the madness that now is gripping Washington. It is a madness that likely will continue as long as the most corrupt, racist and traitorous president in our history remains in office--unchecked and unchallenged by members of his own party.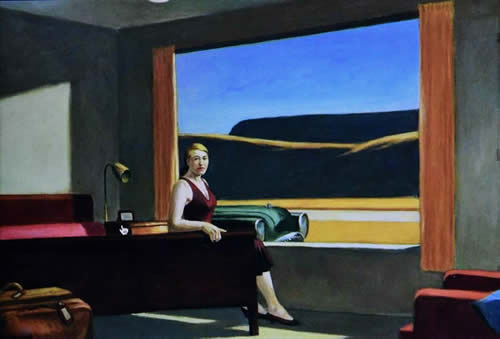 Celebrated American realist painter Edward Hopper's 'Western Motel' 1957. The signature piece of his latest retrospective, the painting captured America's new wanderlust--as well as a sense of isolation.
The Hopper show, which ended its four-month run on Feb. 23, was a timely antidote. It also was a clever distillation of Hopper's work (and those of others he influenced) depicting America's burgeoning romance with the automobile in the 1920s, and the wanderlust it triggered in ensuing decades. That wanderlust gave rise to the interstate highway system and countless hotels and roadside motels, that Hopper sought to popularize in his commercial work for trade publications of the time like Tavern Topics and Hotel Management. If this show lacked some of Hopper's greatest hits—'Nighthawks,' 'Early Sunday Morning' and 'New York Movie,' for example—an exemplary, unified, undercard presented a coherent and satisfying whole. [nb: for more on Hopper's other works, and on Hopper himself, see my previous column: http://bit.ly/2OUCiFU ]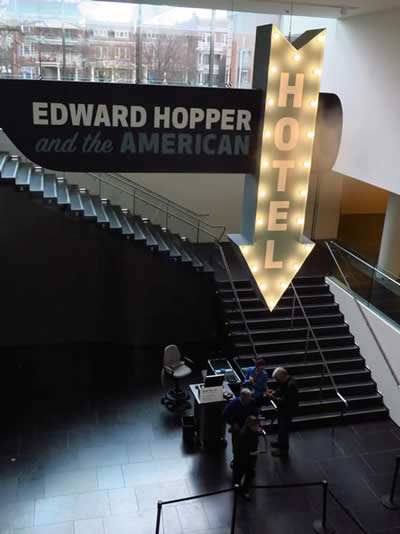 Entering the show, one is greeted by a retro sign leading viewers into a 'hotel lobby' from a long-gone era. © Frank Van Riper
There also was--for two punch-drunk Democrats looking for diversion--the Virginia Museum's superb elan in the way it mounted this tantalizing show. You went downstairs under a retro, bulb-lit sign into what you quickly realized was a hotel lobby from then 40s or 50s. And not just any lobby, but the very one from Hopper's painting 'Hotel Lobby' (1943), complete with grey overstuffed chairs, a wood-paneled reception area and green-striped carpet. The effect was disconcerting, especially when you realized those chairs were meant to be sat in.
Suddenly, without seeing even one painting, you were in Hopper's world.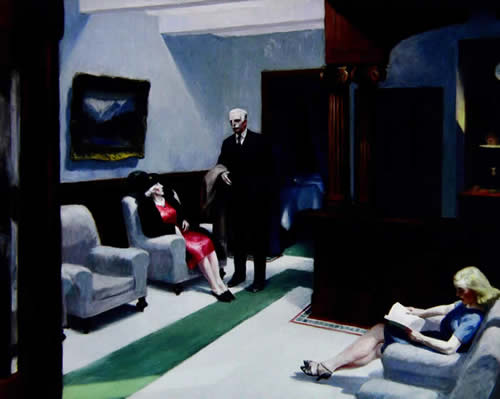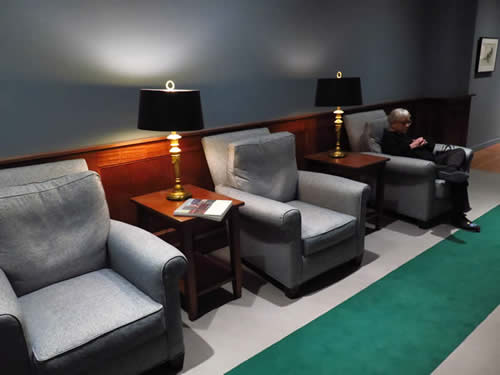 As soon as you enter the exhibition--and before even seeing any artwork--you are in Hopper's world. Top: 'Hotel Lobby' 1943. Below: the VMFA's attempt to recreate the scene for museum visitors. © Frank Van Riper
But the really outstanding bit of museumship at this show—the brainchild of curator Leo G. Mazow—was a perfect, life-size reproduction of the starkly lit room in Hopper's 1957 masterpiece, 'Western Motel.' This life-size diorama, seen behind glass, was an exact replica of Hopper's painting except for the enigmatic woman in a purple dress and low heels sitting at the foot of the bed.
That role had to be played by you.
In fact, the museum offered visitors the chance to actually spend the night in the room (ie: in the diorama—in effect: in the painting) for a fee. Folks who signed up were able to be in the room from 9pm, after the museum closed, until 8am the next morning. Though the stay certainly was not at the Ritz—there was a lone toilet down a hallway (no shower)—and a guard outside the room, the offer quickly sold out.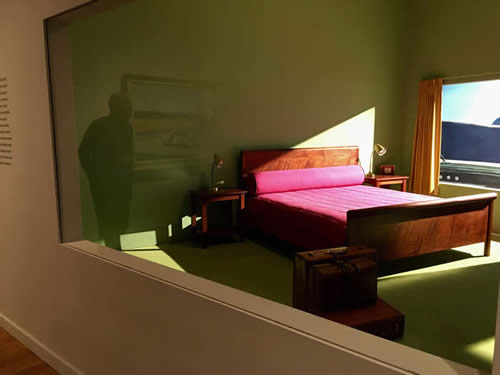 That shadowy figure is on the other side of the glass, looking in to the uncanny lifesize reproduction of Hopper's scene in 'Western Hotel.' For a fee, visitors could spend the night in the diorama--in effect living for a short time inside Hopper's painting. © Judith Goodman
To those of a mind, going to a museum—any museum—and looking at art is a pleasant way to set aside everyday reality and strife.
But for Judy and me it was the setting of Richmond itself, the old capital of the Confederacy, that also offered up a faint glimmer of hope and change.
Outside the VMFA's main entrance was a huge new equestrian statue of a mounted male figure, his horse rampant, seemingly ready to challenge all before him, in the manner of so many defiant Confederate monuments in the Old South. Only this time the figure was not a Confederate general like, say, the legendary J.E.B. Stuart (on whom, in fact, this new work was based) but a young urban black man, his head topped by dreadlocks, and wearing a hoodie.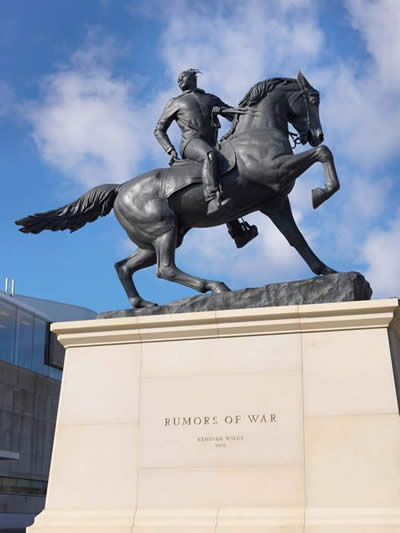 Not your average Confederate war monument. This modern incarnation, by Kehinde Wiley, depicts a proud urban black man--a depiction unheard of in the Old South, but not today.
This was 'Rumors of War,' the latest masterwork by 43-year-old African American artist Kehinde Wiley, who last gained fame for his striking painting of our first African-American president Barack Obama, that now graces the National Portrait Gallery (along with an equally strong image of former First Lady Michelle Obama, by another African American artist, Amy Sherald.)
There was a delicious irony in seeing Wiley's beautifully done statue so prominently displayed in the heart of the former Confederacy, just blocks away from an elaborately-garbed J.E.B. Stuart sitting on his own horse on Richmond's Monument Avenue. (In fact, I found Wiley's dynamic rendering of a young male horseman infinitely more exciting and satisfying than the more static rendering of J.E.B. Stuart, by sculptor Fred Moynihan that was unveiled more than a century earlier in 1907.)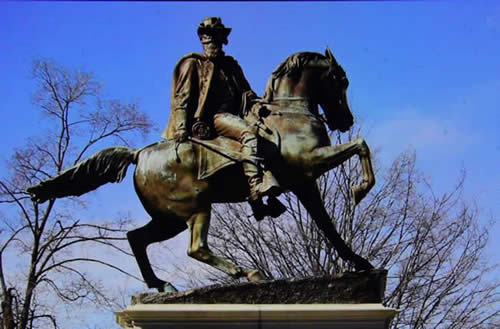 Statue of Confederate general J.E.B. Stuart on Richmond's Monument Avenue. Kehinde Wiley's 'Rumors of War' deliberately mimicked it.
In an interview when his own sculpture was unveiled, Wiley bluntly described his feelings about the Confederate statues that dot Richmond. "They're designed to terrorize and menace," Wiley said. To be sure, this peculiarly American habit of erecting monuments to the losers of a war that threatened the country's very existence was aimed in the south at manufacturing nobility for the 'Lost Cause' and downplaying its role in treating kidnapped black slaves like non-human property to advance the Old South's agrarian economy.
The statues, in effect, told blacks (and the whites who supported them) to know their place, regardless of how the Civil War ended.
One cannot not help thinking of that mindset—a mindset based on intimidation and cruelty—and not think today of so many abhorrent policies of the Trump White House. Only an ignorant racist like Trump would have praised "many fine people on both sides" of a white nationalist rally in Charlottesville, Va., that left one young woman dead.
Only a bigoted buffoon would speak of "shithole countries," and of building a wall to keep out migrants, while vigorously enforcing immigration policies that tear children from their parents.
Judy and I were in Richmond barely two days before we had to return to DC and breathe the same air as Donald Trump. But in those two days we not only saw dear friends, we also lost ourselves in the work of an American Master and, in the work of a newer American Master proudly on display in the former capital of the Confederacy, felt a faint hope that come November people of conscience and compassion will rise up and vote in sufficient numbers to restore our democracy.
-0-0-0-0-0-
Lubec Photo Workshops at SummerKeys, Lubec, Maine -- Summer, 2020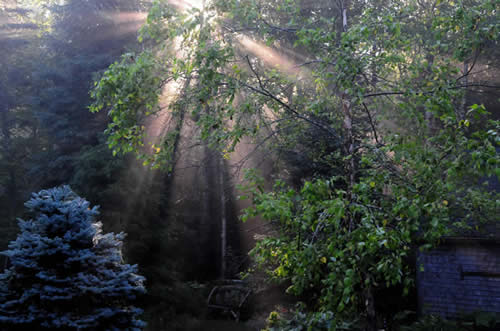 Daunted by Rockport??
Spend a week of hands-on learning and location photography with award-winning husband and wife photographer-authors Frank Van Riper and Judith Goodman. Frank and Judy will cover portraiture, landscape and documentary photography during morning instruction, followed by assignments in multiple locations including Quoddy Head State Park, Campobello Island, NB and the colorful town of Lubec itself. Daily critiques and one-on-one instruction. NO entrance requirement. Minimum age for attendance is 16. Maximum number of students each week is nine. Students supply their own digital camera.
The Lubec Photo Workshops debuted in 2009 and were a huge success for their low-key, no-pressure atmosphere. Note: Classes fill early.
2020 workshop dates: July 13-17; July 27-31
Tuition payable through the SummerKeys Music Workshops: www.SummerKeys.com
Or contact us: GVR@GVRphoto.com
NEW: Master Photo Classes with Frank Van Riper
These intense, three-day, limited enrollment classes are aimed at the more advanced student, who already has taken a photo workshop and who is familiar with basic flash. With a maximum enrollment of just five, these classes are nearly half the size of our regular workshops. NB: last summer's Master Classes were fully booked almost immediately.
2020 Master Photo Class dates:July 20-22; August 3-5
Come photograph in one of the most beautiful spots on earth!
-0-0-0-0-0-
JOIN ME FOR THE 2020 UMBRIA PHOTO WORKSHOP, October 10-16, 2020
This popular workshop always fills. Maximum number of students is seven. Anyone interested should contact me immediately: GVR@GVRphoto.com
More details here:
http://gvrphoto.com/wp/?page_id=82
-----------
Van Riper Named to Communications Hall of Fame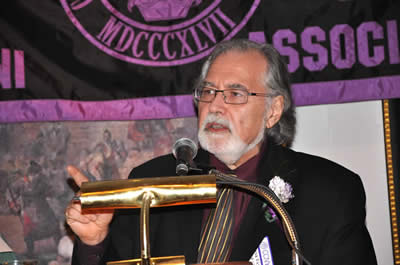 Frank Van Riper addresses CCNY Communications Alumni at National Arts Club in Manhattan after induction into Communications Alumni Hall of Fame, May 2011. (c) Judith Goodman

[Copyright Frank Van Riper. All Rights Reserved. Published 2/20]