Returning to Paradise--with Hell Still Below
A Maine Summer in the Wake of Trump

By Frank Van Riper
Photography Columnist
I write this in what in another life I would have called a ski lodge (though I don't ski.)
My dish-powered laptop sits on a table in a dining room with a cathedral ceiling supported by rough-hewn beams. The master bedroom looks out on to treetops and a tranquil cove, and a two-story stone fireplace dominates the living room.
Judy and I built this cedar-shingled haven more than 30 years ago in Lubec, Maine, the easternmost point in the United States. It has been our bit of heaven every summer for more than 30 years--actually, every summer but one.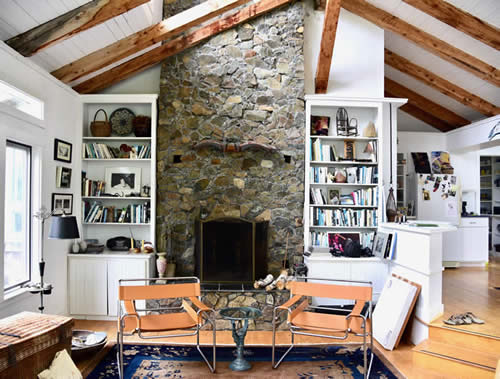 The great room of our place in Lubec, Maine. To someone who grew up in a Bronx walkup, this is living bigtime. We feared driving through a pandemic to get here last year. Now, fully vaccinated, there was no way Judy and I would miss another summer in paradise. (All photos © Goodman/Van Riper Photography. All Rights Reserved.)
We did not come up last year, so concerned were we about driving through a pre-vaccine pandemic to get here.
Now that we are vaccinated against Covid 19, we are back, and after a nearly two-year absence we are happy to let the peace of this place wash over us. But there is no denying the lingering malignancy of the Trump era—nor the fact that his spawn still infect our politics, our democracy, even our daily life.
The corruption, racism, cruelty, venality and, frankly, treason, of the Republican Party, especially after the Trump-led Jan. 6 insurrection at the US Capitol, is astounding, yet not really surprising. The old GOP, that shared the Democrats' view that politics was a game of give and take, no longer exists, and its new incarnation is an existential threat to our democracy.
Author and bookstore owner Andy Weinberger, remembering his earlier years as a psychiatric social worker, likens members of today's conspiracy-loving, QAnon-hugging GOP to the "deinstitutionalized schizophrenics" he used to try to help, with little success. "The higher functioning Republicans don't subscribe to that view, but they know full well that many of their constituents do, and they don't want to rock that boat and risk capsizing their careers. They are cynical about democracy. Oh, they make interesting noises about supporting the right to vote, and the need for infrastructure and racial justice and gun control; they sound like normal politicians, in other words, almost like Democrats. But they don't mean what they say. Their intent is just to cling to power."
Precisely because of that, there is much work still to be done—in maintaining unity among the always fractious elements of the Democratic party so that vital infrastructure, voting, climate and other bills can be passed by budget reconciliation in the face of GOP intransigence—and most especially in maintaining (and, God willing, increasing) Democratic majorities in the House and Senate in the off-year elections next year: an Herculean task in the best of times.
All it takes is five minutes listening to Sen. Mitch McConnell to know that this son-of-a-bitch has no intention of willingly ceding any ground to Joe Biden, no matter what the benefit to the country might be. Same goes for Kevin McCarthy, the spineless weasel who leads the GOP in the House.
And the result has been a widening gulf between America's haves and have-nots.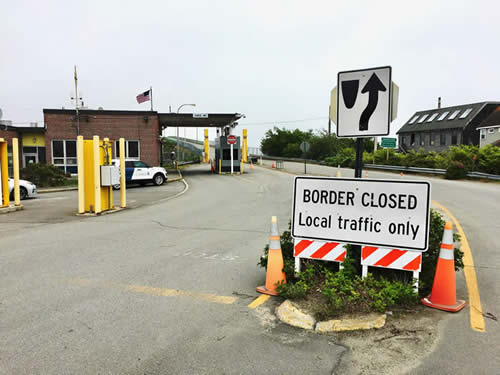 No small thanks to Trump's Covid incompetence, the longest undefended border in the world remains closed.
During the lockdown in Washington, DC, Judy and I were largely confined to our home. But we had a front and back garden, porch, deck--not to mention Judy's backyard sculpture studio and my office upstairs where I generated my own personal stimulus package with nonstop freelance writing.
Our initial weekly trips to the supermarket seemed like pre-dawn raids. We took advantage of "Senior Hours" at the local Safeway and Whole Foods, getting there between 8 and 9am, and quickly filling our shopping carts as our masks fogged our glasses. It could have been worse.
At least Judy and I had each other.
But where in Washington, DC we have welcomed a return to near-normalcy—not least caused by the election of a sentient human as president—here in Washington County, Lubec the recovery has been slow at best:
--Local businesses, so dependent on tourist spending during the summer, are hurting because Covid has ruined another season.
--SummerKeys, the nationally known adult summer music and arts camp, is closed for a second straight year due to Covid restrictions, including our summer photo workshops and master classes. (There may be a few music get-togethers on zoom, and a small concert or two, but it ain't the same.)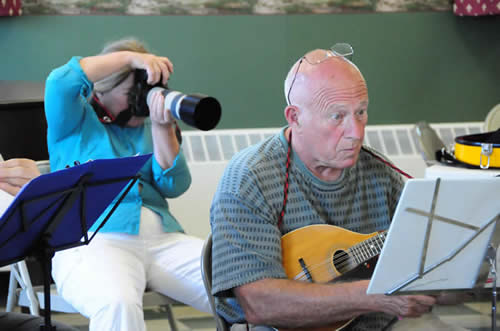 Up close and personal: documenting a music class at SummerKeys before the time of Covid.
--What few restaurants remain in town have limited menus and hardly anyone to work in them.
--Being America's easternmost point, Lubec also is a gateway to Canada—specifically, to Campobello Island, New Brunswick, just across an arching bridge that in previous years would have been a major element of the Bay of Fundy International Marathon between the two countries. Not now. This popular summertime race (and Boston Marathon qualifer) was canceled for the second straight year because of Covid—and there's a question whether it ever will be run again. As of late June the US-Canada border remained closed because of restrictions triggered by the Trump-bungled pandemic.
A grand sight every summer: runners on the international bridge between Lubec and Campobello, NB. (Pre-registration and electronic chips in their bibs allow runners to go back and forth without interruption.) Canceled again this year, there is fear this popular race may not resume.
"I can't meet in Lubec," declared Ron Beckwith from Campobello. Like me, he's on the board of a local conservation group, and missed our annual board meeting last week. "They are keeping close watch on us in the penal colony. I just got out of quarantine after traveling in the US. I'm working over here now and my new employer would frown on a two-week absence after [just] two weeks on the job."
Etc., etc.
As the lockdown progressed last year, and as the ignorance and selfishness of the anti-vaxxers appalled, I came to view America as composed of stupid states and smart ones. In the pre-vaccine days, as Trump bellowed about Clorox and conspiracies (he ultimately, but secretly, would face death from what he previously had dismissed as a "Democrat hoax"), the contrast between these states was striking:
Florida, for example: Sweet Jesus, what were all those college kids doing drinking and partying like that on the beach? Go ask the clueless mask-free GOP governor, Ron De Santis.
In the west, photos of gun-toting mask-less fools shouting about their rights in convenience stores grew tired, old and, ultimately, pathetic.
And, of course, Trump himself just made things worse by hosting super-spreader events—at the White House and on the road. The zeal at his re-election campaign rallies appeared to wane as the months wore on, reflected in dismal turnout for his events—a harbinger of Election Day—as well as in the inevitable sickness and death these events caused. For example, Herman Cain, the Tea Party Republican and former presidential candidate who attended Trump's largely mask-less rally in Tulsa on June 20, 2020, contracted Covid and died some two weeks later. And only recently, a government report noted the huge number of Secret Service personnel who contracted Covid from working in a White House and around a president who didn't give a damn about them.
As the pandemic raged, Judy and I looked fondly toward Maine, but last year was just too risky. Still, even back then, our adoptive summer home state was being sensible, pushing Covid restrictions hard. Today, I am proud to say that Maine has one of the highest vaccination rates in the country. Even Washington County, the poor rural place where we summer, now has a remarkable vaccination rate of 75%. That hardly means the area is a blue stronghold: recently, motorists on North Lubec road--an otherwise lovely ride with water views—were assaulted by a 4'x5' professionally done display looking an awful lot like a Trump sign.
"Fuck Biden," it screamed in large letters, then, in case you missed the point, in smaller letters at bottom, it added: "And fuck you for voting for him!" (For the record, in the last presidential election, the state of Maine once again went Democratic, 53%-44%; Lubec, arguably the only blue region in Down East Maine, went for Biden 52-46%.)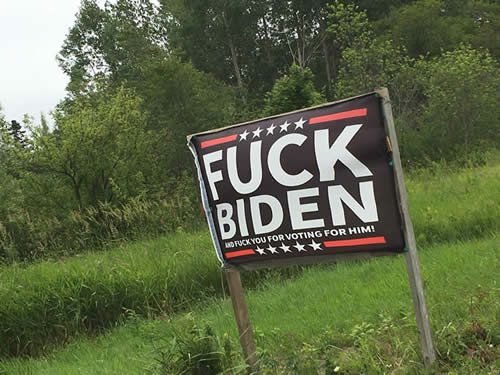 The state of public discourse today, thanks to the short-fingered vulgarian, Donald Trump. Sign appeared on North Lubec Road in Down East Maine, to much local consternation.
"[T]he current crop of the GOP is behaving very much like a bunch of deinstitutionalized schizophrenics," declares Andy Weinberger. "If they've swallowed the nonsense that former President Trump prescribed, they really believe he is still the president. They believe the election was stolen, despite countless audits, lawsuits and all evidence to the contrary. Many of them who are lost in the thicket of QAnon conspiracies, believe their world is threatened by celebrity pedophiles and Jewish lasers from outer space."
Presumbly that also includes my trash-mouth neighbor on North Lubec Road.
Yep, much left to do.
-0-0-0-0-0-
Lubec Photo Workshops at SummerKeys, Lubec, Maine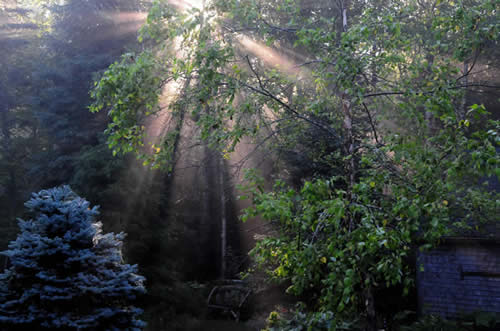 Join us for another magical summer NEXT year--2022
Master Photo Classes with Frank Van Riper
These intense, three and a half-day, limited enrollment classes are aimed at the more advanced student, who already has taken a photo workshop and who is familiar with basic flash. Maximum enrollment of just five. NB: previous Master Classes were fully booked almost immediately.
2022 Master Photo Class dates:TO BE ANNOUNCED
Come photograph in one of the most beautiful spots on earth.
-----------
Van Riper Named to Communications Hall of Fame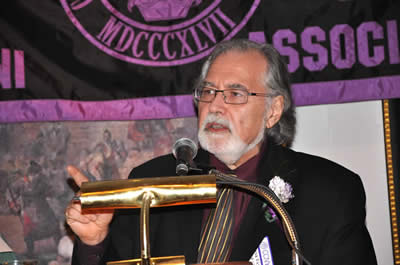 Frank Van Riper addresses CCNY Communications Alumni at National Arts Club in Manhattan after induction into Communications Alumni Hall of Fame, May 2011. (c) Judith Goodman

[Copyright Frank Van Riper. All Rights Reserved. Published 6/21]