What I Learned at My Master Class...
Insights from Two Great Photo Weeks in Maine

By Frank Van Riper
Photography Columnist
Decades ago, when Judy and I were in Rockport, Maine studying at the Maine Photographic Workshops, a world-famous photographer was preparing for a master class that I was about to take.
In the week preceding the class, Judy happened into the registrar's office when Mr. Big came in and was told that his class—supposedly limited to a max of 12 people, was heavily oversubscribed, so great (and deserved) was this photographer's reputation.
"Let 'em in," Judy recalls the photographer saying. "I'll make 'em happy." (Remember: more students meant more $ for Mr. Big.)
And that's how I wound up spending the following week in a crowded room every morning with 30 other acolytes vying for this photographer's attention.
And though Mr. Big was—and is--a photographic genius, no, I was not "happy."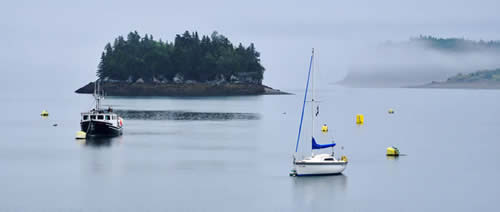 Even dense Lubec fog can make for a lovely panoramaic landscape. I made this after my Master Class spent a morning of photographing at the remarkable lobster pound under our friends Victor and Judy Trafford's Inn at the Wharf. (All photos © Frank Van Riper. All Rights Reserved.)
I thought of that long-ago time as I finished teaching my own Master Classes this summer in Lubec, Maine.
Covid and the inevitable limits of age have prompted Judy and me to change the way we teach photography. Judy—my wife and partner, photographer/sculptor Judith Goodman (www.judithgoodmansculpture.com )—has retired from photo workshops, meaning she no longer teaches week-long, no-entrance- requirement, workshops with me here in Maine, and before that in Italy. And as a result, I have decided to also bag them in Maine, though not in Italy (the wine and food are just too good, once we can return safely.)
And as a result, I find that I love the intense and personal vibe of much smaller (and shorter) Master Classes that I teach on my own—to an absolute maximum of five students. (Our other classes could be twice as large.)
Here in Lubec this year, I taught two such Master Classes privately since the SummerKeys music festival, that normally handles our bookings, was forced to suspend its popular programs for a second summer because of continuing Covid restrictions.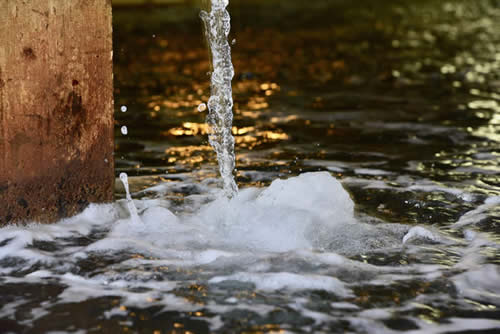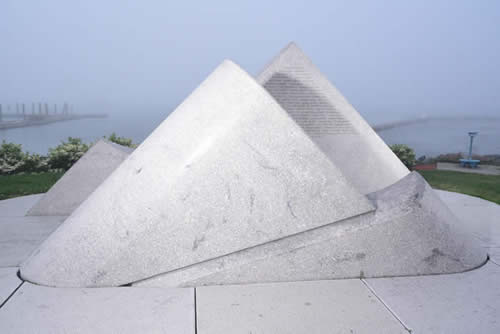 In a Master Class especially, there are myriad photo ops besidse nature and landscape. Above: remote-triggered flash freezes running, aerating, water at the lobster pound. Below: the stark beauty of Lubec's Lost Fishermen's Memorial. Note pilings of town dock at upper left.
This forced reboot, coupled with Judy's retirement so she can better pursue her own work, turned into a gift. I am now going to my strengths and loving it.
This summer's two 3 1/2-day Master Classes, one with five students, the other with two, let me give the kind of personalized attention I love—and sure as hell didn't get 40 years ago from Mr. Big.
Working small, my students and I were able to more easily gain access to artists' studios for location portraiture, walk effortlessly into a subterranean lobster pound to make otherworldly pictures, wander the green lushness of West Quoddy Head state park, work undisturbed at the spectacular (and virtually unknown to tourists) Bad Little Falls white water rapids in the town of Machias, and work quietly making dramatic nighttime photos of striking public sculpture. We also were able to set up studio lights and make gorgeous portraits in what arguably is Lubec's most elegant art gallery because we did not descend en masse, with me trailing a large class of camera-toting students. [Even with the best intentions this would have been a worrying presence amid thousands of dollars worth of artwork.]
Yes, smaller is better.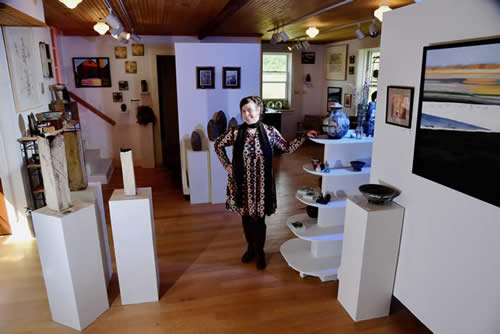 One of my favorite things is to teach how to make sensuous moving water photos in bright sunlight. (It's not tough, but, at the same time, it's not easy.) And, though in the center of town, Bad Little Falls is virtually hidden from view. Below: Artist/owner Shanna Wheelock poses amidst artwork at her elegant Crow Town Gallery. This location shoot involved radio-triggered flash units.
It's not that I am being elitist either—"Master Class" is a highfalutin' term for a class that simply asks all students to know how to use their camera in manual mode—and to at least have read and understood their camera's instruction manual. No need to be a lighting wizard—that's my job. [Surely the biggest complaint of any photo teacher are students who show up with cameras they got for Christmas, expecting the teacher to walk them through the basics while the rest of the class sits and waits.]
So there we were in Stockford Park at one end of Lubec—and before that at the Lost Fishermen's Memorial at the other end—with radio controlled, light stand-mounted flash units mixing ambient and artificial light to dramatic effect.
At the beautiful Crow Town Gallery on South Lubec Road, owner/artist Shanna Wheelock needed promo photos and we were able to oblige with minimal fuss, producing a striking series of wide angle images of Shanna showcased among her treasures and lit by what appears to be a theatrical spotlight (actually a Quantum Q-Flash on a high stand with a toilet paper roll taped to the front to act as a snoot.)
Part of my comfort with this scaled-down teaching is familiarity. Yes, I have shot at these locations many times before. But, as with Monet's glorious series of haystack paintings in Giverny, I find each time presents new challenges, new light—new opportunities to try something different—and share that experience with my students.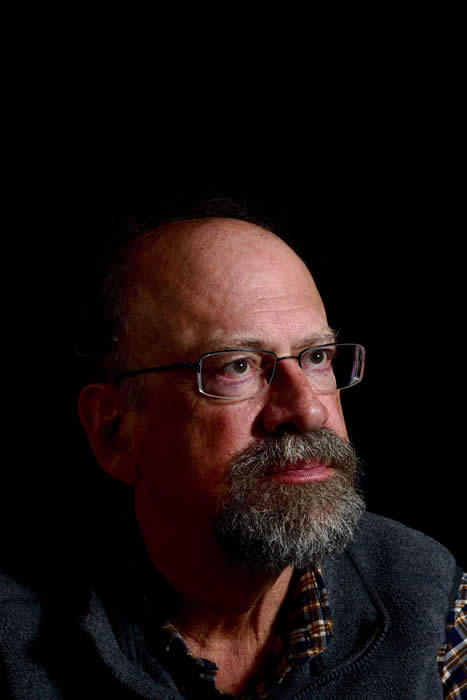 Striking portrait actually was made in a kitchen against a wall covered by black cloth. Light came from a tiny Vivitar 285 flash unit fired through a shoot-through umbrella.
The Covid lockdown also has taught me another thing: I hate teaching my kind of photography via Zoom.
[To be fair, during the lockdown I loved my Zoom classes in advanced Italian conversation, but there it was just my teacher Maria and our simpatico band of Italian speakers talking to each other, watching movies, commenting on our readings, etc., often in the company of a nice Italian red.]
But hands-on teaching of location lighting is something else. I believe close and personal is the only way: you have to see how the radio remote goes in to the hot shoe, or how to modify a portable strobe to produce the light you want. Not only that, when I Zoomed my popular class on "Photographing Artwork," through Glen Echo Photoworks in Glen Echo, Md. (https://www.glenechophotoworks.org ) I needed each step in the process—each trial exposure—to show up on my students' computer screens in real time. This electronic tethering was elaborate, expensive—and, frankly, a pain in the butt.
No thanks.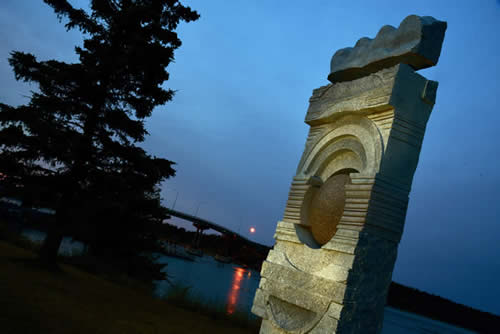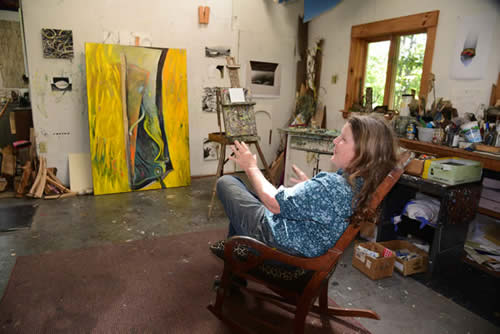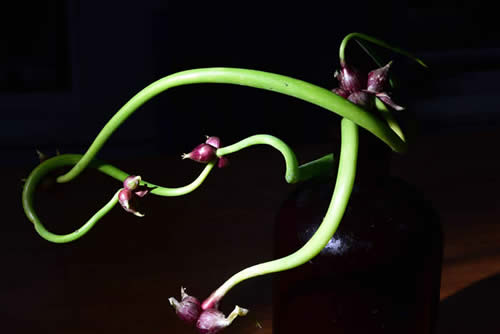 Top: 'Beyond the Horizon'--a striking sculpture in itself--looks even more dramatic at dusk, bathed in light 'painted' by high-intensity flashlights. Center: Artist Leslie Bowman was much more comfortable knowing that the visiting Master Class would be small. Bottom: Lighting lesson: Leslie's garlic scapes sit in a jar on our dining room table. Using oblique flash and deliberate underexposure, I was able to create a dramatic background and a striking still life.
Granted, nowadays in-person teaching still carries risk (think Delta variant) but I am fully vaccinated and I require all my students to be vaccinated as well. And since my classes in Maine and at Photoworks now are small and we don't shoot in crowds, I feel safe, though never cocky. People who either are not yet vaccinated or refuse to be are firmly invited to look elsewhere for photography instruction.
If all this sounds appealing, I hope you will give my Lubec summer Master Classes a try next year (as well as my classes this fall at Photoworks.) Lubec is gorgeous, the people are friendly, the weather is wonderful (we sleep under a quilt in August) and the lobster rolls are plentiful.
For more information: contact me at GVR@GVRphoto.com or www.GVRphoto.com and see Photoworks link above.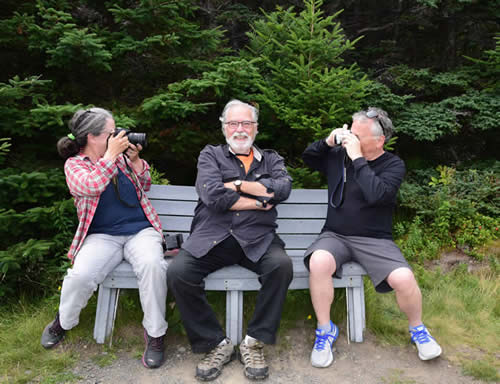 Last day of class--class pic, right? After the more traditional one, Lisa (l.) suggested this one, that I love.
-0-0-0-0-0-
Lubec Photo Workshops at SummerKeys, Lubec, Maine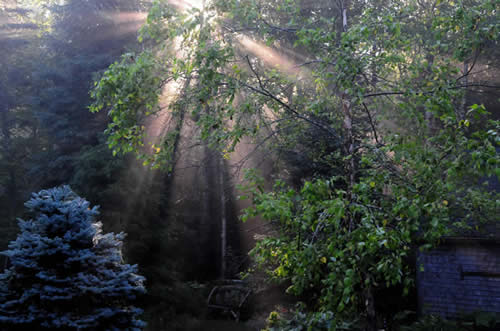 Join us for another magical summer NEXT year--2022
Master Photo Classes with Frank Van Riper
These intense, three and a half-day, limited enrollment classes are aimed at the more advanced student, who already has taken a photo workshop and who is familiar with basic flash. Maximum enrollment of just five. NB: previous Master Classes were fully booked almost immediately.
2022 Master Photo Class dates:TO BE ANNOUNCED
Come photograph in one of the most beautiful spots on earth.
-----------
Van Riper Named to Communications Hall of Fame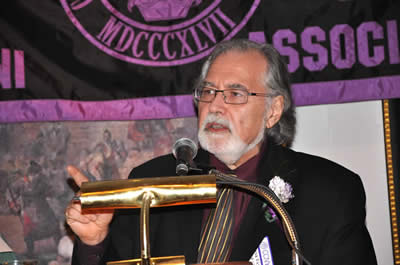 Frank Van Riper addresses CCNY Communications Alumni at National Arts Club in Manhattan after induction into Communications Alumni Hall of Fame, May 2011. (c) Judith Goodman

[Copyright Frank Van Riper. All Rights Reserved. Published 8/21]