A Tale of Three Portraits
Ugly Room, Lousy Ambient--and a Gift

By Frank Van Riper
Photography Columnist
Hardly a summer goes by when I am teaching my Photo Master Classes through the SummerKeys Music Workshops in Lubec, Maine, that I do not bring my students to the great Kent Hewitt's Jazz Piano workshop, where we try to be as unobtrusive as we can be shooting portraits by available light as Kent, in shades and straw hat, teaches music theory and performance technique.
And this summer I had the added kick of leading a full scale location lighting exercise as my five students and I made a killer, formally lit, portrait of artist and educator Bernie Vinzani showing off the huge—and beautiful--Franklin letter press that he built from scratch to use in his classes on book arts and antique methods of printing.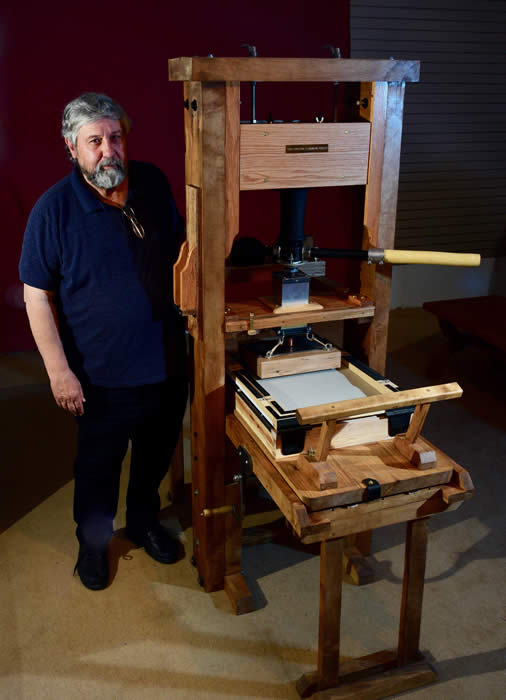 University of Maine at Machias art Prof. Bernie Vinzani poses proudly by the Franklin letterpress that he made by hand. This formal location portrait was a great lighting exercise. (All photos © Frank Van Riper)
In each case, the circumstances dictated the lighting.
But, where these two portrait sessions were pre-planned, a third portrait opportunity was a gift and presented me with a chance to channel my inner Martin Parr and produce a really satisfying—unplanned and on-the-fly—location portrait.
With Kent Hewitt, we were guests at one of his hour-long morning classes and there was no way we even would think of setting up lights and light stands during that brief time. It was available light or nothing—except for the class pic I made at the start of class: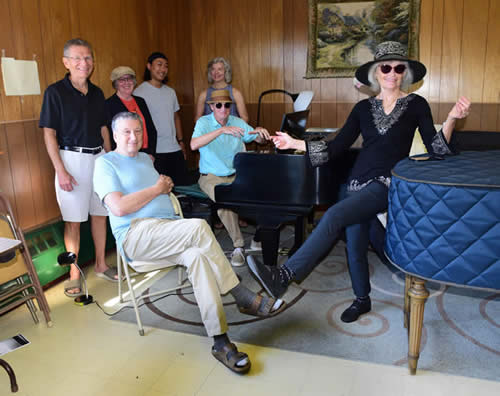 I made this fun class pic using on-camera flash, but the background looks too much like a 1950s-era basement rumpus room. See how I used selective exposure metering to overcome this problem.
In Bernie's case, we had the luxury of working for as long as we needed in one of the art galleries in Powers Hall at the University of Maine at Machias, where Vinzani has been a faculty member for years. This was the first I had seen the so-called "common press" in its new home at UMM. Last summer, I brought my class to Bernie's home in Trescott, Me., where the press was temporarily stored in his garage/workroom. The pictures back then were OK, but nothing like what I really was after.
This time, with the press newly installed in the gallery and the venue all to ourselves, we were able to do all manner of things--from setting up multiple lights to dressing the background walls--to produce a really dramatic portrait.
Though these two images were very different, each forced us to deal with a less than ideal background—but in different ways.
Kent Hewitt's class always is held in the large community room of the Sacred Heart Church in Lubec, a church that has been greatly supportive of SummerKeys since its inception—the room even serving as the first site of weekly SummerKeys faculty concerts more than 25 years ago. There's plenty of room to work there, but the walls feature undistinguished faux wood paneling and the whole scene is lit by overhead fluorescents. Still, there IS a grand piano in one corner, where Kent and his students gather round in what always are lively sessions that produce great, animated pictures for us.
But how to shoot them?
"The first thing you gotta do here is crank up your ISOs," I told my five Master Class students in late July. For me, this meant shooting by available light at ISO 1600 with my full-frame Nikon D750 and 24-120mm lens. I find many students are skittish about shooting at high ISOs, fearing their images will be too "noisy" with digital grain. But today's DSLR sensors are vastly improved over their predecessors and can render excellent photos at ISOs even higher that 3200—and sometimes way beyond.
It helped that in Kent's case there were windows at a 45-degree angle to the piano corner, so we easily could dispense with the overhead fluorescents (In fact, Kent's students were turning them off as we arrived, which was fine with us.) The only other source of light that morning was one that could have been a big problem, but, used judiciously, turned into a boon.
On the grand piano was a desk lamp with a milk glass diffuser illuminating the sheet music—a guaranteed distracting hotspot if included in a photo, but a welcome rim light if used correctly.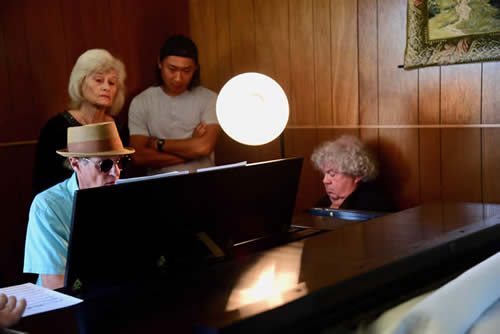 It looks as if someone took a hole-punch to the center of this color photo, but in fact it is a milk glass diffuser on a desk lamp. A sure photo-killer--until you see the great rimlight it supplies to Kent's hat and you work around it.
These two light sources—the windows and the desk lamp—gave us the luxury of underexposing for the background, while letting us spot meter on faces, especially those benefiting from the rim light. The effect was not unlike the chiaroscuro (light and dark) effect so favored by Renaissance master painter Michelangelo Merisi da Caravaggio (1571-1610), easily one of my favorite painters for his starkly lit, beautifully human, images mixing the sacred and the profane. My best photo, deliberately underexposed with no other post-production manipulation, shows Kent making a point during a class. The looming figure of one of his students in the darkened background reminds me of an angel looking over the shoulder of a saint. It was, by far, my favorite photo of that Master Class week.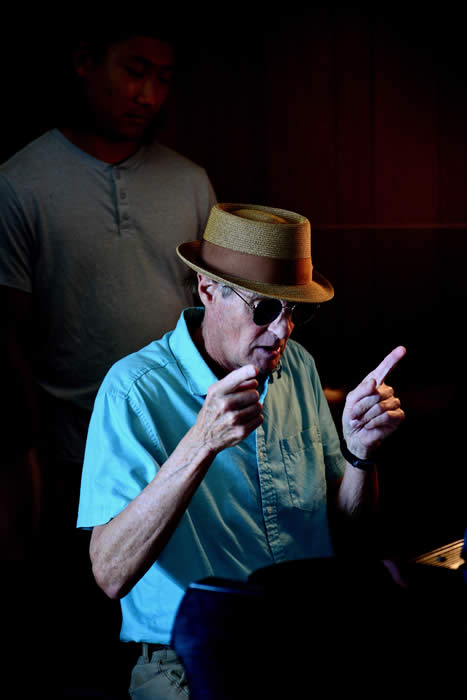 Made totally by available light, metering for Kent's face and underexposing the background. My fave pic of that week.
Bernie Vinzani's portrait at the university was arguably the polar opposite—we were in total control of the lighting and used it dramatically.
Happily, Bernie's letterpress, modeled after one that Benjamin Franklin used in colonial times, looked elegant all by itself in the Powers Hall art gallery at UMM, and more important, its placement in the gallery gave us plenty of working room.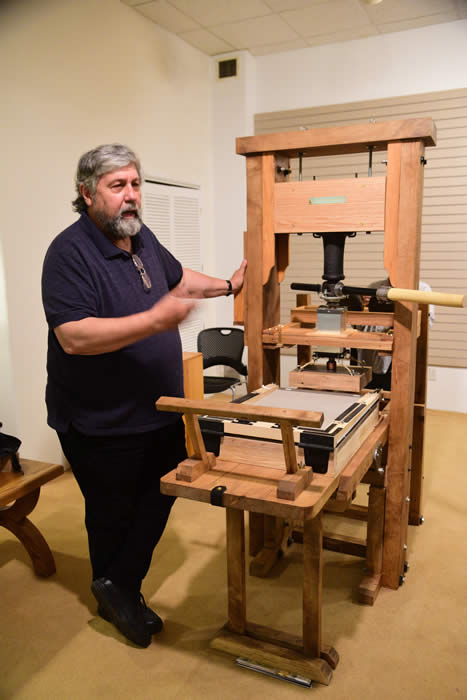 Bernie Vinzani talks to us about his 'common press' at UMM. Overhead fluorescent lighting is nothing special, and the slatted wall in back was very reflective.
I set up two portable flash units high on light stands and at a 45-degree angle to the press. One of them had a cardboard snoot (OK, a toilet paper core) that I fixed to the flash head with painter's tape to create a dramatic spotlight effect.
The test shot was terrific—beautifully highlighting the wood grain of the press—but the flashes also created distracting highlights on the reflective back wall of the gallery. To eliminate this while retaining the great light on the press, I had my students unroll two big swaths of seamless paper that we gaffer's-taped to the gallery back wall.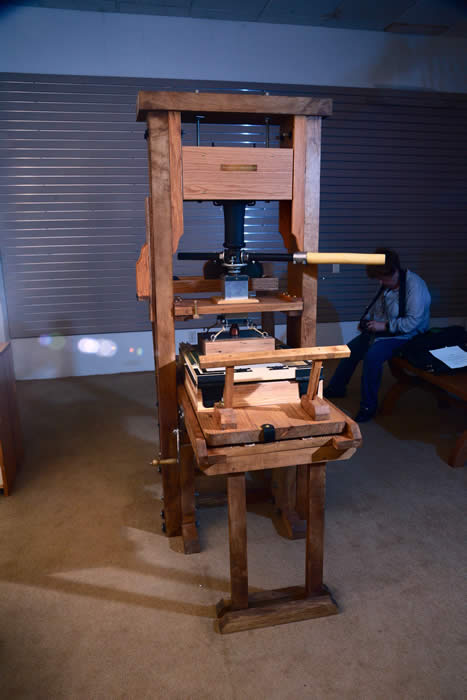 Love the light on the press--the reflective back wall not so much.
The final test looked wonderful…All we needed was Bernie to stand by his creation.
But when Bernie was in position, it was clear that the two directional flashes did virtually noting to light Bernie's face. What to do?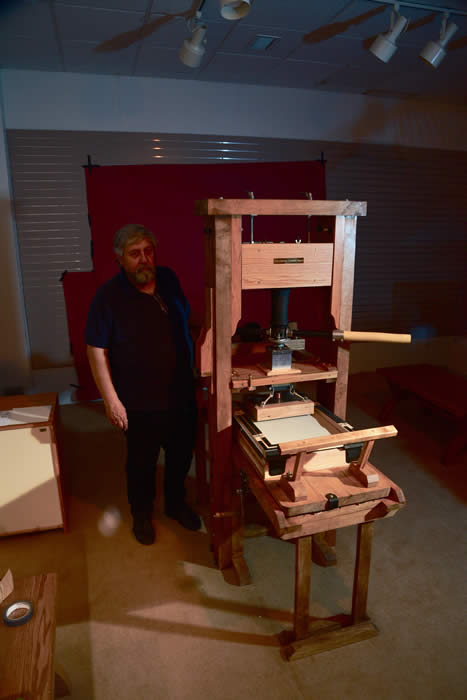 Glad I brought a roll of seamless with me...it worked perfectly to mask the distracting background reflection from the flash units. But where's Bernie?
The solution was the size of a small tape measure: a tiny Morris Midi slaved flash unit that I was able to position on an exhibition case to Bernie's right, maybe two feet away, on a level with his head. As shown in the final photo at the top of this article, it lit Bernie's face beautifully, when triggered automatically by the two other flash units.
Lots of work, lots of schlepping—but well worth it.
This would have been the end of my tale of summertime portraits, but, to my delight, there was one more keeper to be made.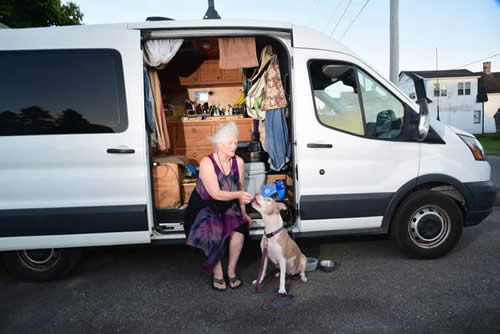 Paying homage to the daylight flash technique of the great British photographer Martin Parr, I made this evening portrait of a woman and her dog and their van home using a stand-mounted Vivitar 285 flash unit.
Two weeks later, during my second Master Class, we were about to begin an evening/night shoot to photograph a beautiful monolithic sculpture in Lubec's Stockford Park, when we noticed a huge shiny white van in the parking area at the park's edge. The van's sliding door was wide open, displaying a cluttered interior that called to mind Frances McDormand's ride in her great film about van life, 'Nomadland.' My wife Judy immediately struck up a conversation with the lovely white-haired owner of the van as she sat on the running board with her dog Chai.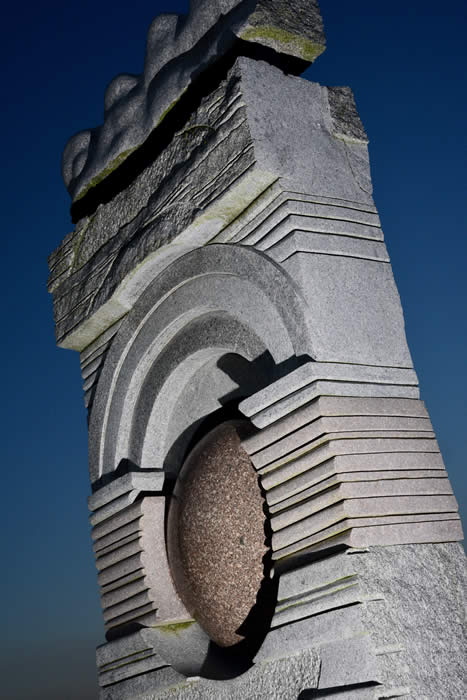 After our great session with Mel and Chai and their van, I set up the same light to show off the striking 'Beyond the Horizon' sculpture that graces Lubec, Maine's Stockford Park.
Turns out Mel (short for Mehitabel) Dietmeier had sold her previous house and was vanning around the state looking for a new property to buy and settle down in. A gregarious and talented person, Mel was, among other things a former illustrator and children's book author.
I had to make a portrait of Mel and Chai and their van home. I already had a Vivitar 285 portable flash unit attached to an extended light stand, that I was planning to use for the sculpture photos. This time, though, I positioned the flash a few feet from the van to camera left to create dramatic light on my subjects in the manner of master Magnum location shooter Martin Parr, whose flash-lit portraits of folks at Britain's beaches are spectacular. With the flash in position, and triggered by a radio remote on my handheld camera, I was able to make a number of quick portraits, including one that I love.
-0-0-0-0-0-
Lubec Photo Workshops at SummerKeys, Lubec, Maine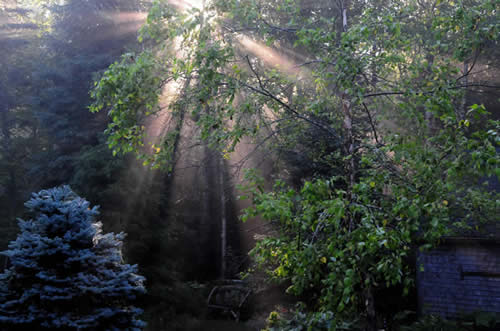 Join us for another magical summer in Down East Maine in 2023...
Master Photo Classes with Frank Van Riper
I teach in several different places—from the Washington DC area to Umbria—but my Photo Master Classes in Lubec, Maine may be my favorites for their small size (five students max) and their remarkable setting—arguably the most beautiful coastline in the United States. (Sorry, route 1 in California.)
These intense, three and a half-day, limited enrollment classes are aimed at the more advanced student, who already has taken a photo workshop and who is familiar with basic flash. Maximum enrollment of just five. Open to vaccinated students ONLY. Enrollment through the famed SummerKeys Music and Arts workshops in Lubec, Maine--the easternmost point in the United States. First class will be late July, 2023; second will be in early August. NB: previous Master Classes were booked almost immediately.
Next summer's dates to be announced soon.
More Information: GVR@GVRphoto.com
To enroll: www.SummerKeys.com
Come photograph in one of the most beautiful spots on earth.
-----------
Van Riper Named to Communications Hall of Fame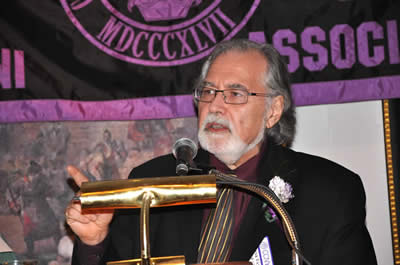 Frank Van Riper addresses CCNY Communications Alumni at National Arts Club in Manhattan after induction into Communications Alumni Hall of Fame, May 2011. (c) Judith Goodman

[Copyright Frank Van Riper. All Rights Reserved. Published 8/13/22]