Advance look: Frank Van Riper Fall/Winter Classes…below
'Serenissima': Almost Here…
Two years delayed, our Venice book reflects beauty—and a fractured market
By Frank Van Riper
Photography Columnist
Lubec, Me.--The big package, bearing four separate shipping labels to show its circuitous route from Ponzano, Italy to the tiny coastal town of Lubec, Maine where we summer, contained two full-size, bound, proof editions of our long-delayed book on Venice: the English version and the Italian one. Our Italian publisher, Vianello Libri, also enclosed a dust jacket made on press to show the richness of the tritone printing and to give a pretty good idea of how the images inside actually will appear when the book is printed.
My wife and partner Judy and I were thrilled. All of our fixes and edits had been made; the final sequencing of the photographs looked wonderful. Serenissima: Venice in Winter, a joint project that began in 1998 with the publication of my previous book, Down East Maine/A World Apart, finally was nearing completion. A fall publicity campaign was taking shape, including an exhibition, reception and signing at the Italian Embassy in Washington, numerous smaller events, as well as a kickoff signing at Politics and Prose, Washington's premier local bookseller and one of the best independent bookstores in the country. After a torturously long road to publication that was two years longer than anticipated, the only remaining hurdle was to have Serenissima finished and shipped over here in time for our first event in a little over two months.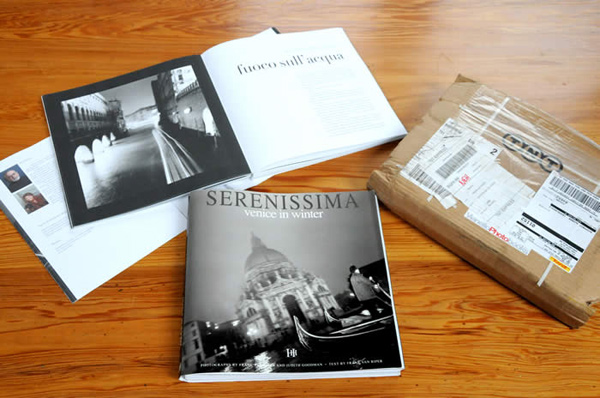 Two--count 'em two--versions of Serenissima: Venice in Winter, our six-year project to document the world's most beautiful city in photos and essays. Proofs for the Italian edition, to be sold in Europe, are at upper left; Cover of English-language cover appears at center. It took four shipping labels and three separate carriers for the proofs to reach us in rural Maine. © Frank Van Riper
As of this writing, all Judy and I can do is hope the book gets here on time—I do not want to relive the experience I had a decade ago in Lewiston, Maine when, during my first event for Down East Maine, I had a line of people standing before me—and no books to sell. (Happily, they arrived minutes later. I spent the rest of that first book tour delivering books to stores up and down the Maine coast before I sat down to sign them.)
But since then, what a wild, mostly wonderful, ride it has been to produce a quality photography book on Venice, the floating city. The impetus came after the Maine book, when I was casting about for the next project. People always ask me "What's the next book?" and I invariably say "I'll know it when it happens." What "happened" was that I was asked to lead a photography tour to Venice during Carnevale and, after Judy and I came back with some of the best stuff we ever had shot (all in black and white, by the way) I knew in my bones what the next book would be.
Work began seriously in 2000, and Judy and I made a total of six extended visits to Venice, some as long as a month, over the course of six years. We shot more than 300 rolls of film—more than 10,000 images—and I wrote thousands of words of text: on Venice's history, its everyday life, its daily battle with the sea. We made it a point not only to photograph Venice's beauty, but also to document its life behind closed doors: to record this magical place when it reclaims itself, however briefly, from its perennial hordes of tourists, and becomes a living, breathing city.
In the process we made some wonderful friends. We also came up with the best work either of us ever has done. We felt confident that it would produce a great book.
So did Jan Morris, the famed British author and travel essayist, whose book The World of Venice is a classic. "One of life's subtlest acquired pleasures," she wrote to us after seeing our initial book dummy, "is the Venice of winter, of mists and puddles, umbrellas and empty alleys and gondolas in the rain. This book magically acquires the pleasure for us—and no less miraculously—enables us to enjoy it all the year round."
Heady stuff from someone who also is a fellow of the Royal Society of Literature. And she was not alone. David Burnett, the great American photojournalist, declared: "Serenissima: Venice in Winter takes us on the rare journey that a perfect book can and unravels the secrets of a very personal walk through the streets, canals, and homes of Venice. Frank Van Riper and Judith Goodman take their cameras into those places which most tourists would never think of: small bars, dancing clubs, and homes of people who see Venice, not as a tourist destination, but as their front, and back, yards. It is a wonderful journey, graced by the evocative images and taken one step further by Van Riper's insightful text."
If that weren't enough, Eric Denker, former curator of prints and drawings at Washington's Corcoran Gallery and now a senior lecturer at the National Gallery of Art, gave us his curatorial blessing:
"Squisito! Frank Van Riper's and Judith Goodman's photographs penetrate the chill of the lagoon winter, gently unveiling the warmth of the Venetian soul. Invernal light subtly permeates each image, stoking the hearth of memory for Venetian aficionados and kindling the curiosity of armchair travelers. Bravo."
Given such praise, we could be forgiven, I think, for assuming that finding a publisher would be a slam-dunk.
But in fact, looking for a publisher stateside simply reflected the parlous state of American book publishing, the dumbing down of which over the past decade [a consequence of corporate consolidation and resultant bottom line paranoia] has been a terrible thing to see.
Once the envy of the sentient world for its variety, wit, independence and courage, American book publishing seems today to be afraid of its own shadow. The larger the company, so it seems, the less willing to print any but the most mundane, banal, or innocuous work. Or, in other words, the stuff that appeals to the lowest--and therefore the widest--common denominator of the American book-buying public.
As a result these once-proud risk-taking houses more and more seem willing only to bet on a sure thing. Not just a quality book, mind you, but one that also comes with a huge advance sale commitment (sometimes bankrolled by the author), a national publicity campaign already in place (ie: that the publisher does not have to pay for), or—best--a sure-fire celebrity or pop culture author (whether or not he or she even can write a coherent sentence.)
Pre-order now: click here


One of the most frustrating things about selling this book was the reluctance of so many American publishers even to consider it, though every one we contacted said they loved the project. In the last 8-10 years--or in the period since my last big photography book was published in America--the publishing business has so contracted that even the larger houses are cutting back and only want to publish books they are sure will be huge. The biggest fear among even the largest houses—or maybe especially among them since they have the largest overhead and thus the greatest need to make big money--is that the two giant American booksellers, Barnes and Noble and Borders, will not buy their titles in large enough numbers to be profitable.
For two years, gorgeous dummy in hand, we ran the gamut of reactions. Chronicle said it was too artsy; Twin Palms said it was too commercial. Rizzoli said we should try its sister house Marsilio in Venice.
Still another big house had the most exasperating—though totally understandable—reaction. Great stuff, they said, but they still were saddled with inventory from their previous Venice book: a blindingly mediocre effort featuring lots of color photos of gondolas and people in carnival masks, all seemingly shot at high noon. Arguably, our book, with its atmospheric bxw scenes, trenchant photojournalism and text was the polar opposite of this one, but this publisher had to live by the tyranny of its numbers--and its previous poor editorial choice.
So much had the make-a-buck-regardless-of-quality mindset infected the industry that I wasn't really surprised when a senior editor at one of the country's largest and most respected fine art publishing houses told me:
"We simply don't have the luxury of publishing things we simply like."
What a contrast in Europe, where we in fact found two simpatico publishers.
Getting the attention of European publishers did not require jumping through the hoops that American houses required--layers of bureaucracy and editors (all of whom, one assumes, are making a pretty good wage.)
Not that every European house was dying to publish us; most were not. But you could tell from their catalogs that these were serious people publishing serious books—not self-help cookbooks or books on how to lose weight while playing the market. Here we saw smaller leaner houses tending to their own publishing niche, and thus able to bring out edgier titles that did not require a sale of 25,000-50,000 "units" to be successful.
This was the world that American book publishing, largely based in New York, once had been.
Still even in Europe the market could bite you.
Two years ago, for example, after multiple turndowns in the US, the prestigious Swiss publishing house Scalo went nuts for our book. Scalo's president Walter Keller spoke of a major book launch, including European photography exhibitions and signings. After his initial burst of enthusiasm, though, including thick back and forth e-mail traffic, we heard nothing for several weeks. Finally, Walter wrote that he had to reluctantly withdraw his offer on the advice of his business associates.
Two months later, Scalo filed for bankruptcy.
We were delighted that we had not signed with them, but we also knew that we were back to square one, having lost valuable time.
Back I went to the computer and ultimately hooked up with Vianello Libri, a fine-art book publisher specializing in Venice-related titles. They were eager to bring out the book in Italy but were not really equipped for US distribution.
That was early last year. Time was running out and I was beginning to lose heart. Then I was asked to deliver the commencement address at the University of Maine at Machias and as a result found a US distributor.
How's that?
It's true—and illustrates how persistent networking pays off.
I had eagerly accepted the offer to speak at UMM—I had lectured and exhibited there over the years—and suggested we twin my appearance with a booksigning and lecture for Down East Maine/A World Apart.
Fine, said the college bookstore, but your publisher says it's out of books. In fact, the publisher, Down East Books, had sold out nearly all of its two-printing 8,000-book run. It had shipped the few remaining cases it had to National Book Network, a book distributor and liquidator that would supply the UMM event. By e-mail I pitched Serenissima to NBN's president, who in turn suggested I contact Dan Farrell, president of a publishing house with the unlikely name of Antique Collectors Club.
A quick look at their website showed a succession of high-end, lavishly illustrated catalogs geared to all manner of antiques collectors. But ACC also was a distributor for books by Vianello Libri, our Italian piblisher. A connection was starting to form.
That tenuous pairing grew stronger after I queried Farrell, sending him a pdf of our sample dummy, and he responded that he had just acquired venerable Hudson Hills Press and was looking to expand its list of museum catalogs and similar works with high-end photo books like ours.
Thus a failed book deal in Zurich led to a publisher in Italy, after which a commencement address in Maine led to a book liquidator who recommended an American publisher who happended to be looking for the perfect book with which to re-invigorate his new publishing venture.
We signed a contract. Two contracts, actually--one with Vianello for the European rights, the other a distribution deal with Hudson Hills to sell the book across America.
[For the record, Vianello is paying for the 2,000-book European edition. We are paying the printing costs for the 2,000-book English-language edition, which Vianello is printing under the Hudson Hills imprint.]
With the end of this road in sight, I have now begun the 24/7 job of book promotion, of which this column, frankly, is a part.
Postscript: as a practical matter, only authors like Stephen King or Danielle Steele grow rich on their books, but Serenissima: Venice in Winter has a real chance of achieving something special—and maybe even making us a few dollars. The real money may be in the continuing sale of our original and limited edition Venice prints for which the book actually serves as a sales catalog, combined with the appeal of a separate website www.veniceinwinter.com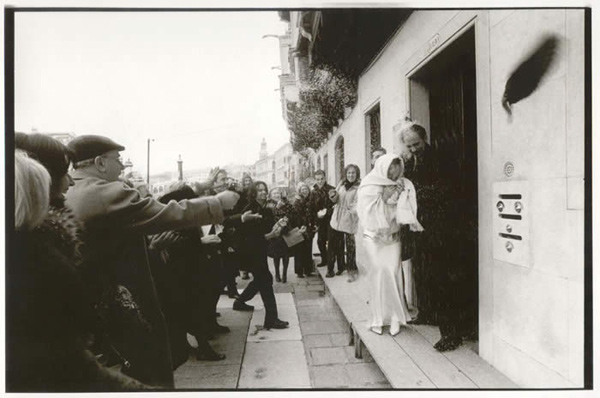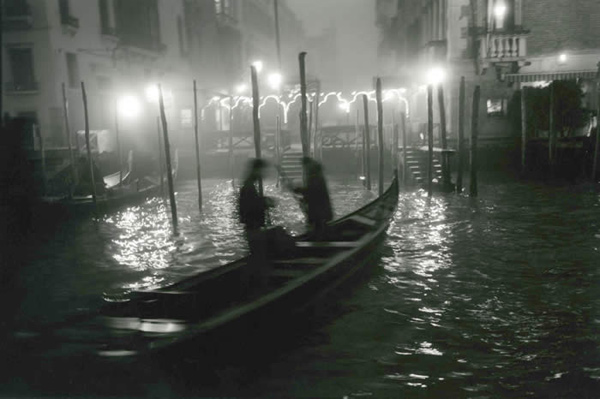 Two of our favorite Venice photographs: Judy's wonderful image (top) of friends and family showering a wedding couple with Arborio rice after their civil wedding near the Rialto Bridge; my 'Traghetto di Notte' (bottom) showing a misty shot of one of Venice 'crosstown buses' plying the Grand Canal.
© Goodman/Van Riper Photography
To say this whole experience has been a steep learning curve is to understate. But it's one I am delighted to have mastered, and one that has prepared me far better for the next book. But that's another column.
For now...all I need is for Serenissima to show up on time.
-0-0-0-0-
Frank Van Riper Classes and Field Trips, Fall/Winter 2008-2009
Glen Echo Park Photo Works
Documentary Photography: Digital or Film ($300)

This six-session course, taught by an acclaimed documentary photographer
and author of the new book "Serenissima: Venice in Winter," will help
students document their world, more easily photograph people, and work in
unfamiliar surroundings. Film or digital welcome. Students will initiate
or continue a project. Instruction in portable location lighting, as well as
darkroom printing, for those interested. Students wanting to add written
text are encouraged to do so. (Thursday evening, Sept. 25-Nov. 6, 2008,
7-10:30 pm. No class Oct. 9th)


Photo Field Trip: National Gallery of Art, East Wing ($150)

Sunday, October 5, 2008
A three-meeting National Gallery of art, East Wing workshop.
A brief organization meeting will be held a week before the trip and the
follow-up critique will be a potluck dinner at Frank's home. You will
find endless opportunities for shooting - people, architecture, abstracts all
in beautiful light. Lunch at the gallery cafe gives an opportunity for photo
suggestions and discussion. This is sure to be a fun and educational shoot
for students. Contact instructor for additional dates: gvr@gvrphoto.com or
202.362.8103.
Basic Flash Workshop ($275)
Four week hands-on workshop will help students get the most out of their
small flash units to mimic results obtained with much larger professional gear. Similar
to Frank Van Riper's more advanced "Master Class with Dr. Flash," this workshop
concentrates on the basics, with surprising results. (Thursday evening,
Nov. 13-Dec 11, 2008, 7-10:30pm. No class Nov. 27th)


Great Portraits with Simple Lighting ($275)

In this 4-session workshop, lighting master Frank Van Riper will teach students
how to make beautiful individual and group portraits using inexpensive flash units ad
unexpected accessories like flashlights and aluminum foil. No experience necessary.
Learn how to turn your family snaps into heirloom photographs. (Thursday evening, January 15-Feb. 5, 2009, 7-10:30pm)


Photo Field Trip: National Building Museum ($150)

Sunday, January 25, 2009
Join Frank Van Riper for a photo excursion to one ofWashington's most
unusual interior spaces - the ornate Italian Renaissance building that now houses
the National Building Museum - and some of the tallest interior columns in the world.
Tripods permitted for greatarchitectural shooting. Briefing meeting approximately one
week prior to trip followed by post-trip critique/potluck at Frank's home. For info:
GVR@GVRphoto.com or 202-362-8103

Info: Contact registrar: www.glenechopark.org or GVR@GVRphoto.com
Frank Van Riper is a Washington-based photographer, journalist and author. He served for 20 years in the New York Daily News Washington Bureau as White House correspondent, national political correspondent and Washington bureau news editor, and was a 1979 Nieman Fellow at Harvard. Among others, he is the author of the biography Glenn: The Astronaut Who Would Be President, as well as the photography books Faces of the Eastern Shore and Down East Maine/ A World Apart. His book Talking Photography is a collection of his Washington Post and other photography writing over the past decade. His latest book (done in collaboration with his wife and partner Judith Goodman) is Serenissima: Venice in Winter. Van Riper's photography is in the permanent collections of the National Portrait Gallery and the National Museum of American Art in Washington, and the Portland Museum, Portland, Maine. He can be reached through his website www.GVRphoto.com
[Copyright Frank Van Riper. All Rights Reserved. Published 7/08]