Frank Van Riper Winter classes…see below
Shooting Pols—beyond the head shot
…or was this campaign really necessary?
By Frank Van Riper
Photography Columnist
For many weeks this past summer—after John McCain stunned the political world with his selection of an unknown Alaska governor as his running mate—some of the few photos of Sarah Palin to appear on the internet were mine.
I claim no prescience about Palin nor, heaven forbid, any affinity with her. My wife Judy and I merely happened to be in the right place at the right time last winter when Palin was asked to speak at the annual Board of Overseers meeting of the Hoover Institution—a conservative, California-based think tank that holds its annual overseers meeting every year in Washington.
My wife and I are Hoover's regular DC photographers. Palin was among those invited to speak, so we shot her.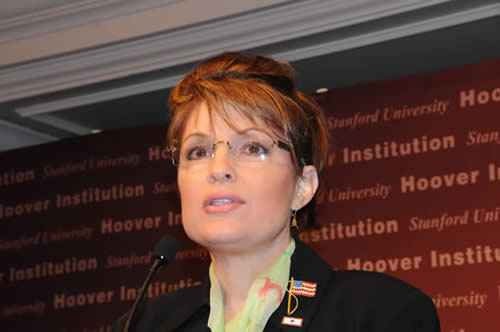 Alaska Gov. Sarah Palin addresses the Hoover Institution Board of Overseers last winter. She was virtually unknown outside her state, her speech was forgettable, but after she became John McCain's surprise runningmate, this photo and others I made that day were all over the Internet. © Frank Van Riper
A similar case of seemingly mundane photos becoming suddenly newsworthy—or at least more interesting for a time—was a couple of years ago when we were asked to photograph the annual awards dinner of the Republican Main Street Partnership. This is a group of moderate Republicans (remember them?) who actually pay more than lip service to the idea that the best public policy is bipartisan policy on which the centrists of both major political groups can agree. We had been shooting the RMSP event for several years—got some nice shots of John McCain one year, Arlen Specter, too, and of course Maine's two moderate GOP senators, Olympia Snow and Sue Collins.
But the real draw every year was the member of congress who mc'd the event. This guy seemed to have a friend at every table, was warmly and genuinely funny, and maybe most important, could keep things moving so that the annual dinner ended on time.
His name was Mark Foley.
Shortly after the 2006 dinner, however, the Mark Foley/congressional page scandal broke and Foley (wisely, as it turned out) abruptly resigned his seat and went into seclusion. He entered rehab for alcoholism, insisted he never had had sex with minors (just wrote them suggestive e-mails) and revealed that he had been molested himself by a priest when he was a boy. No charges ever were filed against him.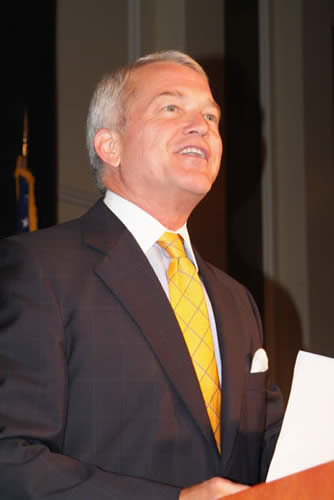 Then-Florida congressman Mark Foley mc's an awards dinner of moderate Republicans in 2006. Shortly thereafter he was forced to resign in a scandal over his allegedly improper contact with congressional pages. No charges ever were filed. © Frank Van Riper
Thus, it turned out, Judy and I had made probably the last photos of Foley while he was in office. In the great course of human history this obviously was no major deal. In fact, except for the brief flurry of credited Palin photos that we saw on the internet this past summer, our photos of her really didn't make much of a ripple with that story either. [That is except for some friends and colleagues who pressed us about whether Palin looked pregnant at the time of her appearance last February before the Hoover board. I had to admit I did not think she did, but looking back at the photos, especially at one I made from the rear as she stood at the podium, maybe she did look a little, well, motherly.]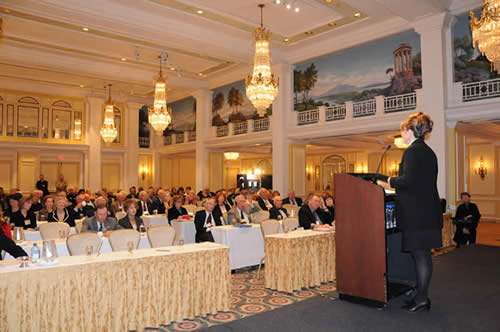 Though I did not recall Sarah Palin looking pregnant during her
Hoover
appearance, this view from the rear could suggest otherwise. © Frank Van Riper.
I bring this up following a long, sometimes brutish, oftentimes woefully superficial presidential campaign because one part of me (the ex-newspaper reporter who covered national politics for more than two decades for the largest newspaper in the country) thinks we need more in-depth political coverage, not less; while another part of me (the ex-newsie who has watched newspaper costs skyrocket while ad revenues have plunged) faces the uneasy thought that the kind of coverage I once provided may be an anachronism—and rightly so.
Just weeks before the election, for example, the Washington Post's media watchdog Howard Kurtz wrote a long piece questioning the wisdom of news organizations assigning a correspondent to cover each candidate's presidential campaign on a daily basis. "With a single correspondent's campaign travel costing as much as $10,000 a week," Kurtz wrote, "the number of cash-strapped news organizations willing to pony up has been dwindling in recent years. Only five newspapers—The New York Times, Washington Post, Wall Street Journal, Los Angeles Times and Chicago Tribune—[were] traveling regularly with Obama and John McCain."
The article went on to say that the nation's big regional papers, as well as USA Today and Time magazine, covered the presidential campaigns "only intermittently" and that Newsweek, which had been a fixture on the campaign trail for decades, pulled back its correspondents in the final weeks of the 2008 presidential race "for financial reasons."
If cost were the only factor here, one might make a case that, cost be damned, a vibrant democracy requires a vibrant press to cover it—even if it means news outlets paying monster bucks to keep their men and women glued to the candidates' sides, the better to report telling nuance as well as substance, especially during the critical two months leading up to Election Day.
But in fact, reporters--and oftentimes their photographic colleagues—have been little more than window dressing, not just in this most recent campaign, but in ones going back longer than I would care to admit. The old dictum that good coverage, political or otherwise, means "getting as close as you can as often as you can" just doesn't hold when the press is held at arms length—even within the press plane.
To be sure, being on the plane with a candidate does provide better access to key top aides, who may be more willing to talk in person than on the phone or via e-mail. But weigh that against this, from Howard Kurtz:
"Lack of access is accepted as a given." Kurtz said in mid-October. "Obama held his last press availability two weeks ago, while McCain—renowned for his nonstop schmoozing with journalists—held one brief news conference in a month and a half."
Add to this mix the changing nature of press coverage itself and the tyranny of 1. the internet, 2. the 24-hour news cycle and 3. that old bugaboo (of mine, anyway): television.
In the old days (i.e.: when I was a political reporter whose knees didn't rebel at long days and nights on the road) there was a clear AM and PM news cycle (for morning and afternoon newspapers) and reporters covering a candidate were able to weigh the welter of his or her words and position papers to craft a reasonably coherent narrative of the day's events in time for their daily deadline. The same was true for TV reporters, whose daily deadline was the evening news show.
Today, however, the abundance of online information has made the daily paper (and evening TV news program) less a source of spot news than a source of color and analysis. Blogs, websites, YouTube postings, etc., etc., while certainly able to broadcast information and images quickly, also have increased the volume of political discourse to a shouted cacophony—for which, ironically, many print reporters and photographers have to provide content almost 'round the clock.
Thus the correspondent on the press plane or press bus who in the past might have been able to observe a day's events firsthand (after all, that's why he or she is out there to the tune of ten grand in travel expenses a week) might instead be reduced to hustling to a press tent or press room, the better to feed his or her blog with comparatively meaningless trivia, plug in to the internet to see what is going on elsewhere, or download an e-blast from the candidate's headquarters. This all at the expense of actually watching the candidate delivering a speech just a few hundred yards away.
The inevitable shakeout will be fewer and fewer reporters and photographers traveling with a candidate fulltime—and that may be just fine. In fact, a case might be made that better political coverage, print, broadcast as well as photo, might be done from a distance, outside the media cocoon, with only occasional forays into the traveling campaign to, in effect, take the candidate's and the campaign's temperature.
Certainly, this has been the case with still photography. In the cocoon, there is precious little chance to make a telling shot beyond the candidate at yet another rally, at yet another rope line, at yet another factory. Some of the best political photography I have seen has been non-campaign work, oftentimes behind closed doors, in which body language, gesture and nuance say it all, sometimes to hilarious effect. I am reminded here of ex-NY Daily News shooter Harry Hamburg's award-winning photo of then House speaker Newt Gingrich (at the time engaged in running policy battles with the Clinton White House) wolfing down a slice of pizza in the Capitol after a long day, surrounded by chattering aides and pols, including the late Sonny Bono.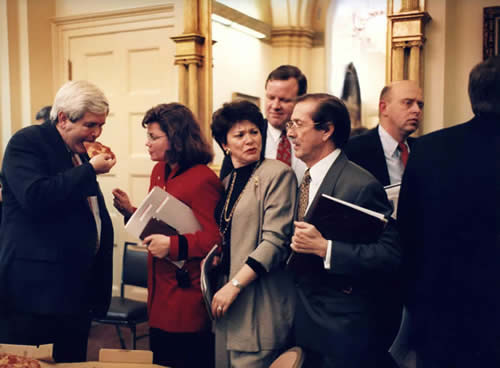 Harry Hamburg's great shot combines humor with the decisive moment—and a wonderfully disparate cast of characters, including the late Sonny Bono, right, holding folder.
©
Harry Hamburg
,
NY
Daily News
The pic won First Place for "Insider's Washington" in that year's White House News Photographers Association competition.
Years later, and more poignantly, the great Diana Walker followed Bill Clinton on his last day in office—a blustery day in January just hours after George Bush was sworn in to his first term. In one perfect shot she captured the ex-president, glum and huddled within his topcoat, as he was about to fly from Washington back to Arkansas.
His sad stricken face said it all.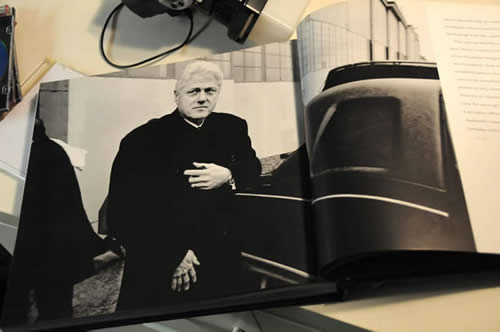 From photographer Diana Walker's marvelous 2003 book, "Public & Private: Twenty Years of Photographing the Presidency," (National Geographic Insight)
© Diana Walker
-0-0-0-0-
Frank Van Riper Classes and Field Trips, Fall/Winter 2008-2009
Glen Echo Park Photo Works
Basic Flash Workshop ($275)
Four week hands-on workshop will help students get the most out of their small flash units to mimic results obtained with much larger professional gear. Similar to Frank Van Riper's more advanced "Master Class with Dr.
Flash," this workshop concentrates on the basics, with surprising results. (Thursday evening, Nov. 13-Dec 11, 2008, 7-10:30pm. No class Nov. 27th)

Great Portraits with Simple Lighting ($275)

In this 4-session workshop, lighting master Frank Van Riper will teach students how to make beautiful individual and group portraits using inexpensive flash units ad
unexpected accessories like flashlights and aluminum foil. No experience necessary. Learn how to turn your family snaps into heirloom photographs. (Thursday evening, January 15-Feb. 5, 2009, 7-10:30pm)
Photo Field Trip: National Building Museum ($150)

Sunday, January 25, 2009
Join Frank Van Riper for a photo excursion to one of
Washington's most unusual interior spaces - the ornate Italian
Renaissance building that now houses the National Building Museum - and some of the tallest interior columns in the world. Tripods permitted for great
architectural shooting. Briefing meeting approximately one week prior to
trip followed by post-trip critique/potluck at Frank's home. For info:
GVR@GVRphoto.com or 202-362-8103 . Contact registrar: www.glenechopark.org
-0-0-0-0-
Frank Van Riper is a Washington-based photographer, journalist and author. He served for 20 years in the New York Daily News Washington Bureau as White House correspondent, national political correspondent and Washington bureau news editor, and was a 1979 Nieman Fellow at Harvard. He is the author of the biography Glenn: The Astronaut Who Would Be President, as well as the photography books Faces of the Eastern Shore and Down East Maine/ A World Apart. His book Talking Photography is a collection of his Washington Post and other photography writing over ten years. His latest book (done in collaboration with his wife and partner Judith Goodman) is Serenissima: Venice in Winter. Van Riper's photography is in the permanent collections of the National Portrait Gallery and the National Museum of American Art in Washington, and the Portland Museum, Portland, Maine. He can be reached through his website www.GVRphoto.com
[Copyright Frank Van Riper. All Rights Reserved. Published 10/08]