2012 Umbria Photo Workshops
Now Spring as well as Fall !! (see below)
Of 'Bridezillas' and the New Wedding Photography
How shooting weddings has changed..again

By Frank Van Riper
Photography Columnist
I have to admit, though my wife and I are veterans of shooting more than 600 weddings over more than 25 years: our first joint wedding venture was a date.
Back in the early 80s, when I was a Washington political reporter and Judy and I had been seeing each other for a while, she informed me that she had been hired to shoot a friend's outdoor wedding in the country. Judy was a little nervous about the event, never having shot so large a job on her own. She was, after all, being paid for this and wanted everything to go well. So I offered to tag along with a camera.
Everything did go well—I even managed to nail a shot of the groom being thrown into the swimming pool by his friends (nobody said this was to be a staid affair) and the wedding couple loved our pictures. Afterward, the groom did allow as how the dunking had ruined his watch.
Thus began Judy's and my long career as wedding photographers—at a time when the old formal style of wedding photography was beginning to die out, and people like Judy and me—with backgrounds in journalism and fine art—were bringing a whole new documentary sensibility to the field.
What we did so well was to combine my journalistic instincts for covering a story with Judy's fine art background for rendering it beautifully to offer elegantly seen documentary coverage of an event.
For years our fly-on-the-wall, almost journalistic, style was in vogue, especially with our DC-based clientele of smart young professionals (most of them lawyers) who wanted nothing like their parents' formulaic wedding pictures featuring canned portraits and other obviously staged poses. "We didn't even know you were there," was what we heard repeatedly from our delighted clients.
In fact, some 20 years ago, when Washingtonian Magazine began what would become its yearly listing of Washington's best wedding providers, we were listed among just ten wedding studios back then as "people the pros recommend."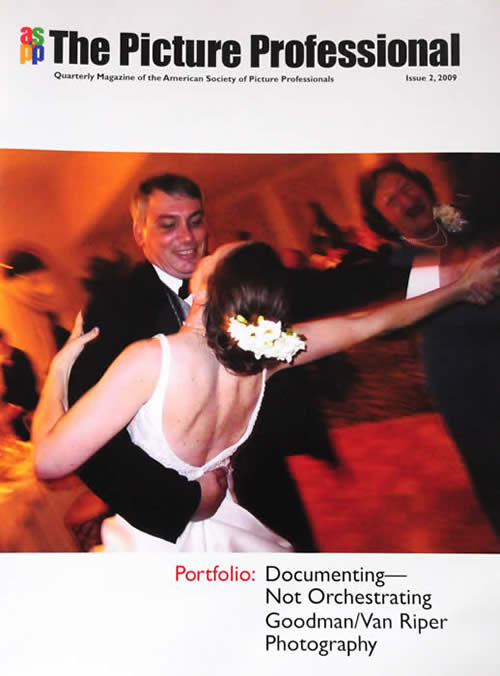 It's nice to have a cover shot--even better when the cover story is about you and your wife's career in wedding photography. Cover photo © Frank Van Riper
It was great while it lasted, but now the field of wedding photography is changing again—while still drawing from the past.
Years ago, our first wave of new competition came from out-of-work news photographers who found their regular sources of income--freelance news and feature jobs from newspapers, magazines and wire services--drying up as the industry downsized. A lot of these folks did bring new creative energy to the field, but too many lacked what might be called customer satisfaction skills. Used to shooting a job, then rushing off to the next one, some of these photographers thought a "wedding package" consisted of handing the bride a handful of unprocessed film at the end of the wedding reception.
Eventually, and especially as digital offered myriad new options both pre- and post production, the market morphed and wedding shooters, many of them far more computer-savvy than their older counterparts, offered their clients albums, prints, even streaming video—not to mention ease in ordering everything online--that would have been unheard of just a few years before.
Today, the most successful wedding shooters combine Judy's and my documentary, capture-the-moment, style with edgy portraits and still lifes that, at their best, look as if they came from the pages of a smart fashion magazine. [I also am chastened to add that, at their worst, these portraits sometimes can look like self-conscious parody of street thugs posturing in gowns and tuxedoes.]
To do this kind of work well, these shooters do two things: they tend to bring to the job more lighting gear than Judy and I ever did—or, conversely, shoot far more by available light than we ever attempted in our old film days, taking advantage of digital's remarkable light-gathering power to capture great light and a great mood.
In 2010, for example, while Judy and I were in Maine teaching three weeks of summer photography workshops, our friend Graeme, a founding member of the Cult of Frank Van Riper photo collective in Washington (no, I did not name it) flew to Scotland with his fiancée Misha to be married on his native soil. Before leaving for Maine Judy and I made some engagement portraits of the couple in DC's gorgeous Meridian Hill Park, but the actual wedding photography fell to other members of the Cult—a way cool photo road trip that Judy and I wish we could have made.
The result was simply wonderful images from a raft of talented shooters embodying all the freshness and creativity that so many young shooters are bringing to wedding photography today.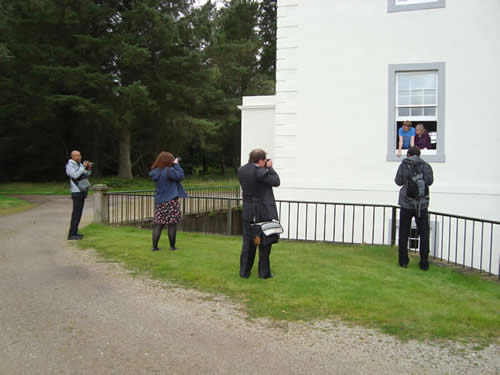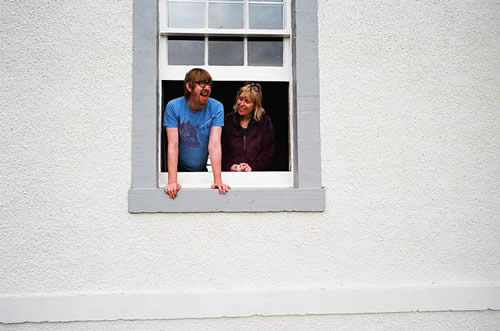 The weather was overcast but the mood was sunny as Graeme and Misha were married in Scotland--under blanket coverage by The Cult. (Top) part of the Cult press corps. (Bottom) one of the keepers shot that day. Top: © Erica Wissolik; Bottom:

©

Matt Dunn
But make no mistake: on a sustained commercial basis, wedding photography requires a lot of work and stamina, and after more than two decades of schlepping our photo gear to myriad wedding venues, Judy and I are happy to turn the reins over to a newer, younger generation of photographer so it can enjoy the loud bands, long hours of standing on hard floors, mediocre food and the occasional bride who is a nervous nut job.
In fairness, I have to say that over the years, Judy and I rarely were saddled with Bridezillas—the current name for over-the-top demanding brides who think nothing of screaming at everyone on their wedding day, generally acting like a spoiled brat and, of course, not being satisfied with anything. It says something about our clientele that, while we are doing virtually no weddings anymore, we now are getting return calls from Jewish couples whose weddings we shot 15-20 years ago, looking for our low-key documentary shooting style for their children's bar or b'at mitzvahs.
And, as Judy hastens to point out, today's "all about me" bride tends to be a younger first-timer; at second marriages and beyond, clients still tend to want the photographer to concentrate on the couple's family and friends.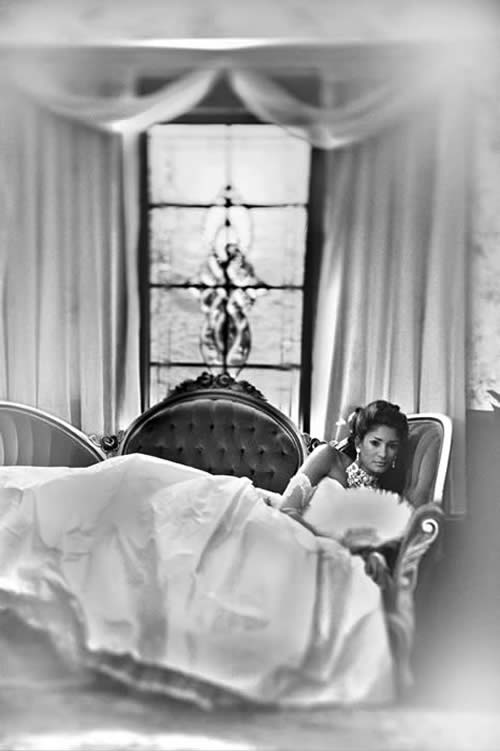 Elegant bridal portrait © Elizabeth Etienne
Still, no matter how simpatico a wedding couple may be, shooting a wedding is real work—donkey work, I might say—and it is a business. Make no mistake: Judy and I made very good money at it. But the wedding shooter who enters this field thinking the only things necessary to shoot a wedding and making big bucks are a handshake and a couple of empty CF or SD cards is setting him or herself up for an inevitable fall—probably several.
Which is why the new book Profitable Wedding Photography (Allworth Press, $24.95) by Los Angeles-based wedding shooter Elizabeth Etienne can be a valuable tool for anyone thinking of starting out—or branching out—as a wedding photographer.
Written in a breezy, readable yet always fact-filled style, Etienne takes the reader through the sometimes tedious details of wedding photography planning and shooting, right down to contract wording and recommendations on equipment.
It's a must-read for anyone hoping to make money as a wedding photographer.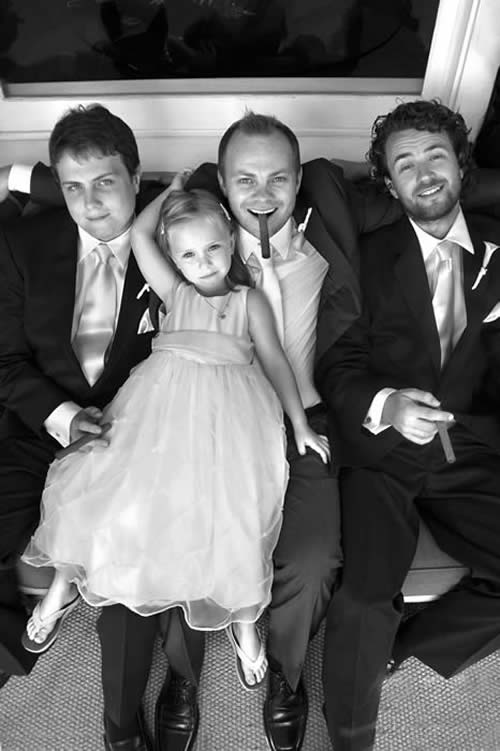 As Elizabeth notes in her book, there is more to wedding shooting than formal portraits. This informal get is an example. (Is the kid on the left old enough for that cigar?) © Elizabeth Etienne
(n.b.: though I never have met Elizabeth, her publisher, Allworth Press, also published a collection of my columns, Talking Photography, in 2002.)
Etienne's premise it is that the successful wedding shooter always views him or herself as an artist first and will do whatever it takes to make beautiful images at any wedding. That certainly was the case with Matt Dunn's great photos at Graeme and Misha's wedding in Scotland:
DC photographer Matt Dunn made all these great shots, capturing bride and attendants laughing at the weather, a stunning flower girl--as well as a wonderfully atmospheric shot of the reception, framed by two happy imbibers, including Cult member Josh Yospyn, left. All © Matt Dunn

In her book Elizabeth Etienne echoes the spirit of all of the Cult's images in Scotland when she notes that a wedding does not have to be over-the-top expensive or ostentatious to yield great images. She recounts, for example, the story of two struggling teachers who barely could afford her (she let them pay her fee in installments) and who were thrilled at her suggestions to make their at-home wedding look more elegant.
Conversely, she teaches the difficult lesson of knowing when to walk away from a job: as in the case of a couple who gushed repeatedly over Etienne's gorgeous work, yet kept nickel-and-diming her on details. That, and they never sent in their deposit. When Etienne finally called for the last time about her deposit, the groom tried to haggle with her on price--again.
Forget it, she told this jerk. No deal. "We're not meant to work together. I am an artist and people like you kill my passion and creative integrity." (Granted, this may sound a little over-the-top or precious, but, given the circumstances, what the hell.) "It's not good for me and I don't want to work for you. I'm sorry."
She hung up on him.
Even though the bride called back, pleading with her to reconsider, Etienne trusted her gut and never regretted walking away from these two toxic clients. (Not only that, she eventually re-booked the date, with clients who loved her.)
Much as I enjoyed Elizabeth's war stories (probably because Judy and I could match every one of them—remind us to tell you about the bride who broke out in a rash on her bosom right before she was to walk down the aisle) what really makes her book valuable is the practical knowledge and hints that only come from her own more than 20 years in the business.
Great hint for a newbie: Since you obviously don't have a full-fledged wedding album to show potential clients, put together "wedding-like" images to convey the mood you want: "a cluster of roses, a portrait of a young girl wearing a dress, with flowers in her hair, lingerie hanging on the back of an old door…"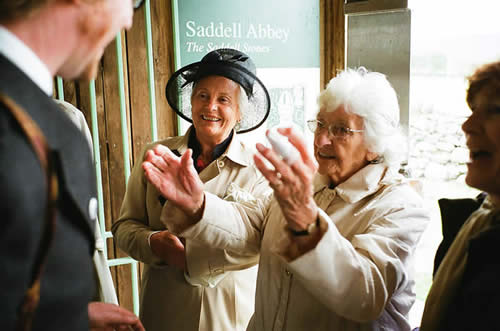 For all the hoopla about bridal gowns and over-the-top venues, really good wedding shooting is about capturing emotion, as Matt shows here in this photo of the groom being greeted by his aunties. © Matt Dunn
Early in her career, Etienne also advertised for couples to pose for free "wedding-like" images. A win-win: the couple got great formal portraits; Elizabeth got great portfolio pix.
Other practical hints include: shooting high for people with heavy or jowly faces—and using side lighting to put one part of the round face in shadow; scouting new locations in advance to avoid unpleasant wedding day surprises, dressing like a guest—or at least like one of the catering staff (ie: black slacks, white shirt--no jeans, sneakers, etc.) and perhaps my favorite: always having a homeopathic first-aid kit (as well as needle-and-thread and safety pins) in the camera bag should disaster strike—or hems fall.
I might add one other: learning how to tie a bow-tie—from behind. I have been a hero on several occasions when a groom or groomsman was unable to put on his tie minutes before the ceremony.
ANNOUNCING…
The Umbria Photo Workshops
Now every Spring..as well as Fall!
Spring 2012 dates….May 5-12
Fall 2012 dates…October 13-20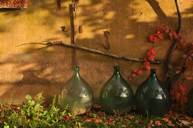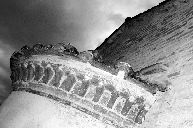 Judith Goodman Frank Van Riper
Join internationally acclaimed husband and wife photographers Frank Van Riper and Judith Goodman for weeklong photographic workshops under glorious Spring and Fall skies in one of Italy's most beautiful regions. Note: Workshops are limited to only six participants and include lodging at the spacious and inviting Villa Fattoria del Gelso in Cannara.
Frank and Judy, authors of the award-winning book Serenissima: Venice in Winter, will share their image-making techniques with a small group during a simpatico, low-key week covering everything from landscape photography in the verdant hills of Umbria, to nighttime photography using available and artificial light, to location portraiture in Umbria's closely held olive fields and vineyards.
Small class size assures individual critique and instruction.
Fee includes villa accommodations, all breakfasts, daily wine and antipasto Happy Hour, welcome and farewell dinner, pizza night, transportation by private van.
No entrance requirements beyond a love of good food, fine wine and photography.
Sign up now for a once-in-a-lifetime experience.
-------
Price per person: €1800 (convert to dollars)
Single supplement 400 Euro
Limited to 6 participants
Package includes:
--7 nights in the private villa Fattoria del Gelso
--welcome and farewell dinner
--all breakfasts
--vineyard tour and private lunch
--pizza-making party at the villa
--daily wine and antipasto happy hour
--individual critique and instruction
--private guided walking tours
--ground transportation throughout your stay
—FURTHER INFORMATION: www.experienceumbria.com
Van Riper Named to Communications Hall of Fame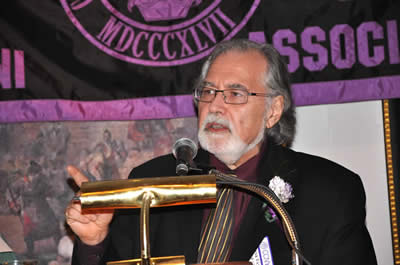 Frank Van Riper addresses CCNY Communications Alumni at National Arts Club in Manhattan after induction into Communications Alumni Hall of Fame, May 2011. (c) Judith Goodman

Photography columnist Frank Van Riper, author of the award-winning book Down East Maine/ A World Apart, and others was inducted into the City College of New York Communications Alumni Hall of Fame during an awards dinner at the National Arts Club in Manhattan May 6, 2011.
Van Riper, 64, was cited for is long career in journalism and photography and joins a panoply of other famed CCNY writers and artists named to the Hall of Fame in previous years, including playwright Paddy Chayefsky, muckraking author Upton Sinclair, novelist Oscar Hijuelos and columnist and author Irving Kristol.
Van Riper's formal journalism career began on the New York Daily News, which he joined in 1967, one week after his college graduation. He stayed with The News for 20 years, serving as White House correspondent, national political correspondent and Washington Bureau news editor. He was a 1979 Nieman Fellow at Harvard, and holds the 1980 Merriman Smith Award (with the late Lars-Erik Nelson) from the White House Correspondents Association for deadline coverage of the negotiations to free American hostages held in Iran during the Carter administration.
In 1987 he left daily journalism for commercial and documentary photography, partnering with his wife, photographer and sculptor Judith Goodman.
In 1992, Van Riper became photography columnist of the Washington Post, where his column, "Talking Photography," appeared in the Camera Works section of Washingtonpost.com (www.TalkingPhotography.com) His book, Talking Photography, a ten-year collection of his columns and other photography writing, was published in 2001.
Van Riper and his wife are co-authors of Serenissima: Venice in Winter, an internationally acclaimed book of photographs and essays, published in 2008.
In October, 2010, they also inaugurated The Umbria Photo Workshops, their first international photography workshop in Umbria, Italy. www.experienceumbria.com
Every summer they also lead the Lubec Photo Workshops at SummerKeys, a series of low-key week-long workshops based in Lubec, Maine. www.SummerKeys.com
Faces of the Eastern Shore
Order Frank Van Riper's classic look at life on the Chesapeake, Faces of the Eastern Shore, for only $15 (reg. $19.95), plus s/h.
Published in 1992 and printed in duotone, this 10"x 9" quality paperback was featured in the Baltimore Sun, Washington Post and numerous other publications for its superb location portraiture and lyrical text.
Said author James A. Michener in his foreword: "What this rascal has done is belatedly to illustrate my novel, Chesapeake, and superbly."
Contact Frank directly for copies of this now out-of-print classic: GVR@GVRphoto.com

[Copyright Frank Van Riper. All Rights Reserved. Published 10/11