'Sunrise at Campobello'...
...with photo workshop apologies to FDR

By Frank Van Riper
Photography Columnist
The admonition of my friend and photo mentor Neil Selkirk is a good one to follow: "If conditions are perfect, just make the picture." It certainly is easier to follow than the second part of his dictum: "if conditions are not perfect, make them perfect."
In Neil's case, making conditions perfect once meant turning a closed dockside restaurant in Rockland, Maine—awash in harsh morning light bouncing off the sea and in through the restaurant's windows on three sides—into a seemingly candlelit nighttime oasis where patrons lingered over their drinks in romantic conversation.
Neil pulled off this visual parlor trick during a master class in location lighting that I attended more than 25 years ago at the Maine Photographic Workshops. Looking at the photo he produced that morning, you would swear it had been made at night and lit by available candlelight. In fact, it was a multiple-strobe shot, each strobe gelled amber and bounced into reflectors along the left and right side of the picture and out of the camera frame, from the front to the rear of the restaurant, to create a warm, diffuse—yet still reasonably bright—overall ambience. The harsh morning sun had been banished by the simple expedient of taping over every blessed window in the place with yards of black seamless paper that ultimately didn't register in the final photograph.
A few other minor lighting tricks and conditions for the photo were perfect. (The "patrons" in the picture were Neil's students, yours truly included.) I am sure the owner of the restaurant, who let Neil use the place for the lighting exercise, loved the shot.
But, man, what an effort. Much simpler, surely, to make photos under already perfect conditions.
Still, how to know when conditions really are perfect? Or more to the point, how to know when good conditions will become spectacular with the passage of time?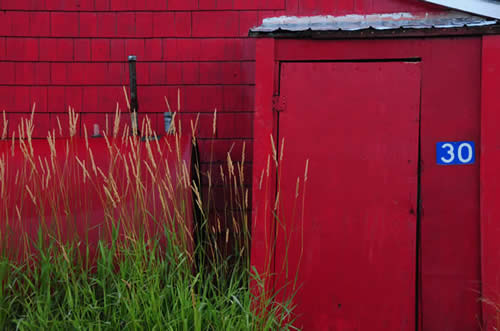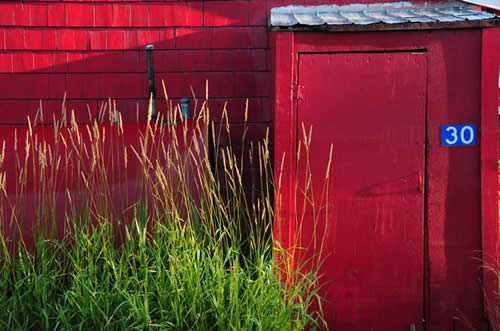 What a difference (the start of) a day makes. My first shot, above, was made as dawn broke over Campobello, N.B. The second shot, with far better light, was made about two hours later.

© Frank Van Riper

It's always a conundrum, especially if you are pressed for time. Too many of us will make photos under less-than-ideal conditions because: 1. It's the only time you'll be there or the tour bus is leaving in ten minutes, 2. The kids are getting restless, or 3. You are hungry and want to go eat. The only thing I can tell you is that I rarely have been disappointed when I have chosen to wait—sometimes a fairly long time—for the light to go from mundane to magical. It happened to me again just this past summer, on Campobello Island, New Brunswick, the "beloved island" so associated with Franklin and Eleanor Roosevelt.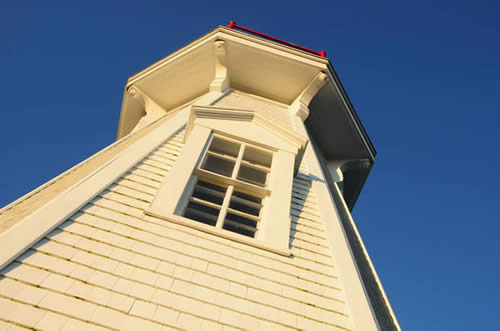 Mulholland Point Lighthouse on Campobello became a great indicator for us of how the post-dawn light was improving, almost by the minute. © Frank Van Riper
Once more, my wife Judy and I taught our annual series of summer photo workshops in nearby Lubec, Maine, the easternmost point in the United States and easily one of the most picturesque spots in the state, if not the country. (www.SummerKeys.com -- click on "Lubec Photo Workshops.") During three weeks of sold-out classes, over July and August, we photographed artists and models in their studios, made dramatic landscape photos at West Quoddy Head State Park, got very close to all manner of farm animals at centuries-old (and still operating) Tide Mill Organic Farm, did dawn shoots, night shoots—you name it.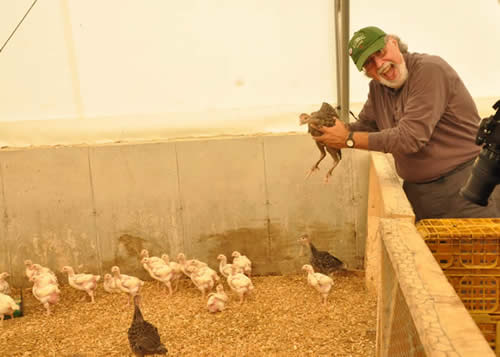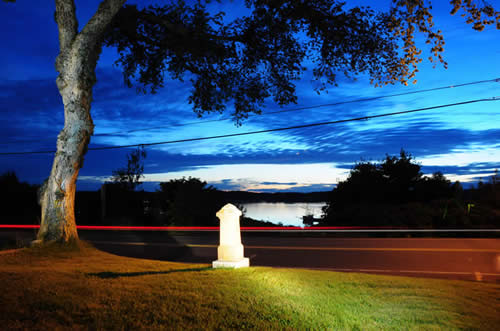 Trust me, no fowl were hurt in the making of this photograph (above). Judy made it at Tide Mill Farm as I lifted a baby turkey over the enclosure so it could reach its food. Below, a jointly-done nighttime shot at the Lubec town cemetery, using drag-flash, painting with light and time exposure. Top photo: Judith Goodman; bottom: Lubec Photo Workshops
It was during one of our dawn shoots that we experienced the magic of perfect light. We started at 5am at Lubec's town dock, a gorgeous expanse of water and small islands, interspersed with workboats of various kinds. We watched the sun peak over the horizon and made several pictures of boats, sometimes in silhouette, sometimes not. The only drawback was that on this particular morning there were virtually no clouds in the brightening blue sky to reflect back onto the water for more dramatic pictures.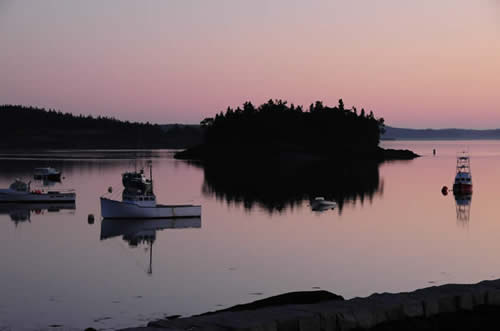 With sun just coming up, the Lubec town dock is bathed in pink light. But better is to come. © Frank Van Riper
"Let's go to Campobello," someone said, noting that sunrise on the island—just across the international bridge from Lubec—would shine bright and golden, not only on Lubec but on the Lubec narrows as well, with fishing boats and motorboats coming and going.
It was a great idea, even if, in this age of post-9/11 hyper-security, going back-and-forth between Lubec and Campobello is no longer the breeze it once was. (Now, every US citizen returning to the States from Campo must show a passport and answer questions. Back in the old days, I once breezed through US Customs from a picnic on the island simply by saying--truthfully--that I had forgotten the mustard. And, no, I do not feel any safer.)
One of Campobello's memorable sights is the striking, though now unused, Mulholland point lighthouse. Sure enough, this small, beautifully proportioned lighthouse, freshly painted bright white with red trim, provided a nice element in one of my post-dawn photos, standing out nicely in the still-subtle light:
I liked how the lighthouse shone white and bright in the still-emerging light, but, again, better light was coming. © Frank Van Riper
As it happened, the lighthouse became the perfect barometer of how the light changed and improved as the dawn morphed into a bright sunlit morning.
The light changed—from diffuse to starkly warm and angular—seemingly with each passing minute. And the angle of light changed as well, as the sun rose in the east. Note this early sunrise photo of the top of the lighthouse, and a later shot showing the light extending much further down the building as the sun got higher: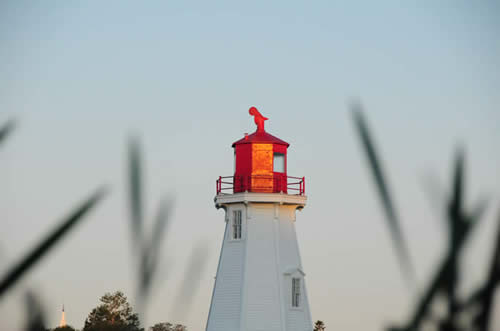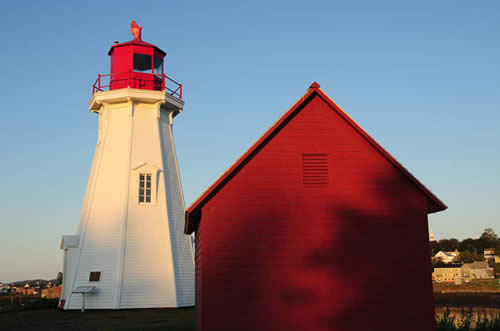 Seemingly within minutes, the quality--and angle--of sunlight changed. In top photo, sun is barely touching top of light. In bottom, sun is higher in the sky and shining warmer and brighter down the length of the lighthouse.
© Frank Van Riper
It was about this time that the golden morning sun bathed the Lubec narrows and made the town of Lubec look wonderful in the near distance: a classic postcard view of a coastal New England town. And through it all a succession of workboats and motorboats kept moving to and fro. By this time a number of our workshop students had massed at and around the base of the Mulholland light shooting with the sun at their back; all they had to do was compose their photos and shoot. A number, myself included, were able to dramatically darken the emerging deep blue sky simply by changing exposure. This came in handy during some of my final photos, during which I used just a touch of fill-flash to great advantage, even as the sun shone brightly (see below.)
Perhaps the best shot for me came right about this time. I loved how the strong morning light raked across the front of the multi-sided lighthouse, creating stark shadows and a near-abstract series of shapes. This was my money shot of the morning.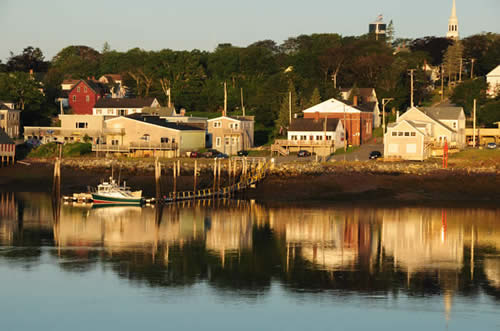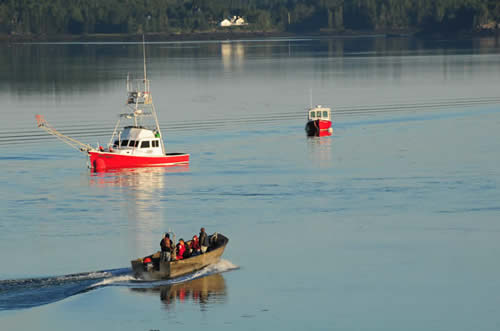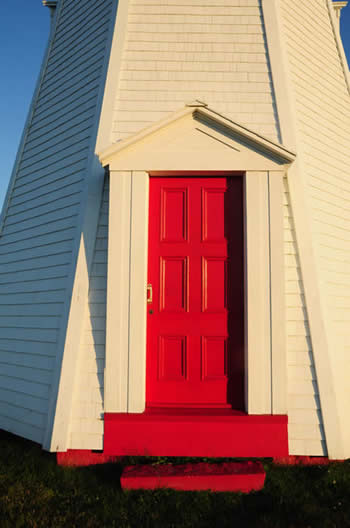 Great shots came fast and furious when the light became perfect. Top: postcard view of Lubec at sunrise, middle: workboats in the channel, bottom: money shot of Muholland light.
© Frank Van Riper
With the sun fully risen—and with all of us getting a tad peckish—all that remained was making sure we had gotten everything we wanted. The last shots I made included these two below. I loved how the beautiful band of red sky at the horizon blended into a rich blue, and composed a shot using the red shingled building near the lighthouse as a compositional element.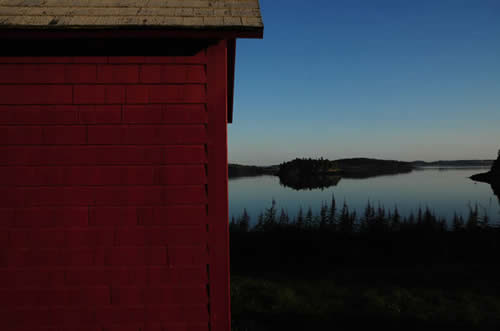 One final image before breakfast, but it needed a little more oomph. © Frank Van Riper
Close, but no cigar, I thought. Though I knew there was enough light so that the building would not be a complete silhouette, I wanted more of the building's detail to show, while still underexposing a bit to make the already-great sky even richer.
Cue the pop-up flash.
Without even changing my exposure, I simply let the flash do its thing. It added just a hint of light, not even enough to change the warm balance of the overall illumination, but it was just enough to improve the photograph. Sure, I could have tweaked the first photo in Photoshop or Lightroom, but the whole purpose of our workshops—reflecting Judy's and my general philosophy as photographers—is that photographers should learn to see, and use, light to create wonderful images in-camera, not on a computer screen.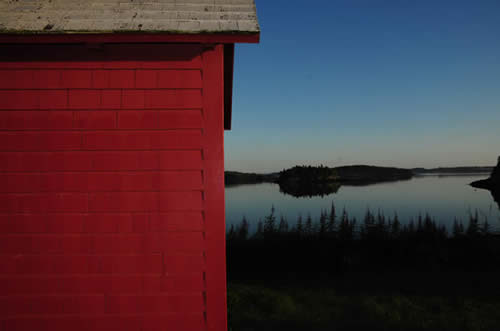 A pop-up flash, used well, can make all the difference. Here it opens up the red shingles without affecting the overall exposure. © Frank Van Riper
It was getting on to 7am and within a few minutes we had bundled back into our cars and headed back to Lubec, passports in hand, for breakfast.
The pancakes, the eggs, the corned beef hash, all tasted wonderful to us--as wonderful as any meal tastes after a good morning of shooting and especially as we sat at the breakfast table scrolling through all the great pictures we had made, after we had waited for the right light.
Van Riper Named to Communications Hall of Fame

Photography columnist Frank Van Riper, author of the award-winning book Down East Maine/ A World Apart, and others was inducted into the City College of New York Communications Alumni Hall of Fame during an awards dinner at the National Arts Club in Manhattan May 6, 2011.
Van Riper, 64, was cited for is long career in journalism and photography and joins a panoply of other famed CCNY writers and artists named to the Hall of Fame in previous years, including playwright Paddy Chayefsky, muckraking author Upton Sinclair, novelist Oscar Hijuelos and columnist and author Irving Kristol.
Van Riper's formal journalism career began on the New York Daily News, which he joined in 1967, one week after his college graduation. He stayed with The News for 20 years, serving as White House correspondent, national political correspondent and Washington Bureau news editor. He was a 1979 Nieman Fellow at Harvard, and holds the 1980 Merriman Smith Award (with the late Lars-Erik Nelson) from the White House Correspondents Association for deadline coverage of the negotiations to free American hostages held in Iran during the Carter administration.
In 1987 he left daily journalism for commercial and documentary photography, partnering with his wife, photographer and sculptor Judith Goodman.
In 1992, Van Riper became photography columnist of the Washington Post, where his column, "Talking Photography," appeared in the Camera Works section of Washingtonpost.com (www.TalkingPhotography.com) His book, Talking Photography, a ten-year collection of his columns and other photography writing, was published in 2001.
Van Riper and his wife are co-authors of Serenissima: Venice in Winter, an internationally acclaimed book of photographs and essays, published in 2008.
In October, 2010, they also inaugurated The Umbria Photo Workshops, their first international photography workshop in Umbria, Italy. www.experienceumbria.com
Every summer they also lead the Lubec Photo Workshops at SummerKeys, a series of low-key week-long workshops based in Lubec, Maine. www.SummerKeys.com
Umbria Photo Workshops, Fall, 2011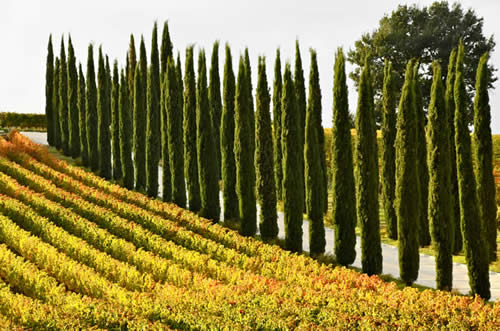 Sagrantino/Cyprus 2 Frank Van Riper
Join internationally acclaimed husband and wife photographers Frank Van Riper and Judith Goodman for a weeklong photographic workshop under glorious fall skies in one of Italy's most beautiful regions. This trip is limited to only six participants.
Frank and Judy, authors of the award-winning book Serenissima: Venice in Winter, will share their image-making techniques with a small group during a week covering everything from landscape photography in the verdant hills of Umbria to location portraiture in its closely held olive fields and vineyards.
Participants will travel by guided excursion to several of Umbria's storied hill towns, including Perugia and Assisi, and receive individual attention during daily critiques.
Package includes 7 nights in the fully restored 17th century villa Fattoria Del Gelso in Cannara, located on a 40-hectare working farm literally walking distance from colorful shops and restaurants and centrally located in the shadow of Assisi. Attentive staff are on hand daily.
This is a trip designed for relaxed learning and sightseeing via foot, bicycle and van, taught by two experienced location photographers whose work has been exhibited in and acquired by major museums in the United States. Frank and Judy are molto simpatico teachers who will turn your photographic vacation into a once-in-a-lifetime adventure.
October 15-22, 2011
Price per person: €1800 (convert to dollars)
Single supplement 400 Euro
Limited to 6 participants
Package includes:
--7 nights in the private villa Fattoria del Gelso
--welcome and farewell dinner
--all breakfasts
--vineyard tour and private lunch
--pizza-making party at the villa
--daily wine and antipasto happy hour
--individual critique and instruction
--private guided walking tours
--ground transportation throughout your stay
—FURTHER INFORMATION: www.experienceumbria.com
Faces of the Eastern Shore
Order Frank Van Riper's classic look at life on the Chesapeake, Faces of the Eastern Shore, for only $15 (reg. $19.95), plus s/h.
Published in 1992 and printed in duotone, this 10"x 9" quality paperback was featured in the Baltimore Sun, Washington Post and numerous other publications for its superb location portraiture and lyrical text.
Said author James A. Michener in his foreword: "What this rascal has done is belatedly to illustrate my novel, Chesapeake, and superbly."
Contact Frank directly for copies of this now out-of-print classic: GVR@GVRphoto.com

[Copyright Frank Van Riper. All Rights Reserved. Published 8/11