Still spaces left for 2013-2014 Workshops!
Umbria Photo Workshops -- October 12-18, 2013
Venice in Winter Photo Workshop -- January 11-17, 2014
see below for details
Back to Basics in Umbria
A 'molto simpatico' workshop on fundamentals

By Frank Van Riper
Photography Columnist
Frank & Judy: Thanks so much for a fabulous week of food, wine and photography. Great fun and fellowship!
--Ron Eichner, Washington, DC
Not that we needed an excuse to teach photography in Italy, but our annual fall workshop in Umbria this year seemed the perfect place to let students get back to basics and learn how to use their cameras from the ground up, as it were.
We were, after all, on the ground—rich farm country, in fact—far from the bustle and noise of places like Rome or Florence, and free to let inspiration (aided by instruction) produce wonderful pictures made at a leisurely pace.
[In fairness, we do the same kind of thing every summer in rural Maine (www.SummerKeys.com -- see Lubec Photo Workshops) but Italy of course has its own special artistic—and gastronomic—cachet.]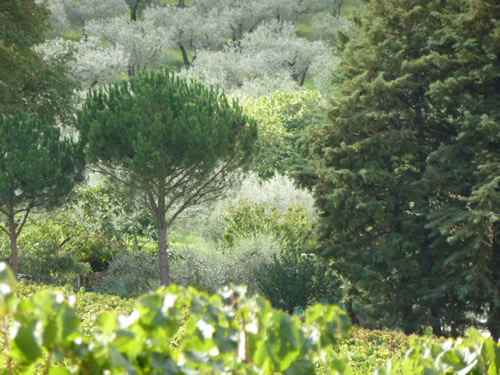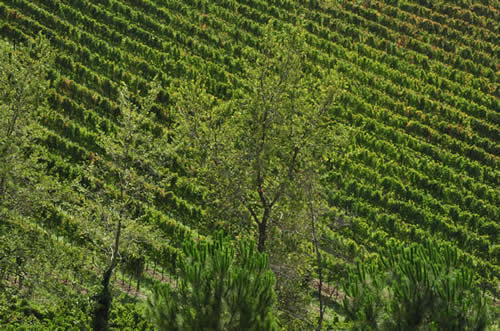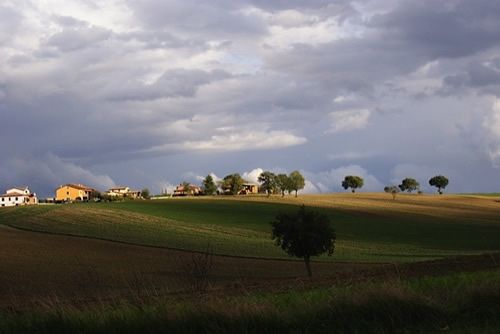 It's not for nothing that Umbria is called the Green Heart of Italy--as these three gorgeous scenics attest. Top ©Diane Eichner. Center © Beth Altman. Bottom © Lynda Mounts
The region of Umbria, located near the center of the country, is called the "green heart of Italy" because it produces some of Italy's, and therefore the world's, best olive oil, as well as simply ambrosial black and white truffles, hand made cheeses of infinite variety, pork products from small producers throughout the region and, when made from the local Sagrantino grape, some of the finest red wines on the planet. It was here last October, outside the tiny town of Cannara (near Assisi) that my wife Judy and I once again hosted six students (our maximum) for a week-long photography workshop that we hoped would be part photo workshop, part vacation.
Our goal each year is to "Experience Umbria" through daily photography and touring, getting to know winemakers, cheesemakers, artisans of glass, fabric, ceramic and wood, and chefs of astounding skill—all the while reveling in the beauty of the region's glorious hill towns and ancient cities.
Frank & Judy did a wonderful job—balancing the enjoyment of an exciting vacation with the instruction and feedback of a comprehensive photography workshop. Days were varied and geared toward the individual's needs and interests. Good food, great weather and knowledgeable guides added to the week's success and value of the experience.
--Beth Altman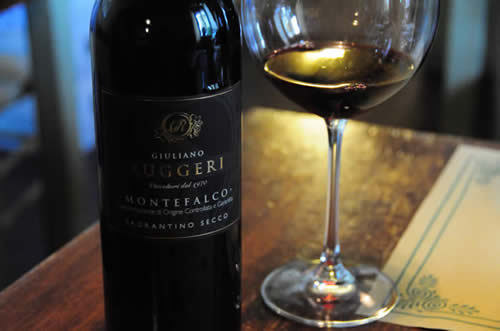 Sometimes a great wine just begs for a great photograph. I made this shot during a leisurely lunch at the marvelous Enoteca Oberdan in Todi. © Frank Van Riper
We like to say that this is not photo boot camp, and certainly our accommodations attest to that. We have exclusive use of a totally renovated 18th-century farm villa with rustically elegant rooms and a professional grade kitchen, with staff. But if the emphasis is partially on creature comfort—including daily excursions with our van and driver and a nightly wine and antipasto Happy Hour by the fireplace—it is based equally on learning how to see better so that students, not their camera's on-board computer, can do the creative thinking when making photographs.
Thus our first rule during any workshop we teach is to urge everyone to work in manual mode, the better to have total control over one's camera. Especially when working digitally, there simply is no better way to gauge the effect of more or less light on your photograph, while also seeing, perhaps for the first time, that the "correct" exposure, as determined by your camera's exposure meter, may not necessarily produce the best picture. This incremental approach to getting the best exposure is far and away the most important thing that Judy and I teach.
I learned so much about my camera and how to think about photos. Frank & Judy taught me so much about capturing images, as well as the mechanics of my camera….We visited wonderful towns, ate great food & most of all, had wonderful traveling companions. And the folks at the villa were so helpful. A great trip all around!
--Lynda Mounts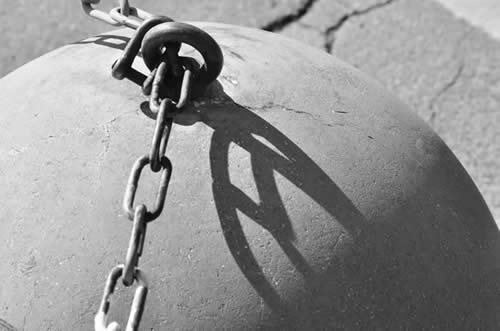 Learning to see great patterns in light and shadow, expecially in black and white, can lead to gorgeous near-abstracts like this.
© Mady Chalk
We also urge students to leave their comfort zones. The best example: For those who prefer landscape—the vast majority of students everywhere—we strongly (if gently) point them toward portraiture, as well as toward documentary shooting (i.e.: telling a story through a series of photographs.)
Photographing people you don't know often can be the most difficult thing for novice photographers to do. Shyness and unwillingness to engage one's subjects can hurt one's photographs in two important ways:
It can nudge photographers into over-reliance on long lenses, the better to capture images without actually dealing with their subjects.
And as a result…
…it deprives photographers of the joy of engaging their subjects, and also of making photos of people not only interacting with each other, but directly with the photographer.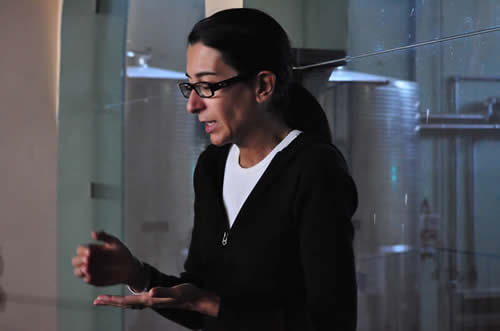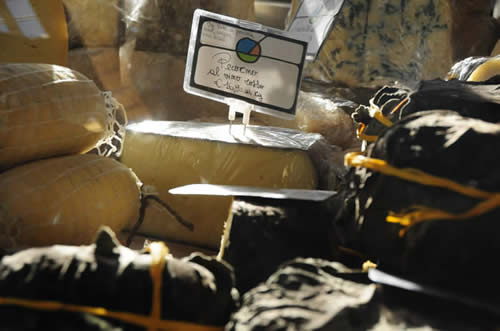 A visit to the Trevi Olive Oil Cooperative produced a lovely informal portrait of our guide. The year before, during a tour of an artisanl cheesemaker near the villa, the cheeses 'posed.' Top: © Mady Chalk; Bottom: © Frank Van Riper
Right here, though, I have to concede that there are times when working with a telephoto lens can produce some wonderful images. Judy, for example, is a big believer in this stealth form of shooting, and the photos she has made over the years support her belief. Some in particular stand out: a striking photo of a gorgeous young woman in Perugia looking coquettishly at a young man. The young man's head fills the lower right portion of the frame and the girl is peering at his close-shorn head and into his eyes. Her fingers lightly hold her upturned collar. The photo easily could have been the fruit of a hyper-art-directed location shoot for expensive eye makeup. Yet in fact it's a grab shot, made by a supremely talented photographer using a long lens.
Another of Judy's photos, also made in Perugia, is a wonderfully human shot of a young couple sitting on a bench under the glorious Umbrian sun, the boy reclining in the girl's lap; she gently caressing his head. Simply impossible to get if Judy were standing in front of them.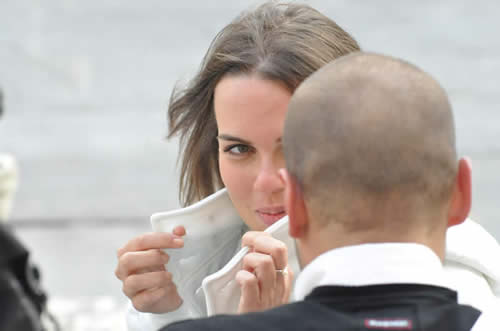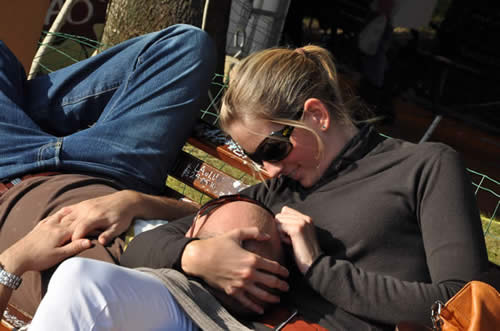 Two great gets from Perugia, each with a long lens. With results like these, who am I to argue over technique? © Judith Goodman
But if I had to choose, I always would echo the late photojournalist Robert Capa: "If your pictures aren't good enough, you aren't close enough" (Yet even here, I have to give my wife the last word: "Remember when Arnold Newman (the great portraitist) said 'available light is any light that's available'? Well, 'close enough' means any way you can get close, even with a long lens.")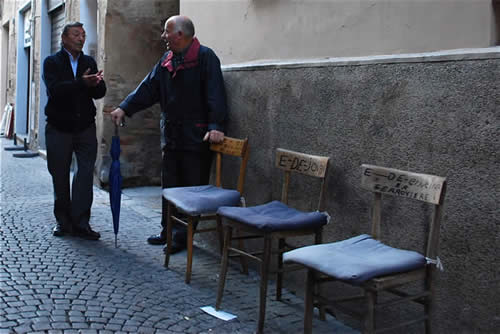 A wonderful juxtaposition: Top: men chatting in Bevagna near the chairs left each day for local elders © Richard Mounts. Bottom: elderly man shields his eyes from the sun in Norcia, in a beautifully composed BxW shot. © Ron Eichner.
Grazie mille to Frank & Judy and all the wonderful companions…good fellowship camaraderie and fun in a supportive learning environment.
--Diane Eichner
One great advantage of a workshop like ours—that emphasizes granting students access to places they generally could not enter as tourists—is that the initial encounter with potential subjects is taken care of. Thus, when we toured the great Pardi family vineyard in Montefalco—and had a wonderful lunch in their tasting room--everyone had been introduced to our hosts, including our delightful chef, and the taking of photos was taken for granted. Likewise, when we later toured the Pardi family's other famous business—its textile plant (Tessitura Pardi) we were able to roam around and photograph the ancient, yet still serviceable, textile weaving machines with abandon. In fact, we had the whole marvelously clattering plant to ourselves.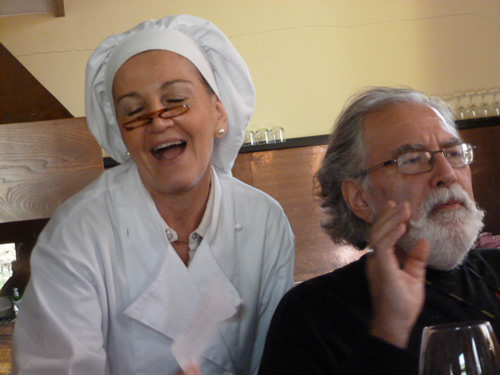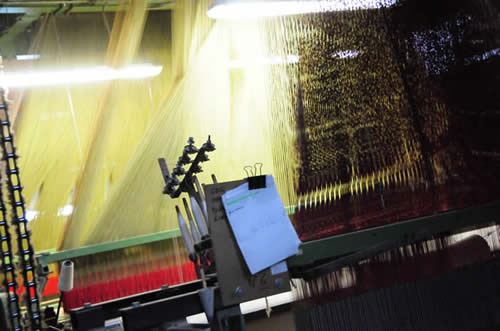 Top: A relaxed lunch at the Pardi family vineyard--I'm talking to our chef in Italian. © Diane Eichner . Center: A detail of brilliant linen thread at Tessitura Pardi © Beth Altman. Bottom: An overall view of this wonderfully ancient machinery © Frank Van Riper .
Still, there remains the question of making photos of people while street-shooting.
Perhaps the two greatest extremes I can think of (in terms of technique, anyway) are Henri Cartier-Bresson, the great French photojournalist (1908-2004), and the quintessential American street shooter Garry Winogrand (1928-1984.)
Cartier-Bresson, renowned for using "a velvet hand, a hawk's eye," was a master at stealthily capturing what has come to be called "The Decisive Moment," when all elements of gesture, light and composition come together for a perfect image. Winogrand, by contrast, was a genial force of nature when he roamed his native New York, Leica in hand, shooting his camera like a machine gun. He would approach people with a big grin and shoot away, almost daring them not to be entranced.
And damned if most of them weren't charmed. A documentary film made about this guy working in New York is remarkable for the fact that no one beats the snot out of him as he marches grinning through the streets of Manhattan shooting roll after roll of film.
There is a middle ground, I think, and I demonstrated it one year in Umbria.
One of our students had made a shot of several older women who were sitting outside a building in Montefalco and chatting among themselves. He used a long lens and the women were unaware of him. The photo was fine as far as it went, but it could have been so much better, I thought.
I walked a few yards closer and approached the women, noticing that one of them had a dog.
"Buona sera, signore," I said to all of them, "che bello cane; come se chiama?"
The women told me the dog's name and I petted it.
"Per favore…un foto?" I said, gesturing at my camera.
Having broken the ice with these lovely women and having paid them the courtesy of introducing myself, however briefly, they said, mostly through shrugs and smiles, "sure, why not?"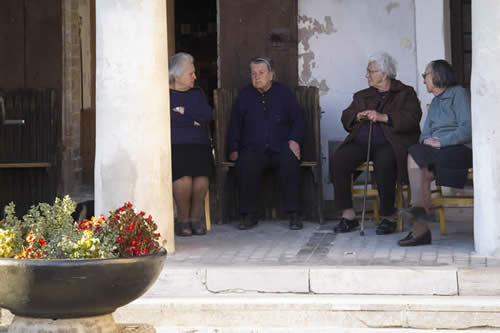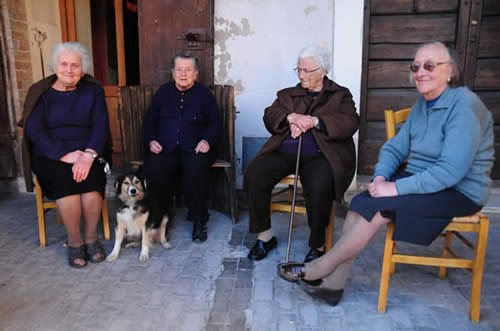 Two versions of the same photo. Top was made with a long lens from afar © Fritz Gibbon; bottom was made a few minutes later, after I engaged the women in a brief conversation.
© Frank Van Riper
The photo has become one of my favorites, and it shows what can happen with only the simplest of approaches. Even if I did not speak Italian, I probably could have achieved much the same end simply by approaching the women with a smile, greeting them in English, and just gesturing at my camera.
Many times, that's all it takes, yet too often novice photographers, hobbled by their own shyness, are unable to take even this small first step to improving their pictures manifold.
What a group—molto simpatico! And I have learned so much—toured lots of places; especially enjoyed Francesco, our guide in Assisi. Great food and lots of stories from each of us. Thanks to all for a wonderful time.
--Mady Chalk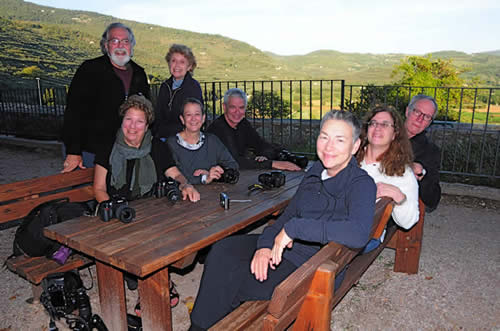 Think we had enough equipment? Our happy band during the 2012 Umbria workshop, all from the DC area. Standing l-r: FVR and Judy Goodman. Seated rear l-r: Mady Chalk, Lynda Mounts, Ron Eichner. Seated foreground l-r: Diane Eichner, Beth Altman, Richard Mounts.
The Umbria Photo Workshops: October 12-18, 2013 (only three slots left--act now)
Join internationally acclaimed husband and wife photographers Frank Van Riper and Judith Goodman for weeklong photographic workshops under glorious Fall skies in one of Italy's most beautiful regions. Note: Workshops are limited to only six participants and include lodging at the spacious and inviting Villa Fattoria del Gelso in Cannara.

Frank and Judy, authors of the award-winning book Serenissima: Venice in Winter, will share their image-making techniques with a small group during a simpatico, low-key week covering everything from landscape photography in the verdant hills of Umbria, to nighttime photography using available and artificial light, to location portraiture in Umbria's closely held olive fields and vineyards.
Small class size assures individual critique and instruction.
Participants will travel by guided excursion to several of Umbria's storied hill towns, including Montefalco, Bevagna and Assisi, and receive individual attention during daily critiques.
Package includes six nights in the fully restored 18th century villa Fattoria Del Gelso in Cannara, located on a 40-hectare working farm literally walking distance from colorful shops and restaurants and centrally located in the shadow of Assisi.
This is a trip designed for relaxed learning and sightseeing via foot, bicycle and van, taught by two experienced location photographers whose work has been exhibited in and acquired by major museums in the United States. Frank and Judy are molto simpatico teachers who will turn your photographic vacation into a once-in-a-lifetime adventure.
Fee includes villa accommodations, all breakfasts, daily wine and antipasto Happy Hour, welcome and farewell dinner, pizza night, transportation by private van. No entrance requirements beyond a love of photography, good food and fine wine. For details: go to http//:www.experienceumbria.com
Unseen Serenissima:
The Venice in Winter Photo Workshop
January 11-17, 2014 (space still available)
Follow in our footsteps, visiting some of the same places that we photographed for our bestselling book--well off the beaten path and wonderful to shoot. There will be early morning and late-night photo excursions, visits to places tourists rarely travel (the cemetery island of San Michele, for example; the public gardens, I Giardini, the vibrant open market La Pescaria, charming wine bars and enoteche.) We also will visit local artisans in their studios, some of the world's great museums, as well as favorites like Piazza San Marco or the Doge's Palace. NOTE: participants also will have free time during the week to wander this magical place on their own. We will provide what we think is the best tourist map to help navigate--as well as a one-week vaporetto pass for travel on Venice's ubiquitous water buses.
Following are the key details (subject to change):
1. Dates: Jan. 11-17, 2014
2. Cost $3,500 per person
3. What's included: First class hotel lodging in Venice, all breakfasts, three meals (welcome and farewell dinner and one lunch, probably on Murano or Burano) week-long no-limit vaporetto pass, private instruction and tours, daily critiques at the hotel, signed copy of our book, Serenissima: Venice in Winter.
Note: The 2013 tour filled almost immediately and this tour already is beginning to fill. To reserve space or to receive more information about the Serenissima workshop, Contact: GVR@GVRphoto.com
Grazie mille!
Van Riper Named to Communications Hall of Fame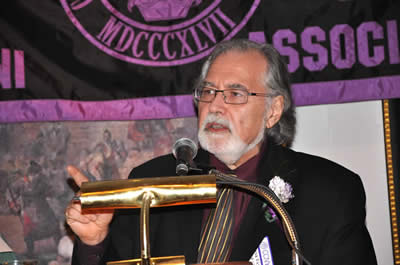 Frank Van Riper addresses CCNY Communications Alumni at National Arts Club in Manhattan after induction into Communications Alumni Hall of Fame, May 2011. (c) Judith Goodman

[Copyright Frank Van Riper. All Rights Reserved. Published 11 /12