Lubec Photo Workshops – Summer, 2011 ... AND
Umbria Photo Workshops - Fall, 2011 (see below!)
Experiencing Umbria
A great photo workshop in the 'new Tuscany'
By Frank Van Riper
Photography Columnist
Credit Thomas Mann, I guess, for bringing a creepy kind of recognition to Venice. His 1912 novella about a depressed writer's fantasies over a young boy on the Lido during a cholera epidemic captured the floating city's sometimes eerie stillness and forbidding shadows.
But if Death in Venice and other works, like Ian McEwan's The Comfort of Strangers, or the great Nicolas Roeg film "Don't Look Now," painted a somber picture of Serenissima, think how works like Frances Mayes' Under the Tuscan Sun or Andrea Camilleri's delightful mystery series about an irascible (and food-loving) police inspector in Sicily (not to mention Donna Leon's Commissario Brunetti mysteries in a much lovelier, if still-imperfect, Venice) have made us long to return to these beautiful places in this singular country.
Into this mix now comes Umbria. And do we have pictures to show you why.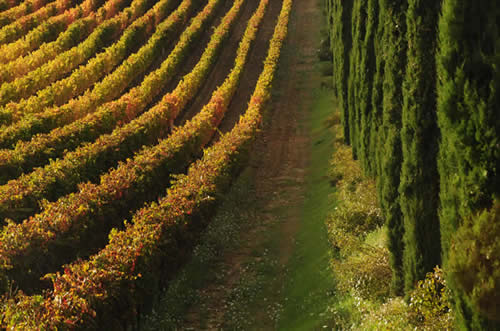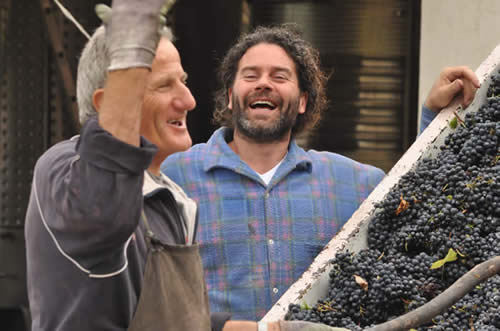 Top: 'Sagrantino/Cyprus' --late afternoon abstract at Umbrian vineyard. Sagrantino is the name of the Umbrian grape that produces some of the region's--and Italy's--finest wine.
(c) Frank Van Riper
Bottom: Classic Italian faces of Sesto and Roberto Dionigi caught during the harvest at the Dionigi vineyard.
(c) Judith Goodman
For years this remarkable place—Italy's only landlocked region—has been something of an undiscovered jewel—or, if you will, an undiscovered truffle. [This stunningly fragrant, and stunningly expensive, edible fungus is just one of the many things for which Umbria is known.] The region sits just below its more famous neighbor, Tuscany (thanks, Frances) and for years has been comparatively ignored by tourists despite its glorious hill towns, panoramic landscapes and, this being Italy, wonderful food, superb wines and simpatico weather. In fact for some in the know Umbria is called Tuscany without the tourists.
But that may be changing. Inevitably, the crush of vacationers over the years, especially in Tuscany, has prompted searches for less crowded alternatives with similar qualities. For some the "new Tuscany" was in Puglia, the region further south and known for its round stone farm buildings, or trulli. For others, the new Tuscany wasn't even in Italy—Provence in France, for example—made even more famous by (surprise) another author, Peter Mayle, writing about his experiences there.
But more and more, this seems to be Umbria's time.
In October, 2010, my wife Judy and I inaugurated week-long photo workshops in Umbria, centered in a beautifully restored, 17th century farm villa just outside of the tiny Umbrian town of Cannara, near Perugia and Assisi. The Villa Fattoria del Gelso (so named for the mulberry tree in its courtyard) provided a perfect place from which to launch day trips to many of this region's storied hill towns. The villa's rooms were spacious, the staff was gracious and helpful—and, after a day's shooting, every evening began with a hearty wine and antipasto happy hour by a roaring fire in the villa's large living room.
Bottom line: everyone seemed to have a ball, everyone made great pictures—and no one left hungry. Enthused New York photographer Devra Goldberg:
"Every expectation I had was exceeded—and then some!"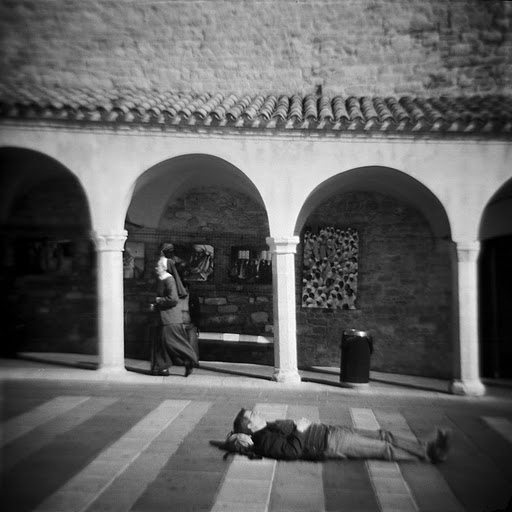 Dev Goldberg worked exclusively in Umbria with toy cameras. This wonderfully enigmatic shot was made in Assisi with an all-plastic Holga camera. (c) Devra Goldberg
Still, trips like this don't just happen. Judy and I were able to take advantage, not only of a great location, but also of a staff who made our job so much easier, from planning breakfast every morning to mapping our daily itinerary
Here is an inside look at how the inaugural Umbria Photo Workshop took shape and how we are doing our part to put Umbria on the map…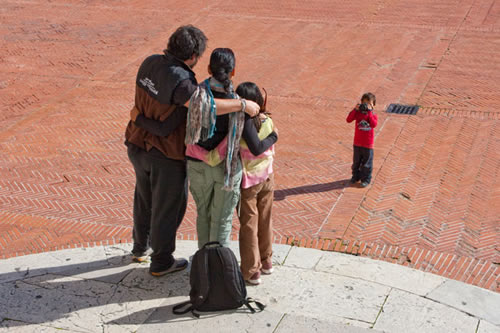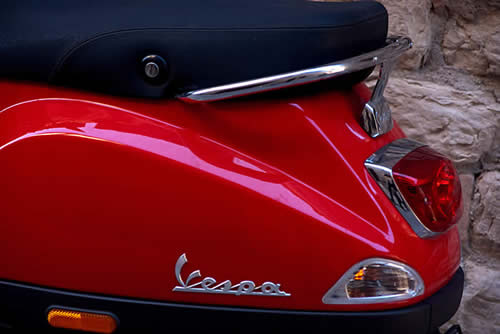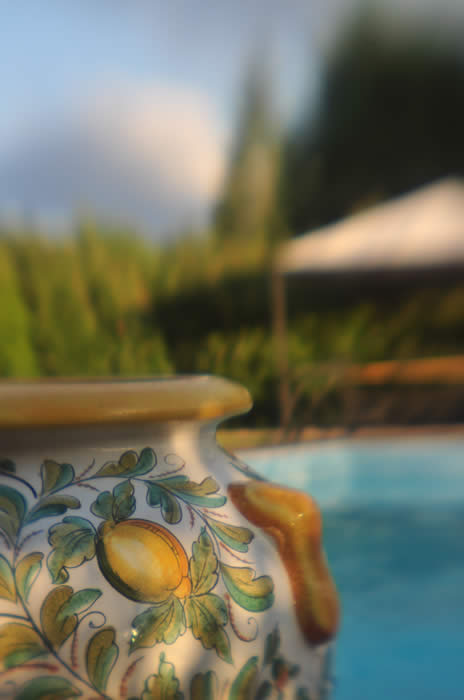 Charming family group in Gubbio, (c) Claudia Copeland, followed by a study of the rich color and sensuous lines of an Italian Vespa motor scooter, (c) Sylvia Lindgroen. Finally, Judy, using a LensBaby distorting lens on her Nikon D90, made a tranquil view of a typical Umbrian pot by our villa's pool. (c) Judith Goodman
In Spring of 2008, as our latest book, Serenissima: Venice in Winter (www.veniceinwinter.com), finally was nearing completion with a scheduled Fall/Winter pub date, Judy and I cast about for ways to promote it. Armed only with a dummy of the book and a pdf of same, I dutifully made the rounds of venues in the DC area looking for places to hold book-signings and shows later that year. Frankly, with a quality product in prospect, this was not a very hard sell. Our biggest coup was the Italian Embassy, where the Italian Cultural Institute hosted a pre-holiday exhibition of large prints from the book as well as a gala reception attended by 300 people. At roughly the same time we also did a packed book-signing and lecture at Politics & Prose, Washington DC's—if not the country's—best independent bookstore.
But our very first book-signing, in September of '08, was much more modest: at Bella Italia, an elegant Italian gift shop in Bethesda, Md. There, owners Suzy and Bill Menard made us welcome during what turned out to be the first of three events we did there that year. Over dinner after our first signing, Suzy and Bill spoke of the villa they owned in Umbria, from which they lead tours when they are not renting it out to groups and families. Judy and I talked about our teaching schedule—in Maine during the summer and, for me, at PhotoWorks at Glen Echo, Md. during the remainder of the year.
We told our new friends that we were looking to expand our workshop teaching.
"Why don't you use the villa and see how it works out," Suzy and Bill offered.
And so it began.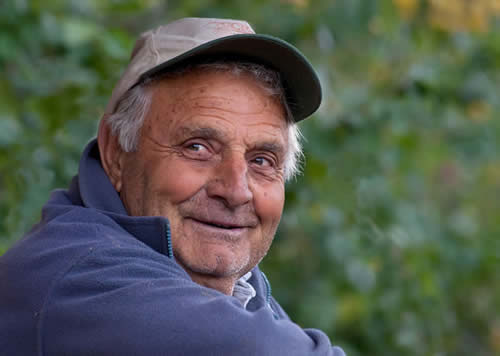 Location portraiture rarely gets any better than this beautiful portrait of Matteo Napolini, founder of Napolini vineyards. He still works the fields at harvest time. (c) Jose Cartas
Though the Menards exuded confidence that our workshop would fill up quickly, I was not so sure. We took out classified ads in the New York Review of Books and Harvard Magazine, talked up the trip to every local camera club that would have us, and sent e-mails to what seemed like the known universe, including former clients, students, and every friend we could think of.
And damned if we didn't book up fairly quickly. We limited our class to six people, not because we wouldn't have preferred to have a few more paying customers, but because the van at the villa could only take that many (along with Judy, me and the driver.) Any more and we would have had to rent a small bus—at triple the cost.
As it happened, six was the perfect number for this workshop. The final group reflected well our target audience: one couple whose wedding we had shot, two of my former students at Glen Echo, and a couple from the World Bank, where Judy and I often had appeared, separately and together, before its excellent camera club.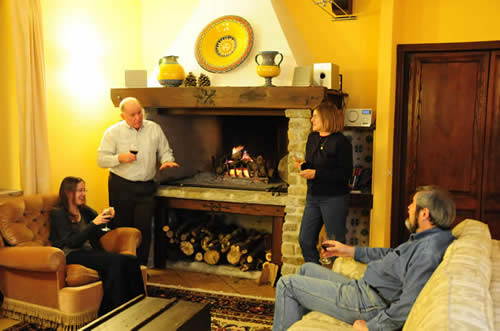 A quiet happy hour moment at Villa Fattoria del Gelso. That huge, typically Italian, fireplace is also great for grilling all manner of delicious things. (c) Goodman/Van Riper
As deposits were collected and we moved into the fall of this year, Judy and I sat down with Suzy Menard to map out our itinerary. Here, Suzy's expertise—and her bubbling enthusiasm not only for the region but also for the network of friends and helpers she had amassed over the years--could not have been more helpful. The itinerary we worked out was, I think, a nice combination of work, touring—and, it must be admitted—eating. In fact it included some of the best restaurants, trattorie and wine bars in Umbria. For all that, I am proud to admit that, even after a week of go-to-hell eating and imbibing. I gained only a pound. (The don't call them hill towns for nothing.)
Here, for example, was a typical day:
8am-10am: Breakfast at the Villa
10am: Depart with Aldo (our driver) for Perugia
11am-1pm: Guided tour of Perugia (with Alessia, a delightful young woman whose English was perfect and knowledge encyclopedic.)
1pm-4pm: Free time in Perugia for lunch, photos and shopping
4:30 pm: Return to the Villa with Aldo
6pm: Happy Hour at the Villa
8pm: Pizza Night at the Villa with Marco (another of our great staff—and, boy, could he turn out great wood-fired pizzas.)
Our week provided any number of ways to photograph mountains, fields and rustic buildings, but it also gave each of us the chance to meet and photograph people—one of Judy's and my favorite things. Market day in Montefalco was one example. There, amid simply gorgeous produce, meats and other great things to eat, folks went about their grocery shopping with the congenial gusto so common in my fellow Italians. There were pictures everywhere. And later that day, at the nearby Napolini family vineyards, we enjoyed a delicious lunch in the family's home—then wandered the fields with Mario Napolini as he decribed the harvesting of the local Sagrantino grapes that go into some of Italy's finest wines.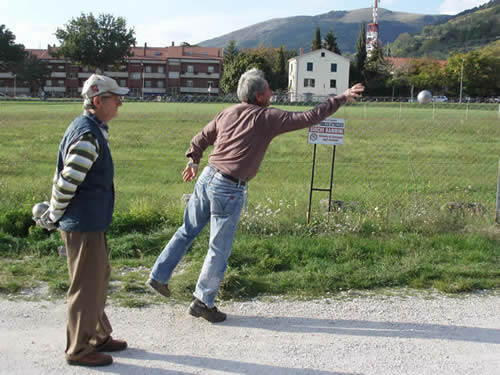 Top: The decisive romantic moment in Perugia. (c) John Kupiec. John's wife Nancy, who was a comparative photo newbie, made a wonderful decisive moment shot of her own, of these older gentlemen playing Bocci. (c) Nancy Kupiec
Every town we visited had its own history and unique things to photograph. Bigger towns—cities, really—like Perugia had the annual chocolate festival, with street performers, outdoor activities—and, of course, lots of chocolate—all set against incredible buildings and glorious vistas. Assisi afforded the beautiful tranquility of the Franciscan monestary. In Norcia—the pork capital of Italy—Marco arranged for us to watch and photograph a butcher as he prepared a beautiful rolled pork roast, made savory with his own special dry rub rolled into it. (Watching Claudio the butcher work so deftly with his knife, I was reminded of Marco telling me that in ancient times medical students at the universities often would study the techniques of Norcia butchers. The pork roast, incidentally, turned into our farewell dinner at the villa—lovingly prepared for us in the huge cooking fireplace in the villa's living room.)
In Bevagna, a tiny jewel of winding streets and lovely shops, we ate at Le Delizie del Borgo, an amazing restaurant and wine bar, in which chef Simone Proietti Pesci personally oversaw our great multi-course lunch.
In Gubbio, one of Umbria's renowned centers for intricately painted ceramics, we got a private tour of the famed Biagioli ceramic studio and were able to watch artisans at work, and literally photograph over their shoulders. Owner Paolo Biagioli could not have been a more simpatico guide, proudly showing off the gorgeous work that his family has been producing for generations. (www.ceramichebiagioli.com)
Top: I got my own favorite view of the bocci players, contemplating the lay of the balls. (c) Frank Van Riper
Middle: Judy's gorgeous late-afternoon image on grounds of the villa.
(c) Judith Goodman
Bottom: Our class photo. From top on villa's stairs: Dev Goldberg, Nancy Kupiec, Claudia Copeland, Jose Cartas. On ground, from left: Judy, John Kupiec, Sylvia Lindgroen, FVR. (c) Goodman/Van Riper
Each day ended back at the villa with a review and critique of everyone's work. What was especially gratifying to Judy and me—but really no surprise—was how supportive everyone was of one another. As with our workshops in Maine (www.SummerKeys.com) there were no entrance requirements for the Umbria workshop. We didn't need any. "As a rank amateur," noted workshop, participant Nancy Kupiec, "I feel I have learned a lot from Frank and Judy and my classmates, for which I am grateful." Her husband John added: "The workshop enables a person, regardless of their level of photography, to observe a lot….And eat a lot, too….I had been away from photography for several years before taking this trip. Working with a group of talented photographers helped me to re-learn techniques that I had forgotten."
To which Judy and I only can say: Glad to oblige…and Grazie mille!
Umbria Photo Worshops, Fall, 2011
The next Umbria Photo Workshop will be held October 15-22, 2011.
For more information go to <www.experienceumbria.com>, or contact us directly at <GVR@GVRphoto.com>. This workshop can take only six participants and is likely to fill up quickly.
Lubec Photo Workshops at SummerKeys – Summer, 2011
Next summer, Judy and I will once again be teaching three hands-on photography workshops in Lubec Maine, sponsored by the SummerKeys Music school. (www.summerkeys.com)
Our dates for summer 2011will be as follows:
July 11th through 15th
July 25th through 29th
August 8th through 12th
Classes are limited to only six participants each week. Each class includes personal instruction, ongoing portfolio review and a wide range of location photography, including portraiture, landscape and night shooting. Each week's class ends with a slide show of students' best work that is open to the public.
Since their inception in 2009, Judy and I have tried to make our workshops a simpatico experience for all, regardless of skill level. There are no entrance requirements—all you need is a digital camera capable of manual operation and a desire to make pictures in one of the most beautiful areas of the country.
Watch the SummerKeys website www.SummerKeys.com for registration information, further details and pricing. Or contact us directly at GVR@GVRphoto.com
We look forward to hearing from you and to seeing you in Lubec!
Faces of the Eastern Shore
Order Frank Van Riper's classic look at life on the Chesapeake, Faces of the Eastern Shore, for only $15 (reg. $19.95), plus s/h.
Published in 1992 and printed in duotone, this 10"x 9" quality paperback was featured in the Baltimore Sun, Washington Post and numerous other publications for its superb location portraiture and lyrical text.
Said author James A. Michener in his foreword: "What this rascal has done is belatedly to illustrate my novel, Chesapeake, and superbly."
Contact Frank directly for copies of this now out-of-print classic: GVR@GVRphoto.com
Frank Van Riper is a Washington-based photographer, journalist, author and lecturer. He served for 20 years in the New York Daily News Washington Bureau as White House correspondent, national political correspondent and Washington bureau news editor, and was a 1979 Nieman Fellow at Harvard. His photography books include Faces of the Eastern Shore and Down East Maine/ A World Apart, and Talking Photography, a collection of his Washington Post and other photography writing over ten years. His latest book (done in collaboration with his wife and partner Judith Goodman) is Serenissima: Venice in Winter www.veniceinwinter.com
Van Riper's photography is in the permanent collections of the National Portrait Gallery and the National Museum of American Art in Washington, and the Portland Museum of Art, Portland, Maine. He can be reached through his website www.GVRphoto.com

[Copyright Frank Van Riper. All Rights Reserved. Published 12/10]