Still spaces left for 2013-2014 Workshops!
Umbria Photo Workshops -- October 12-18, 2013
Venice in Winter Photo Workshop -- January 11-17, 2014
see below for details
Unseen Serenissima
Discovering Venice in Winter--one photo at a time

By Frank Van Riper
Photography Columnist
Venice, as one of our photo workshop students observed recently, should be savored for the first time slowly, in small bites.
Not, for example, with a Carnival-sized tour package full of masks, jacked-up prices, forced gaiety and suffocating crowds.
And not during a summertime trip to the high spots—Piazza San Marco, the Doge's Palace, a gondola ride—amidst even larger crowds, stifling temperatures and sometimes pungent canals.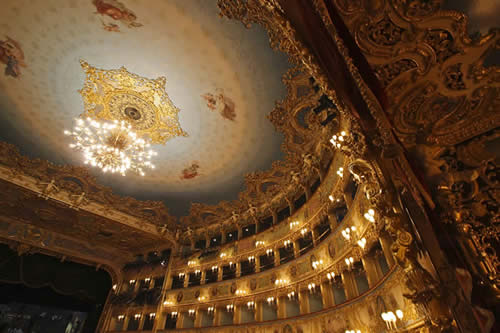 The amazing tiny jewel box that is Venice's Fenice Opera House--reconstructed (again) after a devastating fire. Special 'Foto Pass' entry allowed us to shoot from Napoleon's box. © Gana Browning
No, rather than experience Venice's Greatest Hits on the fly, the first-time visitor to this beautiful and singular city should strive to experience Serenissima selectively through one set of activities, one point of focus.
Which is one reason, I suspect, that culinary trips are so popular—especially in Italy and in France. Here one discovers a culture through its food and wine at a necessarily relaxed pace dictated by time in the kitchen or at the market.
Or why destination workshops for artists also strike a resonant cord, with their emphasis on producing paintings and drawings that have been labored over, not dashed off before running to board a tour bus.
For the past five years my wife Judy and I have led photography workshops in Down East Maine and in the Italian hill towns of Umbria. Our emphasis always has been on low-key, small-class, no-pressure instruction in simply glorious settings, far from the madding noise of civilization. But last January we launched our most ambitious one yet: a week-long photography workshop in Venice, one of the world's great destinations—a place that in high season can be so overrun with tourists that a previous mayor once suggested only half in jest that the city put up tollgates at the city's access points to stem the flow of day-tripping humanity.
We called our effort "Unseen Serenissima: The Venice in Winter Photo Workshops." Our idea was to give amateur and semi-professional photographers a chance to follow some of the same paths Judy and I took when we worked for six years on our bestselling book, Serenissima: Venice in Winter. To say that we had a great time would be to understate—despite some chill grey skies and occasional rain.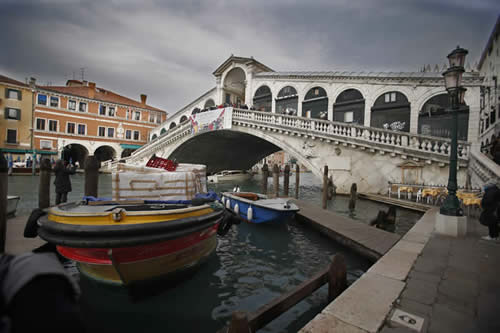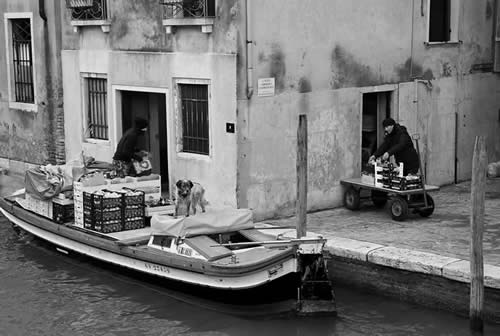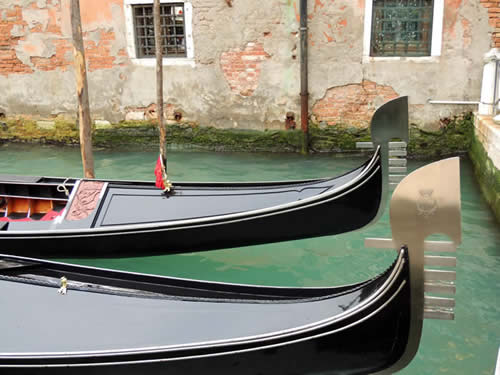 It is, after all, The Floating City, and all manner of boats ply Venice's waters--from workboats delivering goods near the Rialto bridge (top) or on a side 'street' (center)--to elegant gondole, their ferros shining at their prows. Top © Dan Feighery, center © Wouter Dhert, bottom ©Nancy Silvio.
It was a challenge to tailor a photo workshop for Venice that didn't resemble the average tour guide's itinerary. Sure, Piazza San Marco is amazing—not for nothing did Napoleon call it the drawing room of Europe–but equating all of Venice with this great public plaza is like equating New York City—and all its diversity—with Rockefeller Center or the Empire State Building. Sure, the Doge's Palace and the huge Basilica San Marco command the attention of the average first-time tourist, but Venice is so much more than grand buildings—or even the Grand Canal.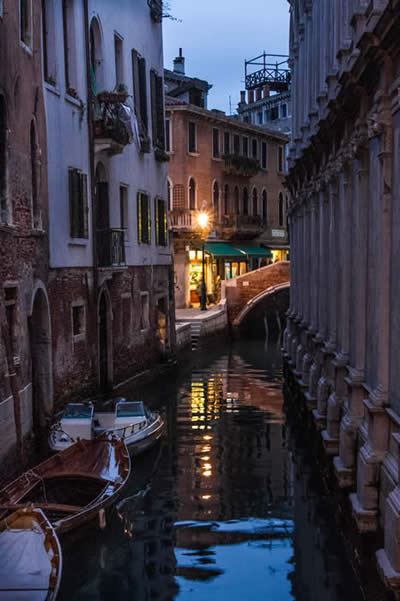 Venice's magic is not just in its grand public buildings, but also in its quiet canals, as this perfectly exposed image attests. © Claudia Copeland
During the six years that my wife and I worked on Serenissima we spent precious little time indoors, or at least in famous buildings. Instead we prowled the city's darkened corners, got to know (and photograph) its artists and artisans, recorded the daily cycle of work and commerce, and grew used to the slower rhythm of life in a city that floats on the sea.
Our challenge, then, boiled down to distilling what makes Venice unique into a manageable week-long schedule that also afforded great pictures.
It followed that we should plan an itinerary around Venetian life, not Venetian monuments. Enter the #1 vaporetto and the wonderfully human noise of la Pescaria, among many of the other photogenic things we saw during our week.
My idea to provide everyone with a week-long vaporetto pass turned out to be a good one. Traveling by water bus made getting all over Venice easy—and the ride itself afforded wonderful photos. (I always liken riding the #1 vaporetto—the main route on the Grand Canal--to riding in one of the old double-decker buses down Fifth Avenue in NYC.) For those not familiar with these great lumbering vessels (once powered by vapore, or steam—hence the name) the water buses ply the Grand Canal, moving languidly from one side to the other, all day long and well into the night. The ride is wonderful, and—on the #1—passes a succession of beautiful palazzi and other elegant buildings that one simply does not see in Kansas—or, for that matter, in Manhattan.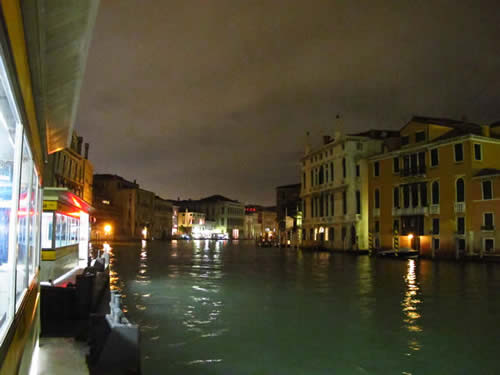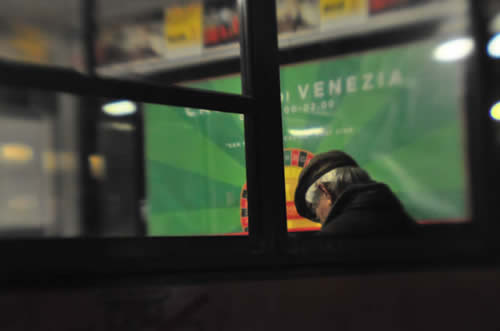 Not your average cityscape. Top: the evening view from one of Venice's ubiquitous vaporetto stops; bottom: waiting for the next water bus.
Top: © Frank Van Riper; Bottom: © Judith Goodman
La Pescaria (vaporetto stop: Rialto Market) provided many of our students their first real taste of on-the-fly documentary photography as well as the chance to (gulp) photograph people they didn't know. But everyone quickly found out that most locals at La Pescaria were more interested in buying (or selling) their fish, meat, vegetables and fruit than in worrying about what those pazzi Americani were doing with their cameras. In fact, the scene at La Pescaria—a great public market conducted most days in covered arcades that are open on all sides—harkens back to public markets in any number of cities all over the world. A great amalgam of busy humanity—just waiting to be photographed.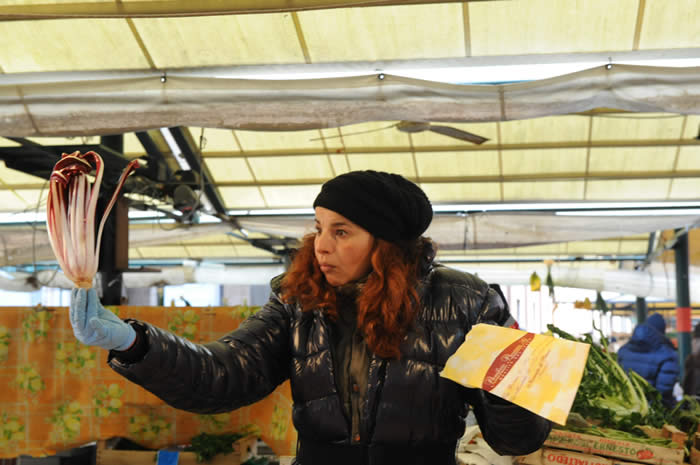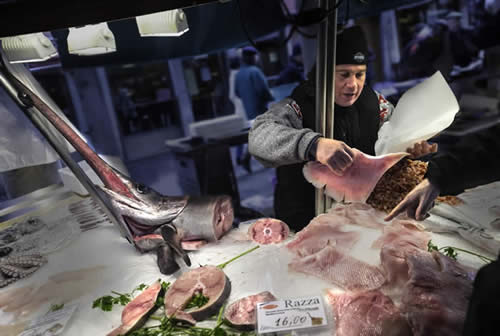 Our Lady of the Radicchio (top) and selling really fresh swordfish (bottom). Both are great on-the-fly available light portraits.
Top © Sharrill Dittman; Bottom © Dan Feighery.
From La Pescaria our itinerary moved on to other venues, most of them off the regular tourist path. From the over-the-top ornate Teatro La Fenice and a photo shoot from Napoleon's box, to the tiny woodworking shop of a master maker of oars and oarlocks for Venice's gondolas, we went behind-the scenes.
At la Scuola Internazionale di Grafiche Venezia http://www.scuolagrafica.it we watched masters and their students produce etchings and prints using ancient tools in a large room dominated by a glorious old manual printing press. (This old newspaper reporter could not help drinking in—or sniffing in—the smell of printer's ink that suffused the place.)
On another day, at Orsoni Mosaici http://www.orsoni.com we marveled at the intricate process involved in producing the tiny squares of glass that artists around the world have used to create stunning mosaics. The atelier's huge "library," near its bellowing furnaces, or fornace, consisted of shelves upon shelves of differently colored squares of glass that, when chosen by an artist for a particular artwork or project, would be cut into tiny pieces by skilled workers.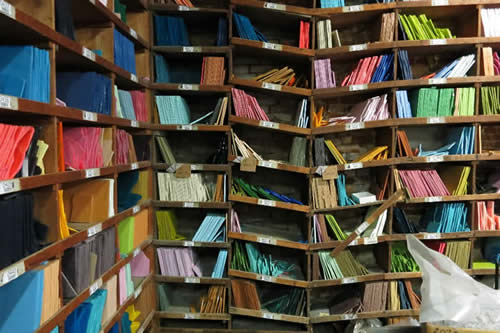 The 'library' of glass at the Orsoni mosaic factory. The colors seem of infinite variety, that can be cut into tiny squares for stunning mosaics. © Jean Feighery
At the gloriously cluttered woodworking shop of master Paolo Brandolisio, http://paolobrandolisio.altervista.org/home_eng.html one of only a handful of remeri, or makers of gondola oars and oarlocks (forcole,) we marveled as he began the process of creating a sensuously carved oarlock by hand, using a saw that could have been used centuries ago. Each forcola is custom made, depending on the height and weight of the gondolier.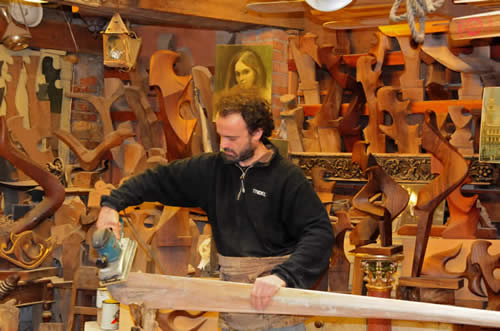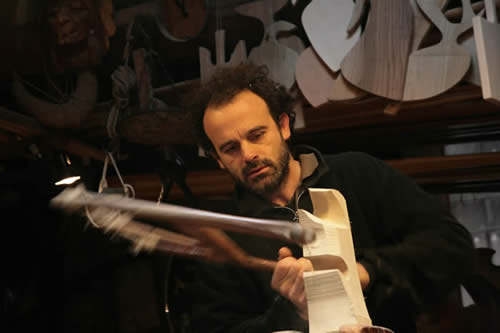 Master woodworker Paolo Brandolisio defines the Italian mantra 'fatto a mano' (made by hand.) Top, surrounded by forcole, he refurbishes a gondolier's oar and, bottom, he begins to shape a classic forcola (oarlock.)
Top © Frank Van Riper; Bottom © Joe Silvio
But of all these wonderful, steeped-in-time experiences, the most dramatic might have been on the island of Murano, at the famed Berengo glass studio, http://www.berengo.com renowned for its production of contemporary cutting edge glasswork for artists around the world. There we saw two great masters—the Dutch artist Clemens Briels and glass maestro Silvano Signoretto--working to create a one-of-kind glass sculpture from Briels' design.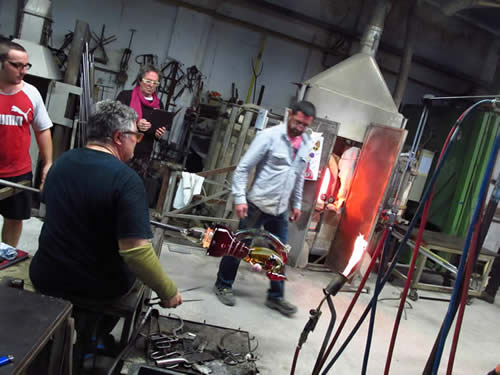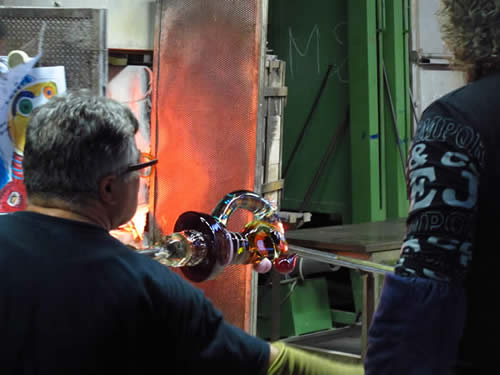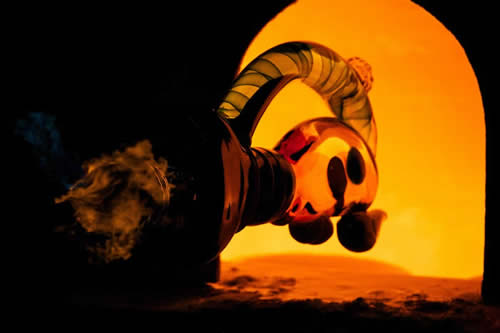 With Dutch artist Clemens Briels (red scarf and iPad) looking on, master glass artist Silvano Signoretto turns Briels' design into reality (top). Final look at finished piece (center) before it goes into annealing oven. Top: © Judith Goodman; center: © Frank Van Riper; bottom: © Joe Silvio
It was a mesmerizing minuet, watching Signoretto and his three assistants turn Briels' paper diagram, tacked to a wall near the fornace, into a stunning three-dimensional—and very contemporary--work of art. Briels, accompanied by his wife and a friend, stood carefully out of the way making pictures of the process with his iPad, while we all covered the process from every angle
This was as far as possible from the average tourist experience on Murano: sitting in bleachers well out of the way as an artisan makes a tiny glass horsey, after which you are ushered into a showroom and urged to spend money. For this, I have to thank our dear friend Barbara Del Mercato, who helped arrange our exclusive visit, as well as Letizia Goretti of the Berengo studio, who could not have been more welcoming.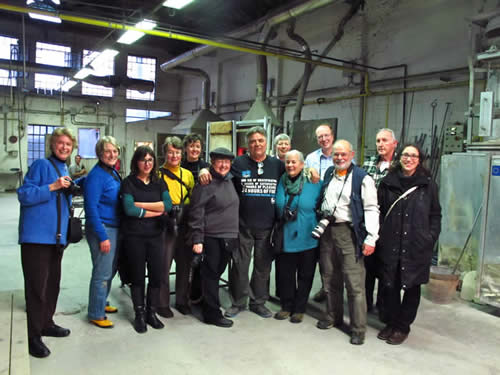 Maestro Silvano (center) poses with our group after creating the sculpture. That's Judy on the left, Letizia, with arms crossed, and our dear Barbara on the right. © Frank Van Riper
Our week in the Floating City also included late night meanders—including a demonstration of using time exposures and multiple flash pops to make a terrific shot of the Bridge of Sighs. We ate well too, in places ranging from rustic to elegant. Our hotel, the small, beautiful albergo ai Mori d'Oriente in Cannaragio, http://www.morihotel.com could not have been nicer.
But in the end, it was the verdict of our students that mattered most.
"With your patience and counsel, I got to a place in my photography that was new to me," said one. "I came home with shots I never thought I could get. I am in your debt."
We can't wait to return next year.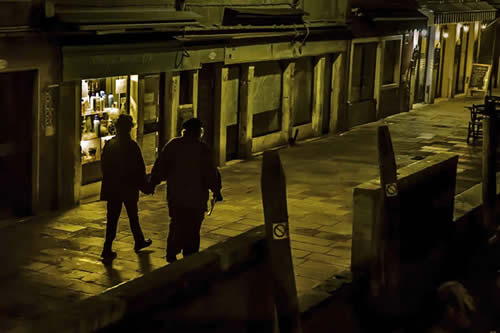 Judy and I honeymooned in Venice in 1984, came back to do a book about it, and now have the great pleasure of leading photo workshops there. And yes, it's a very romantic place.
© Dan Feighery
The Umbria Photo Workshops: October 12-18, 2013 (only ONE slot left--act now)
Join internationally acclaimed husband and wife photographers Frank Van Riper and Judith Goodman for weeklong photographic workshops under glorious Fall skies in one of Italy's most beautiful regions. Note: Workshops are limited to only six participants and include lodging at the spacious and inviting Villa Fattoria del Gelso in Cannara.

Frank and Judy, authors of the award-winning book Serenissima: Venice in Winter, will share their image-making techniques with a small group during a simpatico, low-key week covering everything from landscape photography in the verdant hills of Umbria, to nighttime photography using available and artificial light, to location portraiture in Umbria's closely held olive fields and vineyards.
Small class size assures individual critique and instruction.
Participants will travel by guided excursion to several of Umbria's storied hill towns, including Montefalco, Bevagna and Assisi, and receive individual attention during daily critiques.
Package includes six nights in the fully restored 18th century villa Fattoria Del Gelso in Cannara, located on a 40-hectare working farm literally walking distance from colorful shops and restaurants and centrally located in the shadow of Assisi.
This is a trip designed for relaxed learning and sightseeing via foot, bicycle and van, taught by two experienced location photographers whose work has been exhibited in and acquired by major museums in the United States. Frank and Judy are molto simpatico teachers who will turn your photographic vacation into a once-in-a-lifetime adventure.
Fee includes villa accommodations, all breakfasts, daily wine and antipasto Happy Hour, welcome and farewell dinner, pizza night, transportation by private van. No entrance requirements beyond a love of photography, good food and fine wine. For details: go to http//:www.experienceumbria.com
Unseen Serenissima:
The Venice in Winter Photo Workshop
January 11-17, 2014 (a few spaces still available)
Follow in our footsteps, visiting some of the same places that we photographed for our bestselling book--well off the beaten path and wonderful to shoot. There will be early morning and late-night photo excursions, visits to places tourists rarely travel (the cemetery island of San Michele, for example; the public gardens, I Giardini, the vibrant open market La Pescaria, charming wine bars and enoteche.) We also will visit local artisans in their studios, some of the world's great museums, as well as favorites like Piazza San Marco or the Doge's Palace. NOTE: participants also will have free time during the week to wander this magical place on their own. We will provide what we think is the best tourist map to help navigate--as well as a one-week vaporetto pass for travel on Venice's ubiquitous water buses.
Following are the key details (subject to change):
1. Dates: Jan. 11-17, 2014
2. Cost $3,500 per person
3. What's included: First class hotel lodging in Venice, all breakfasts, three meals (welcome and farewell dinner and one lunch, probably on Murano or Burano) week-long no-limit vaporetto pass, private instruction and tours, daily critiques at the hotel, signed copy of our book, Serenissima: Venice in Winter.
Note: The 2013 tour filled almost immediately and this tour already is beginning to fill. To reserve space or to receive more information about the Serenissima workshop, Contact: GVR@GVRphoto.com
Grazie mille!
Van Riper Named to Communications Hall of Fame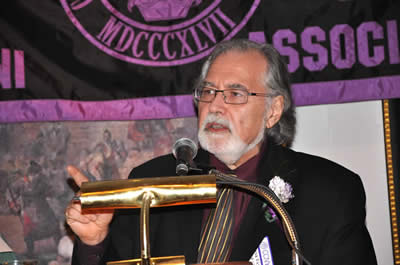 Frank Van Riper addresses CCNY Communications Alumni at National Arts Club in Manhattan after induction into Communications Alumni Hall of Fame, May 2011. (c) Judith Goodman

[Copyright Frank Van Riper. All Rights Reserved. Published 1/13]