Book now for this summer: 2016 Maine photo workshop dates--including new Master Classes
(See below)
What I learned in Venice
Compact cameras, the Airport Navigator & quick-dry boxers

By Frank Van Riper
Photography Columnist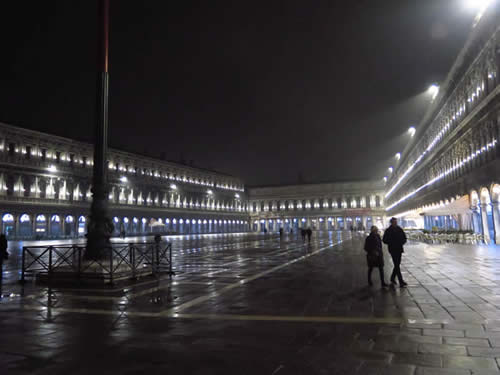 Napoleon called Piazza San Marco in Venice 'the drawing room of Europe.' This grand public square is thrilling even when it's awash in tourists--and more so in the romantic fog of a winter's evening. Photos © Frank Van Riper
In 1987 when I retired after 20 years as a reporter and editor in the New York Daily News Washington Bureau, my best farewell gift was a gag front page put together by our resident wit—and then-White House correspondent--Bruce Drake.
"Van Riper Quits News," the big black headline read, while underneath in smaller type were the words "Nation's capital mourns loss."
There followed, as only Bruce could write it, an hilarious front page send up of both my career as a political reporter as well as, shall we say, of my foibles. These included my occasional practice years earlier when I was single of leaving for a campaign swing with accumulated dirty laundry so that I could have it washed at the first hotel that offered a laundry stop.
"Unlike most reporters, Frank showed his appreciation for our services by bringing extra laundry along," Bruce quoted a bogus hotel association official as saying on my front page. The "official" went on to reminisce about how I once dropped off 15 summer suits at a Pittsburgh hotel before Election Day so that I could I put them in winter storage. Bruce even had our editor approving my expense account for the laundry "simply because [he] knew it was something historic."
Contrast this with what I actually did do this past January in Venice, during our latest "Unseen Serenissima: Venice in Winter Photo Workshop." During this great excursion (the workshop lasted a week, but my wife Judy and I were away for 10 days) I made do for the first time with just four changes of quick-dry underwear that took hardly any space in my luggage.
Not only that, I inaugurated a new camera bag—the ultra small, rugged and oh-so-maneuverable Airport Navigator by ThinkTank (https://www.thinktankphoto.com/products/airport-navigator --that will change forever how I lug camera gear across the US and Europe.
Finally, the Venice trip made me appreciate all the more what a really first-rate compact camera can do. After our trip I realized to my surprise that I never once used my big Nikon D300 with its heavy-as-lead 18-200 zoom. Instead I made hundreds of great color photographs, and even taught lessons, with my tiny, full-featured, Canon G16 zoom lens point and shoot. (For the record, I shot BxW film with my always magnificent Leica M6 and its 35 mm f. 2 Summicron lens.)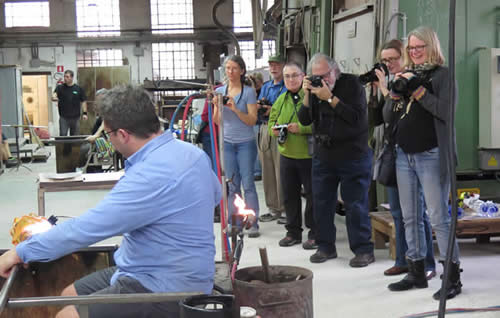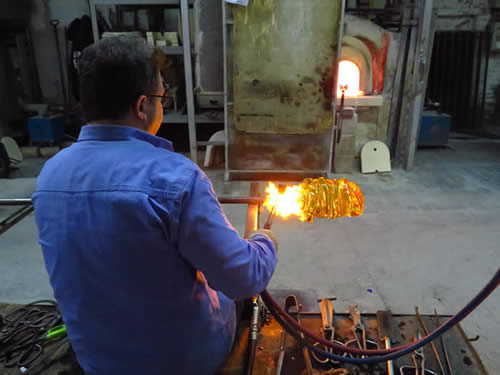 Above: Look who's got the smallest camera. I'm in the middle of our group with my powerful little G16. Below: Can't argue with my result. Top: © Diana Wanamaker Bottom: © Frank Van Riper
Judy and I have been teaching out of town and foreign photo workshops for the better part of ten years—not to mention the six years we spent working on our book Serenissima: Venice in Winter (www.veniceinwinter.com ) During all that time we tried many different ways, and many different bags, to carry our gear.
We do try to pack light since we are, after all, location photographers who have worked for major publications and organizations in the US and abroad. Portability is a must even as we try to make sure we never lack that one bit of gear that might save our butt while on location.
The rub, of course, is to meet airline carry-on regulations—made more stringent after 9/11. [Of course there is no way we ever would let our valuable camera gear out of our sight as checked luggage: the likelihood of theft or damage is simply too great. I do check through a small Gitzo tripod in my suitcase—not just to lighten my load but also to eliminate the possibility that TSA might view a carry-on tripod as a potential weapon.]
In earlier times, Judy stowed her two Nikon bodies, lenses, etc., into a Tamrac backpack, while I stuffed my two Nikons, Leica M6, etc., etc., into a Tamrac rolling camera case. Each had its drawbacks. Judy's backpack—like others she used thereafter--still weighed a ton, especially as we schlepped to make connections to Venice in Frankfurt, Amsterdam or Paris. My rolling bag also was a bear to use: bulky and hard to hoist into the overhead.
Judy stuck for a while with her backpacks—I recall once trying to shoehorn all of our gear into the Tamrac and carrying it myself--but I finally switched to my venerable Domke shoulder bag that I used for commercial jobs in Washington. [For a long time this was the go-to bag for news photographers, especially in the US.]
But that still meant I had a terribly heavy bag on my shoulder when we traveled to Europe to lead workshops: Umbria in the fall and Venice in winter. I would long for an airport's moving sidewalks just so I could set the damn thing down and rest, even for a little while. After listening to me bellyache about this again last October as we headed to Umbria, Judy finally said: "that's it, you're getting a small rolling bag."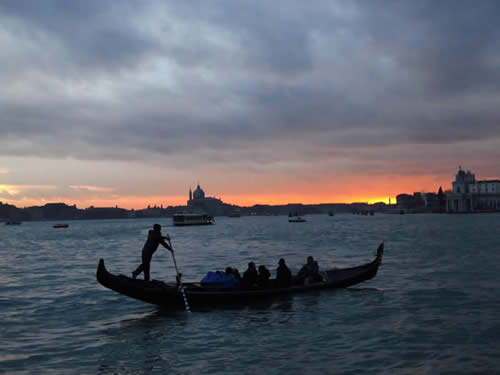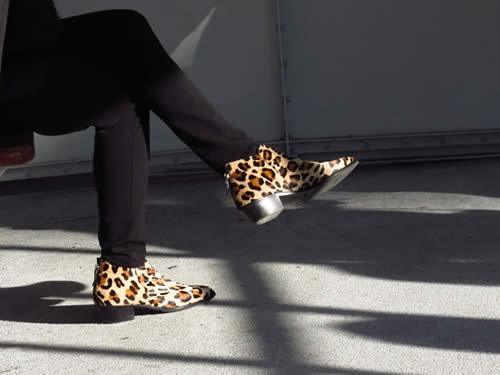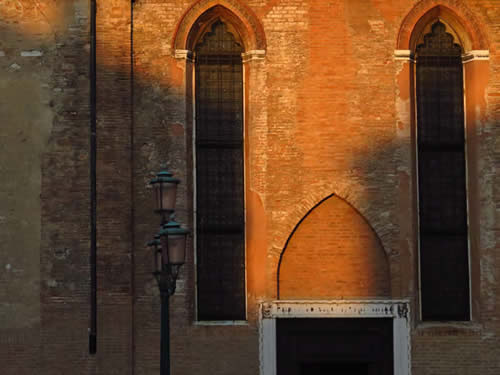 Venice never fails to amaze--or at least present myriad photo ops. Top: a Gondola plies the grand Canal at spectacular sunset. Center: I could not resist making this one of a woman's funky shoes at a vaporetto stop. Bottom: They don't call it 'magic hour' for nothing. Dramatic view of church exterior in waning daylight.
But which one? Sure, small rolling bags were all over the airport, but none was meant for cameras and lenses. To make matters worse, I no longer could comparison shop at local camera stores in DC since the two best ones: Penn Camera, later subsumed into Calumet photographic, each had gone belly up. I had no choice but to shop online. Happily, B&H in New York came through.
ThinkTank's Airport Navigator wasn't cheap—just under $300 for what really is a small bag—but its reviews were impressive. I swallowed hard and ordered it.
I need not have worried. Right away I was impressed at how ruggedly made was this little package. And how ingeniously designed. It opened both at the top and front, making access a cinch. Its heavily protected drop-down front panel easily held my MacBook Pro so I did not have to carry a separate briefcase for it. Its compartments were easy to customize and I was able to carry all of our camera gear inside, as well as chargers, flash, foreign electrical adapters—you name it.
The beauty part was rolling it on board. The bag easily sailed up the narrow aisles of our various airplanes and, if I had to, I could have stowed it under my seat—something that would have been impossible with my old Tamrac rolling case. As it happened, the Navigator's small size made it easy for me to hoist it into the overhead.
And man, was I living large as I rolled this sucker through the airport to make our connections.
We preach portability to our workshop students, especially since Judy and I provide access to places the average tourist could never see. At the famed Berengo glass atelier on Murano, where we have exclusive access to photograph some of the greatest glass artists in the world, or the Bevilacqua textile factory in Venice, that is chockablock with hand-operated looms from the 19th century—or in Napoleon's box at the Fenice opera house, for that matter—we don't want to blunder in like pack animals burdened down with equipment.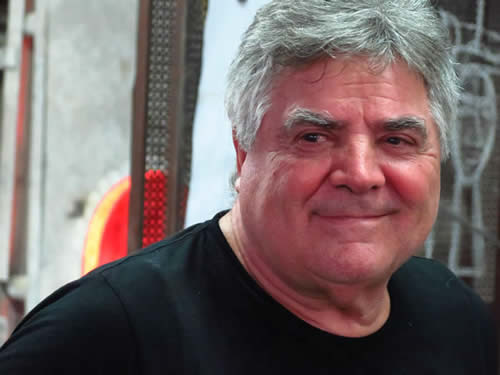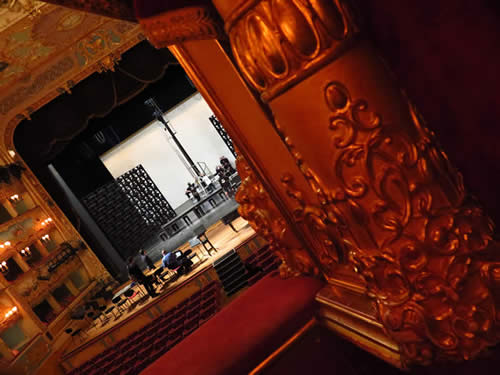 A great illustration of what a camera like the G16 can do. Above: a portrait of world-renowned glass artist Silvano Signoretto at Murano's Berengo glass studio, and bottom: a vew of stagehands making ready for a new opera, viewed from Napoleon's box at La Fenice.
For our Venice or Umbria workshops, I am easily able to pack all the gear that Judy and I need into one Airport Navigator. What a relief after years of struggling with lesser camera bags.
Maybe not as earth-shaking was my underwear, but it too was a pleasant surprise this past trip. For years, I had packed loads of cotton boxers and undershirts to tide me over every day of our out of town and overseas trips. But this was getting old. Finally, I ordered some of TravelSmith's cool, albeit pricey, quick-dry T-shirts and boxers, made from a mix of polyester and spandex.
Besides being incredibly comfortable, the underwear dried in a heartbeat—especially in European hotel bathrooms that, unlike ours in the US, had heated towel racks. Wash a pair of this underwear at night, put it on the rack, and it would be ready to wear again in the morning. The only rub was price: at least $18 each for the boxers; $25 for the T's. But they packed flat as a pancake. (www.travelsmith.com)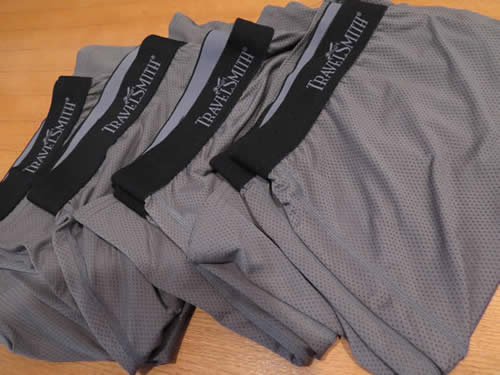 Comfortable, lightweight--and they dry in no time. Count me as a new fan of TravelSmith's great polyester and spandex travel underwear. And they pack very small.
After our 2014 Umbria workshop, I wrote a column insisting that Canon missed having the perfect point and shoot by not providing an articulated viewing screen on its then-new G16 compact—something that was standard issue on its predecessors.
I still would prefer to have this on my own G16, but frankly, the more I use this great and rugged little camera, the less I miss it.
Not only that, but enough time has passed with me proselytizing about this camera to our workshop students that I have been pleased to see virtually everyone who has bought a G16 loving it. This is mainly because the camera is so damn easy to use, especially for amateurs who have come to hate their large, pricey—and difficult to master--full size DSLRs.
One of the best features of the G16 is its 6-stop exposure compensation dial--up to three stops over or three stops under. This allows you to adjust exposure as if in full manual mode, merely by turning one easy dial at the top of the camera. You can see the results in real time on your viewing screen before you shoot and enjoy a measure of control that puts you, not your camera's computer, in charge of how your final image will look. It's a valuable creative tool.
I'm still amazed to see my color Venice take and remember that all of it was made with a point and shoot camera. Working from a tripod, for example, I taught a portraiture lesson at night lighting my subject with a flashlight and riding the ambient Christmas lights behind her. I shot in romantic fog on the Grand Canal and got the always-great combination of soft light and sharp detail.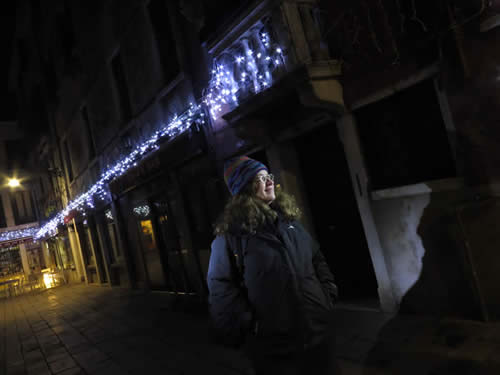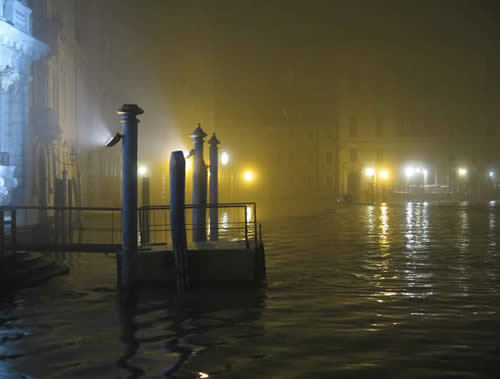 Top: dramatic light on subject's face is simply from a high-intensity flashlight held at camera right. Long exposure brought up the Christmas lights to complete the effect. Bottom: one of my favorite views of the Grand Canal in fog.
I shot on the fly with no one being nonplussed by a bazooka-like telephoto, and of course I made any number of happy snaps of our group simply because it was such a cinch to take the camera everywhere we went.
NOTE: Join Judy and me in Venice next January. For details, dates and up-to-date pricing go to www.veniceinwinter.com
-----
Lubec Photo Workshops at SummerKeys, Lubec, Maine -- Summer, 2016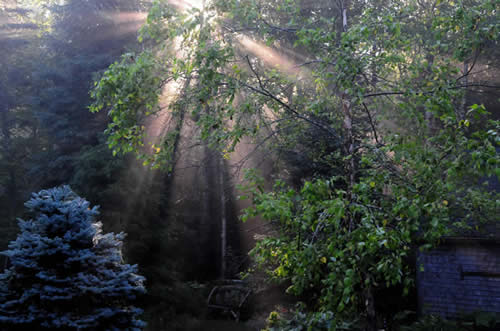 Daunted by Rockport??
Spend a week of hands-on learning and location photography with award-winning husband and wife photographer-authors Frank Van Riper and Judith Goodman. Frank and Judy will cover portraiture, landscape and documentary photography during morning instruction, followed by assignments in multiple locations including Quoddy Head State Park, Campobello Island, NB and the colorful town of Lubec itself. Daily critiques and one-on-one instruction. NO entrance requirement. Minimum age for attendance is 16. Maximum number of students each week is nine. Students supply their own digital camera.
The Lubec Photo Workshops debuted in 2009 and were a huge success for their low-key, no-pressure atmosphere. Classes fill early.
2016 workshop dates: July 18-22; August 1-5; August 15-19.
Tuition payable through the SummerKeys Music Workshops: www.SummerKeys.com
Or contact us: GVR@GVRphoto.com
NEW FOR 2016: Master Photo Classes with Frank Van Riper
These intense, three-day, limited enrollment classes are aimed at the more advanced student, who already has taken a photo workshop and who is familiar with basic flash. Max. class size: 3-4 students. Daily personal critique; includes on and off-camera flash instruction, location portraiture, night photography and more.
Enrollment must be approved by the SummerKeys director.
Dates: July 25-27; August 8-10. See the SummerKeys website for details.
Come photograph in one of the most beautiful spots on earth!
-----------------
Van Riper Named to Communications Hall of Fame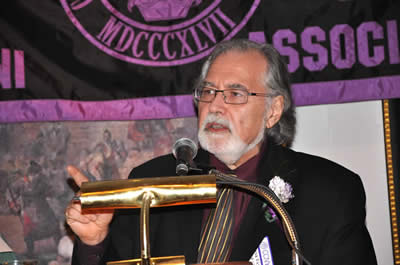 Frank Van Riper addresses CCNY Communications Alumni at National Arts Club in Manhattan after induction into Communications Alumni Hall of Fame, May 2011. (c) Judith Goodman

[Copyright Frank Van Riper. All Rights Reserved. Published 3/16]]