Venice in Winter Photo Workshop -- January 10-16, 2015
Umbria Photo Workshops -- October 11-17, 2014
Lubec Photo Workshops at SummerKeys, Summer, 2014
see below for details
Hidden Venice: 'If You Can Work in the Street...'
Mary Ellen Mark's words and our Venice Workshop

By Frank Van Riper
Photography Columnist
After a surprisingly easy return from Europe (the flight from Frankfurt to Dulles was less than half full, meaning we each got a full row to sleep in) my wife Judy and I looked forward to a little downtime after our second annual "Unseen Serenissima: Venice in Winter Photo Workshop."
The week-long workshop was a big success, brimming with access to places the average tourist never sees as well as providing us a chance to return to old haunts that we came to love during the six years that we worked on our book, Serenissima: Venice in Winter (www.veniceinwinter.com)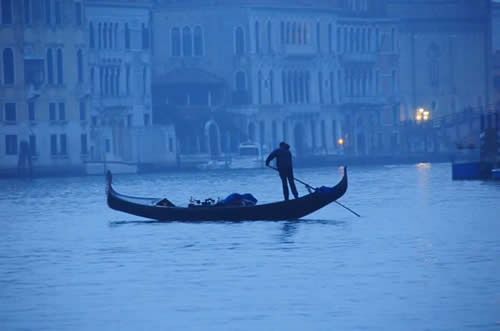 A lone gondola plies the Grand Canal in Venice at dusk. A classic image, sure, but also a fairly easy one to get, especially from a moving vaporetto. We try to offer our students even more.
© Frank Van Riper
This juxtaposition of old and new shooting venues called to mind a fascinating evening Judy and I had spent a few months earlier with the great photojournalist Mary Ellen Mark. (Actually we were among several hundred other fans of this gifted shooter, as part of a week of lectures and shows during last year's FotoWeek/DC.)
Mark, who has made a career documenting people in exotic, rugged or faraway places, was blunt about her good fortune to be an editorial/documentary photographer back when there was no end of magazines that wanted her kind of photography and editors who would pay her big money for it.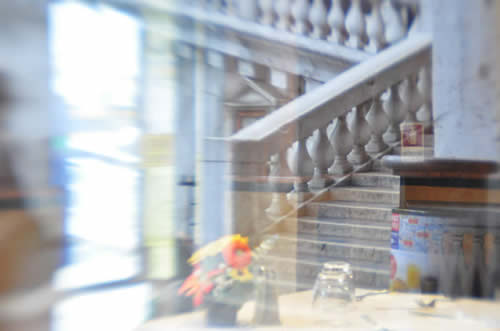 A wonderful new take on the Rialto Bridge: viewed in the reflection of a restaurant window, made with a LensBaby. ©Judith Goodman
"I used magazines to do my own work," Mark told a rapt audience at the National Portrait Gallery, "they were like grants for me."
The famed author of Falkland Road, Streetwise and Indian Circus spoke fondly of those glory days, and as an ex-reporter who once carried a no-limit Air Travel Credit Card from the New York Daily News, I could relate. But she observed finally:
"I haven't had a magazine call me in more than a year."
And if that weren't bad enough, Mark said, when they do call, "all they want is the quick fix; all they want is illustration."
Though the link between this great documentary photographer and our photo workshops in Venice (as well as in Umbria and in Maine) may seem tenuous, the kind of access that Judy I seek to give our students also tries to go beyond mere photo illustration (e.g.: yet another straight-on pic of the Rialto Bridge) and offer a glimpse of Venice after most of the tourists have gone and this floating miracle becomes a working, if still magical, city. That means prowling the streets at all hours and in all weather, going behind closed doors, documenting artisans in their studios making everything from museum quality glass to bespoke shoes to gold leaf in a studio that once housed Titian, and generally being open to photos wherever they occur.
As Mary Ellen Mark noted: "if you can work on the street and photograph, you can photograph everything."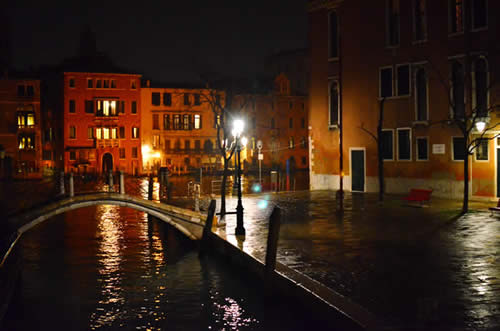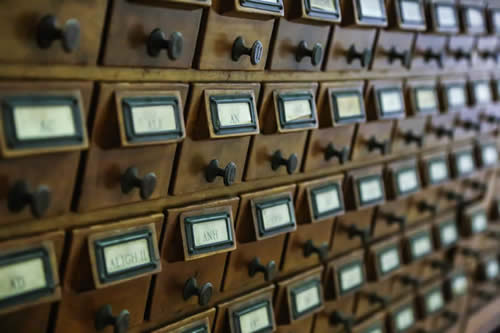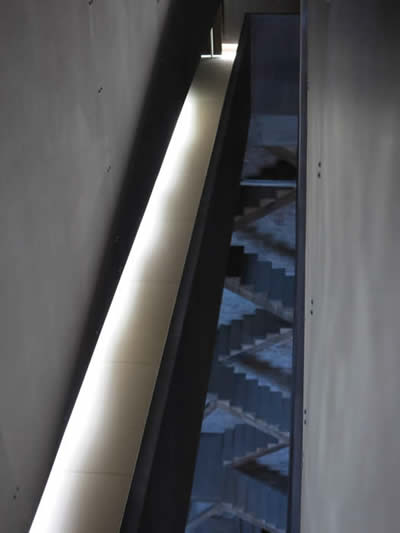 Rainy night and long exposure capture Venice's mystery. ©Ed DuBrow; file drawers at Querini Stampalia library © Ginger Werz-Petricka; LensBaby portrait of master shoe artisan Gabriele Gmeiner © Judith Goodman; abstract of old stairs, new ramp at Arsenale © Cynthia DuBrow.
Like nearly all of our past workshops, both here and abroad, this year's Venice crew was a varied mix: newbies, amateurs and serious shooters. There were doctors, IT folks, art directors, retirees—you name it—to round out our nine-person cohort. Judy and I only work with single digit classes. We have no entrance requirements, though we do ask that participants use a camera that allows for full manual operation. Should students occasionally want to let their camera do the thinking for them, in Program or Aperture Priority mode, for example, we are not going to object. This is, after all, a photo vacation, not a photo boot camp.
Venice being Venice, it was not surprising that for some in our group, the floating city offered a fond return. But equally unsurprising was that no one in our group ever had done the things that we did during our January workshop.
And that's why experience, planning--and great on-the-ground help--can make all the difference in a photography workshop.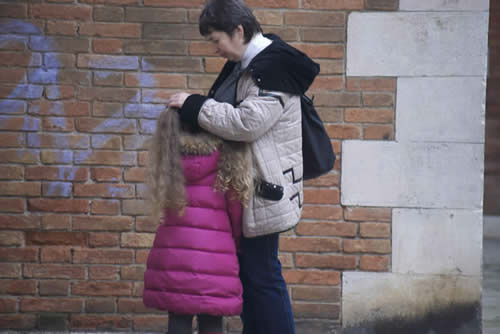 For many novice shooters photographing people can be a challenge. One goal of the workshop is to help folks overcome that fear, as Judy Goozh did in this lovely pic of a mother and her beautifully-tressed daughter. Musical instruments are sculpture, we say, and urge students to photograph them that way, as illustrated so well here. Top photo: © Judy Goozh; bottom © Kitty Galanis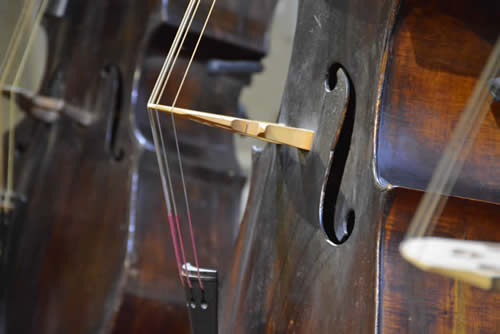 Before teaching workshops in Venice, Judy and I "lived" in Venice over the course of six years when we were shooting for our book. We came to the city each winter for visits that lasted anywhere from two weeks to a month, rented the same apartment in the sestiere of San Polo, and immersed ourselves in Venetian daily life. We shopped at La Pescaria, Venice's great open-air fish, meat and vegetable market. We wrote shot lists each day and set out each morning to see what we could see: letting both planning and happenstance dictate what we shot.
We networked and made as many Venetian friends as we could, striking gold in the person of Barbara Del Mercato, a young PhD translator and tour facilitator who knows Venice intimately and who also happens to love photography. (http://www.barbaradelmercato.it)
Barbara helped us scout locations for our book and a few years later helped us put together an ever-changing itinerary for our "Unseen Serenissima" photo workshops.
Because our goal each year is to help students capture Venice's people as well as its beauty, another statement made by Mary Ellen Mark during her Washington DC lecture resonated with us:
"I am not very conceptual. I always like to photograph people in their own environment…it's better to go to one place and to go back again and again."
And so Judy and I did, returning to favorite spots like La Pescaria, where people pictures abound, or prowling the shadows at night in one of Europe's safest cities to capture Venice's magnificent and varied architecture, much of it dramatically lit.
Going by motorboat through Venice's winding canals, we ended up at the great Arsenale, where trading ships once were produced for La Serenissima in amazing numbers. We walked the winter beach on Lido, taking in its chilly bleakness—and were invited into an abandoned building being used by a local theater troupe. (This was another of Barbara's coups.)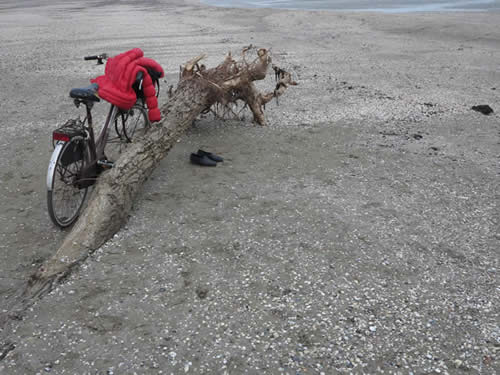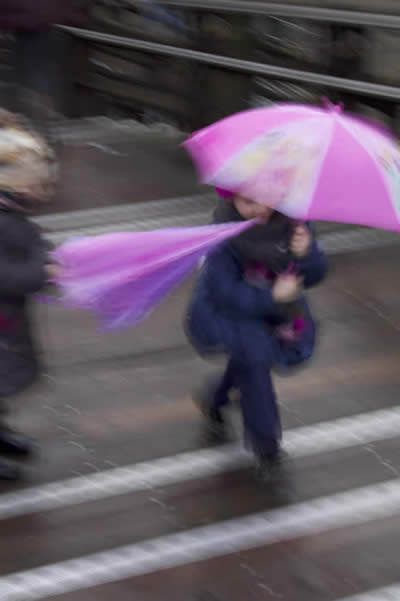 What story do these items tell, on a grey day on Lido? Surely no one is swimmming. © Homer Lange
A wonderful study of pink in motion, as two little girls scamper up the steps of a bridge. © Steve Goozh
Having been told years ago that I could not photograph in the great Fenice opera house (I made the shot anyway with my Leica and it made it into our book) we were gratified to see two years ago that the opera house has relented in the face of omnipresent digital photography and allows for special photo access, provided you ask for it.
We do so every year and this time, armed with a Fenice "Foto Pass" each of our students nailed great images of this glittering over-the-top space, shooting from Napoleon's box.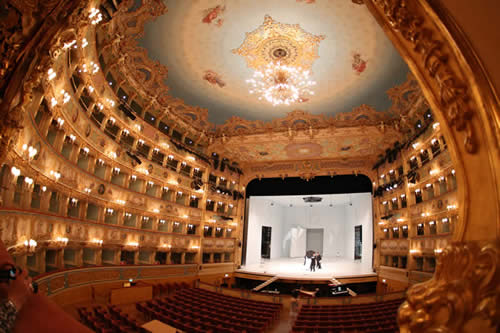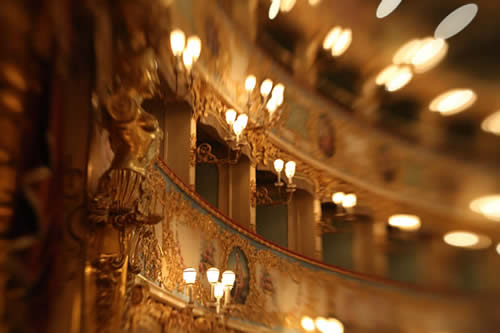 At La Fenice Karen Jury's deft use of a fisheye lens (top) provded a wonderful perspective, as the companuy rehearsed. Equally deft bottom view was made with a LensBaby. © Karen Jury
Our days generally contained two photo events, and students were free to attend as many or as few as they liked (though mostly we stayed together as an increasingly simpatico group.). We provided everyone with a week-long, no-limit vaporetto pass so that each of us had at his or her disposal Venice's amazing fleet of lumbering, dependable water buses that ply the Grand Canal at all hours offering not only a great and comfortable boatride but a wonderful shooting platform as well.
By week's end everyone in our group had made wonderful pictures. Noted one: "We were able to gain access to places and the people of Venice, that we would not have been able to see on our own. Frank and Judy work together seamlessly, to give photographers an experience they will always cherish."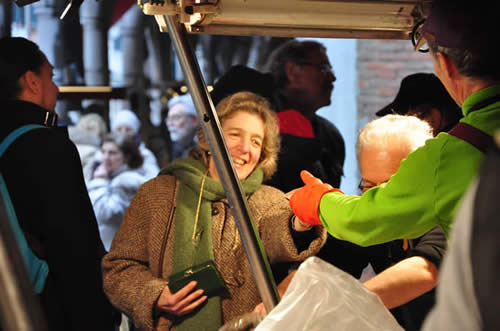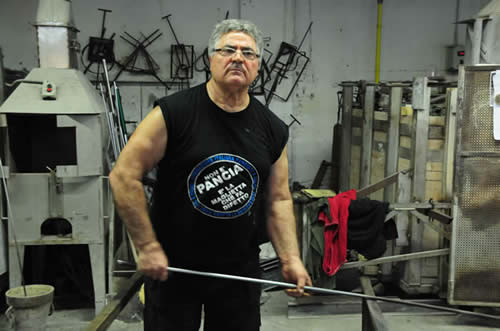 Two final favorites from Judy and me. Top: a lovely moment that she caught at the Pescaria market. © Judith Goodman. Bottom: master glass artisan Silvano Signoretto at the Berengo glass studio on Murano, where once again we were afforded amazing access. Mille graze a tutti! © Frank Van Riper
-----------------
Unseen Serenissima:
The Venice in Winter Photo Workshop
January 10-16, 2015 (space still available)
Follow in our footsteps, visiting some of the same places that we photographed for our bestselling book--well off the beaten path and wonderful to shoot. There will be early morning and late-night photo excursions, visits to places tourists rarely travel (the public gardens, I Giardini, the vibrant open market La Pescaria, charming wine bars and enoteche.) We also will visit local artisans in their studios, some of the world's great museums, as well as favorites like Piazza San Marco and the Doge's Palace. NOTE: participants also will have free time during the week to wander this magical place on their own. We will provide what we think is the best tourist map to help navigate--as well as a one-week vaporetto pass for travel on Venice's ubiquitous water buses.
Following are the key details (subject to change):
1. Dates: Jan. 10-16, 2015
2. Cost $4200 per person
3. What's included: First class hotel lodging in Venice, all breakfasts, welcome dinner, week-long no-limit vaporetto pass, private instruction and tours, regular critiques at the hotel.
Note: The 2014 tour filled almost immediately and this tour already is filling. To receive more information about the Serenissima workshop, or to be placed on our waiting list, please contact: GVR@GVRphoto.com, or go to <www.veniceinwinter.com>
Grazie mille!
The Umbria Photo Workshops:
October 11-17, 2014
(waiting list available)
Join internationally acclaimed husband and wife photographers Frank Van Riper and Judith Goodman for weeklong photographic workshops under glorious Fall skies in one of Italy's most beautiful regions. Note: Workshops are limited to only six participants and include lodging at the spacious and inviting Villa Fattoria del Gelso in Cannara.

Frank and Judy, authors of the award-winning book Serenissima: Venice in Winter, will share their image-making techniques with a small group during a simpatico, low-key week covering everything from landscape photography in the verdant hills of Umbria, to nighttime photography using available and artificial light, to location portraiture in Umbria's closely held olive fields and vineyards.
Small class size assures individual critique and instruction.
Participants will travel by guided excursion to several of Umbria's storied hill towns, including Montefalco, Bevagna and Assisi, and receive individual attention during daily critiques.
Package includes six nights in the fully restored 18th century villa Fattoria Del Gelso in Cannara, located on a 40-hectare working farm literally walking distance from colorful shops and restaurants and centrally located in the shadow of Assisi.
This is a trip designed for relaxed learning and sightseeing via foot, bicycle and van, taught by two experienced location photographers whose work has been exhibited in and acquired by major museums in the United States. Frank and Judy are molto simpatico teachers who will turn your photographic vacation into a once-in-a-lifetime adventure.
Fee includes villa accommodations, all breakfasts, daily wine and antipasto Happy Hour, welcome and farewell dinner, pizza night, transportation by private van. No entrance requirements beyond a love of photography, good food and fine wine. For details: go to http//:www.experienceumbria.com or contact us directly at GVR@GVRphoto.com
Lubec Photo Workshops at SummerKeys, Lubec, Maine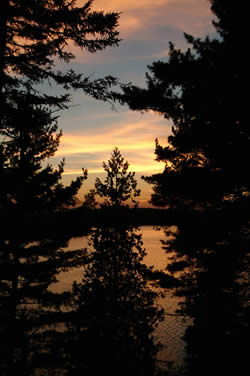 Daunted by Rockport??
Spend a week of hands-on learning and location photography with award-winning husband and wife photographer-authors Frank Van Riper and Judith Goodman. Frank and Judy will cover portraiture, landscape and documentary photography during morning instruction, followed by assignments in multiple locations including Quoddy Head State Park, Campobello Island, NB and the colorful town of Lubec itself. Daily critiques and one-on-one instruction. NO entrance requirement. Minimum age for attendance is 16. Maximum number of students each week is nine. Students supply their own digital camera.
The Lubec Photo Workshops debuted in 2009 and were a huge success. Classes fill early. 2014 workshop dates are: July 7-11; July 21-25; August 4-8; August 18-22.
Weekly tuition: $620, payable through the SummerKeys Music Workshops: www.SummerKeys.com Or contact us: GVR@GVRphoto.com
Come photograph in one of the most beautiful spots on earth!
Van Riper Named to Communications Hall of Fame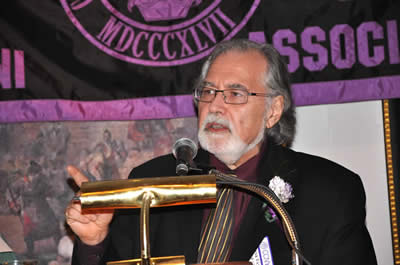 Frank Van Riper addresses CCNY Communications Alumni at National Arts Club in Manhattan after induction into Communications Alumni Hall of Fame, May 2011. (c) Judith Goodman

[Copyright Frank Van Riper. All Rights Reserved. Published 1/14]