Something in the Air...
Requiem for a Demagogue

By Frank Van Riper
Photography Columnist
There is something in the air now, like what I felt in the months leading up to the summer of 1974 when crowds gathered outside the White House as everything unraveled for Republican president Richard M. Nixon during the Watergate scandal.
Or perhaps it is what I felt two years earlier, traveling with Democrat George McGovern as we entered the last weeks of the 1972 campaign, when the South Dakota senator and Democratic presidential nominee realized all was lost.
Having not covered national politics as a traveling reporter since 1987 (1984, really, if you count my last presidential campaign) I felt I had no choice in 2016 but to optimistically buy in to the New York Times/Nate Silver predictions that Hillary was all-but-certain to beat Donald Trump. Since that blew up in my hand, I am loath to look too far into the future as we face what arguably is the most important presidential election in our history.
But where in 2016 I relied on what I assumed was Nate Silver's cogent analysis, today I am back to relying on my political gut.
And my gut tells me that Donald Trump's doughy combed-over head is going to be handed to him on a platter this November, along with various body parts of Republican men and woman in the US House and Senate who cast their lot with, and sold their souls to, the worst, most incompetent—the most manifestly evil--president in our history.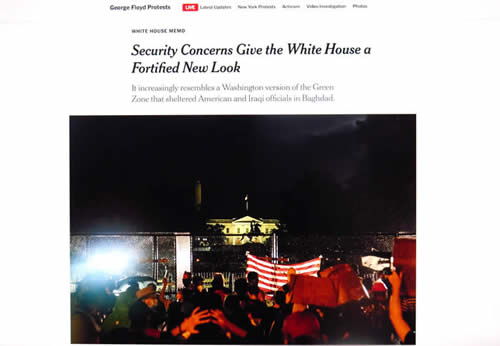 Trump finally got his wall, though not the one he envisioned. The week also saw the president and his family hustled into a bomb-proof basement bunker at the height of violent protests.
Several things fuel this view for me, the most important being that Trump, as both president and political leader, has lost his air of macho invincibility. We saw the beginning of this in the mid-term congressional elections of 2018. Democrats won back the House, gaining a stunning 41 seats, in an election that saw the highest voter turnout for a midterm election since 1914—and, more importantly, saw Democratic candidates across the country win by emphasizing bread and butter issues like health care and jobs.
Remember: these issues buoyed Democrats when the economy was looking fairly good, at least for the better off. Imagine today how any Republican, not just Trump, must feel running for re-election alongside the twin disasters of a viral pandemic-- caused in no small part by Trump's arrogant incompetence--as well as the resultant near-collapse of the national economy.
Health care and Jobs.
These twin, and largely self-generated, calamities would by themselves make it more difficult (though by no means impossible) for Trump, or any Republican, to win re-election. But suddenly there is a third disaster and it threatens to eclipse even the first two.
That third disaster is George Floyd.
The death of George Floyd (another murder-by-cop of an unarmed black man) seems finally to have triggered the kind of indignant, all-encompassing nationwide revulsion that similar cases in previous years did not. (And that anger seems based, not just on Floyd's murder, but finally on myriad other issues surrounding the wretched policies and failed leadership of Donald Trump.)
The immediate impetus for the George Floyd rage surely was the 10-minute, six-second cell phone video made by 17-year-old Darnella Frazier showing veteran Minneapolis cop Derek Chauvin literally choking the life out of Floyd for nearly nine minutes as Floyd lay handcuffed and face down in the street and Chauvin deliberately—even calmly—kept his knee pressing down on Floyd's neck and windpipe. Floyd's crime was allegedly trying to buy cigarettes with a counterfeit 20-dollar bill. Amazingly, the video is a continuous take and shows Chauvin coldly ignoring Floyd's repeated pleas of "I can't breathe!" while three of Chauvin's fellow cops stand by, forming a protective cordon around their senior colleague.
The sheer cruelty of the video is stunning: it is as if we were witnessing a lynching. But equally cruel were the deaths of Eric Garner, Trayvon Martin (by an armed cop wannabe) Breonna Tylor, Ahmaud Arbery and others too numerous to mention, all in our very recent history.
What made George Floyd's death unique—aside from Darnella Frazier's video—may have been the fact that Floyd's death simply was the most recent in a horrible line of similar crimes, that finally became a tipping point for so many.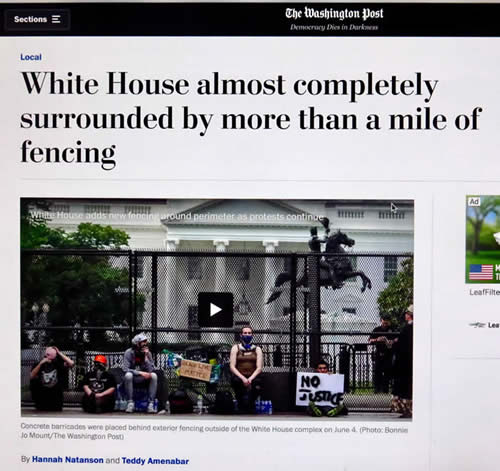 Not even at the height of anti-Vietnam and Watergate protests did the White House have to be protected like this. Prudent protection? Some also would call it a desecration of 'The People's House.'
This, thousands upon thousands of Americans seemed to say, is not who we are. This, thousands upon thousands of people around the world seemed to say, is not what we want you to be.
Adding to this hot mess, of course, is the knee-jerk racism of Donald Trump in response to any minority unrest. "When the looting starts, the shooting starts," he tweeted, echoing the explicit sentiments, if not the exact words, of Alabama's then-segregationist governor George Corley Wallace. Gone were presidents Barack Obama, Bill Clinton or George W. Bush urging calm and conciliation after racial tragedies and killings. Instead we had a White House Mussolini calling violent demonstrators, "terrorists" and "scum" while rage-tweeting at Democratic governors and mayors to "dominate" looters and rioters with massive force, "vicious dogs" and "ominous weapons."
And in the manner of any dictator—banana republic, Eastern European, Russian or North Korean—Trump even had police and riot troops gas and forcibly remove legal and peaceful protestors from the front of a church he does not attend, so he could pose with a Bible he does not read.
One might argue that Donald Trump's macho law n' order posturing is simply red meat to his storied "base," that he is cannily firing up his crowd in advance of a tough election five months from now, in the manner of successful presidential candidate Richard Nixon in 1968.
But that ignores two important points:
The first is that Trump's rabid base has never been much more than 40% of the electorate. And his actions of late surely have done nothing to expand his political reach. In fact, they may have helped shore up support for sure-to-be Democratic nominee, former Vice President Joe Biden.
The second point, according to Princeton University history professor Keven M. Kruse, is that Trump is playing a losing hand, if he is trying to ape the 1968 Nixon:
"As a presidential candidate, " Kruse wrote in the Washington Post,
"Nixon manipulated the issue of 'law and order' for his own ends. But as president, he learned it was a losing issue for the politician then in charge.
"The call for 'law and order' is, at heart, a call for a new order, a call for the current leadership to be replaced. An incumbent who presses the issue is effectively making the case for his opponent, not himself."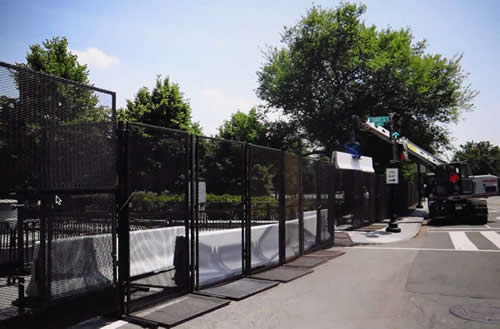 Reuters photo of fencing--it extends beyond the White House grounds to include the adjacent executive office buildings.
So where does that leave Donald Trump—and those of us who want him gone?
I believe it leaves Trump terribly vulnerable, and on a long slow slide to defeat, not just for him but for the entire Trumpist Republican Party.
But I would feel a hell of a lot more comfortable if I knew I could rely on Democrats and like-minded Independents to put aside their maddening habit every election cycle of forming single-issue circular firing squads.
It frankly enrages me that I still am reading screeds by people saying Joe Biden has yet to "earn" their vote, that he is just a tool of Wall Street or big this or big that. These paragons seem to feel they could live with a Trump re-election—as long as they maintained their personal purity by either not voting, or by not voting for Biden.
What's even more depressing is that trying to argue with these folks is like trying to argue with Trumpers.
The simple fact is that this election will be decided by turnout—every damned vote counts. And every vote that either is not cast, or is not cast for the Democratic nominee, is plain and simple a vote for Donald Trump. It pains me that there still are sentient people out there who seem to be able to live with that—and with what New York Times columnist Roger Cohen calls the consequences of "complacent liberal ignorance."
###
Frank Van Riper was a reporter and editor in the New York Daily News Washington Bureau from 1967-87, serving as White House correspondent, national political correspondent and Washington Bureau news editor. He was a 1979 Nieman Fellow at Harvard and is the author of six books, including the 1983 biography, Glenn, The Astronaut Who Would Be President. In 2011 he was inducted into the City College of New York Communications Alumni Hall of Fame.
-0-0-0-0-0-
Lubec Photo Workshops at SummerKeys, Lubec, Maine -- Postponed by pandemic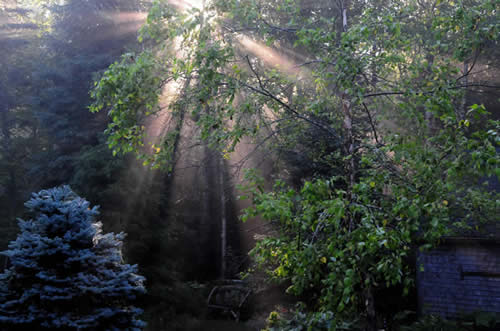 Join us for another magical summer NEXT year--2021
Spend a week of hands-on learning and location photography with award-winning husband and wife photographer-authors Frank Van Riper and Judith Goodman. Frank and Judy will cover portraiture, landscape and documentary photography during morning instruction, followed by assignments in multiple locations including Quoddy Head State Park, Campobello Island, NB and the colorful town of Lubec itself. Daily critiques and one-on-one instruction. NO entrance requirement. Minimum age for attendance is 16. Maximum number of students each week is nine. Students supply their own digital camera.
The Lubec Photo Workshops debuted in 2009 and were a huge success for their low-key, no-pressure atmosphere. Note: Classes fill early.
2021 workshop dates: To be announced
Tuition payable through the SummerKeys Music Workshops: www.SummerKeys.com
Or contact us: GVR@GVRphoto.com
NEW: Master Photo Classes with Frank Van Riper
These intense, three-day, limited enrollment classes are aimed at the more advanced student, who already has taken a photo workshop and who is familiar with basic flash. With a maximum enrollment of just five, these classes are nearly half the size of our regular workshops. NB: last summer's Master Classes were fully booked almost immediately.
2021 Master Photo Class dates:To be announced
Come photograph in one of the most beautiful spots on earth
-----------
Van Riper Named to Communications Hall of Fame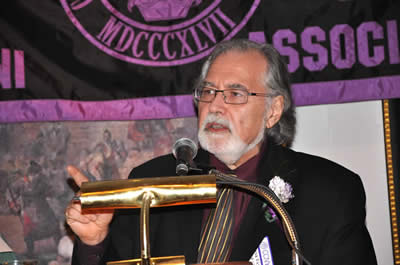 Frank Van Riper addresses CCNY Communications Alumni at National Arts Club in Manhattan after induction into Communications Alumni Hall of Fame, May 2011. (c) Judith Goodman

[Copyright Frank Van Riper. All Rights Reserved. Published 6/20]