Have a Drink--or Four
Creating a Quartet of Drink/Shadow Still Lifes

By Frank Van Riper
Photography Columnist
This past July I was typing at the dining room table of our summer home in Lubec, Maine, working on a magazine piece about Italian pottery. It was late afternoon and I was enjoying a glass of icy cold Pinot Grigio as I worked.
Absently, I laid my wine glass down at the edge of the table—and could not believe what I saw as soon as I let it go
The afternoon light and shadows were doing wonderful things on the white wall beyond my wine glass and in that transient setting the wine looked oh-so-ready for its close-up.
I could write about Italian pottery later, I thought; now I needed to grab my camera--quickly before the light changed.
Here was another gift from the photo gods—and I accepted this gift as soon as it was offered, lest I not receive future gifts. The cold white wine had frosted the glass just enough, the pattern of shadow from the cathedral ceiling windows behind me created perfect framing—and there was a lovely droplet of wine on the far rim of the glass to add visual interest. I made six shots of my wine glass and chose the one that to me was perfect.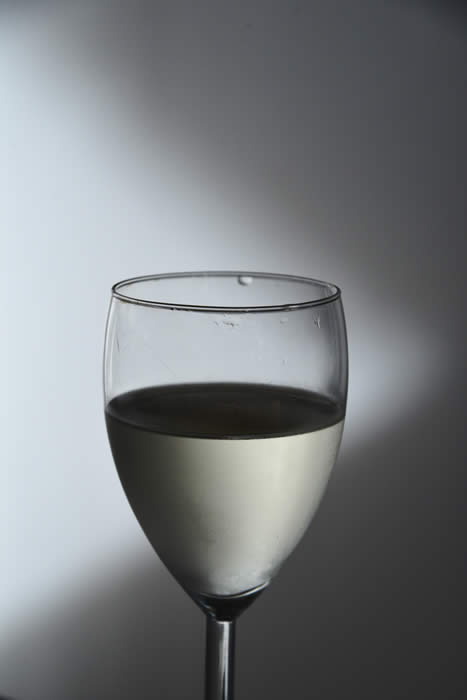 "Pinot/Shadow" was a gift...and I tried to honor it by making three other photographs that might complement it. (All photos © Frank Van Riper. All Rights Reserved)
In the end I had made one of the finest still lifes of my career in perhaps five minutes, working totally by available light.
This experience inspired me to try making "portraits" of my other favorite drinks—red wine, beer, and Scotch whisky—all under dramatic light, whether natural or artificial, and call the series "Drinks/Shadows." I was quite pleased with the results, but the experience was, to say the least, humbling.
To wit: "Pinot/Shadow" required only six shots to make. The final shot of the series, "Ale/Shadow," took 109.
For a project like this to work, there must be a unifying theme (in this case, obviously, drinks and shadows) but each photo also has to be different and have its own personality. Buoyed by my success with white wine, I figured the next logical step would be red wine—in this case a lovely Italian Nebbiolo.
The first thing I decided was that none of the ensuing photos would feature the same glass as the Pinot. No problem, since we had any number of different glasses and beakers from which to choose. In this case, I wanted the red wine to be in a more rustic setting, so I chose the kind of informal, though still pretty, glass one might see at a taverna in Italy or a bistro in France.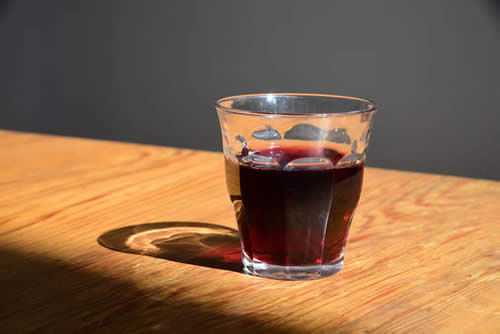 One of my first attempts at shooting the Nebbiolo was mediocre, at best.The wine is lifeless, the shadow is insipid; the composition is dull.
I was shooting the day after I had made the Pinot Grigio shot, and at roughly the same time of day—late afternoon/early evening--when I could make use of dramatic lengthening shadows. In our living room we have a low slate-topped coffee table (actually fashioned from an antique Japanese hibachi) and the now-raking light across the slate was striking. But my first shots, that included the wooden surround for the slate, seemed cluttered and uninteresting. Not only that, but there was no vibrancy in the wine and the shadow pattern from the glass was "meh."
Then I changed my angle. Now, with the sun creating shadow in front of the glass, I got a lovely fan-shaped pattern that also featured blood-red highlights. But the wooden frame was still distracting.
Getting there. The shadow is much, much better, and the wine is starting to glow. But the composition needs improvement.
Finally, I moved the wine glass closer to the center of the table—and saw my final image.
Not only was the wine and glass shown off dramatically, but I had a similar shadow pattern at the right that recalled, though did not mimic, the shadow pattern on the Pinot.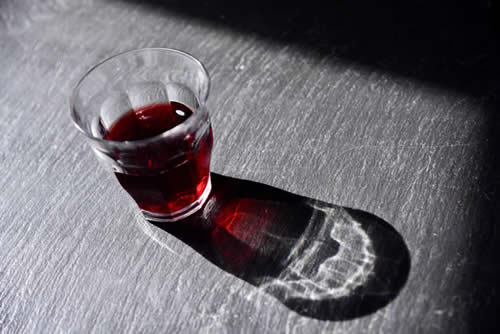 The keeper. Love how the light makes the wine glow. And I love the fact that the shadows on the right recall the ones framing the Pinot.
So far so good. And the conditions had been very similar. Working with a full frame Nikon D750 with a 24-120mm zoom, I shot both images handheld by available light at ISO 800: the Pinot at f.8 and 1/1000th of a second; the Nebbiolo at f.6 and 1/640th.
But where the Pinot took 6 shots, the Nebbiolo took 60—no surprise since there were no photo gods in play this time, handing me a perfect composition under perfect lighting.
Still, having two strong images already, I was jazzed to keep going, and so I did—that very afternoon.
It was bout two hours later and I thought about Scotch. Many evenings, especially after I have been writing or teaching—or, up here in Maine, after helping Judy in her glorious garden—evening is accompanied by a couple of Scotches on the rocks (This appalls my Scottish friends, who only drink it neat.) But this time, in fact, the ice added to the photo.
This image was the only one made outdoors—but just barely. I shot it just outside the living room door, on our deck railing. Here the unifying element was the liquid glow of the Scotch. The lateness of the hour meant that the sun's rays were at an even more dramatic angle, creating a look as if the Scotch were lit by a spotlight. And the frosty glass and two cubes added to its appeal—at least to me. (Yes, of course I drank it afterward.)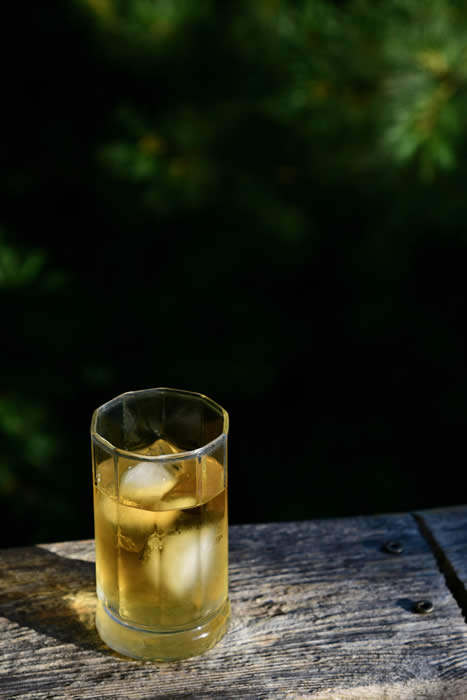 The only outdoor shot of the quartet, 'Scotch/Shadow' makes use of raking evening light that shows off the liquid and ice to advantage.
For this comparatively simple shot, my only mandate was to keep the background simple, showing just a tiny bit of fir branch at the upper right. This time it only took 13 shots to get a keeper (ISO 800. f.7.1 at 1/800th.)
I probably could have been forgiven for thinking that the final shot of the series—of a really good locally-brewed ale in a pint pub glass—would be a cinch since I already had done what turned out to be test shots for it several years earlier at Lubec's local brewpub.
During one of my earlier Photo Master Classes, my three students and I took over the Lubec Brewing Company on downtown Water Street one morning (thanks Gale White, co-owner and brewmaster) and began to set up lights near the bar.
In those pre-Covid years the brewpub was a mecca for local bands. It was the go-to place every week for great music, great food and great beer. [Gale and his wife McGinley Jones weathered the Covid plague by creating a simpatico outdoor beer garden on their site that was an immediate hit with tourists and locals alike, but I hope they can re-open the pub doors to music next summer.] In the back of my mind I had an idea back then for an album cover for one of the local bands, showing its three members facing outward from stools at the ornate bar, each holding their instruments. "Live from the Lubec Brewing Company" was my fantasy for their next album.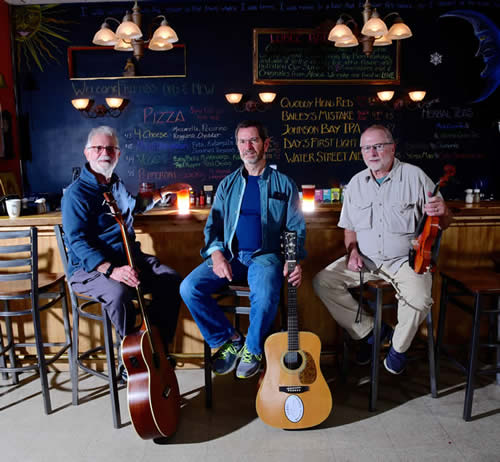 Except for the bizarre glowing beer glasses, this test shot for a possible album cover looked great. I thought I could use the lighting concept for my final beer 'portrait.'
In the test shot above (remember: these guys are my students—they can't play a note, but each is a hell of a photographer) take a look at the two glowing glasses of beer on the bar. They are lit from behind by two tiny slaved flash units. In this obvious test shot, these glasses are way too hot, but at least the concept of having the beer glow from behind was possible.
That's what I wanted to use this year for my beer shot—but that was much easier said than done.
First, in my setup shots, I could not use actual beer—I only had a couple of bottles on hand. I knew I risked the foamy head of the effervescent beer going flat as I did my test shots, so I used iced tea as a stand-in. The test shots, using a tiny remotely triggered Morris Midi flash unit from behind, softened by tiny diffusion head, were wonderful and I thought, "this is gonna be a piece of cake."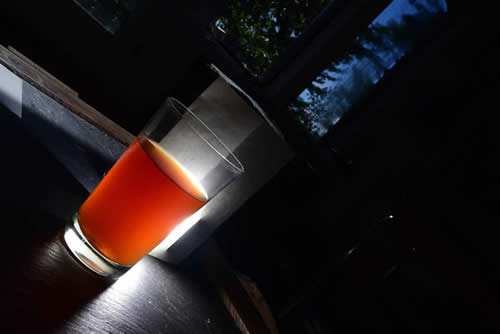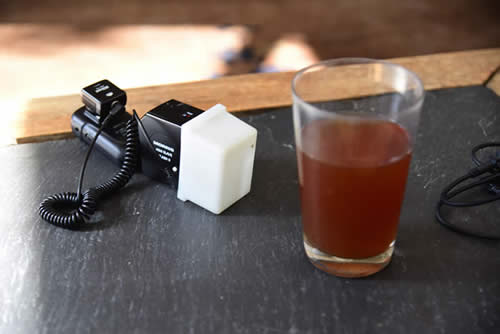 Top shot, using iced tea as a stand-in for beer, looked wonderful. The set-up, using a tiny flash and a small white diffuser, is shown below.
I suspect the photos gods were watching and decided I needed to be taught a lesson.
When I switched to the actual beer, the shots were awful. Turns out the iced tea (in which thousands of tiny tea particles floated in suspension) was perfect for diffusing the flash from behind. But the cool clear ale rendered the added flash hotter than hell.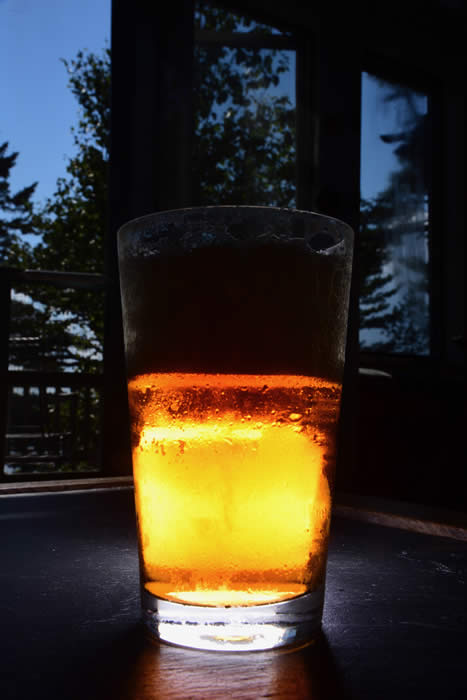 Hate when this happens...the little flash was just too bright for the much clearer beer. Time to switch--quickly--to Plan B.
So much for glowing ale lit by flash.
I quickly turned to plan B.
With my camera on a tripod, I positioned my pub glass on a glass-top cocktail table and, watching the waning light of late afternoon/evening, made shots of the beer as it was beautifully backlit and as shadows from windows etched themselves on both the beer and the background. (ISO 2000. f.9 @ 1/1250.)
I should have been thrilled—but I wasn't.
The beer's foamy head was lost in darkness. What to do?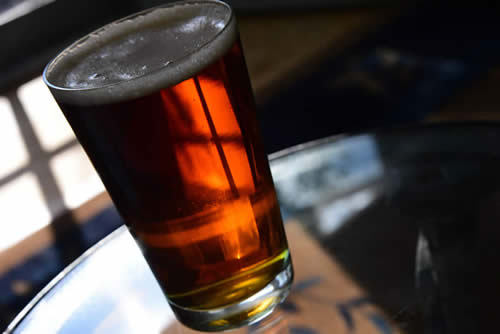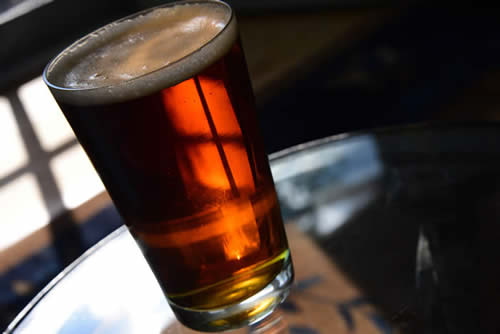 Let's hear it for flashlights! With camera firmly on a tripod, I was able to aim a powerful flashlight at the beer's foamy head and render the head creamy and appealing.
With my camera still on the tripod, and racing the waning sun, I quickly grabbed a high-powered flashlight and made my final shots, riding the gorgeous ambient light while I also held the flashlight out of camera range and pointed at the beer's foamy head.
Success!!
And at a mere 109 shots to achieve, it was well worth it.
-0-0-0-0-0-
Lubec Photo Workshops at SummerKeys, Lubec, Maine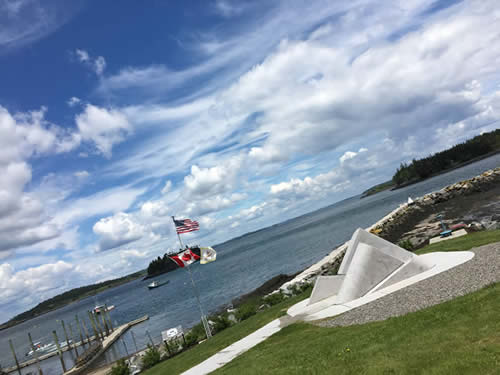 Join us for another magical summer in Down East Maine in 2023...
Master Photo Classes with Frank Van Riper
I teach in several different places—from the Washington DC area to Umbria—but my Photo Master Classes in Lubec, Maine may be my favorites for their small size (five students max) and their remarkable setting—arguably the most beautiful coastline in the United States. (Sorry, route 1 in California.)
These intense, three and a half-day, limited enrollment classes are aimed at the more advanced student, who already has taken a photo workshop and who is familiar with basic flash. Maximum enrollment of just five. Open to vaccinated students ONLY. Enrollment through the famed SummerKeys Music and Arts workshops in Lubec, Maine--the easternmost point in the United States. First class will be July 17th-19th, 2023; second will be August 7th-9th. NB: previous Master Classes were booked almost immediately.
More Information: GVR@GVRphoto.com
To enroll: www.SummerKeys.com
Come photograph in one of the most beautiful spots on earth.
-----------
Van Riper Named to Communications Hall of Fame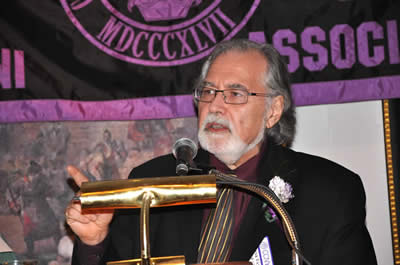 Frank Van Riper addresses CCNY Communications Alumni at National Arts Club in Manhattan after induction into Communications Alumni Hall of Fame, May 2011. (c) Judith Goodman

[Copyright Frank Van Riper. All Rights Reserved. Published 9/11/22]