SUMMER Photo Workshops, Lubec, Maine
NEW--Join us in Umbria, Italy, in October!!
(see below)
The Amazing M9--Leica's iPad?
On second try, a near-perfect digital rangefinder
By Frank Van Riper
Photography Columnist
Every manufacturer, I am sure, dreams of having a new product roll-out like the one that accompanied Apple's new iPad. After all, this—what?—PDA, eBook reader, teeny-weeny laptop killer—not only flew off the shelves at Mac stores all over he country, it did so with the kind of publicity and resultant consumer craziness of which lesser commercial mortals only can dream.
Imagine: 300,000 units sold in the first day, many of them to poor souls who thought it necessary to camp out in front of their local Mac store all night so they could be the first to fork over their money for this electronic bagatelle. Not to worry: these folks had plenty of company thereafter: sales of the new iPad (derided in some circles as a fat iPhone or undersize MacBook) soon topped 500,000 with sales remaining very brisk.
(As if Steve Jobs needed the money.)
Still, for a product like this to achieve success like this it has to be doing something right—Jobs called the iPad a "game-changer" that would alter forever the way people use computers in their daily lives.
More accurate—though far less sexy--might be the term "game-modifier." To this admitted computer troglodyte—who claims absolutely no expertise in this field—the new iPad appears to help computer users do what they always have done: only faster, easier and, for many, more enjoyably. [With computers, as in life, never underestimate the appeal of fun.]
All of which is a roundabout way of explaining why Leica's
remarkable new M9 full frame digital rangefinder camera may be the venerable camera maker's own version of the Apple iPad, albeit on a much smaller scale, at least in terms of sales.
Damn, is this camera fun to use! And boy are the images gorgeous.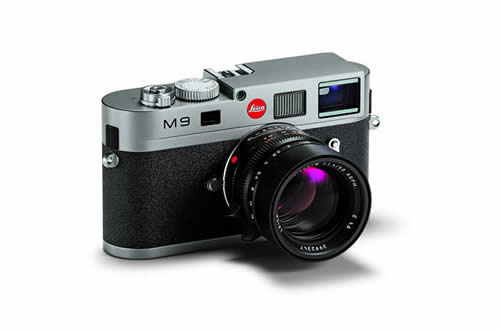 The Leica M9--a full-frame digital rangefinder camera that is a worthy successor to Leica's distinguished line of analog rangefinders, like my beloved M6. (c) Leica USA
Leica shook up the photography world three years ago when it did what many thought was impossible: it shoehorned a professional digital camera into the tiny confines of its legendary M-series film camera body. (Well almost, anyway—the Leica digital RF is ever-so-slightly wider than the analog M, but it still is a glorious "stealth" camera that bears no resemblance to the hulking, ominous, not to mention loud, digital SLRs strung around the necks of most working pros.)
That first Leica digital RF, the M8, blew the doors off its competition—in fact, there simply was no competition. But it also came with some serious issues that Leica addressed slowly—and, some would say, superficially.
The greatest of these flaws was the camera's temperamental infrared sensor that far too often played havoc with color balance. So bad was this problem in the case of one photographer—veteran photojournalist Harry Hamburg—that he actually wound up being forbidden by his editors from using this camera when covering Capitol Hill after a photo he made of Senate Banking Committee chairman Christopher Dodd (D-Conn.) showed the conventionally dapper, white-haired politico in a flaming purple outfit more suited to Bozo the Clown than Dodd the Chairman.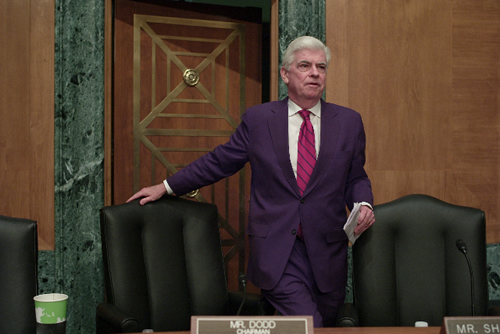 It's a safe bet that Senate Banking Committee chairman Chris Dodd did not show up for work this day in a purple suit. No amount of post-production tweaking could make Harry Hamburg's shot usable. (c) Harry Hamburg
This was due to the M8's ultra-thin IR sensor and its extreme sensitivity to infrared wavelengths that in turn caused color shifts, especially in synthetic fabrics. In Dodd's case, his black suit became bright purple—and no amount of post-production Photoshop tweaking could make Hamburg's photo usable.
[In fairness to Leica, Harry did make some glorious stuff with his M8—his pool coverage of the official congressional luncheon honoring the newly inaugurated Barack Obama included such a spectacular view of the Capitol Building's Statuary hall—where the luncheon was held—that you thought for a moment that the photo had been made with a view camera, so sharp was the detail, so rich were the colors. But, no, it had been made with an M8. Still I must say that, looking closely at the image, one notices a few more purplish suits on the guests than likely were there.
At around that same time, in London, where Harry is now based, he made a beautiful aerial shot of the newly renovated St. Pancras train station, that ran huge in the New York Times. Again, the M8.]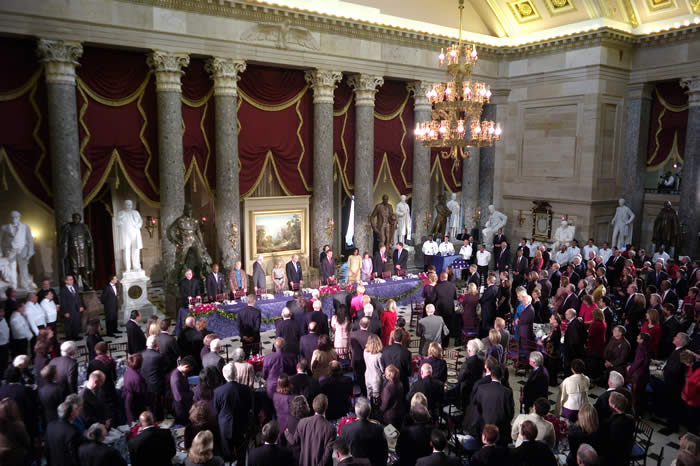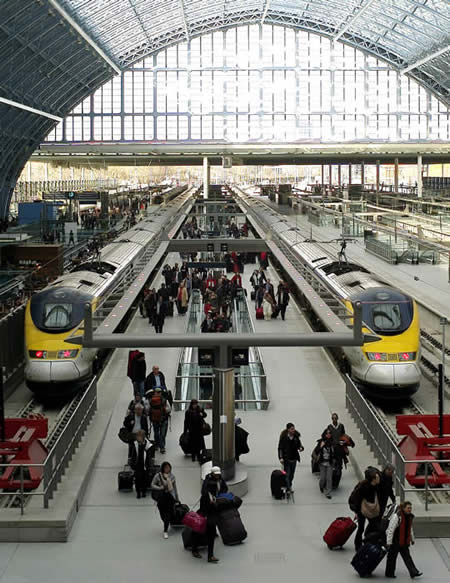 Top: Beautiful shot of Statuary Hall, where Congress feted newly sworn-in President Barack Obama, Jan. 20, 2009. Bottom: In London, dramatic perspective on newly refurbished St. Pancras train station. (c) Harry Hamburg
Leica dealt with the M8 sensor problem, not with a redesign, but with a retrofit. As one online reviewer noted at the time: "the Leica recall did not fix color problems caused by the high IR sensitivity of the sensor. Instead, all M8 owners who registered their cameras on the company's website will be sent two different sized and free infrared filters. Unfortunately, delivery of the filters has been delayed and I have yet to receive my two filters…"
And the problems were not just limited to the IR filter. Though reviewer after reviewer (myself included) raved about the sharpness and overall quality of the M8's digital images, another reviewer noted that "there has also been a firestorm of criticism about the camera's tendency to produce banding, streaking, ghosting, and 'blooming' around bright lights at night when set to high ISO levels."
What a difference three years, and a serious case of going back to the drawing board, makes.
A combination of sensor and firmware redesign in the M9 appears to finally have solved the problems that bedeviled the M8. Almost as important to some, the M9 is a full frame camera, boasting a hefty 18.5 megapixels. Though I and others have found occasional problems with average white balance, the M9 appears finally to be the digital rangefinder that Leica—and the rest of the RF-loving world—have longed for.
It easily merits inclusion among the finest cameras in the world.
Veteran online reviewer Ken Rockwell summed it up like this:
"The Leica M9 is the smallest, lightest, highest-quality digital camera ever created by the hand of Man." He noted, for example that the M9 is "less expensive than the Nikon D3x and weighs over four ounces less than the plastic Nikon D90!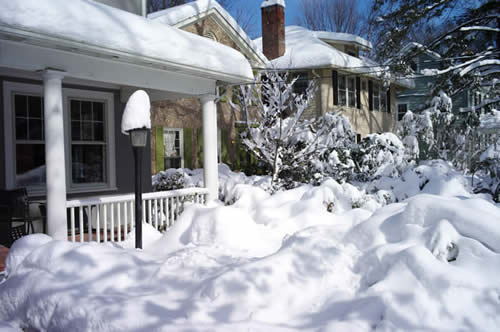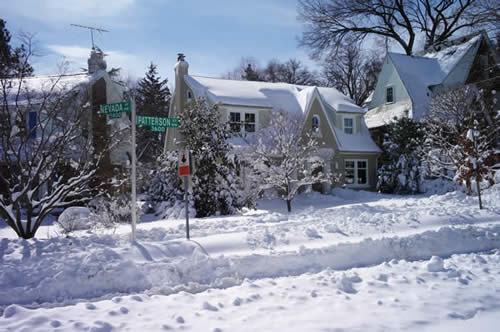 I made these shots during our snow-laden winter and was delighted with the M9's effortless--and perfect--metering. White snow in bright sun is one of the toughest things for a camera to meter, and the M9 performed beautifully. Note shadow and highlight detail. (c) Frank Van Riper
Here, I guess, one should get the bad news out of the way: The Leica M9, as I am sure you already can guess, isn't cheap. List Price is just a tad under $7,000. If it makes you feel any better the top-of-the-line Nikon D3x—a huge horse of a camera—goes for maybe a grand more.
(No, I didn't think that would make you feel any better.)
Significant in the rhapsodies of reviewers like Rockwell and me is an emphasis on the M9's comparative silence and compactness because this goes to the heart of why so many of us love using Leicas over all other cameras. The Leica truly is the silent observer's camera. It was born to blend in, not to dominate. It never calls attention to itself. It is whisper-quiet, not having an SLR mirror to bang up and down with each exposure. It was made to unobtrusively capture the moment, which is why some of the world's greatest documentarians and photojournalists—Henri Cartier-Bresson, Gianni Berengo Gardin, Robert Frank and Garry Winogrand, to name but a few giants—carried their M-series analog Leicas everywhere. It is why, near the end of the six years that my wife Judy and I worked on Serenissima: Venice in Winter (www.veniceinwinter.com) I wound up leaving our rented apartment in Santa Croce carrying only two Leica M6s around my neck, one loaded with Ilford XP2, the other with Ilford Delta 3200. The two lenses I had with me were my money lens, the 35mm f. 2 Summicron and the 21mm f. 2.8 Elmarit. It was all needed.
"Leica had to enter into the (professional digital) market or disappear," noted veteran Venetian photographer—and longtime Leica user—Mario Mazziol (http://www.mazziol.it/) "Finally this is the one, the rangefinder camera we were looking for."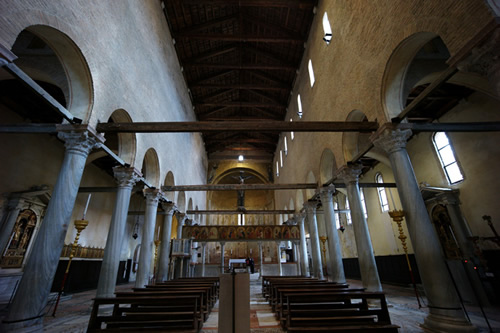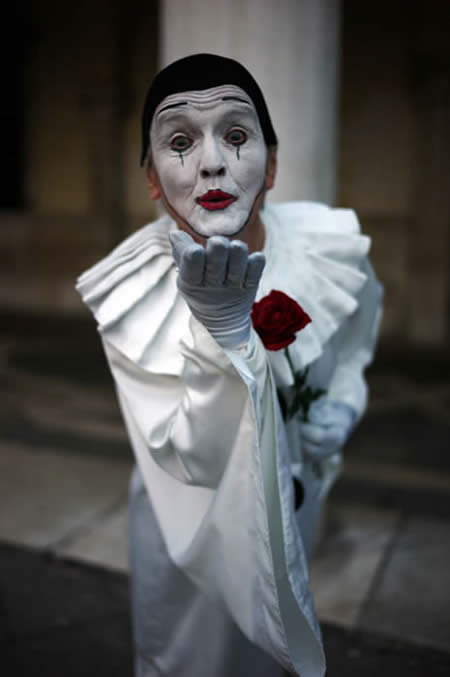 Native Venetian Mario Mazziol's love of his city is obvious in his gorgeous photos, all made with the M9. Top: church on island of Torcello. Center: White masked carnival clown in Piazza San Marco. Bottom: colorful island of Burano. (c) Mario Mazziol
Mario and I bonded over our love of Leicas during the years Judy and I worked on Serenissima, and Mario easily made the transition from the analog Leica M cameras, to the digital M8 and now the M9. (Note: Like most us he does not just whip out the plastic and buy the next new thing; Mario sold some of his old gear to pay for the new.)
It did not surprise me that Mario—who shoots largely by available light, largely as a documentarian—took to the digital M's, especially the M9. Even more than the M8, the M9 looks, feels and handles just like the old analog M's—only without a film advance lever.
This is no small thing. Rangefinder cameras in general (when you can find them on the market) and Leicas in particular, are made to be used closely, quietly and quickly. Sure, you can use them for portraits—as I did the other day in black and white (using Harry Hamburg's old M8) for some engagement photos of our friends Graeme and Misha—but one should remember that, unlike SLRs, rangefinder cameras do not take long lenses. This makes them look far less intimidating--a very good thing when, for example, you are working in a war zone--but which in turn also means that they are awful for covering things like sports or press conferences from afar.
Still, as my friend Mario notes, "We are not using the rangefinder for sports; we are not a sports photographer. We are patient (for the exact moment). We can wait."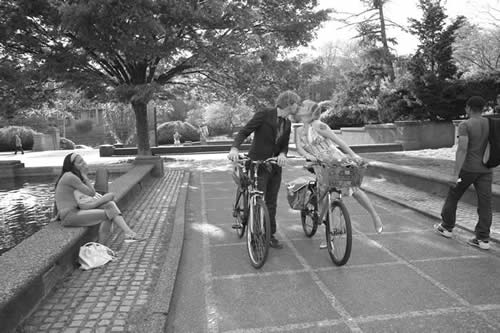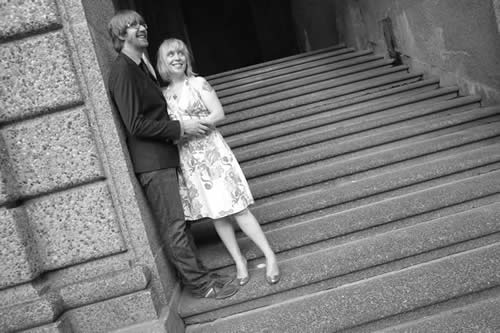 Leica rangefinders don't do sports, but they are great for most everything else. Above: engagement portraits I made in DC's Meridian Hill Park, on Harry's M8, set for BxW. (c) Frank Van Riper
In my tests with the M9, especially when working in the snow, I was struck with the accuracy of the camera's metering and soon felt as comfortable with the manual metering on the M9 as with the manual metering on my M6. But once I got over my delight at working in digital with a camera that felt just like my M6, I did notice a tendency on the part of the M9 to occasionally give me different color balances when working under fluorescent light. Mind you: these were not cases in which Chris Dodd showed up once more in a purple suit. Rather, these were cases where one photo would look great yet another would have an ever-so-slight green cast (the famous Green Monster of fluorescence.) The shift was so slight (and therefore easily fixable in post) that I might not even have noticed it had I not already made one seemingly perfect shot.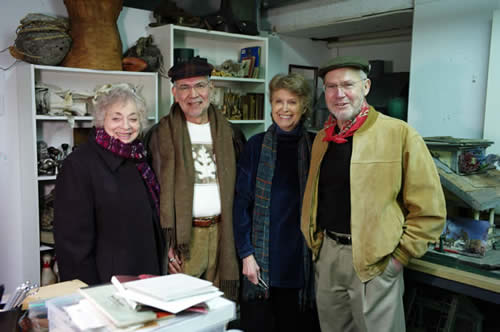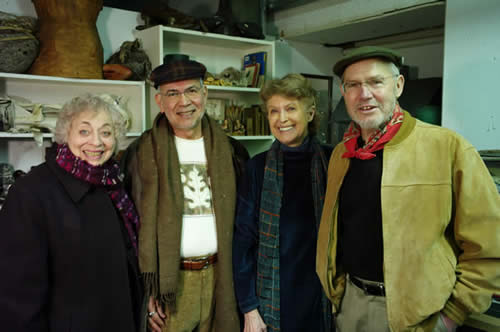 Top: average white balance photo is fine, but shot made immediately afterward (below) shows more of the telltale green cast from fluorescent light. Not nearly as bad as Chris Dodd's purple suit, bottom pic would be tweakable in Photoshop. (c) Frank Van Riper
Justin Stailey, a Leica product specialist, provided what sounds to me like a plausible explanation, as well as some hope that even this minor glitch may soon me fixed:
"First off, I know there are some improvements in the works with firmware," Stailey told me in an e-mail. "The design of the M camera and the lack of a mirror-based TTL metering system makes the white balance calculations a bit more challenging for the M9. The camera is trying to make an estimate at capture, for each capture based on the capture data, and compares this with data from the sensor on the front, up beside the Leica (red) dot…Fluorescent lights are always going to be the most problematic; they do not emit a single spectrum color but 2 - 3 different ones. Our eyes blend the 3 spikes, but the way that the M9 reads the light during the capture it might see one spike more than the others."
Still, if this is the only problem I could find with the M9 (save perhaps for its price) then I really have no quibbles at all with this groundbreaking camera. To the legions of photographers, pro and otherwise, who appreciate the value of a quiet, unobtrusive "stealth" camera that more than any other can become an extension of your hand and your eye, it is gratifying to know that, in the M9, Leica finally got it right.
The Umbria Photo Workshop
The trip of a lifetime, Oct. 16-23, 2010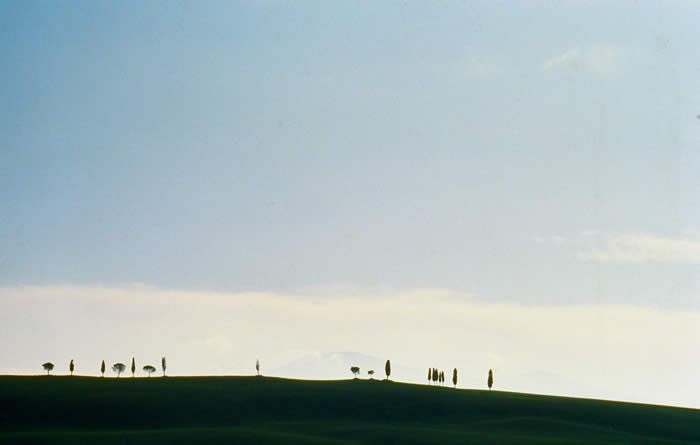 Frank Van Riper Join internationally acclaimed husband and wife photographers Frank Van Riper and Judith Goodman for a weeklong photographic workshop under glorious fall skies in one of Italy's most beautiful regions.
Frank and Judy, authors of the award-winning book Serenissima: Venice in Winter, will share their image-making techniques with a small group during a week covering everything from landscape photography in the verdant hills of Umbria to location portraiture in its closely held truffle fields.
Participants will travel by guided excursion to several of Umbria's storied hill towns, including Perugia and Assisi, and receive individual attention during daily critiques.
Package includes 6 nights in the fully restored 17th century villa Fattoria Del Gelso in Cannara, located on a 40-hectare working farm literally walking distance from colorful shops and restaurants and centrally located in the shadow of Assisi
This is a trip designed for relaxed learning and sightseeing via foot, bicycle and van, taught by two experienced location photographers whose work has been exhibited in and acquired by major museums in the United States. Frank and Judy are molto simpatico teachers who will turn your photographic vacation into a once-in-a-lifetime adventure.
October 16-23, 2010
Price per person: €1500 (convert to dollars)
Limited to 6 participants
Package includes:
--6 nights in the private villa Fattoria del Gelso
--welcome and farewell dinner
--all breakfasts
--vineyard tour and private lunch
--daily happy hour
--individual critique and instruction
--private guided walking tours
--pizza-making party at the villa
--ground transportation throughout your stay
—FURTHER INFORMATION: www.experienceumbria.com
Lubec Photo Workshops at SummerKeys
Spend a week of hands-on learning and location photography with award-winning husband and wife photographer-authors Frank Van Riper and Judith Goodman. Working from their stunning home in west Lubec overlooking Morrison Cove, (see photo above) Frank and Judy will cover basics of portraiture, landscape and documentary photography during morning instruction, followed by assignments in multiple locations including Quoddy Head State Park, Campobello Island, NB and the colorful town of Lubec itself. Daily critiques and one-on-one instruction. NO entrance requirement. Minimum age for attendance is 16. Maximum number of students each week is six . Students supply their own digital camera.
Read more about the Workshops in Frank's column:
http://talkingphotography.com/archive/2009/photowork.htm
Frank Van Riper is a Washington-based photographer, journalist, author and lecturer. He served for 20 years in the New York Daily News Washington Bureau as White House correspondent, national political correspondent and Washington bureau news editor, and was a 1979 Nieman Fellow at Harvard. His photography books include Faces of the Eastern Shore and Down East Maine/ A World Apart, and Talking Photography, a collection of his Washington Post and other photography writing over ten years. His latest book (done in collaboration with his wife and partner Judith Goodman) is Serenissima: Venice in Winter www.veniceinwinter.com
Van Riper's photography is in the permanent collections of the National Portrait Gallery and the National Museum of American Art in Washington, and the Portland Museum of Art, Portland, Maine. He can be reached through his website www.GVRphoto.com

[Copyright Frank Van Riper. All Rights Reserved. Published 5/10]